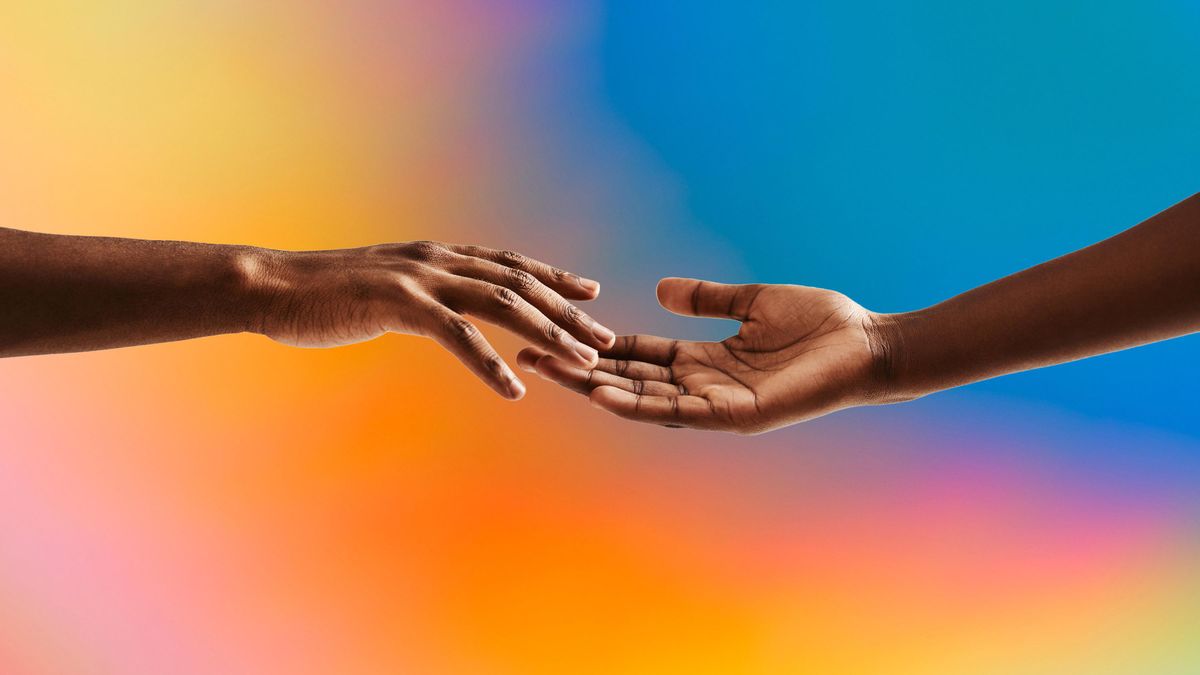 Living
"It felt like taking off your basketball shoes to slide into sandals after a long hoop session."
Falling in love is a fully immersive experience. Beyond the emotional draw, it can subconsciously ignite each of the five fundamental senses—a song you hear together suddenly becomes your song and saying that a cologne smells like them becomes a more apt description than the fragrance notes. As Valentine's Day approaches, we're exploring how love manifests in our lives and speaks to each sense. What does love taste like? What does it sound like? How does it feel? Does it have a definitive aroma? Which clothing and decor items define the look of a relationship? In the interest of challenging the conventional descriptors, we asked five creative couples to tell their love stories using sensory elements. Get to know the duos, and their stories, below.
How did you meet?
"Mikael and I met at a Vogue photo shoot. He was modeling and I was the manicurist on set for the day."
How long have you been together?
"We have been dating for eight enchanting months."
Smell
Aja Walton: "The smell of warm coffee and Creed cologne are two triggers that will instantly make me believe Mikael is in the room."
Mikael Cummings: "Coffee. I know that doesn't really sound, cute but if it's a medium roast, it makes me think of Aja."
Sound
AW: "'Holy Water' by Orion Sun turns us into that cringy couple. The melody is perfect for two people who love to sing to each other and slow dance. And the lyrics describe exactly how we continue to feel about each other since we've met. The first time I played the song for Mikael, he almost instantly went on TikTok to make a couple montage video and used it as the soundtrack."
MC: "'Can I Call You Rose' by Thee Sacred Souls and 'Holy Water' by Orion Sun are both dedicated to her. The album Back of My Mind by H.E.R reminds me of the beginning of our relationship, when we would listen to it on repeat."
Taste
AW: "Oysters, popcorn, and red wine are staples in our relationship. We're considered regulars at both Sea Wolf and Fandi Mata in Brooklyn. We share an appreciation for restaurants that have seafood, craft cocktails, and live music. Mikael got down on one knee and asked me to be his girlfriend at Father Knows Best."
MC: "We love eating at home and making different creations for each other, too. Sometimes I'll visit her place just to have her taste a new pasta I made."
Sight
AW: "For me, falling in love looked like coincidentally showing up in the same outfit. Now, we wear each other's clothes so often that it's hard to remember who certain items originally belonged to. Currently, the item in question is a vintage Harley Davison jacket—the look of it embodies both of our individual styles and in a way, it symbolizes how we've grown to share our lives."
Feel
AW: "Falling in love with Mikael felt like suddenly remembering the details of a beautiful dream I've had playing in the background of my brain. Rising in love with him felt like being reunited with a twin that I just learned of. It felt like meeting the reflection of my soul. This love feels ticklish, cozy, and nurturing, mixed with sparks of energy that often feel like drinking from the fountain of youth."
MC: "Falling in love was surreal—everything just clicked for us. It was an ebb and flow experience that continues to his day. It felt like taking off your basketball shoes to slide into sandals after a long hoop session (if you know, you know)."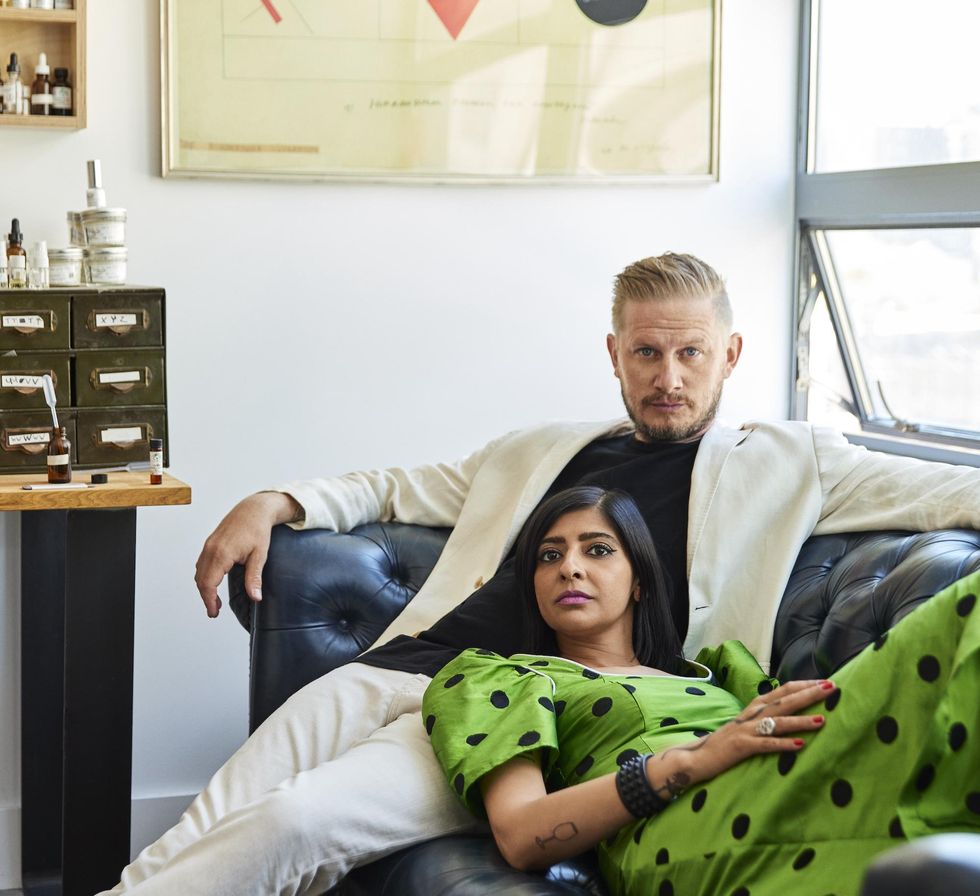 How did you meet?
"I walked up to Kavi on the street in the East Village."
How long have you been together?
"Sixteen years."
Smell
David Moltz: "This is a loaded question for a couple that makes perfume! There are many of our scents that highlight something we experienced together. Durga, for one, is a fume based on our mutual love of tuberose."
Sound
DM: "There are many: At our wedding, my friends and I performed some of Kavi's favorites. I ended the set with 'Jump in the Line' by Harry Belafonte—he was an important one for us early on and definitely unites our love for a good time."
Taste
DM: "I'd say La Columbe D'Or in Saint-Paul-de-Vence. We went there in the first year we were together for one night—it was all we could afford at the time. But then, we drove to the casino in Monte Carlo, dressed to the nines, and won $2,200 in blackjack that night! Needless to say, we came back and paid for a second night. The next time we went back was for our honeymoon."
Sight
DM: "Kavi's style was one of the things that got me right away. It still does. There was a blue dress with gold buttons by Marc Jacobs that I loved."
Feel
DM: "It feels complete—like you met the person who will be your rock. You also open a door to relying on someone else, and them relying on you, which is strange at first, but eventually very comforting."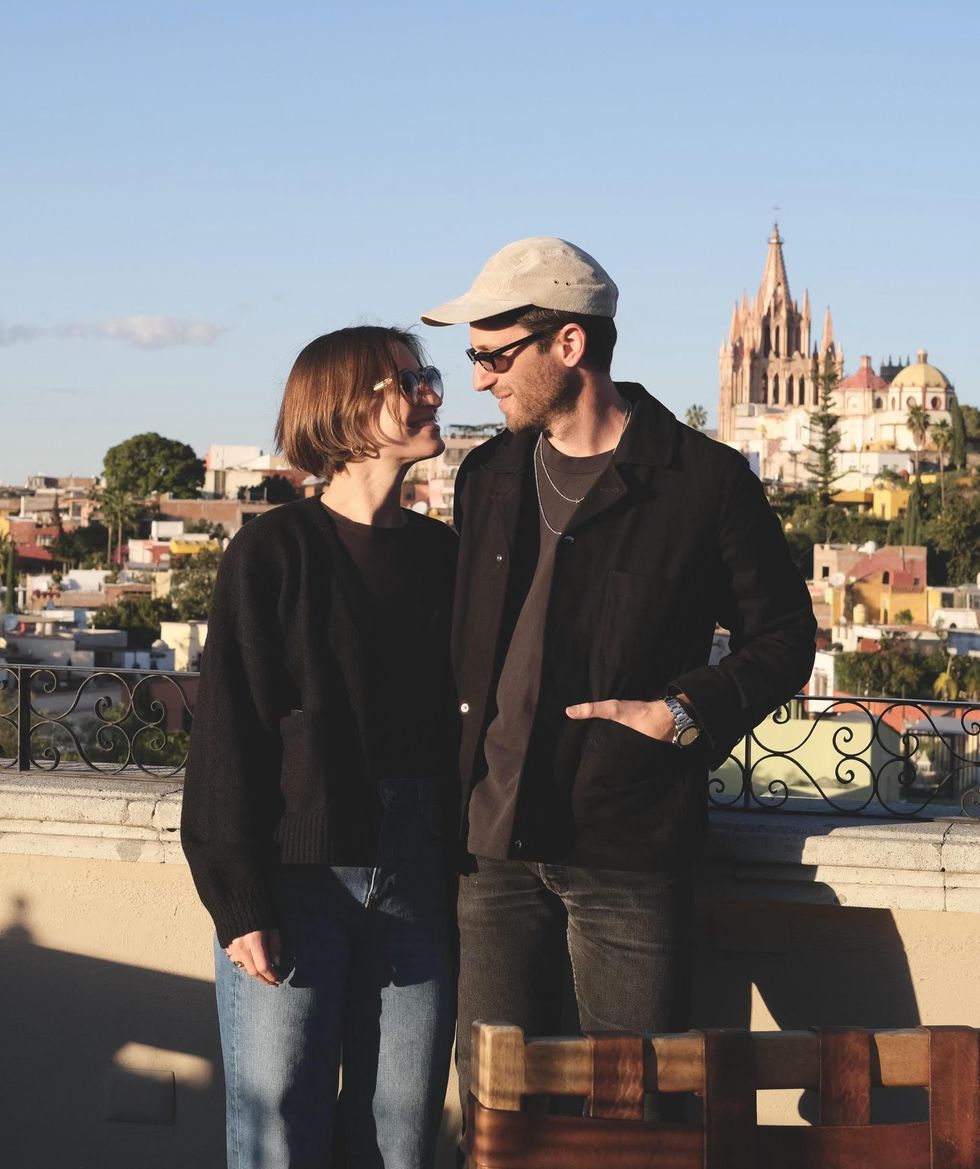 How did you meet?
"Garrett and I met when I was working at a high-end furniture store in L.A. He came in to buy a bed and asked me to lay on the mattress with him to see if it would fit two people—there was instant chemistry. After the bed arrived some months later, he asked me out for coffee, which turned into a two-hour date. We've been together ever since."
How long have you been together?
"We've been together for 10 years and married for six."
Smell
Hillary Markenson: "What immediately takes me back to our early days is the scent of Musc Ravageur by Frederic Malle and the scent of his hair, which usually smells like one of our products, Rake."
Garrett Markenson: "I love body odor—Hillary's is intoxicating."
Sound
HM: "Every year for our anniversary, Garrett makes a playlist full of songs we love, but nothing holds a stronger memory for me than the song I walked down the aisle to at our wedding, 'Evening Ceremony' by Active Child."
Taste
HM: "Cooking is one of my love languages and early on in our relationship, when I was still finding my feet with Garrett's family, I made chicken pot pie to bring over for dinner. To this day, when I make that dish, it never fails to elicit a smile and a kiss from him. Osteria La Buca in Hollywood was one of the first restaurants we went on a date to, and it's somewhere we still go, but now we usually have our son in tow. Bucatini carbonara and negronis are a must there.
GM: "Osteria La Buca in Hollywood. Negronis and tiramisu."
Sight
HM: "I find it rather wondrous that the bed that brought us together would go on to become the bed we shared night after night, got engaged in, and later would give to our son. I've always had an affinity for furniture and the stories the pieces hold. Now, I've been able to embed my own sacred memories into a piece that we will undoubtedly have forever. I'm always stealing pieces of clothing from Garrett—it's become a joke at this point. When he buys something new, the first thing he says is 'This will probably end up in your closet.'"
GM: "There have been a few items I've surprised Hillary with, but nothing makes me happy than seeing her in her engagement ring. I designed the ring with a vintage stone. The process of designing and proposing will never leave my memory."
Feel
HM: "Majorly euphoric and also terrifying. I was quite literally swept off my feet at a time when the last thing I was looking for was love. He felt like home to me. Everything fell into place so easily."
GM: "It felt liberating and intimate. To listen to her and explore her body was beautiful."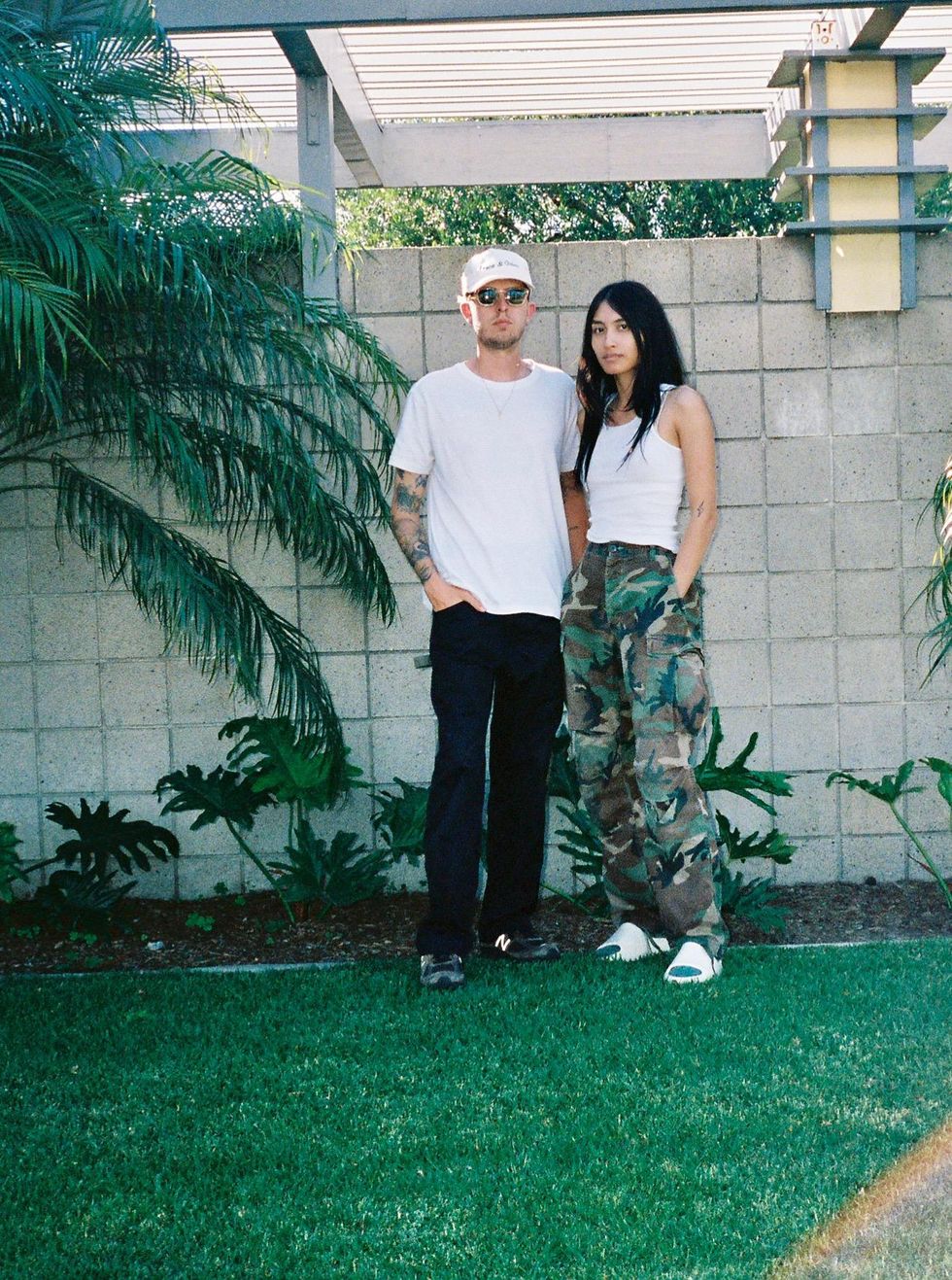 How did you meet?
"We met in 2012 at a recording studio in Los Angeles. Interestingly enough, we've had the same mutual friends from high school and come from the same small town, but had never crossed paths until then. We've been together ever since."
How long have you been together?
"We've been together for 10 years."
Smell
Ashley Lennon: "We formulated our Quiet Candle together combining all of our favorite scents, which is a blend of oud, jasmine, and amber."
Hear
AL: "Frank Ocean's Channel Orange album era."
Taste
AL: "We love making tea together. There's an art to it that we consider a peaceful ritual—preparing, serving, and enjoying it."
Sight
AL: "To be honest, I'd have to say anything sherpa. We love the look and feel of it. It's the coziest of all textiles and we incorporate it in our environment a lot—our home, office, and the clothes we make and wear."
Feel
AL:
"Falling in love is possibly the best thing that can emotionally happen to a human being. It's a feeling of bliss. You're on cloud nine. It's a natural high you never want to come down from."
How did you meet?
"We met through mutual friends at a bar where Jackie was working at the time. She would cut hearts out of orange zest and put them in my drink."
How long have you been together?
"Eight years."
Feel
Fran Miller: "The easiest way to put it into words is using the Japanese phrase 'Koi No Yokan,' which describes the feeling upon first meeting someone that you will inevitably fall in love with them."
Smell
Jackie McKeown: "Fresh rose."
FM: "Negroni."
Hear
FM: "'Sleepwalk' by Santo and Johnny, and 'Double Fantasy' by John Lennon and Yoko Ono."
Taste
FM: "Union Restaurant in Toronto is where some of our early brunch and dinner dates took place, and it continues to be a neighbourhood staple. Big leisurely weekend breakfasts are our favorite meals to cook together—Jackie handles the savoury part and I do the sweet."
Sight
JM: "Our wardrobes instantly started blending from the beginning—we're also lucky enough to share the same shoe size. We both admire each other's personal style and there is a certain intimacy and sense of closeness in wearing something that belongs to your partner but styling it in your own way. We each have certain pieces in our closet that we wore when we first started dating and hold sentimental value. They might not be ones that we gravitate towards at the moment, but they are ones that we'll never part with."
FM: "At this point, we have acquired almost everything in our home together and each object is special for its own reason. Whether it's a unique antique find or because we made it together. Jackie built a few chairs and our coffee table, so those are my favorites, naturally."
Shop the Story:
D.S. & Durga
Frédéric Malle
Creed
Reverie
Museum of Peace and Quiet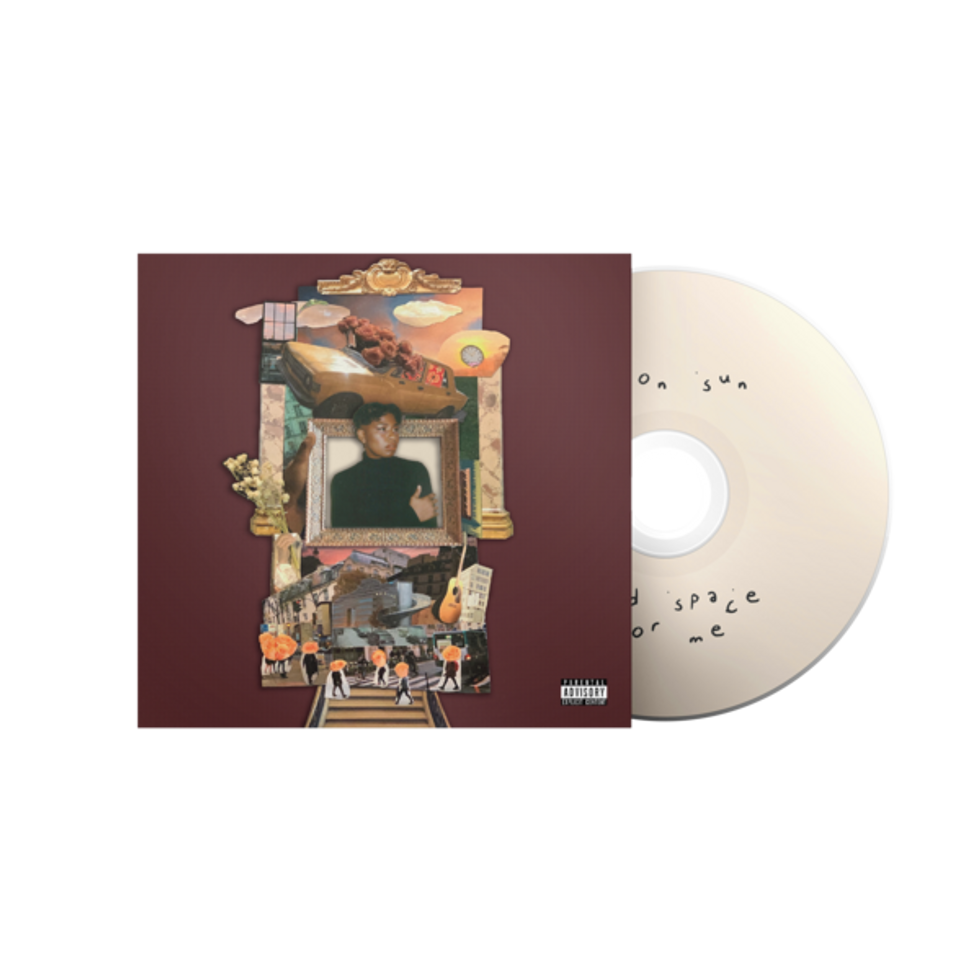 Orion Sun