How This Beauty Editor Manifested Her Soul Mate
Carly Cardellino shares her love story.
Love And Sex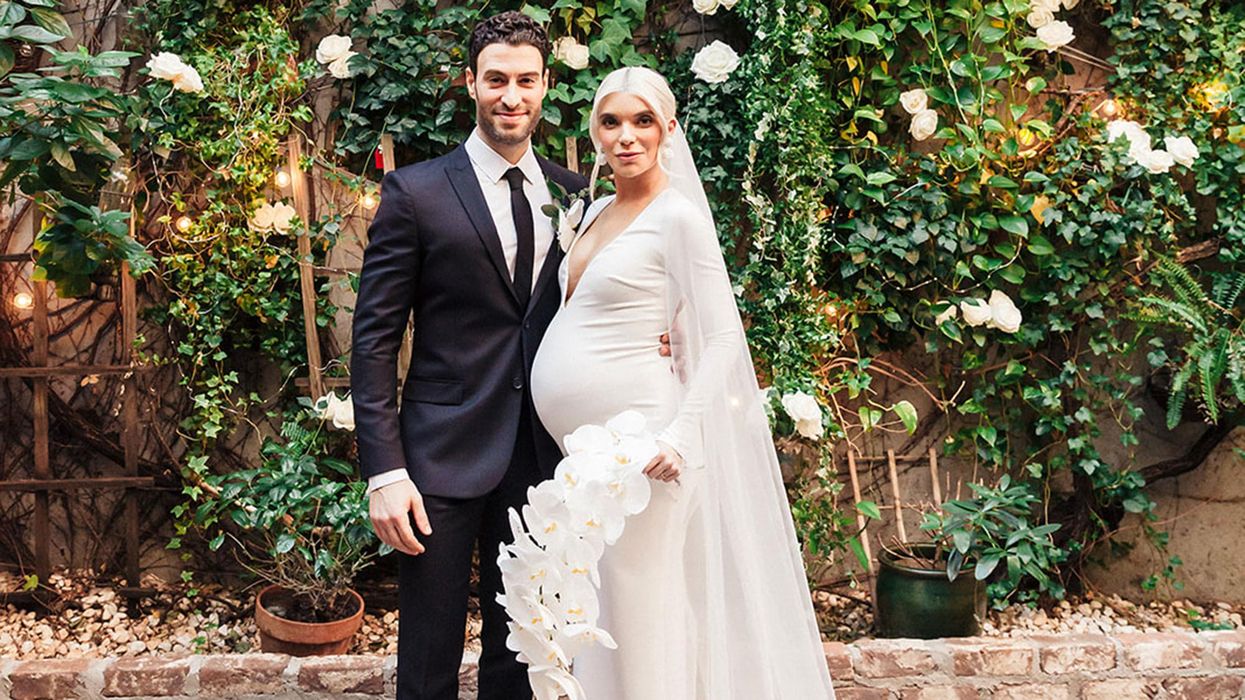 I can't even believe I'm writing this love story, that this happened to me. I've always had faith that I would find my person, someone who would love me for who I am, but people around you (and the voice in your head) can make you feel otherwise, as in maybe that person won't be everything on your "list."
But let this story be proof that if you are still looking for your person, they're out there, and they can be everything you've hoped and prayed for. You just have to honestly believe it.
Another thing I believe: that writing down, on paper, exactly what you want in someone and making sure you're those things as well. Here's the list I made in 2012, the year I went on my first blind date with Giovanni Vaccaro, my now-husband: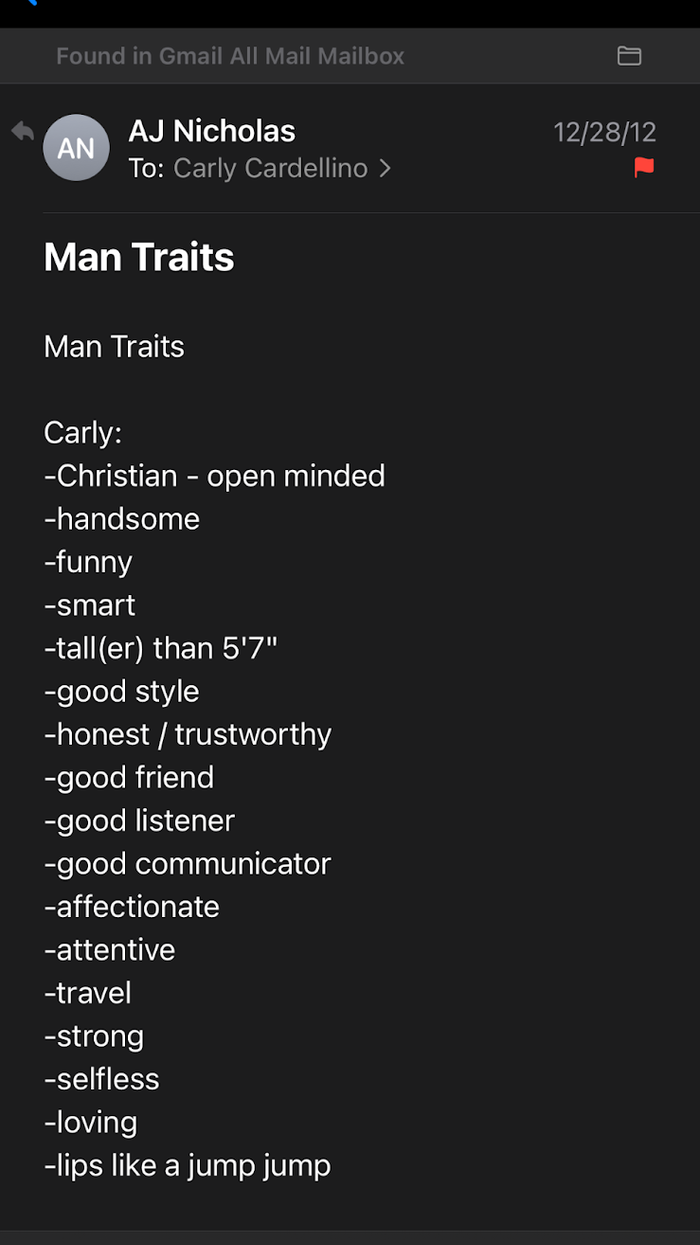 In March 2012, I got my dream job at Cosmopolitan, and shortly thereafter, my friend and fellow beauty editor Rebekah asked if I'd be up for a blind date with a very handsome man who cuts her hair. I didn't know who Gio was at the time, but I was told that he's a gentleman, a super-talented hairstylist, and someone I should consider going out with because "you never know." I agreed to the date and Gio texted me to pick a place and time. We landed at the Ace Hotel on 29th Street for drinks at their swanky lobby bar.
We met around 7 PM; he texted me before he arrived to let me know that he'd be there soon and that he was the one wearing a Hawaiian shirt. Then, in walks the cutest guy, dressed in a European-looking button-down coupled with fitted pants, dress shoes, and a blazer. I didn't know his heart yet, but I can tell you that I immediately fell in love with the man standing before me. We proceeded to get along so well that, "Am I on a first date with my husband?" crossed my mind. (My cousin Leah would later scold me when I told her this, cautioning that I was mentally moving too fast and advised me to "chill out, because he's going to know that you like him too much!" I love you, Leah, thank you for the tough love, which I definitely needed … but, also, who knew I'd actually be right?!).
Our date ended six hours later—we moved from the lobby bar to the restaurant inside the Ace —with a sweet kiss outside of the hotel.
Within the next day or so, Gio sent me a text letting me know what a great time he had and that he'd be traveling for work. He was a salon educator and would go from city to city, teaching fellow stylists about the brand he worked for. Needless to say, we didn't see each other anytime soon, but he was in my industry so I silently kept tabs on him, like women (and good journalists) often do.
That next year, in 2013, I heard from him again; he wanted to go out for drinks on the Upper East Side; then the following year, 2014, he invited me to dinner at Il Buco Alimentari, an Italian spot on Great Jones Street in Soho, to let me know that he was leaving Fekkai to help start Glamsquad, a mobile beauty company. I went and we had a good time, but there was a different energy around this date; it was as if I knew we weren't going to date, even though there was a connection, and I was fine with that. We were, in my mind, just friends who flirted and knew that we deeply cared for one another, but that it wasn't going anywhere else.
Shortly after that dinner, I got into a serious relationship with someone whom, looking back, I stayed with for far too long, but I truly believe in God's timing and that you have to go through certain situations in life before you know your worth. I finally broke up with said guy and started going to therapy, which was my best move yet. There I was able to work through some childhood issues and become a more whole version of myself. If therapy is something that is available to you, I highly recommend it. It doesn't mean you're broken or crazy; it means you acknowledge that you have the ability to grow into your true self and need assistance doing so.
In May 2017, two years into my therapy journey, my friend Charlotte and I were invited to our mutual friend Brooke's wedding in Hawaii. I was feeling mentally strong and more secure in who I was, and we were excited to get away. We decided to make a vacation out of the trip and vowed to not talk about one single guy while we were gone because we wanted to focus on having fun. We did just that—until Gio DM'd me after seeing this photo of me and Charlotte surfing in Honolulu.
"Hawaii is my favorite place," his DM read. This explained the shirt reference on our first date. "Yeah, it's great" was my response. Yes, it was short and designed that way, because, please know that while I had all of the respect in the world for Gio and considered us friends, I was over small talk that led to nowhere.
Between May and July, I noticed he was watching my IG stories and also liking my photos. "Okay, where is this going?" I thought. Then, in July, I went to Paris with Chanel for their fashion show. It's still one of my most favorite memories for many reasons: I was on the trip with the one and only Phillip Picardi, whom I count as one of my close friends; the show was epic, and I felt so lucky and honored to be there; and Gio reached out again (via Instagram) right before we were headed to this amazing party to celebrate Chanel. I remember working on a silver glitter cat-eye in my bathroom at the Peninsula Hotel when he messaged me, "You're in Paris now, world traveler?!" My reply: "Text me! Don't you have my cell?" He did one better and called me right then and there, and I talked to him while I finished up my makeup.
We decided to meet up on July 13, after I got back, at the Edition Hotel lobby. On that date, he was affectionate and flirty, more so than he had ever been. I remember a couple was sitting across from us, and they asked what our story was. "Oh, we met in New York on a blind date, and now we're married," Gio said. And the rest is legit history. From that day on, everything was easy, he came full throttle after me, we saw each other every week, and it was the most fun dating experience I ever had. In September, on a trip to Newport, Rhode Island, he asked me to be his girlfriend.
We dated for eight months before Gio asked me to move into his apartment on 29th Street—just down the block from the Ace Hotel. Too many of my girlfriends jumped too quickly at the chance to move in with their significant others and it didn't end up working out. Plus, my apartment was rent-controlled. Gio respected my decision. Then, on May 24, we got the news that changed our lives.
Little can prepare you for finding out you're pregnant regardless of the stage you're at, but I was in the height of my career, dating my dream guy, and about to leave for Paris when I realized that my period was almost a week late. I had been taking antibiotics for an internal gut issue, and I thought the estrogen in the pill was messing with my period—until my cousin recommended taking a pregnancy test, just in case. It was positive.
When I told Gio, he literally grabbed the countertop with one hand and the refrigerator handle with the other and said, "I need a minute," and a minute later he got this huge smile on his face and was like, "Okay, let's come up with a plan!" He was so excited, which helped offset my nervousness, and we literally sat down on his couch and mapped out this exact plan:
May 26: I'd go to the doctor then leave for Paris that night.
July 4: Gio asked me to marry him in Positano, Italy, at Le Sirenuse. (I didn't know when he was going to ask for my hand in marriage, but I did know that we wanted it to be before we told our parents that they were going to be grandparents.)
August 18: I moved out of my rent-controlled apartment and headed to Gio's on 29th Street; the same street we had our very first date on.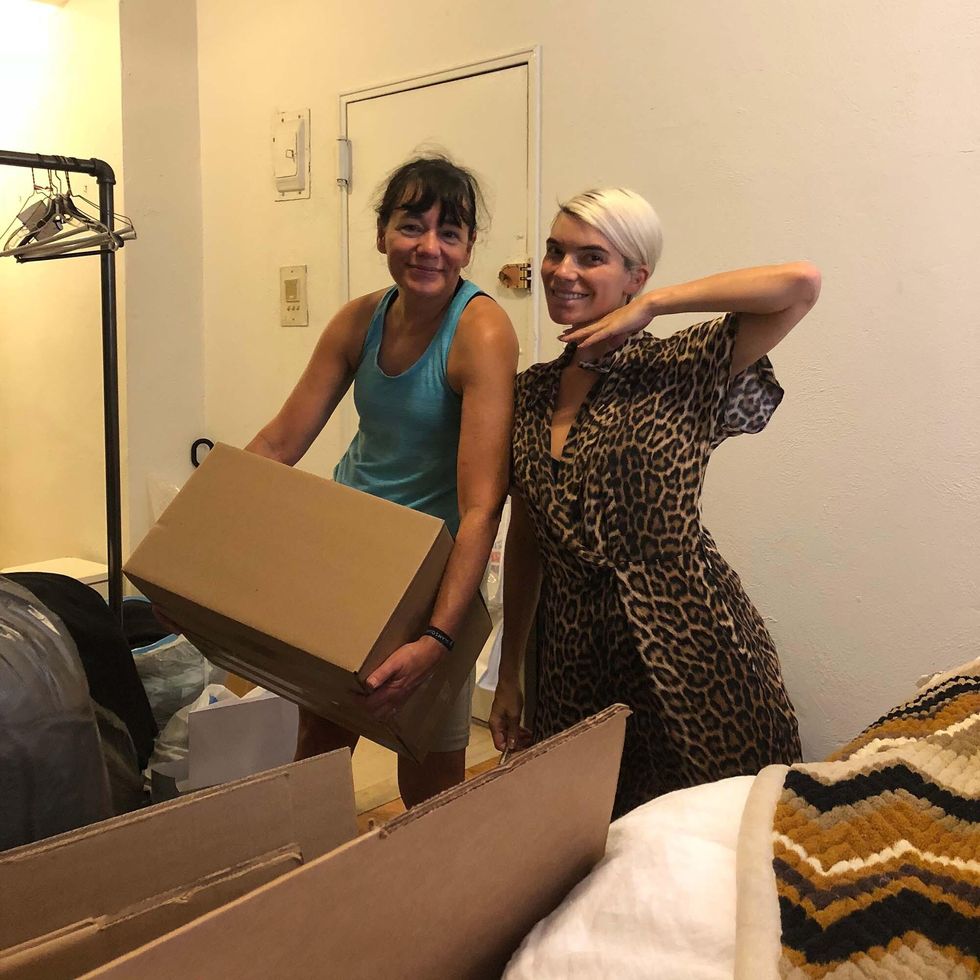 Carly and her mom on moving day/
Photo: Courtesy of Carly Cardellino
August 23: We announced to the world that we were having Delfina. We told both of our parents the news earlier that month.
December 8: We got married at Palma on Cornelia Street. It was important to us to be married before Delfina was born. Also, because my dad's health wasn't great at the time, it was crucial that we acted fast to ensure he would be part of our big day.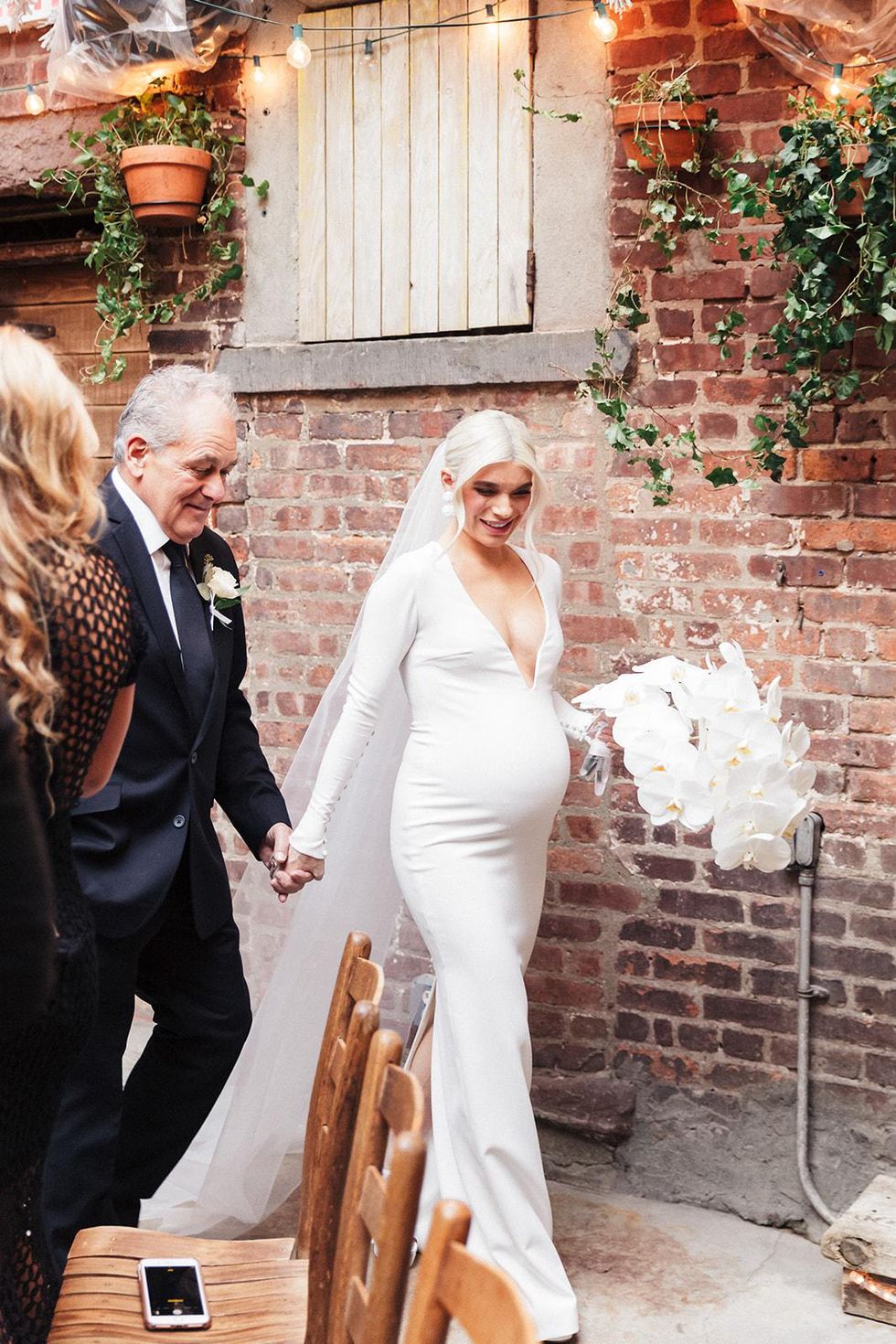 Photos: Courtesy of Esther Yi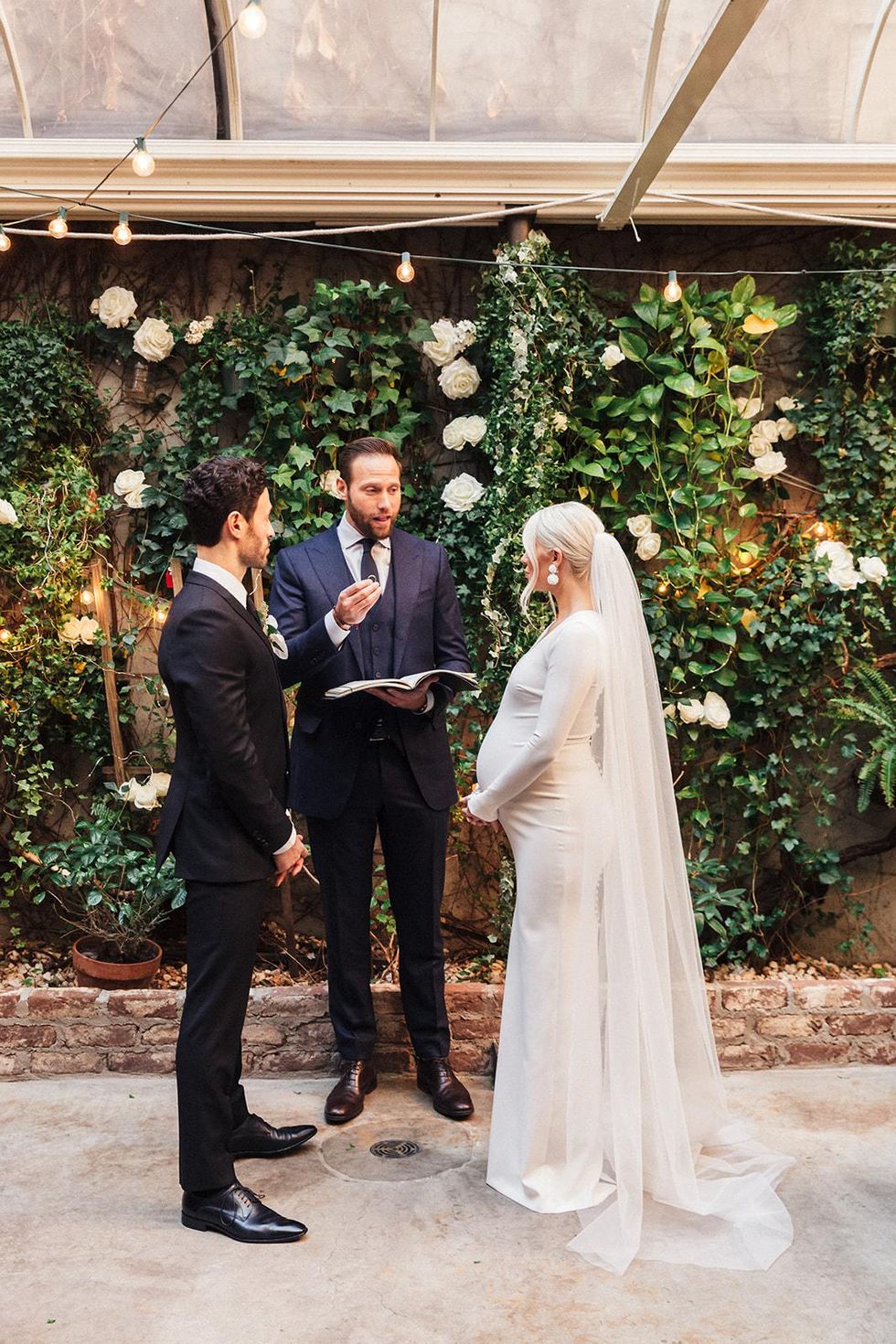 …And the rest is history!
We got pregnant with our second child, Sandro...
…then we moved out of the city later that year…
…before Sandro was born on March 19, 2021.
The biggest lesson to me is that what you want in someone is out there and to do your best to focus on yourself—what is meant for you will come to you. Make sure you feel whole as a person and the right whole person will find their way to you. The universe never aligned Gio and me before July 13, 2017 because neither of us were truly ready; we were two halves and you can't have a successful relationship unless you're both whole, healed, and happy with who you really are.
If you're feeling meh about your dating situation at the moment, I hope our love story gives you hope. And if you're happily committed, I hope you learned something about believing in the things you want in life and for yourself.