Celebrity
The rapper opens up about her breakout single, her deluxe EP, plastic surgery, and the year that changed everything.
Graphics:
Ashley Combs
BIA just went back home. And it's not a stretch to liken her return to Boston to a victory lap. "That was my craziest show I've ever had," she recalls.
In early October, Boston was the halfway point on the Life of a Don Tour, the 28-stop odyssey where she's sharing the bill with Don Toliver. The tour is taking place in the midst of a life-altering year, where "Whole Lotta Money", her breakout single, swiftly won over the industry and internet alike.
Weeks later, she phones in from Houston, between episodes of Law and Order: SVU and The First 48—a tour bus favorite. Several stops have passed since Massachusetts and the tour has made its way from the East Coast to the South. But Boston still stands out. "When you have your moment and you go back home, it's just beautiful. It's everything you hope for and more."
To further the full-circle feeling, the show took place at a venue she used to attend. "Everybody who's great in Boston always kills the House of Blues," she says. "I've seen many people perform there and I would always say, 'I can't wait until I do House of Blues.' I'm so happy that it happened this year, because it's been my craziest year."
In the past 12 months BIA achieved a feat that had been brewing for nearly seven years: coveted cosigns, award nominations, and platinum plaques. Having spent time on the impressive rosters of Pharrell's I Am Other imprint and now Epic Records, she's evolved with the industry's ever-changing ebbs and flows. But now, the shapeshifting emcee is at a new peak. She spent almost the entirety of her twenties working to penetrate rap's highest ranks and now, at 30, she's cashing in thanks to the sophomore EP that she dropped last December, For Certain. Although, her 2021 trajectory can mostly be attributed to the project's lead single. Considering the fact that it's still everywhere, it's easy to overlook the fact that the track has been out since the end of last year.
You probably remember where you first heard it: over an entrancing beat, she raps variegated flows with hyper-confident lyrics, spit out in a sultry drawl. Then, the bass cuts out.
"I put on my jewelry just to go to the bodega
"And I keep it with me just so that I'm feeling safer
"Fendi on my body, but my feet is in Bottega
"Bitch, I'm getting money, give a fuck about a hater"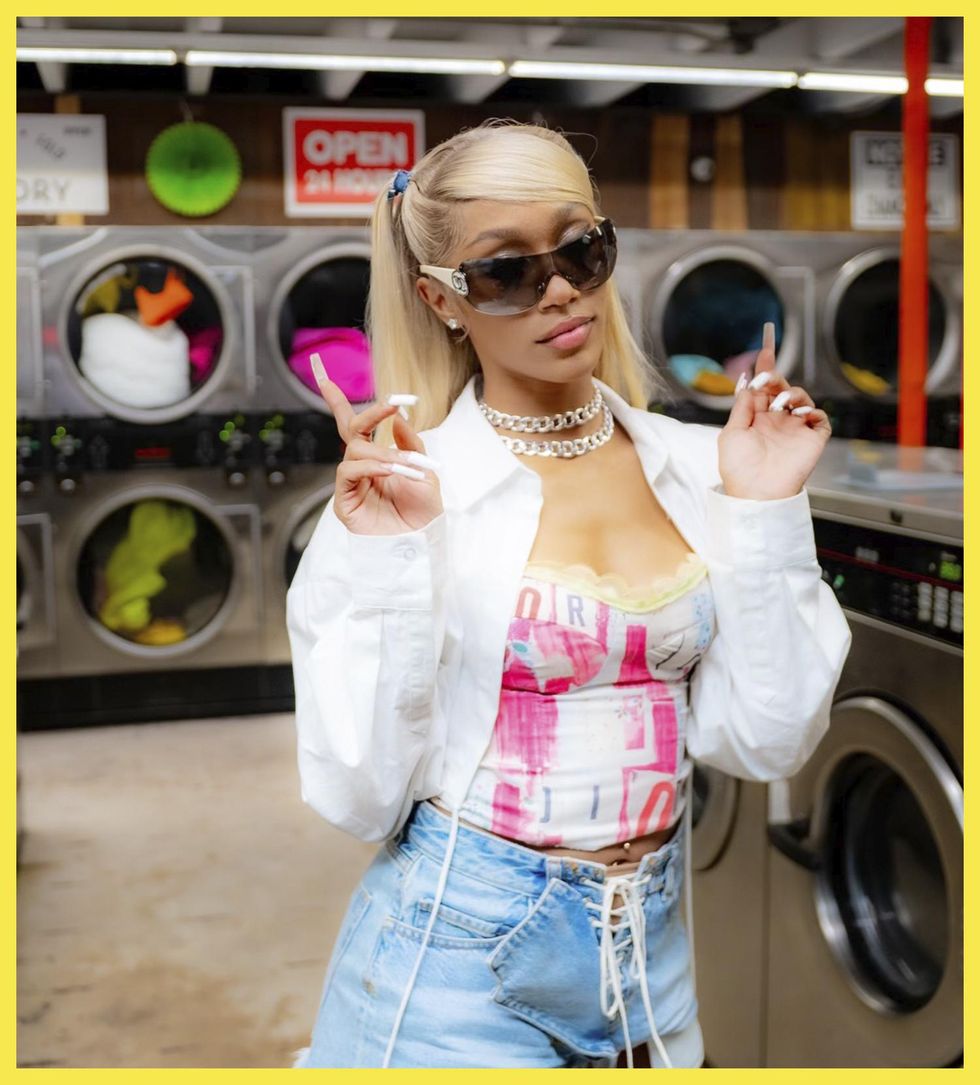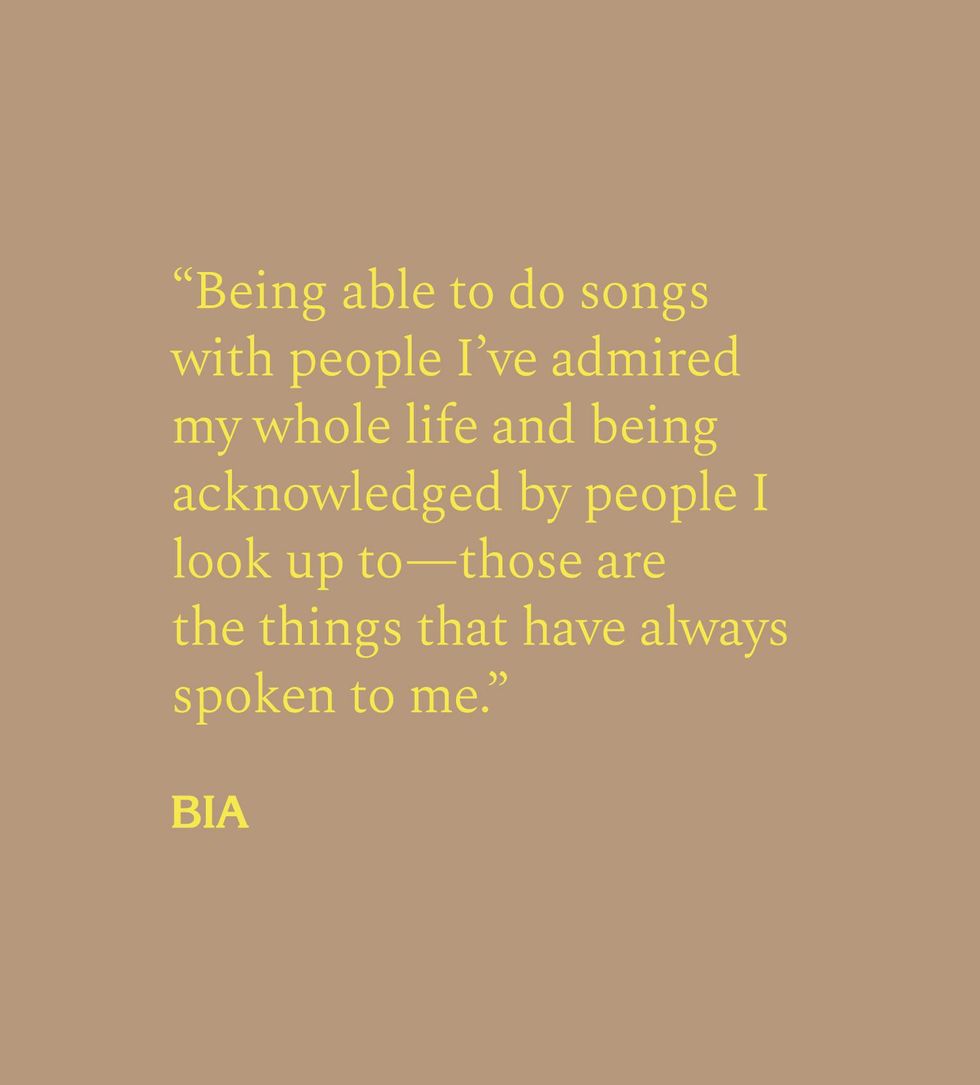 It wasn't novel subject matter, but it sounded so fresh. "Whole Lotta Money" teetered between solid bars, club-friendly cool, and clever one liners that we'd lip sync on TikTok and use as captions on Instagram. Her EP flexes her luxury lexicon, laden with designer namedrops potent enough to allegedly sell out Bottega's popular mesh pumps. Recently, British Vogue christened her "fashion's favorite rapper", a title that puts her in the line of succession of predecessors like Lil' Kim.
Though this was her solo tour de force, it's not her first hit. In 2019, the ultimate seal of approval came when Rihanna reposted a track where BIA rapped alongside Russ, taking to the caption to thank them for dropping "my new fav song."
This was pivotal. Between the explosion of "Best on Earth"—her first Billboard entry—and a new deal with Epic Records, the momentum was set on a mission that not even a pandemic could derail. "2019 is what really set the tone for how this year would go. Everything that came out in 2021 was the work that me, Aziz (her producer and longtime friend), and Epic had all put in since 2019."
BIA says that "Whole Lotta Money" was the last to land on the first iteration of For Certain (she's since dropped a deluxe reimagination of the EP) and ironically, it's the first to soar to such heights. When Nicki Minaj added a verse to the remix, it transcended from earworm to certified platinum single. As hip hop's unofficial den mother, Minaj's approval carries inordinate weight and BIA has captured it.
The brashness that comes through in her lyrical sensibilities seems to just be a facade—she's very easy to get along with. Over the phone, her tone is soft and bubbly, but it still has the recognizable rasp we hear in our headphones. Growing up, she frequently moved around Massachusetts, having to acclimate to new environments more often than most. This makes the prospect of thriving in uncertain environments and winning over hardened colleagues less daunting. "I'm super outgoing," she says. "I'm a Leo so I always make friends. I've always been a social butterfly."
"Being able to do songs with people I've admired my whole life and being acknowledged by people I look up to—those are the things that have always spoken to me," she says. "Like, wow. I really did it." So what do you do once you get hip hop's highest props? Tackle a new genre.
I want to be BIA across the board, from every genre and every edge of the spectrum. That doesn't mean that I have to box myself into one sound."
BIA hasn't been tight-lipped about her desire to try her hand at R&B and she says that the move is imminent with the upcoming project R&BIA. "I've always been working on R&B but I've just wanted to let my rap music do what it had to do. I wanted to accomplish more on the rap side first."
In many respects, Drake is the genre-bending blueprint, seamlessly swapping between smooth, sung lovesick choruses and grittier bars. BIA hopes to tap into this duality, too. "[Drake] crosses genres all the time and it feels so natural, like it's the same person. I want to be BIA across the board, from every genre and every edge of the spectrum," she says. "That doesn't mean that I have to box myself into one sound."
But with trial comes occasional error and BIA is not immune. "When you reach new levels, you reach new devils," she reflects. But she believes that her haters can soon evolve into fans. "The way I look at it, there might be something for them later. I don't give up on trying to make anyone a believer. That's their prerogative. They might hear something, later on that really speaks to them," she says.
Her pragmatic approach to criticism isn't teflon (she claps back when warranted), but it was particularly useful when critics called her performance of "Whole Lotta Money" and "BIA BIA" at this year's BET Hip Hop Awards underwhelming. After it aired, she tweeted "One thing about me…I'm always gonna stay grateful, and perfect my craft." She thanked followers for their constructive criticism and promised to "take it all in and come back harder next time." You know what that is? Growth.
All things considered, BIA says that the Hip Hop Awards "was my first real live [TV] performance," unlike her rousing set at the Savage X Fenty Show, which was pre-taped. "What people don't see is that there's a lot behind-the-scenes. They don't know if you get a rehearsal, or how many rehearsals you get, or if you have a hand in the creative of that show."
To get a real sense for her abilities as a live performer, she invites critics to experience her live show. "I just have to grow from it," she says. "Maybe next time I'll give a way better performance with way more choreo. It's a learning experience."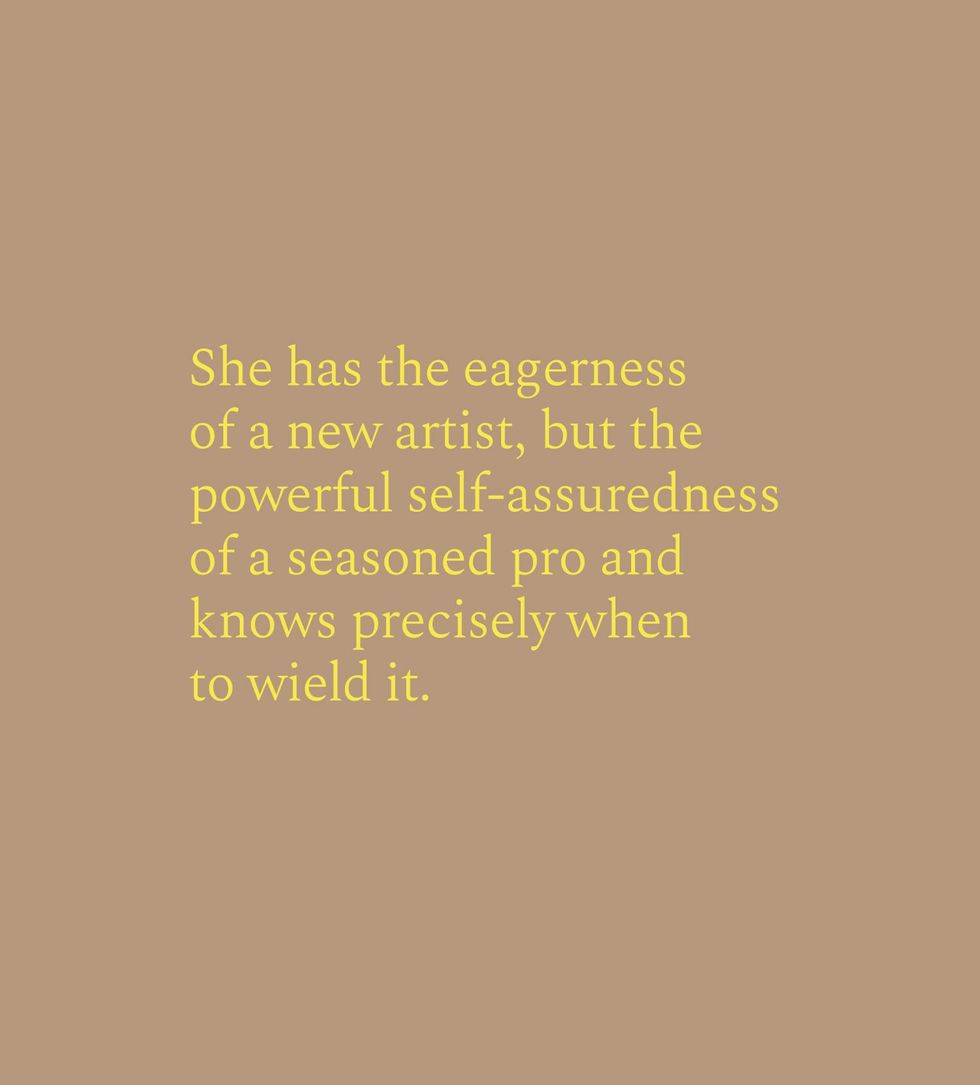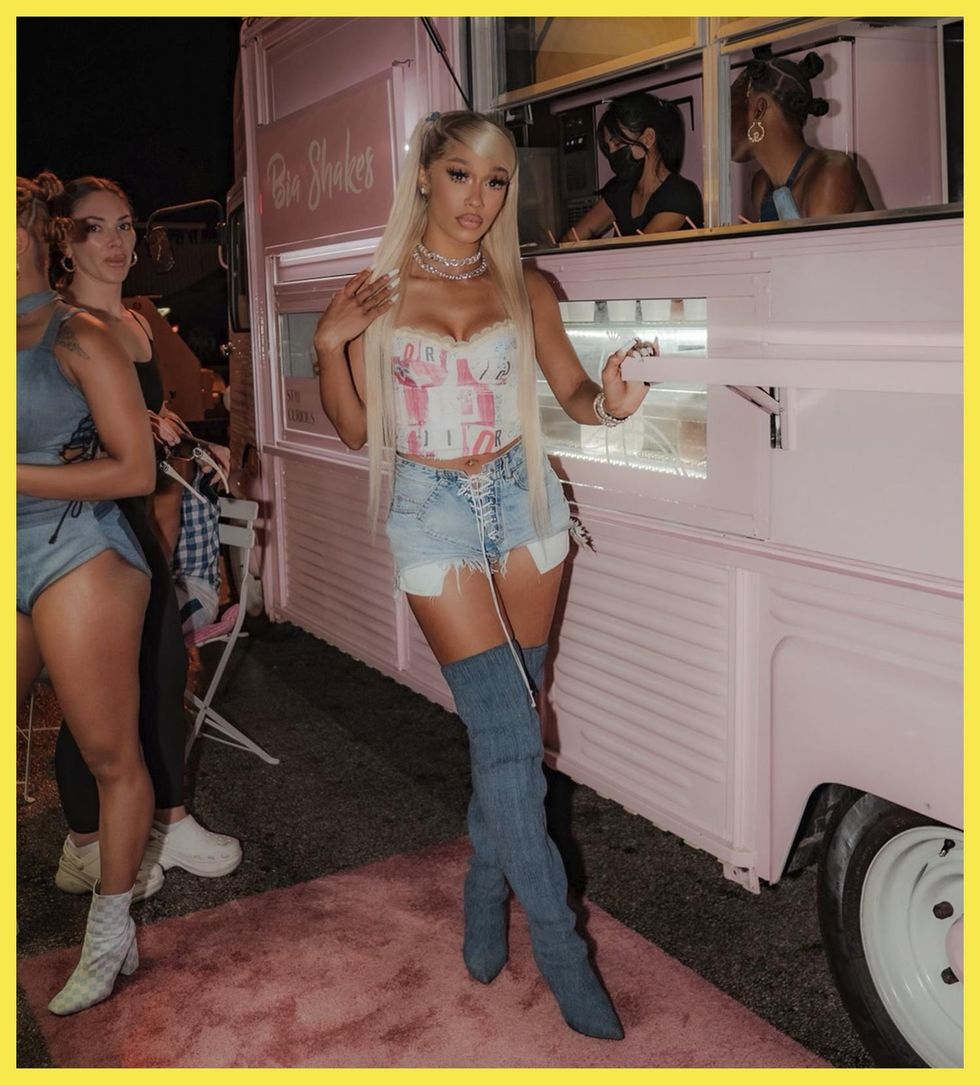 She's set on moving on and not keen to dwell on the past. During her Queen Radio Q&A, when BIA asked Nicki Minaj to reflect on the biggest lesson she's learned over the course of her career, she advised her, "Don't stop to look back." With that in mind, it's no surprise that she stopped our interview midway while we were delving into questions about her journey before arriving at Epic. She was more interested in talking about what's going on now.
She was less enthusiastic to talk about her relationship, though. While she doesn't shy away from posting about her partner (they're grid official) the specifics, like his name, are kept under wraps. "This is one of those times where I keep things to myself," she says, not straying from her tender tone. "Because of social media, so many artists live so much of their lives on Snap and on their Instagram Story and I'm just not that artist. I give so much in my music. If you listen to my music, you'll know a lot of what's going on. But I also feel like you've got to keep some things for yourself." She prefers to exude mystique. "There has to be some type of mystery," she says. "People don't have to know everything that's going on in every artist's life."
However, BIA was forthcoming about a more taboo topic: cosmetic surgery. On the first verse of "Whole Lotta Money" she seemingly alludes to experimenting with surgery, rapping "I invested in my body bitch, I'm done up." But she says that this is a misinterpretation. "I always say little things like that in my songs that allude to what people automatically think is surgery," she says. "But really, investing in your body is investing in your health. Health is wealth and you've got to feel good. Whether you work out or you want to go and get your boobs done, or you want to go fix your nose because you can't breathe or because you just want plastic surgery, everyone has to do what works for them."
While she doesn't have anything against cosmetic procedures, it's not the right time. "I think it looks beautiful on so many people but I haven't felt like I'm ready to do it. And I'm OK with that. I want people to ask me about that."
She has the eagerness of a new artist, but the powerful self-assuredness of a seasoned pro and knows precisely when to wield it. Within a week of our conversation, For Certain (Deluxe) is out, the video for the Kelis-sampling "Can't Touch This" has premiered, and the Life of a Don Tour is in the Mountain States Region. Her career is evolving at a breakneck pace and for BIA, every step forward this year has been seismic. So why look back anyway? Her ascent has been slow burning but she's shed past skins and she's deeply immersed in the now.
Photos: Courtesy of BIA
Want more stories like this?
Introducing Issa: The Creator on What's Next After Insecure
Natasha Rothwell Is Ready for Her Close-Up
JoJo on How She Found Her Light Again