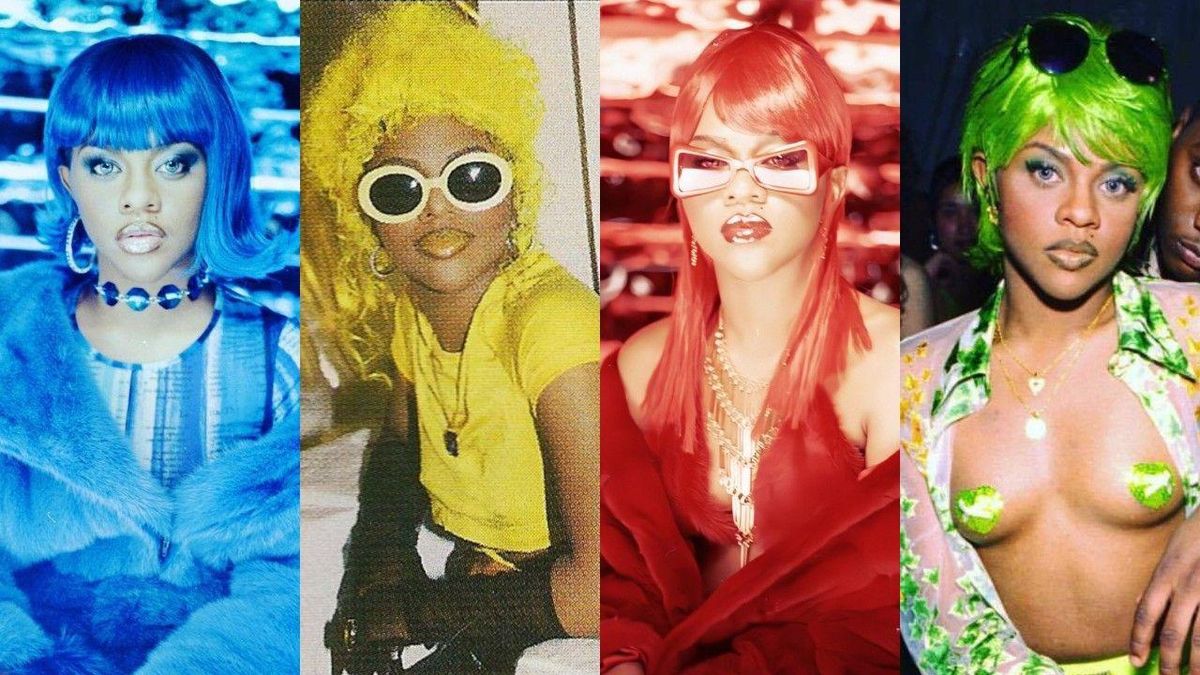 Celebrity
An Ode to Lil' Kim's '90s Over-the-Top Beauty Looks
The rapper's bold glam helped push against conventional ideas on how women are "supposed" to behave.
Growing up, Saturday mornings were for music videos and football. Before the clock struck noon—which meant it was time to watch College GameDay—I'd sit on the beige-colored carpet on the floor of my parents' master bedroom with my eyes glued to the moving images on the screen, flipping the channels between MTV and VH1. And it was on one of those Saturday mornings that I first watched the music video for Lil' Kim's 1996 song "Crush on You."
Kim shows off four different color-coordinated beauty looks during the span of the four-minute, thirty-two-second video. There's the blue wig with the ends bumped up towards the sky and sharp, blunt bangs that fell right across the top of her brows. The bottom of the fire-engine-red wig grazed Kim's collarbone and it featured longer, sweeping bangs. The look was topped off with a siren call—the bold, glossy red lip. Then we see Kim with a bright lime-green messy bob that's paired with an iridescent gloss slicked across her pout and a glittery green smoky eye. The final look was a curly yellow wig with its ends spilling out of the bun plopped on top of her head—a fountain of spirals. The camera visually leans into Kim, so you don't have to, and it homes in on the yellow and orange eyelashes placed along her lash line.
Music videos were a visual escape hatch from the very normal, very suburban life I led in Westerville, Ohio. This one offered up a different sort of fantasy, though. It was one that seemed within my reach.
Photo: Courtesy of Pinterest/@247LiveCulture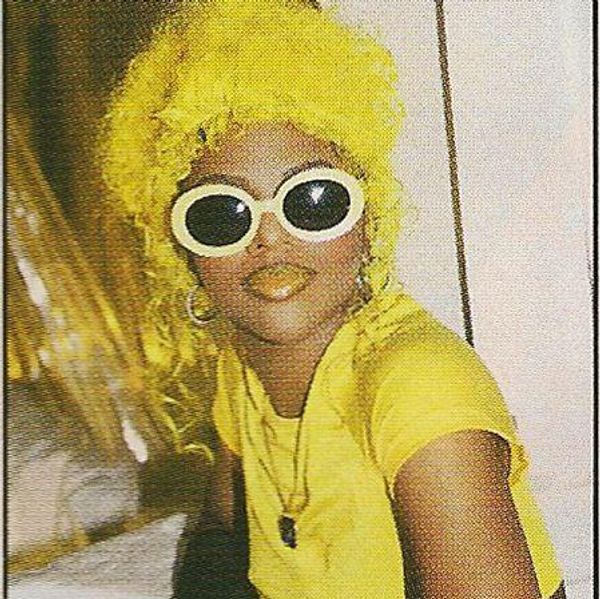 Photo: Courtesy of Pinterest/@OlivineVintage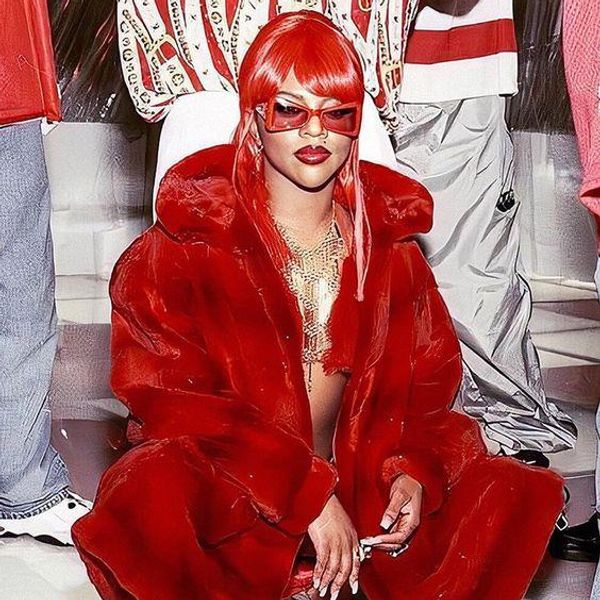 Photo: Courtesy of Pinterest/@247LiveCulture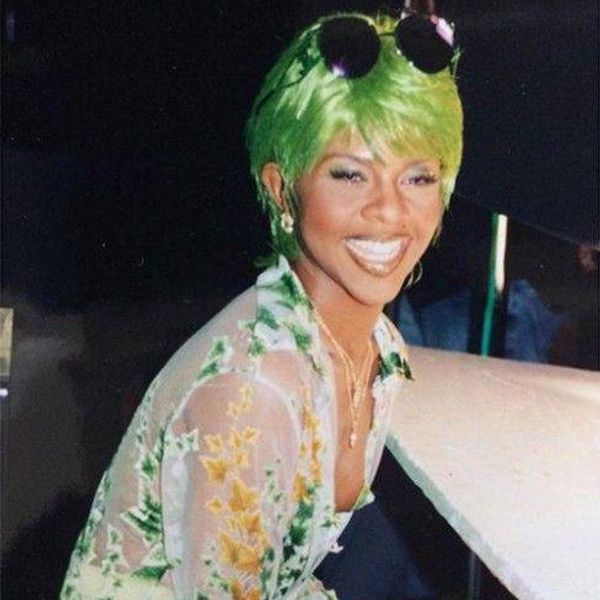 Photo: Courtesy of Pinterest/@Wheretoget
Kimberly Denise Jones was born on July 11, 1974, in Brooklyn, New York. As the story goes, she ran into Biggie Smalls on Fulton Street, rapped for him, and the rest is music history. Biggie and Kim's lives became intertwined as colleagues and lovers. Her relationship with him is one of the most discussed chapters of her story.
"Crush on You" was a single on Kim's first album, Hard Core. While Kim commands the project from start to finish, Biggie's fingerprints are all over the sound. In an essay on Kim, writer Clover Hope details the album recording project: "Biggie heard the bass in her voice, too, and reshaped it. The goal for them was to soften her tone. They were building a perfect rap girl...Her image, through Biggie and Rivera, was all about the fulfillment of desire."
There's a number of pieces on whether Kim was "good" or "bad" for feminism, whether her sexually explicit lyrics were liberating or damaging. This is not one of them, in part because I don't think the answer is clear cut. I believe there is value in the ways that marginalized groups of people find forms of control under systems of oppression. Some people become smaller versions of themselves; others are loud, seemingly free, and living life on their own terms. Kim fell into the latter group. She was attention-seeking, forceful, sexual, and bold in a world telling her to be more "ladylike." She experimented with beauty, wearing colored wigs and makeup that made the effort involved in its application apparent and obvious. Her more-is-more style and sex-goddess image was crafted from the male gaze, but it offered something new for women.
Kim has a number of iconic looks in her beauty repertoire. There's, of course, the purple pastel wig and lavender mermaid bodysuit with a matching pastie that she rocked on the 1999 MTV Music Video Awards red carpet, the blond wig covered in Versace logos worn to the brand's spring/summer show in 2001, and the magenta-and-blond hair paired with a lip gloss with a mirror-like shine from the Soul Train Lady of Soul Awards that same year. Her look was an excessive glamour that wasn't too ashamed to be noticed. She was the original Black Barbie, the original Hot Girl, the original City Girl, the original Pretty Bitch. She embraced the over-the-top hair and makeup, the colors that some young girls are told to avoid because it's "ghetto" or "it'll give people the wrong idea" or "you'll look like you're too high-maintenance." Rather than letting these societal constraints dictate how she presented herself, Kim saw hair and makeup as tools for a form of freedom. They were a means of expression, creativity, and control. It didn't matter if one persona appeared to contradict another. She created a space where the different parts of your personality didn't have to fit together nicely or neatly.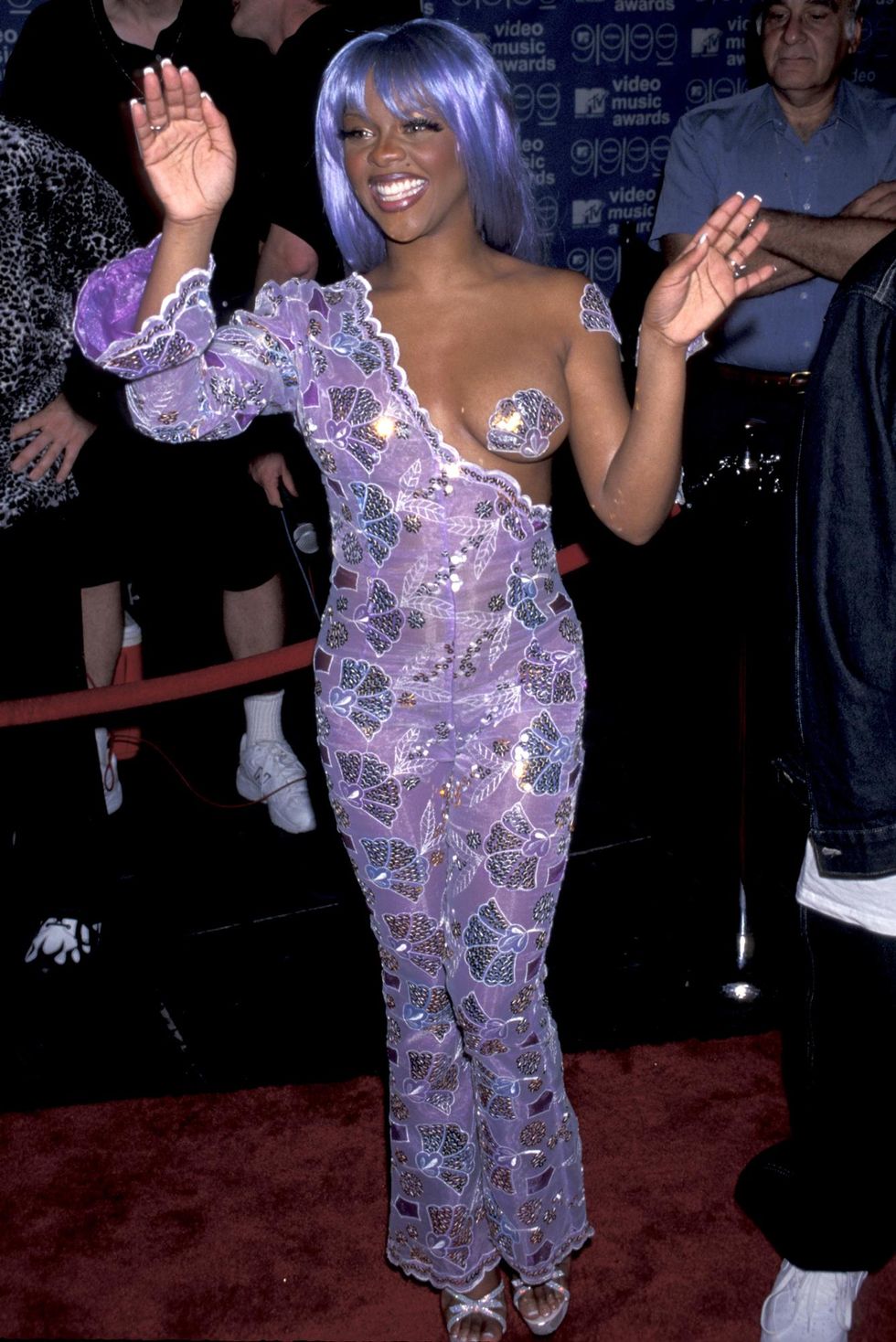 Photo: Getty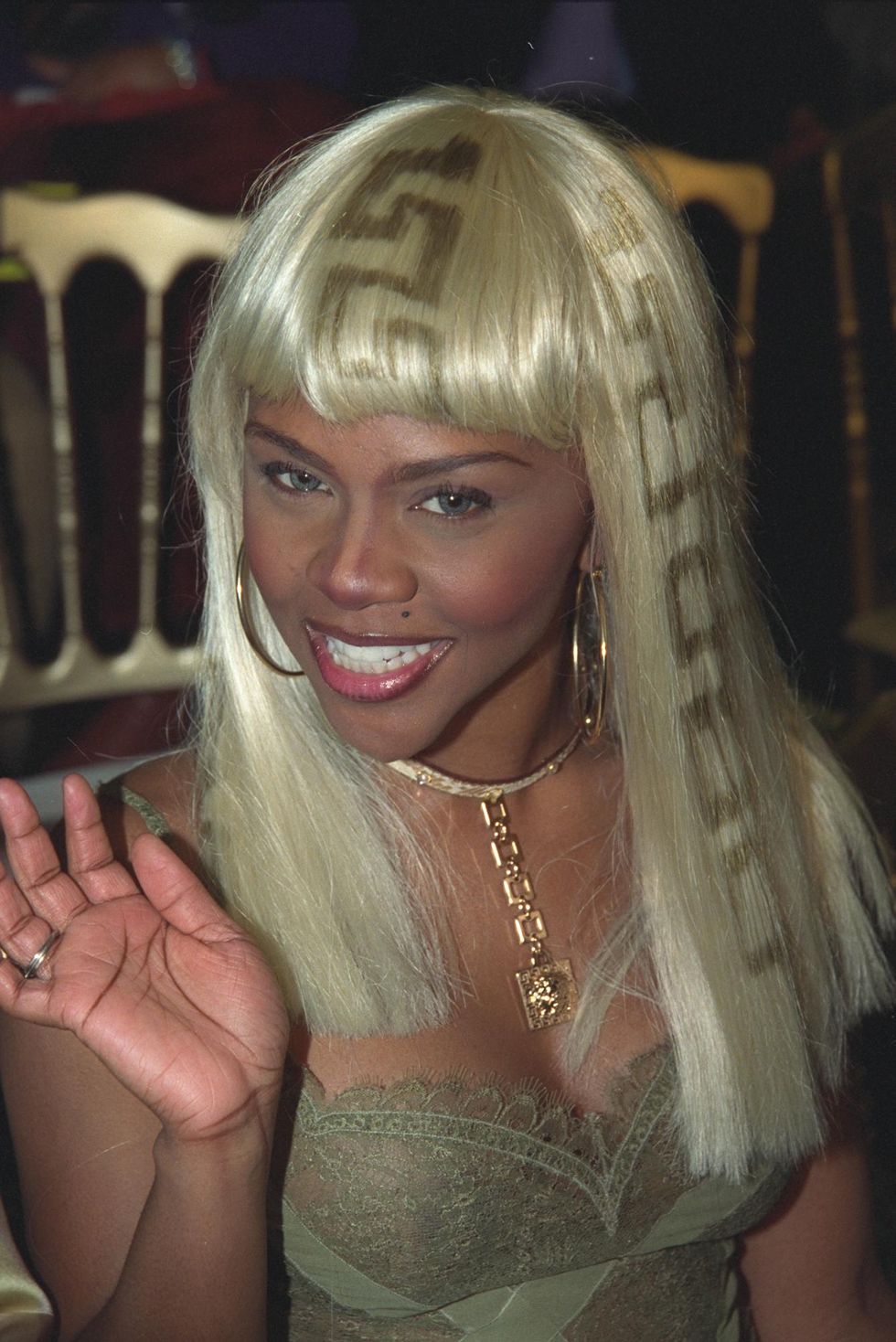 Photo: Getty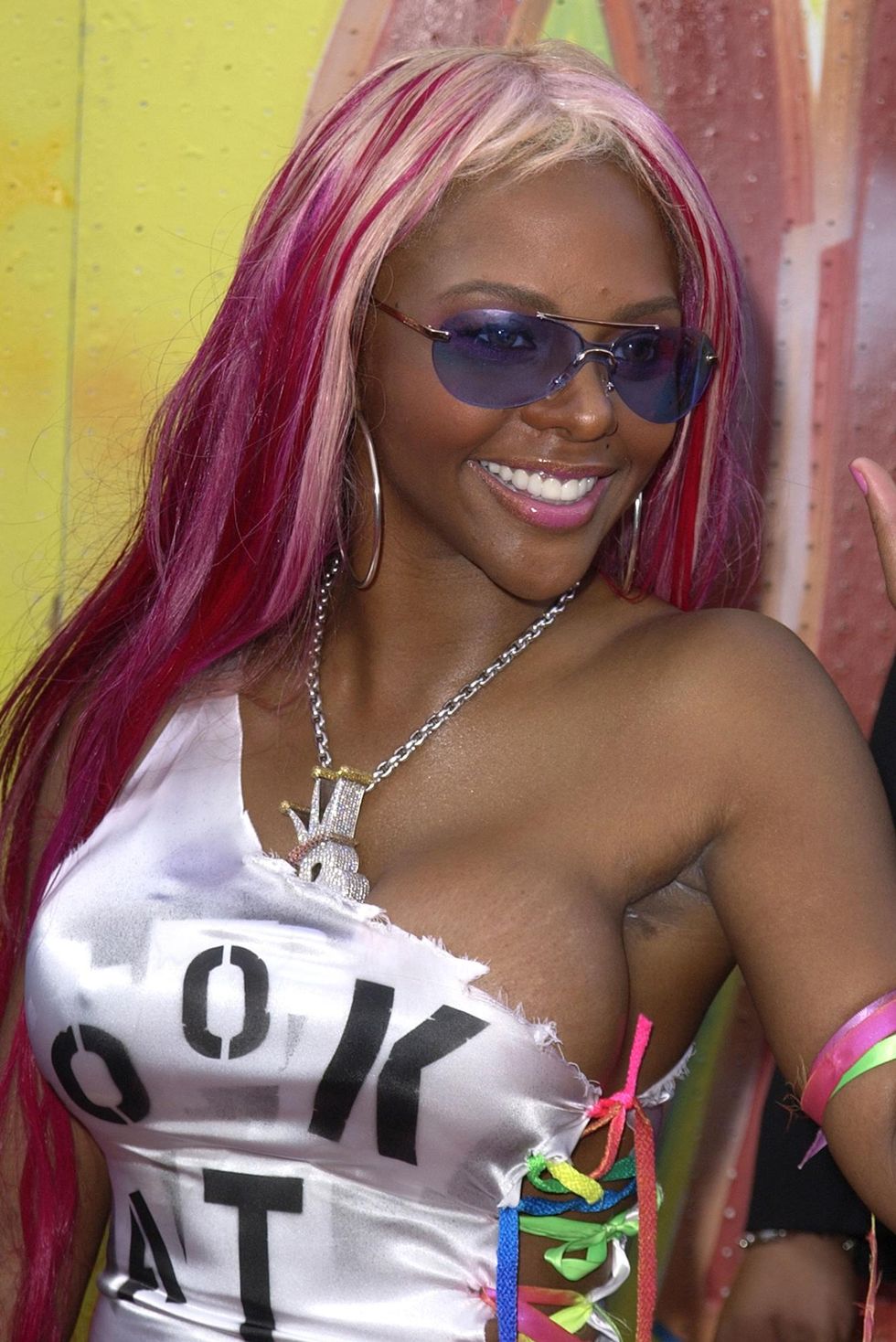 Photo: Getty
Later on in her essay on Kim, Hope goes on to quote an interviewee: "Kim created another lane, allowing women to shape their own images and express themselves in any way they want through style. We don't have to be just one way as women. We get to choose what we wear and how we wear it." I was raised thinking that there was one way to be a woman. It was electrifying for me to see that this wasn't the case.