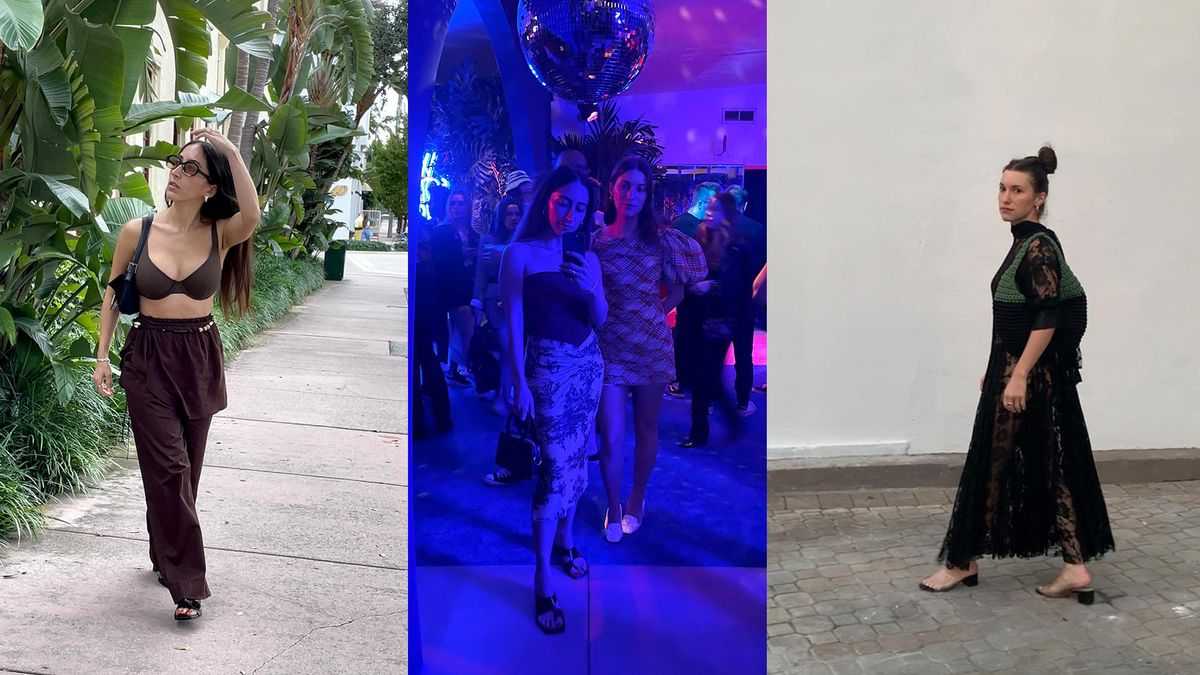 The Weekender
A Stylist and Fashion Editor's Miami Art Week Travel Diary
Plus, everything they wore.
Attendees of Miami Art Week were united by one thing: traffic. Gripes over hour-long drives across usually minutes-long bridges, $100 Ubers, and many canceled rides were all humble-brag fodder for the thousands of New Yorkers, Angelenos, and other domestic and international visitors to the acclaimed fair (the subtext being, "Multi-million dollar NFT trade so unfazes me, all that's left to chat about is this banal hiccup"). But beyond that, outlooks, expectations, and agendas couldn't be more vast.
We ourselves had come to Miami with fashion in mind. Laura Reilly, founder and editor of the shopping newsletter Magasin, was taking the opportunity to connect with feature candidates and PR contacts. Alexis Badiyi, freelance stylist, was also there for work, meetings, and general defrosting—did we mention it's 35 degrees in New York right now?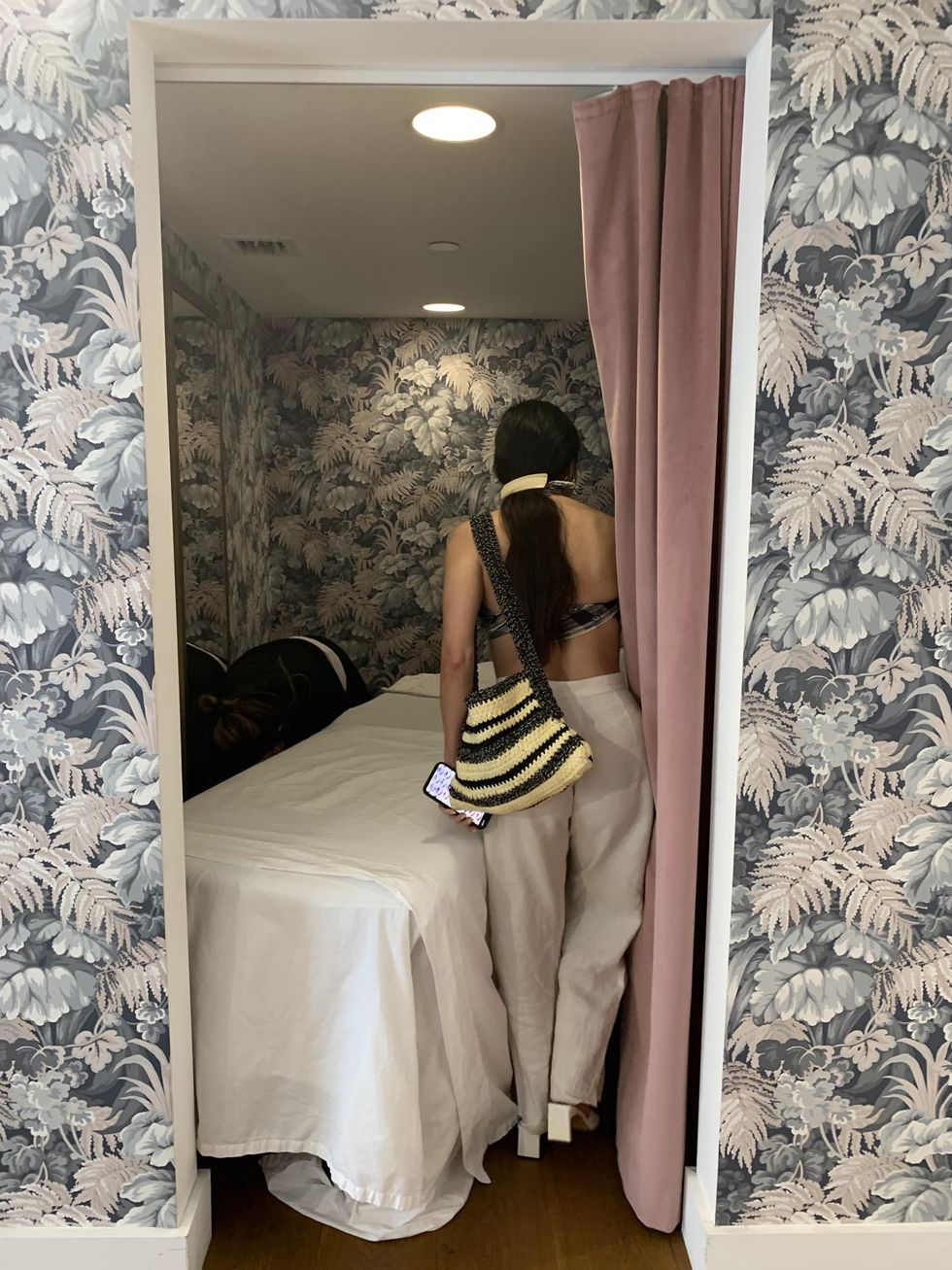 Alexis wearing Ending Soon trousers, vintage Ralph Lauren scarf, Gemsun bag, and Machete clip;
Photos: Laura Reilly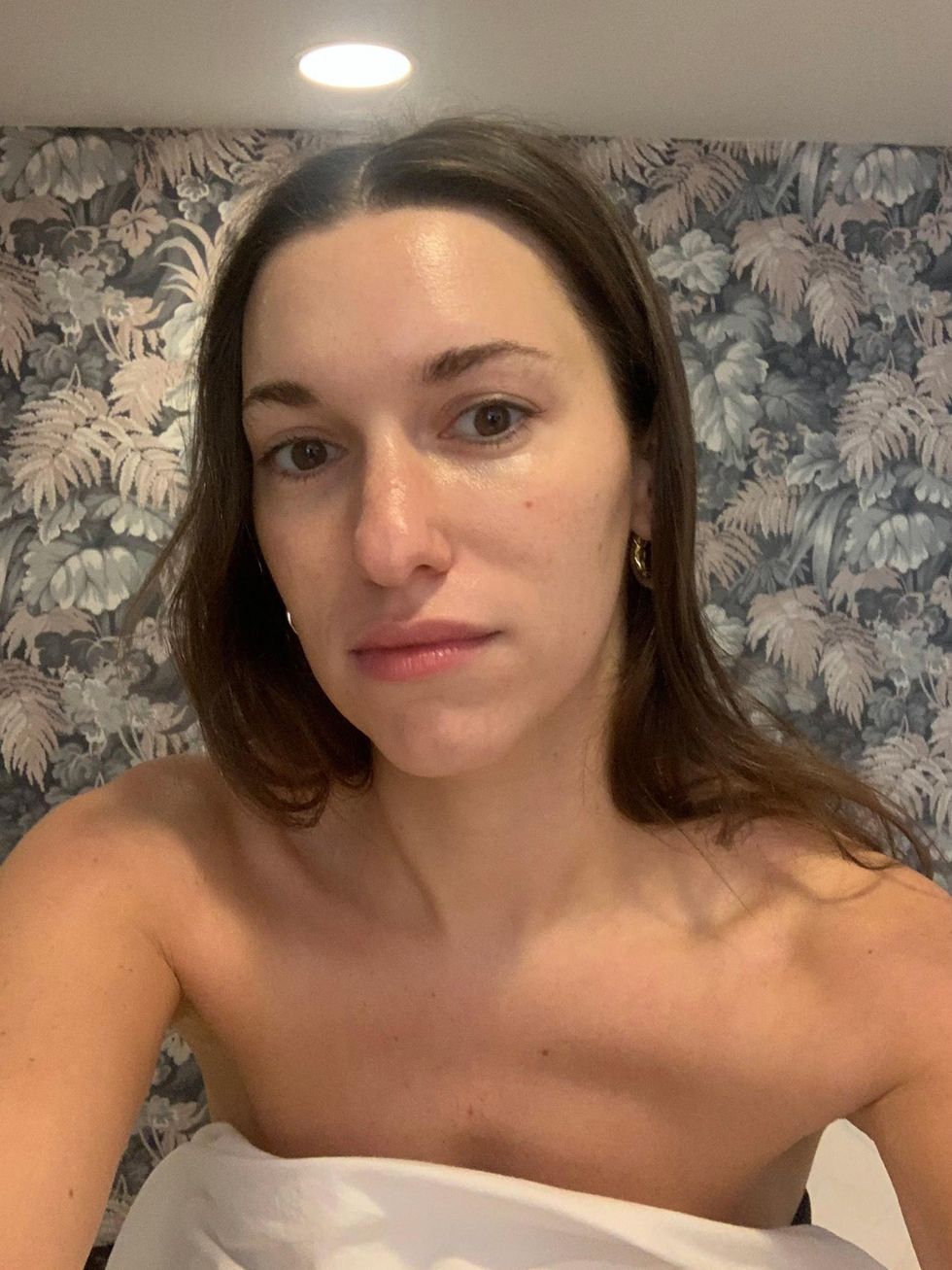 Our trip started with some personal housekeeping. Microcurrent facials with aesthetician and holistic practitioner Jill Black laid a solid energetic foundation for the week, not to mention sculpted our faces for several solid blocks of events over the following days. While a stress-melting tuning beat played on loop, Jill retrained the muscles in our faces to defy gravity.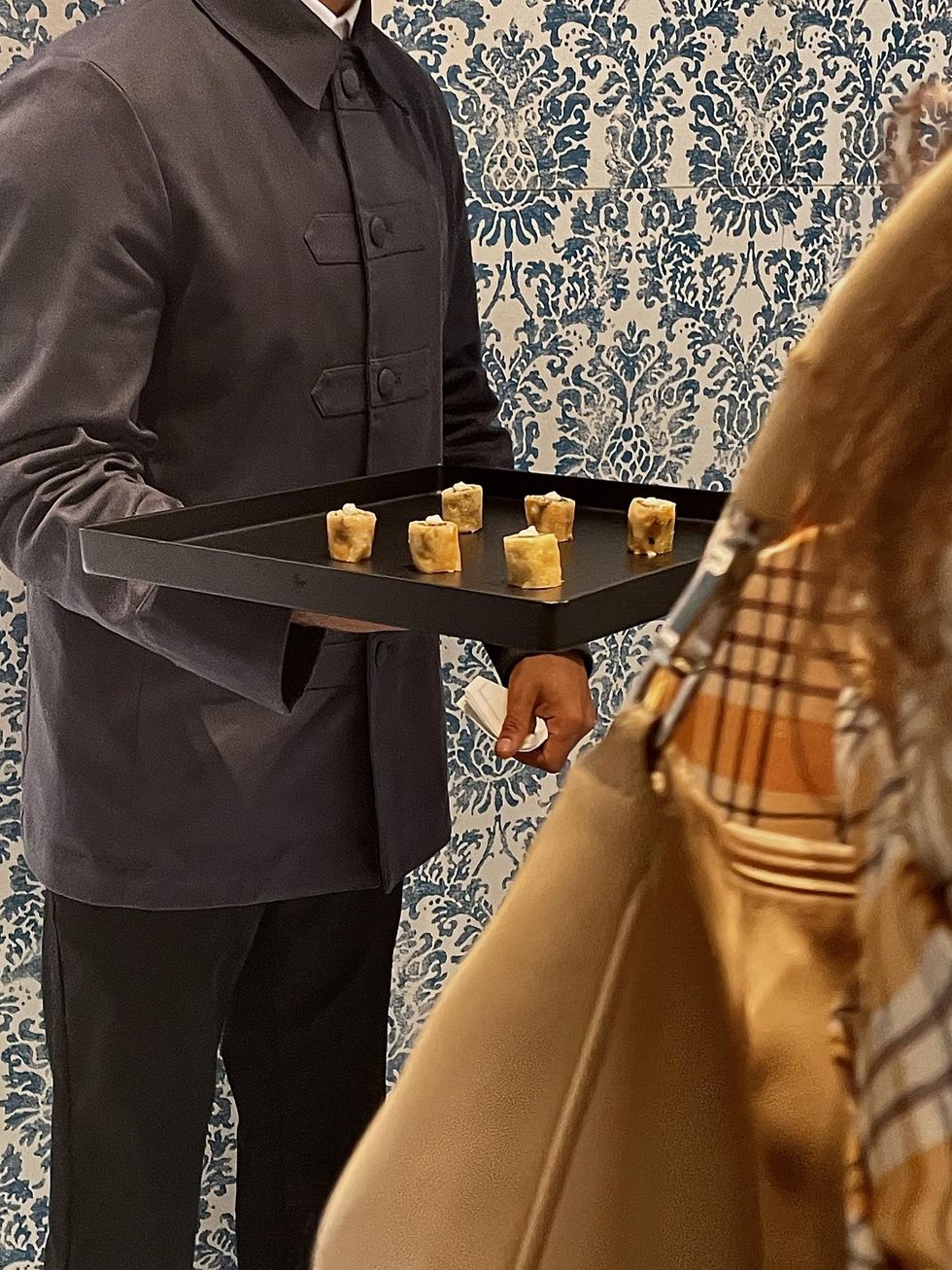 Alexis wearing a Miaou skirt over a With Jéan dress, Luar bag, and Peche heels; Laura wearing a Khaite dress and Prada heels;
Photos: Alexis Badiyi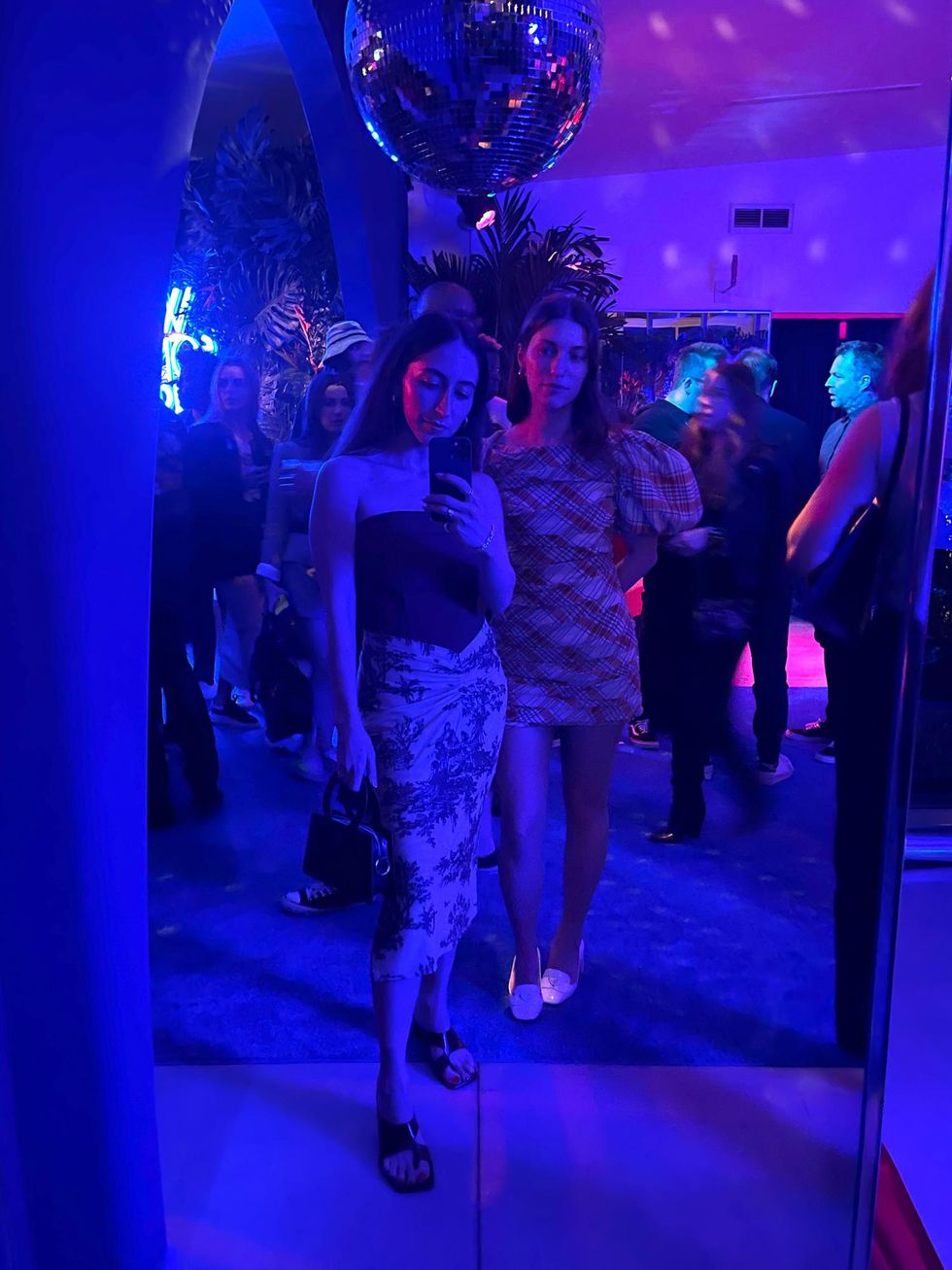 After a stop by Ganni for Rosaluna cocktails and the Institute of Contemporary Art, where Stone Island premiered a short film, we collided with friends at the luxury store crawl that was taking place in the Design District. CHANEL gifted goodie bags containing tees at its newly opened location, and Miu Miu poured spicy margaritas and passed out champagne gummies.
Gucci attracted more raucous behavior, coaxing us onto the dance floor while we played a game of counting all the variations of interlocking Gs we could spot (verdict: countless). A Zen-necessitating car ride later, we made it across the gulf to Miami Beach, where the festivities continued at the Edition Hotel where Daniel Arsham toasted his Kohler collab, and onward to Soho House, which ate up the wee hours like Altoids.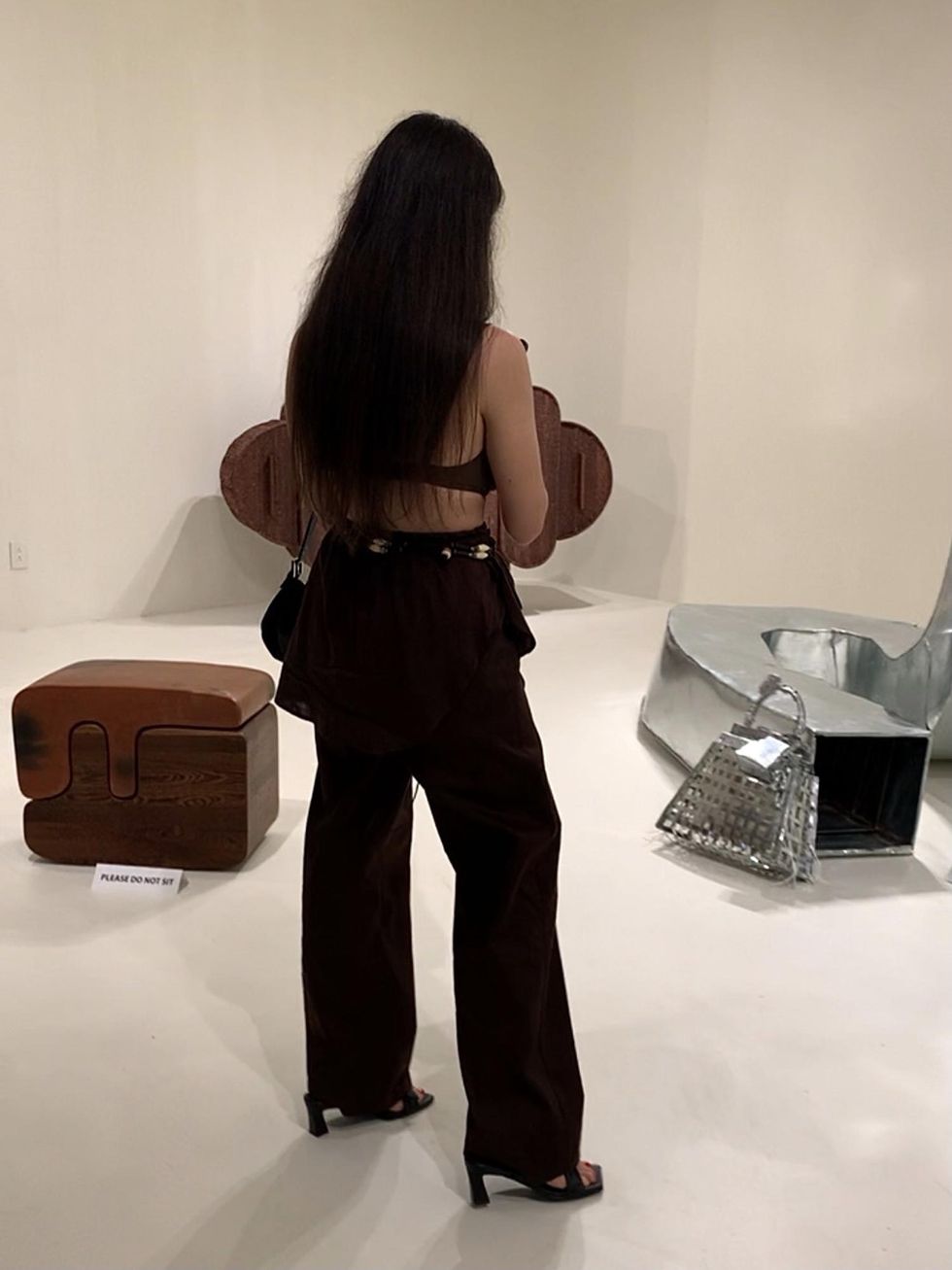 L: Alexis wearing CUUP top, Gemsun pants, Reike Nen shoes, and Fendi bag;
Photo: Alexis Badiyi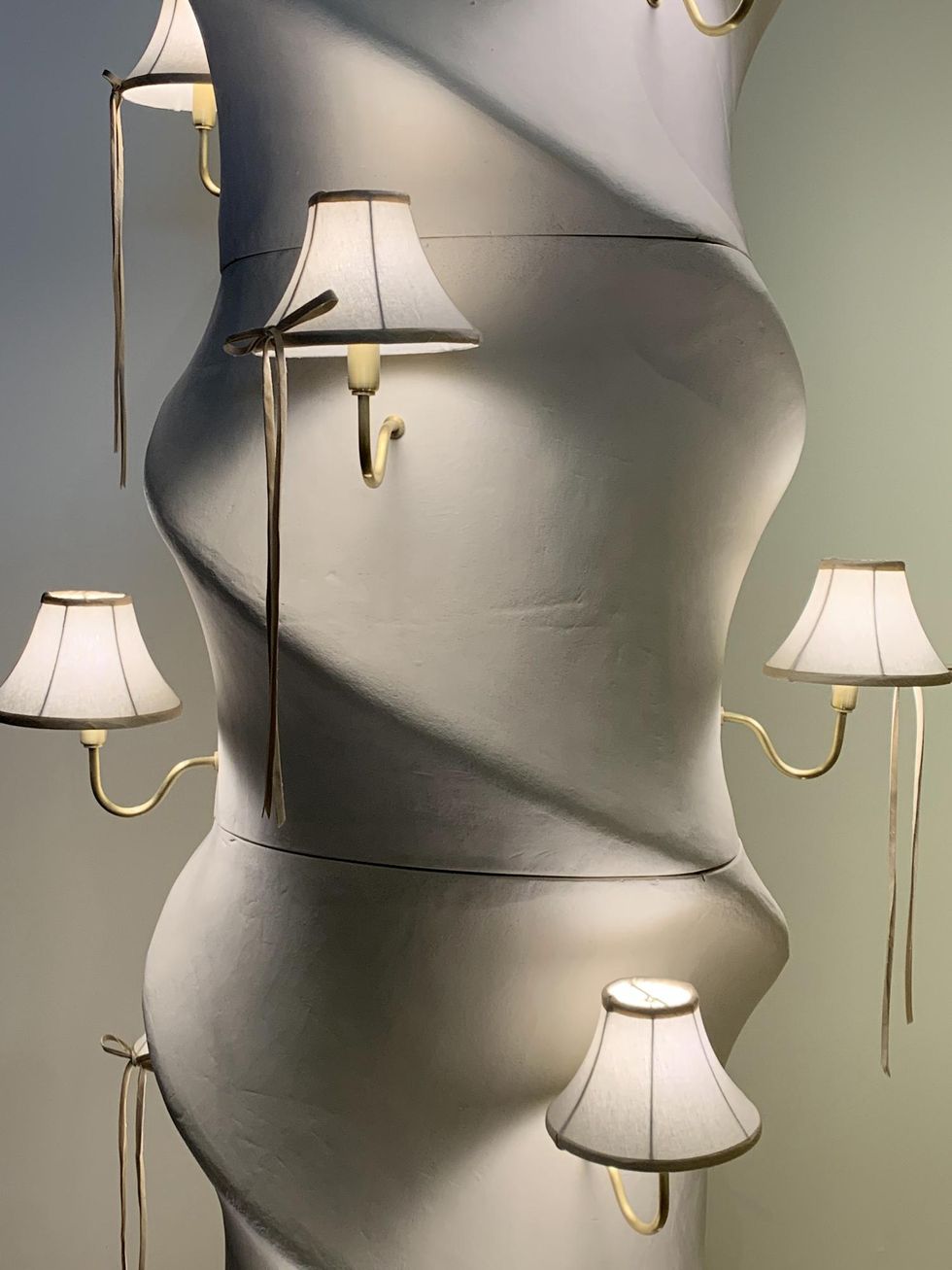 Eny Lee Parker lamp;
Photo: Laura Reilly
Between meetings the next day, we headed out to view some of the event's most anticipated installations. In Mid-Beach, Faena Art had erected a series of tableaus from global designers and artists. Design Miami, the interiors and furniture-oriented arm of the fair, hosted impressive works from upstart favorites like Eny Lee Parker and Sam Stewart, an unexpected and inspiring collection of Shaker woodwork, and an enviable seating selection curated by Fendi.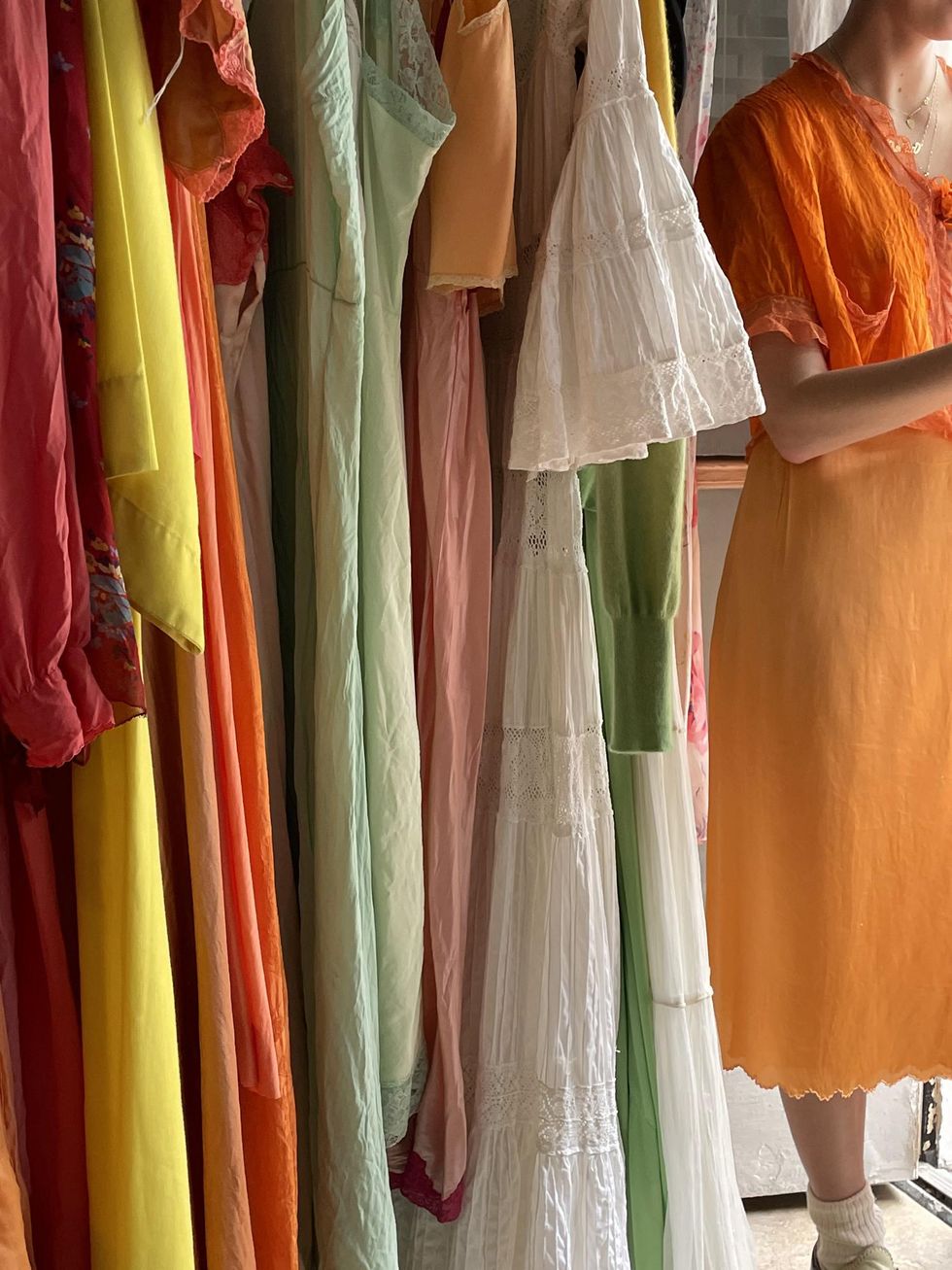 Eveliina Vintage;
Photo: Alexis Badiyi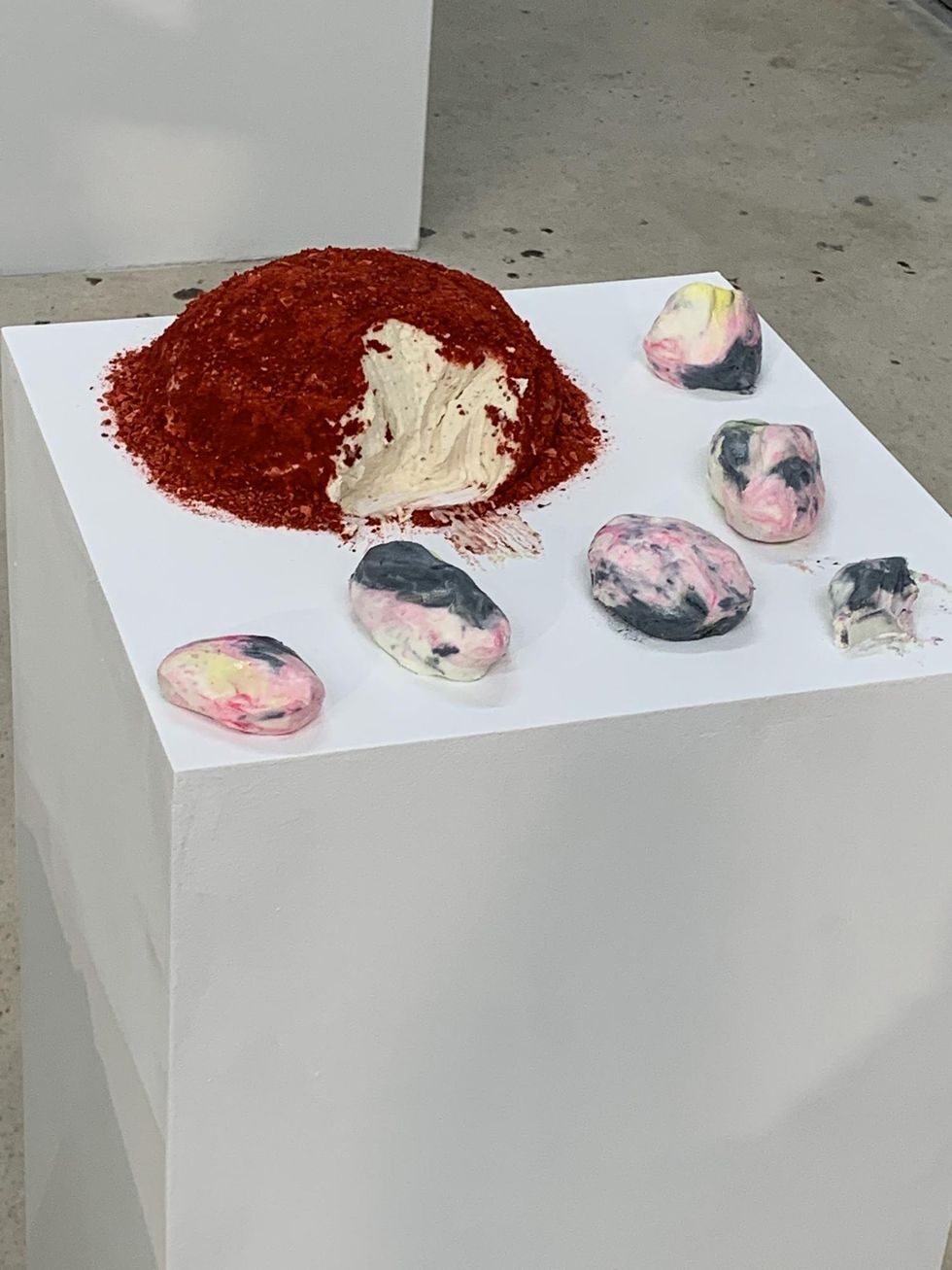 Ananas Ananas at Simonett;
Photo: Laura Reilly
Away from the arts hub, fashion and food activations fired like synapses across town throughout the week. Eveliina Vintage, helmed by Finish twin sisters Emilia and Amanda Musacchia and their mother, sold a selection of hand-dyed vintage silk slip dresses fit for bon vivant fairies out of an apartment in Miami Beach's Flamingo neighborhood—the collection was impossible to resist, and we each took a dress home.
In the Design District to the west, Simonett reopened shop with a pop-up featuring New Zealand brand Paris Georgia and a food installation from Mexico City and Los Angeles-based artist Ananas Ananas. We plucked crudite threaded on string hanging from the center of the bright, well-appointed store, dipped marbled tortilla chips into tie-dyed labneh stones, and whittled away at blocks of cheese with an industrial screwdriver.
Alexis wearing Helmut Lang dress, Lemaire heels, and Prada bag; Laura wearing Norma Kamali dress, Gemsun bag, and MNZ shoes;
Photo: Alexis Badiyi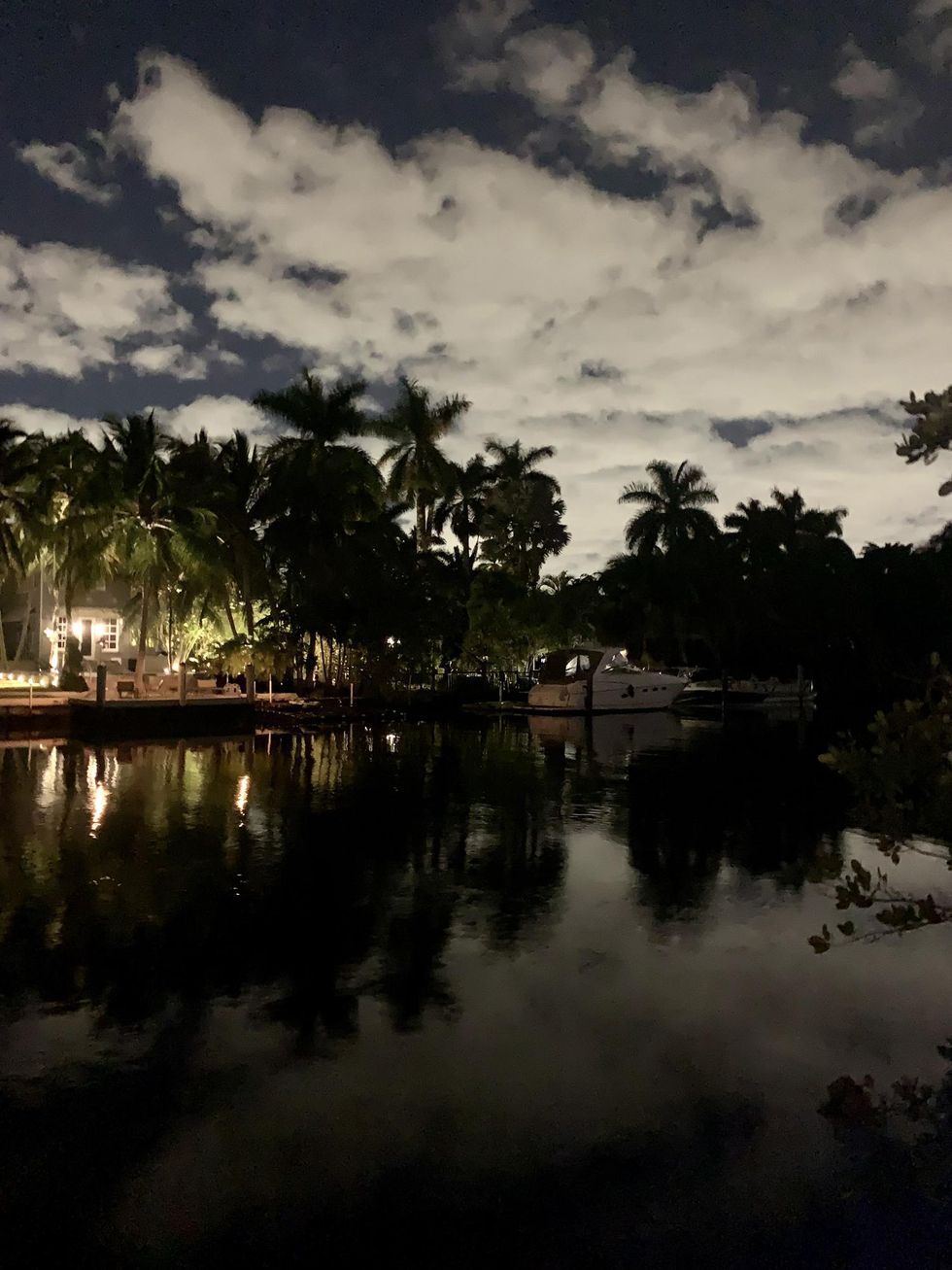 Photo: Laura Reilly
We segued into yet another round of brand parties, beginning with Lavazza's calendar release at Faena Forum, where we were thrilled to find espresso martinis and dance alongside Cuba Gooding Jr. At a Pandora-hosted party at Gitano just down the block, we traded our drinks for freshly made tacos and the spectacle of an Evan Mock appearance (he was co-hosting), his 10 PM sunglasses on and full posse in tow.
We then slingshotted across the bay to Pelican Harbor Marina where, after a quick pit stop for some Caipirinhas and fried yucca at Brazilian restaurant Boteco, we landed at a house party hosted by the marketplace Basic Space. When met with the hubbub of yet another Evan Mock appearance, we decided to call it a night.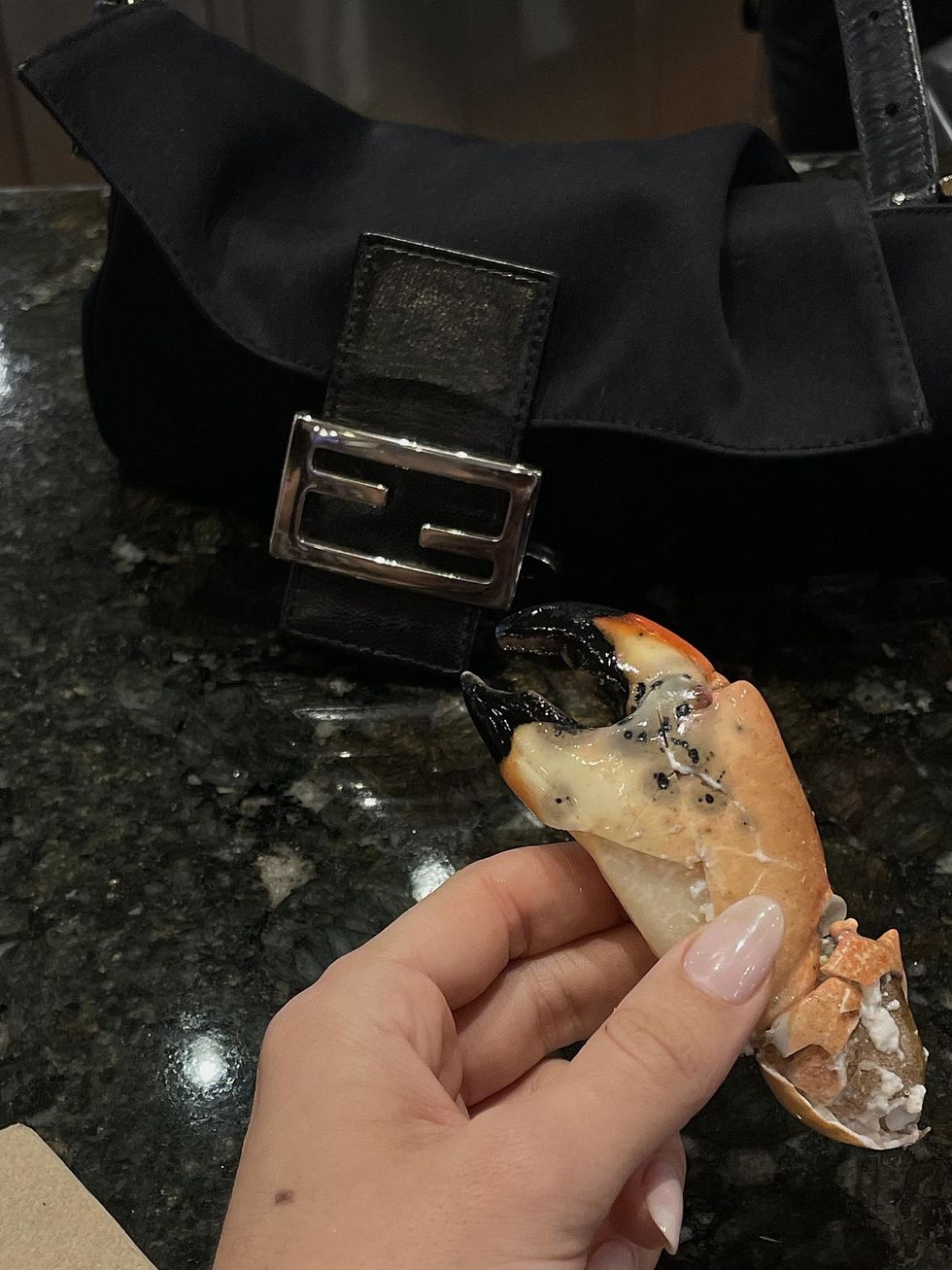 Joe's Stone Crab;
Photos: Alexis Badiyi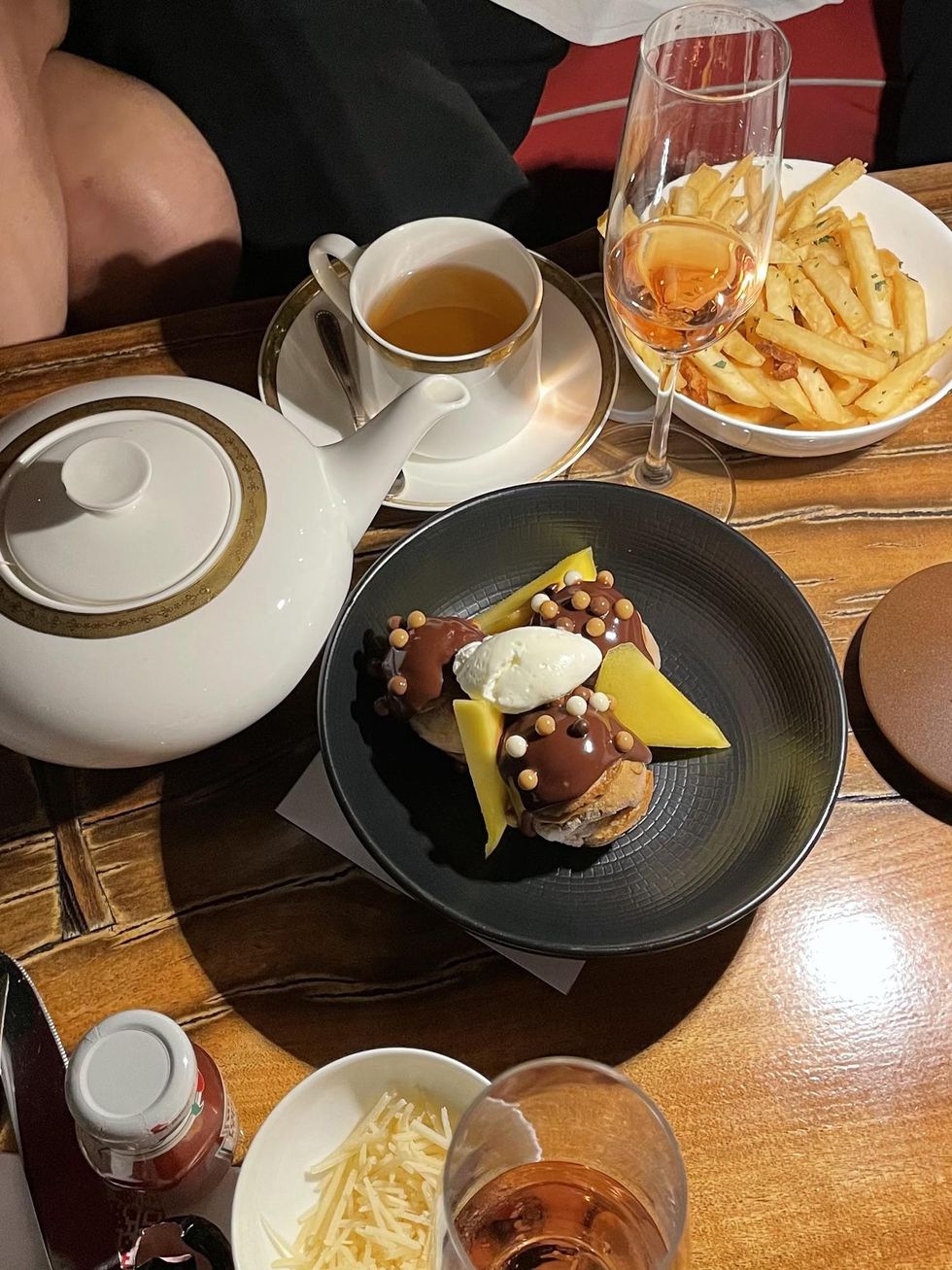 Faena Hotel
Miami has no shortage of world-class food, and we indulged accordingly—when we found the time, that is. Despite most bites being consumed off server-helmed floating trays, memorable sit-down meals came from Faena Hotel's patio restaurant, where our hungry and confused group ordered everything all at once, resulting in a table crowded with pasta, profiteroles, pink champagne, and peppermint tea.
Joe's Stone Crab, a local legend and non-negotiable must-eat, was worth the walk and the wait. The crab claws were obviously amazing, but the Lyonnaise potatoes (which I can only describe as "animal-style") were a very close second.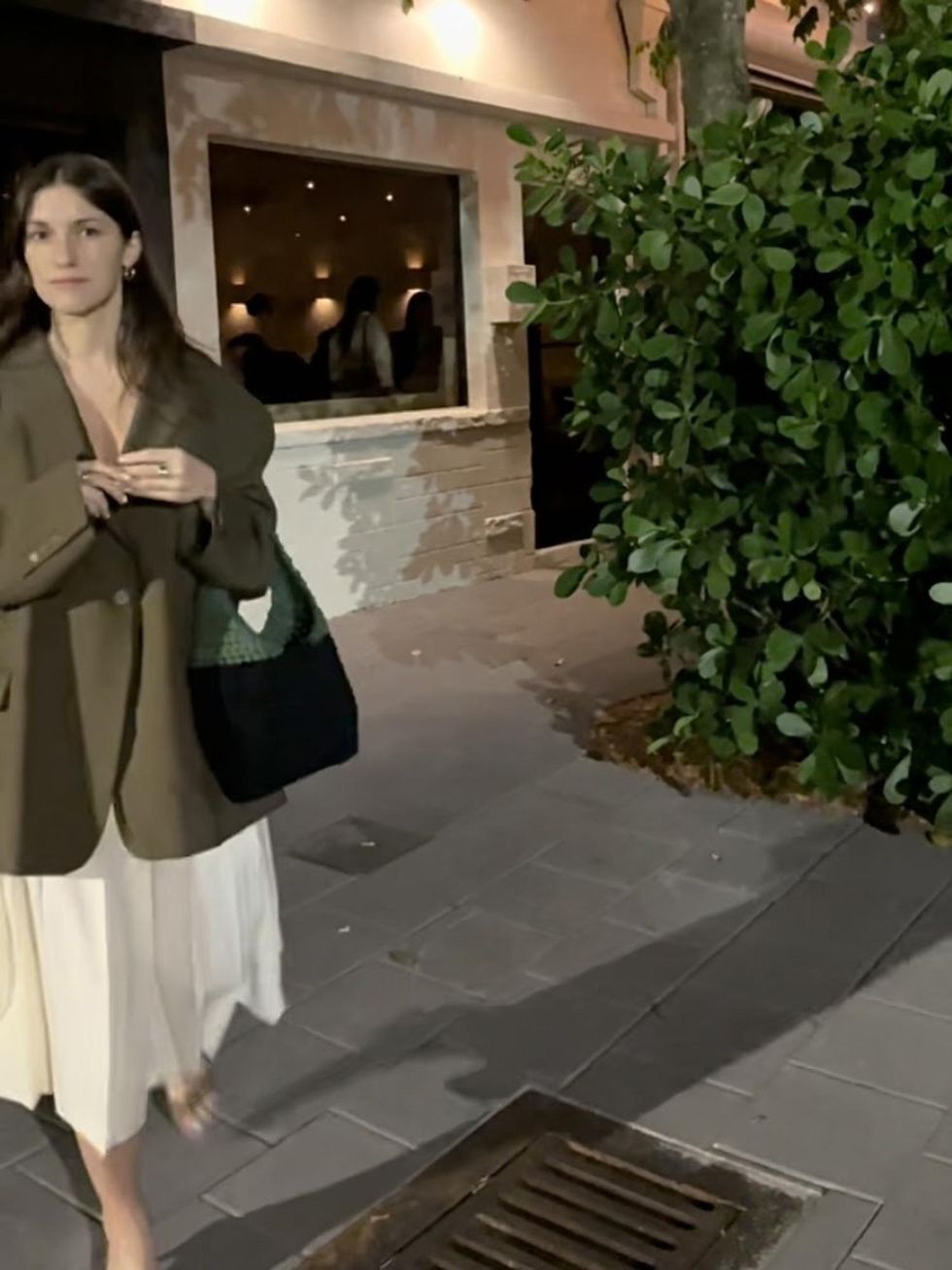 Laura wearing The Frankie Shop blazer, Alessandra Rich skirt, and Gemsun bag;
Photo: Laura Reilly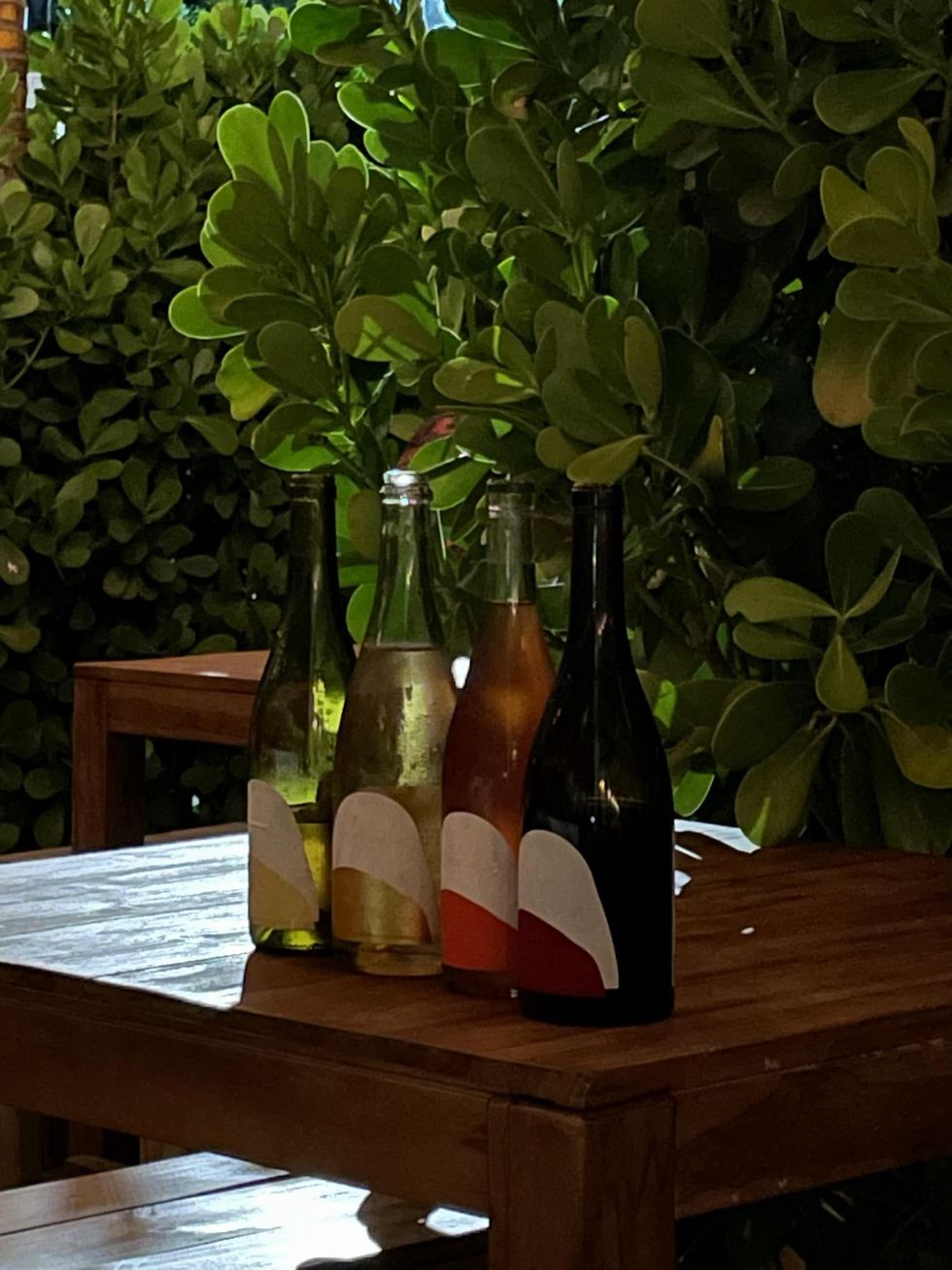 Photo: Alexis Badiyi
The best dining surprise of our trip came on our final night at La Natural, a wine bar and restaurant recommended to us by Contra and Wildair's Fabián von Hauske. Vivanterre, the wine company co-owned by Rosie Assoulin, was hosting an event that evening, and the brand's other founder, Cedric Nicaise, walked us through a flight of their four styles, each as disappearable as the last. La Natural's owner, Javier Ramirez, met us table side to chat Japanese sweet potato, cold-fermented sourdough, and the spicy blue oyster mushroom sauce grown on site.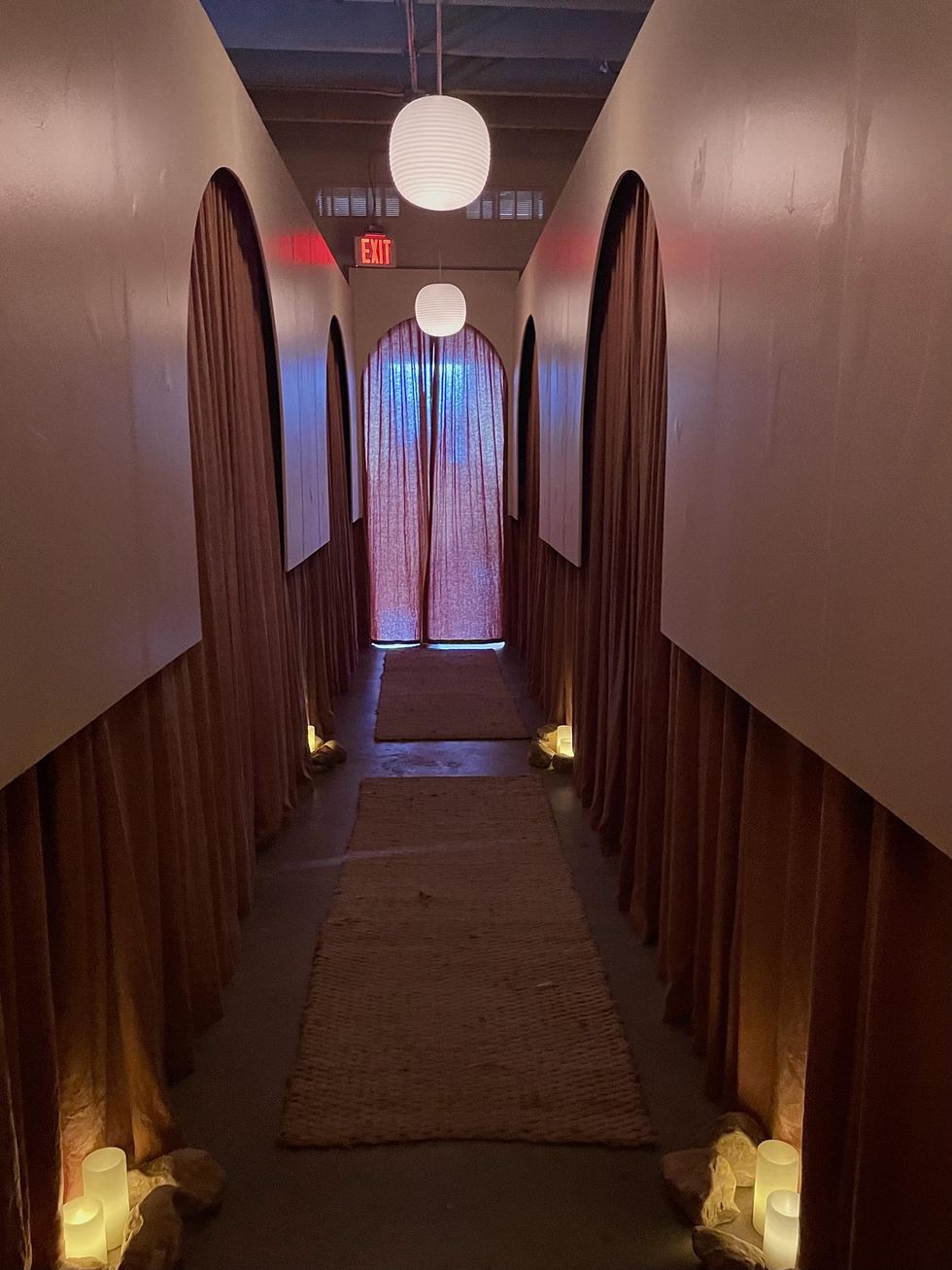 Photos: Alexis Badiyi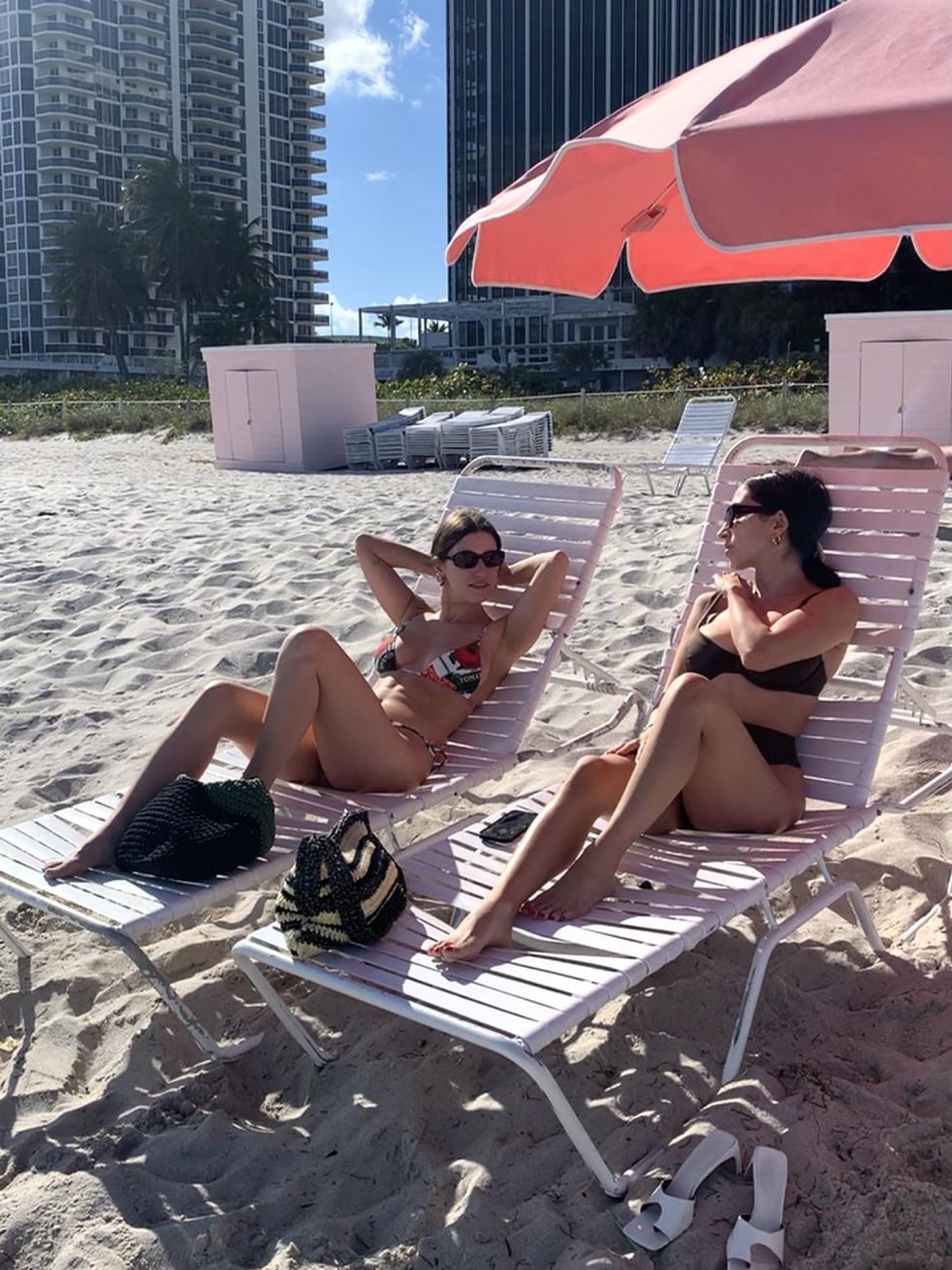 Laura wearing a Miaou bikini and Gemsun bag; Alexis wearing CUUP and Gemsun bag