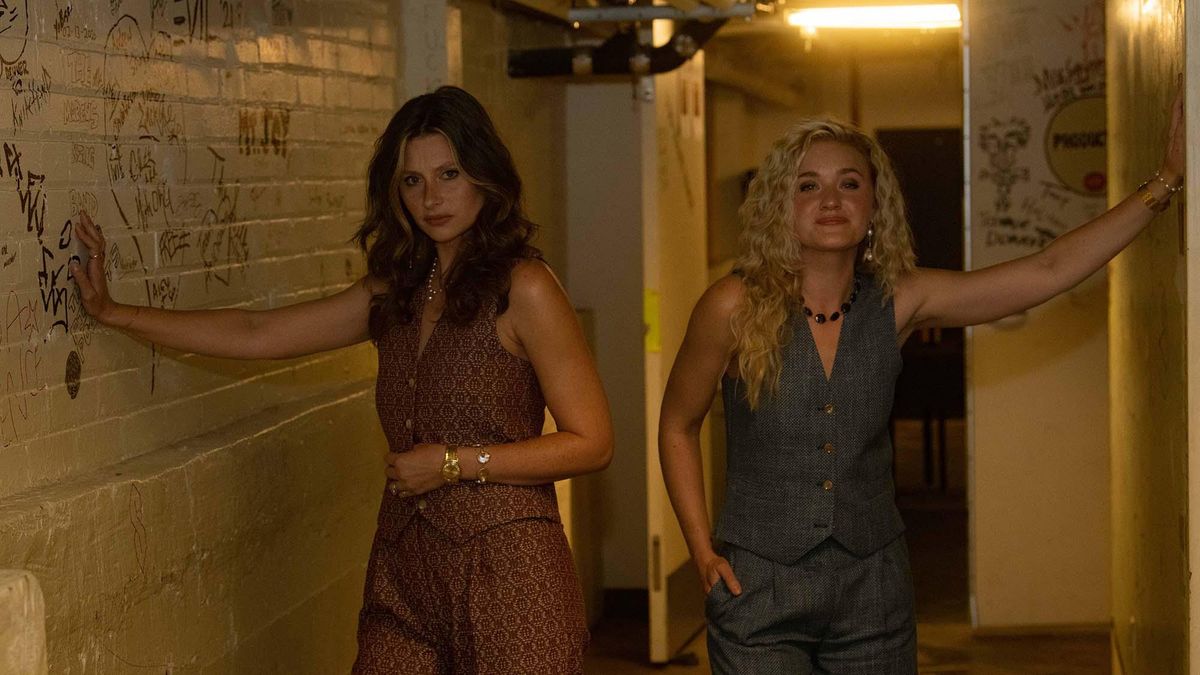 Photos: Courtesy of Stephen Ringer
Celebrity
How Aly & AJ Brought Their Custom 'A Touch of the Beat' Tour Looks to Life
The sisters give Coveteur a look at the creative process behind their current tour outfits.
If there's anything the last two years have taught us about music, it's that few things can compare to the sensory experience of a live show. For both artists and fans, the slow return of in-person concerts has been a hesitant but welcome culture shift, bringing back the unique experience of seeing a full musical vision come to life. Sister and singer duo Alyson and Amanda Michalka, better known as Aly & AJ, are hoping to actualize their vision for fans on their first tour in three years this spring.
In early 2022, the duo released A Touch of the Beat Gets You Up on your Feet Gets You Out and Then Into the Sun, a 16-track extended album that's a touching ode to their home state of California. Rolling Stone aptly described the pop-rock songs as "sunkissed," and that's exactly what you feel like when you listen to it.
The suits featured interchangeable separates, including wide leg trousers, vests, and jackets; Photo: Stephen Ringer
For their tour, which began in early April, the sisters wanted every element of their show to reflect those same warm, ambient vibes the album elicits. To pair with a backdrop of Southern California's rocky beaches, Aly & AJ selected a strategic and straightforward set of suits custom made by Giuliva Heritage. "[The brand has] this kind of '60s/ '70s classic tone that resonated with us. We were inspired by the style of artists from that era like Mick and Bianca Jagger," Aly tells Coveteur from a video call. (She and AJ snuck away for a few minutes during their rehearsals to talk about the clothing.) "It's been a lot," AJ says with a laugh before noting that she can't wait for fans to see what they've put together.
Though the duo have been performing since they were children, they've taken on full creative control of this tour. When it came to the fashion element, the sisters—with Aly as the fashion lead—worked directly with the designers to put together eight full suits that could be worn and styled in several different ways depending on the mood and location.
Each sister has a set of eight custom suiting looks; Photo: Stephen Ringer
"It felt comfortable, it felt powerful, we felt strong. We felt like we were showing up for a work day. It's like, OK, get on stage and let's kick ass," AJ recalls about their first time wearing the brand's suits when they performed on stage at Lollapalooza in 2021. From there, the sisters realized they shared a similar less-is-more ethos with Margherita Cardelli Cavaliere and Gerardo Cavaliere, the husband-and-wife designers of Giuliva Heritage. The designers are based in Italy and have built their business on clothes made to last a lifetime.
"Thankfully, our visions merge and as friends, we have a lot of values in common," Margherita told Coveteur via email. She explained that they also share their love of music through the lens of creativity. "Our life is filled with music from wake-up time to bed time. We dance and sing a lot. We could not live without [it]." Naturally, their baby loves to dance to Aly and AJ's new album.
Giuliva Heritage tailored each item to the sisters' specifications; Photo: Stephen Ringer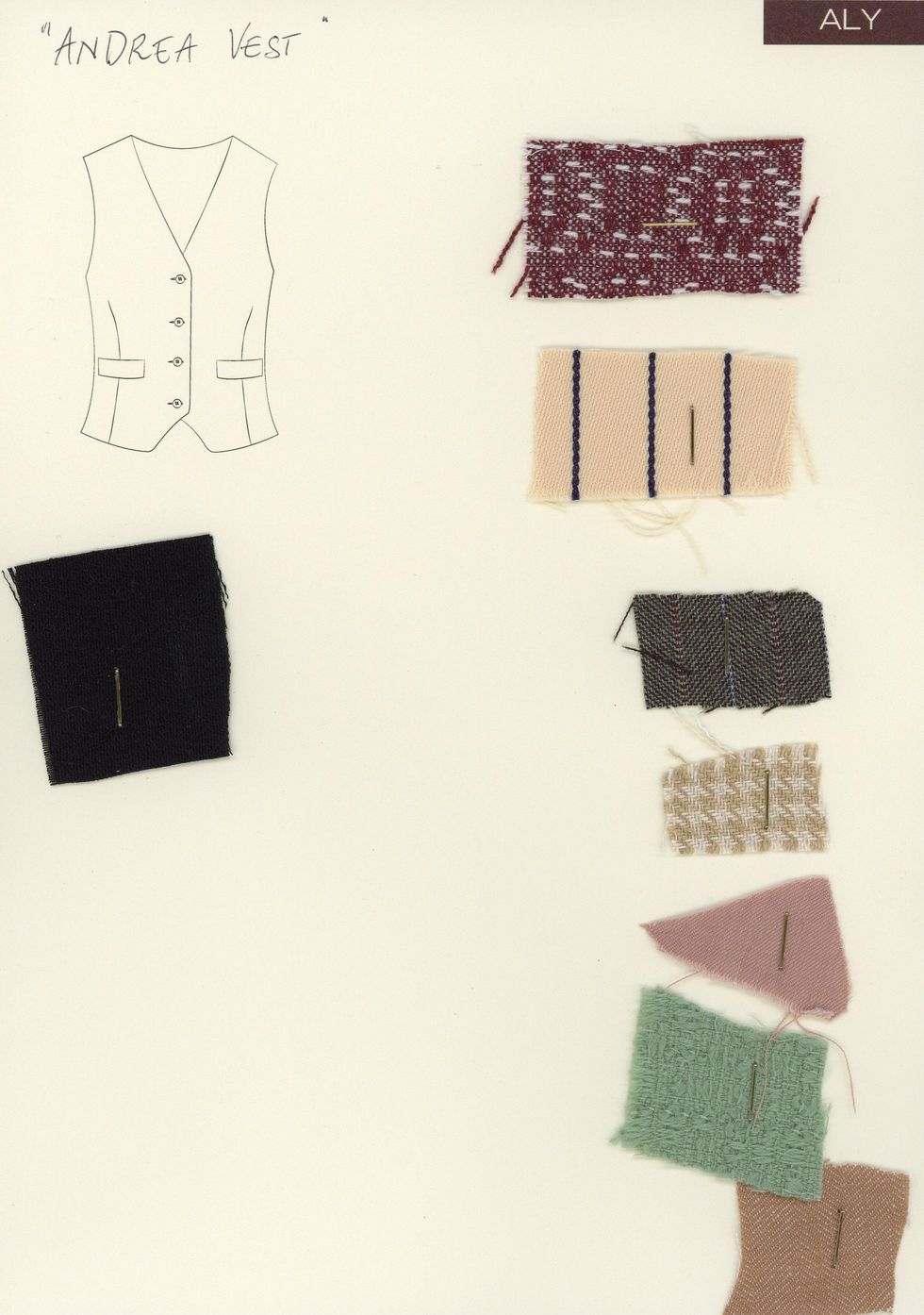 Aly's custom vest; Photo: Stephen Ringer
AJ's custom trousers; Photo: Stephen Ringer
Most of the tour suits include a vest, blouse, jacket, and wide-leg pants that can be mixed and matched. There are brown boots, also by the brand, that give the suits a ranch-esque feel aesthetically without sacrificing comfort. "We've always had mad respect for women that wear high heels on stage. I'm like, I have no idea how you do it, but we just want to be as comfortable as possible," Aly says. The colors of the suits, which include browns, yellows, muted blues, and beiges, also fit neatly into that Southern California moment the singers were hoping to achieve.
"The yellow is totally a reference to 'Don't Need Nothing,'" Aly explains, referring to the song whose lyrics reference the album title. "AJ happens to be in a little bit more bright colors, which I actually think is really great with her blonde hair. And I'm a little bit more like muted jewel tones."
On top of making sure that everything down to their guitar straps fits the vibe, the rest of the band (who typically does their own thing) are dressed according to theme as well. "We don't usually get super involved in what the guys wear, but I think because this record is so specific on tone I thought it would be OK," Aly explains. "Denim jeans, canvas denim, vintage button-ups, worn-in items that feel like they're loved, and boots. No sneakers, no black jeans," Read: California '70s rock.
"They're pieces that I feel like a future kid would flip out over being like, 'This is so cool, mom,' you know?" says Aly; Photo: Stephen Ringer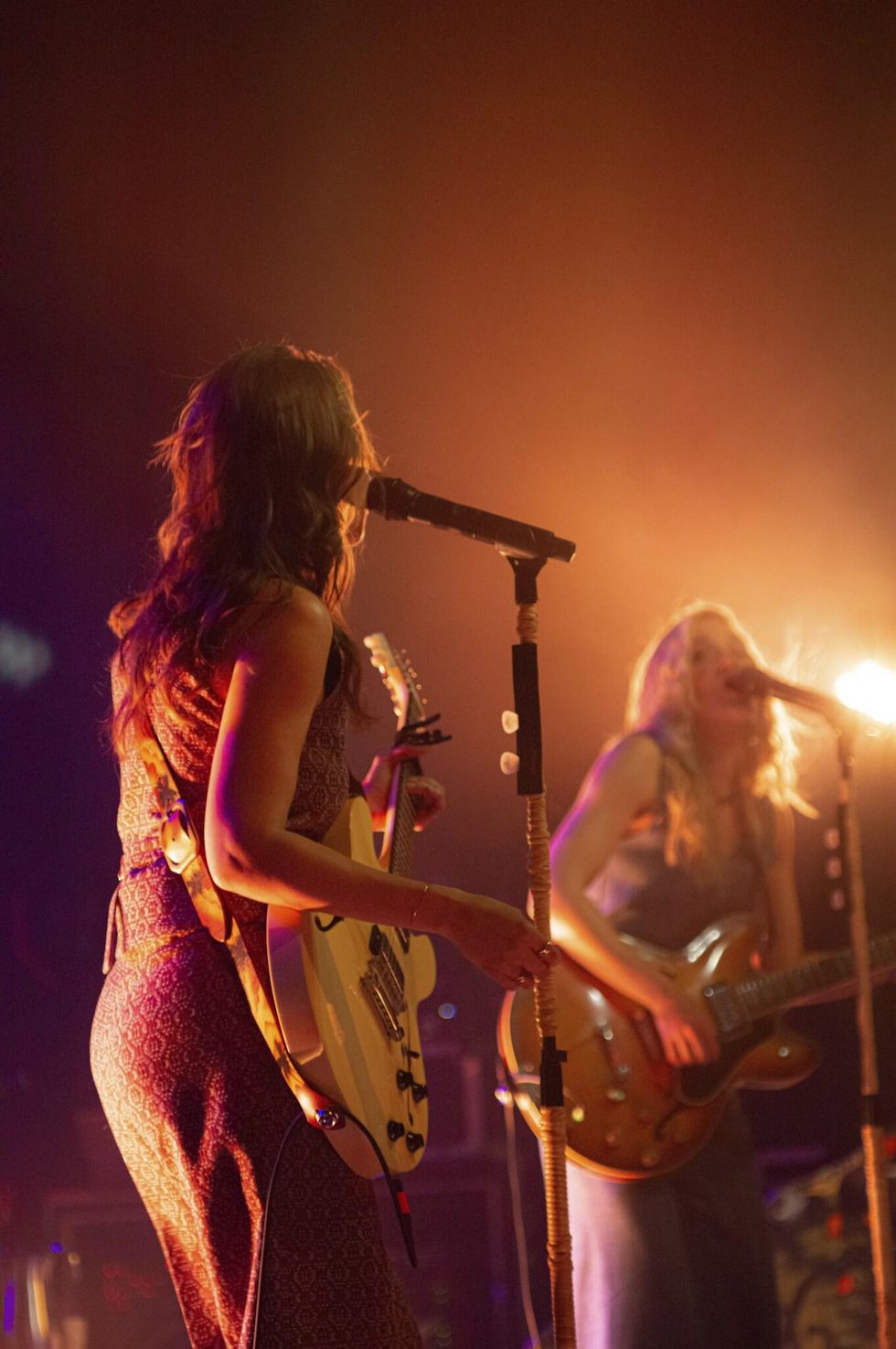 "We felt like we were showing up for a work day. It's like, OK, get on stage and let's kick ass," says AJ; Photo: Stephen Ringer
The fashion ties don't stop at the stage or even with the tour. Aly and AJ consider style such an integral part of their artistic output that they've gone a step beyond traditional merch. They worked with Southern California-based milliner Cody Wellema to create a small run of custom hats, the Aly cut and the AJ cut, which fans can buy on their website.
While musicians first, the sisters have a clear understanding of how fashion can shape a narrative. They wanted a stage uniform to help tell the story of who they are as artists now. It was important for them that their clothing, like their songs, was something you could sit with, take in, interpret, and eventually pass down. As Aly put it: "They're pieces that I feel like a future kid would flip out over being like, 'This is so cool, mom,' you know?"
Find a full list of Aly & AJ 'A Touch of the Beat' tour dates here.