Skin
If you're curious to try one for yourself, this is what you can expect.
The past year has forced us to completely rethink the way we approach beauty. After months of social distancing and widespread lockdowns, we've sought out new ways to bring the salon and spa into our own homes. With the majority of our social, work, and even medical interactions now happening over Zoom, why not our beauty treatments, too?

Cue the "virtual" chemical peel. A cult-favorite procedure for treating an array of skin conditions and boosting overall glow, dermatologists and aestheticians are now moving these typically in-office-only treatments to the video call space, fully administered by the clients themselves but supervised by a professional on the other side of the screen.

With the future of in-person procedures and treatments still uncertain, virtual peels are without a doubt destined to be the next big beauty trend of the pandemic era. Thanks to Aristocrat Plastic Surgery and MedAesthetics, I got to play aesthetician and apply my own medical-grade peel from my bedroom—under the close guidance of an actual aesthetician, of course.

Interested in trying one for yourself? Here's everything to expect.


What Kind of Peel Is Right for You?
Chemical peels are a cosmetic procedure wherein a chemical solution—typically composed of acids such as
AHAs
,
BHAs
, or trichloroacetic acid (TCA)—is applied to the skin to exfoliate and improve its overall appearance and feel. Depending on the strength of the peel and type of acids used, it can penetrate the skin at various levels and deliver a number of benefits. "Chemical peels are great for people who have sun-damaged skin, uneven pigmentation, acne,
acne scarring
, actinic keratosis, fine lines, freckles, and age spots—or even if you feel like you need a little glow," says Louisa Agate, the medical aesthetician and laser specialist at Aristocrat who oversaw my peel.
In terms of medical-grade chemical peels typically done in-office (and now virtually), there are three different categories: mild/superficial peels, medium peels, and deep peels.
As the name suggests, mild peels are relatively gentle, offering minimal exfoliation and improving minor skin issues like rough texture and slight discoloration. Medium peels penetrate the middle layer of the skin and are great for improving the appearance of superficial scars, lines, and wrinkles,
melasma
, and age spots. According to Agate, both will result in temporary dryness, flaking and peeling, redness, and slight irritation that can last up to two weeks.
Deep peels, which target everything from wrinkles and discoloration to damaged skin cells and severe scarring, penetrate the skin on a much deeper level than other peels. Because of their intensity, they should
always
be administered by a professional. Agate points out that these procedures aren't offered virtually and have substantially more downtime than a mild or medium peel.
Generally, chemical peels can be beneficial for most people depending on the level and type of peel that's done. However, board-certified dermatologist
Dr. Elyse Love
points out that there's more risk involved for those with sensitive skin and/or darker skin tones. "Darker skin tones are at risk of developing post-inflammatory hyperpigmentation, which can occur when redness and irritation resolves," she says. "Therefore, only gentle peels should be used for this skin type. Those with sensitive skin are at risk of worsening that sensitivity if the peel is too aggressive or irritating." Agate adds that anyone taking Accutane should also avoid chemical peels for at least six to 12 months after stopping medication to avoid increased sensitivity and possible scarring.
That said, be sure to consult with a professional before pursuing
any
type of peel—including at-home products—as they'll know what type of peel best suits your skin type and concerns.
As someone with lackluster, congested skin with texture issues and
sun damage
(my 30-year-old self still hasn't forgiven my 16-year-old self, who worshipped the tanning salon and didn't believe in sunscreen), I knew I could definitely benefit from a peel. I've gotten superficial peels in the past, but I was ready for something stronger—and "shedding my skin" (and the gunk and congestion my pores have accumulated over a year of mask-wearing) would be as cathartic as it would be necessary.
Agate opted to give me the
APS Customized Medical Peel
, an advanced, custom-mixed peel formulated with clinical-grade acids and a maximized peel concentration. My particular blend consisted of a combination of resorcinol, retinoid acid, TCA, mandelic acid, and salicylic acid to target oiliness, congestion, and improve my overall texture and tone. Even though this peel is potent and would include a considerable amount of skin peeling, she points out that it would fall into the mild to medium range.
What to Expect During a Peel
Depending on the type of peel you get and your existing skin condition, some prep might be involved. "Your skin-care professional may start you on retin-A or a pre-lightening cream with hydroquinone, depending on the severity of the condition we are trying to treat, such as melasma, acne, acne scarring, or sun damage," says Agate. However, Love points out that sometimes the professional will have you hold off on using any retinoids leading up to your peel.
Other than that, make sure you show up to your appointment with freshly cleansed, makeup-free skin.
After unpacking my peel kit, I set up a makeshift
workspace
with the tools Aristocrat provided, squeezed the acid-filled syringe into a small bowl, and set up my laptop for a video call with Agate to get to work.
She guided me virtually as I first dotted my eyes, nostrils, and corners of my mouth with Aquaphor (which prevents any acids/other strong ingredients from dripping into, and potentially burning, these sensitive areas) and glided the acid-soaked Q-tip over my cheeks, forehead, nose, chin, and neck, going over each area with the peel solution three or four times. Agate consistently checked to make sure I wasn't "frosting," which is when parts of the skin turn white and ashy as the acid exfoliates the surface of the skin. For any areas that did frost, she had me wait a few minutes for my skin to calm down before applying another layer of the solution.
As expected, I experienced quite a bit of burning and stinging throughout, but it was definitely tolerable. I'm someone who considers
getting tattooed
to be therapeutic, so this didn't bother me one bit. But be aware, even superficial peels will sting, so make sure you're prepared for whatever level of peel you're getting.
How to Care for Your Skin Post-Peel
Once all the peel solution was used, I was done! My skin was mildly red and blotchy and felt pretty irritated, and this increased over the hours after my peel. Again, totally tolerable. I was instructed to not wash my face until the evening and to only cleanse and apply sunscreen (a strong SPF 50) the next day.
When I posted my at-home spa setup to my IG stories, a friend DMed me saying, "Expect your skin to get much worse before it gets better"—and boy, was she right. While Agate said I probably wouldn't see any peeling until two or three days post-peel, my skin tightened and started flaking off around my mouth and lower cheeks just 24 hours later. By the next day, my entire face was peeling, and it continued to peel and flake for the next six or seven days.
During this time, it's crucial to avoid sun exposure as much as possible. "The skin will be especially sensitive after a chemical peel, so it's extremely important to follow strict sun avoidance during the healing process," says Agate. She recommends using an SPF of at least 35 and reapplying it throughout the day. Given that a massive snowstorm hit NYC the day after my peel and that I'm required to
wear a face mask
anytime I leave the house, I was able to hide my face from the sun and the elements with relative ease.
For the next week, I pared back my usual skin-care routine to include only the basics: a gentle, unscented cleanser and moisturizer and
a lot
of SPF. "Only gentle skin care should be used as the skin recovers from a peel, which may take [up to] ten days," says Love. "Irritating actives, such as retinol and glycolic acid, should be [avoided] as the skin heals, and serums that support the skin barrier may help to speed up recovery." Agate also recommends avoiding any type of granular scrub or exfoliant or aggressively rubbing the skin for up to two to four weeks, depending on the depth of the peel you received.
Whatever you do,
do not pick at your face
. I can attest to how tempting it is to peel off the skin that's already dangling off your face (gross, I know), but seriously, don't do it. This can mess with your skin's natural healing process and can potentially result in infection or permanent hyperpigmentation.
Once I stopped peeling, my skin still looked a little rough and bumpy, and it didn't fully calm down until day ten. By day 11, my skin looked immaculate. Any dry patches were gone, and my long-lost radiance and brightness had been restored. Any areas where I had texture issues were now baby-soft and smooth. I didn't notice a dramatic difference in my blackheads or sun damage, but there was some improvement. Overall, I looked healthy, glowy, and not like I'd been mostly locked away in my apartment for the past year.
I'm pretty pleased with my results after one treatment, but Agate suggests a series of four peels every four to five weeks for optimal results. You
bet
I plan to keep this up.
What about At-Home Chemical Peels?
If a virtual or in-office peel isn't an option for you, there are plenty of home peels you can shop in-store or online that don't require the guidance of an aesthetician or dermatologist. For obvious reasons, these are gentler than the medical-grade peels administered by a professional but still require a bit of know-how.
"Most at-home peels will contain a combination of alpha hydroxy acids and salicylic acid to provide a superficial improvement in skin tone, texture, and comedonal acne (whiteheads and blackheads)," says Love. "They're formulated to be tolerated by most people, with the exception of those with very sensitive skin."
These, she says, typically have little to no visible peeling—and, in turn, little to no downtime—but will also require more time to see results. But even though they're gentler, you can still potentially irritate or damage your skin. "The directions included with the product should be followed, but in general, you should hold off on using other active, irritating ingredients (such as retinol, vitamin C, or AHAs) one to two days after an at-home peel, depending on how long it takes the skin to return to a normal appearance and feel." Sun sensitivity can also be expected, so consistent SPF application is crucial.
While they can seem intimidating at first (especially multi-step kits), Love says they're designed to be relatively foolproof. "It's OK to explore them as long as you follow the instructions and don't have incredibly sensitive skin," she says. If you're unsure of how your skin will handle it, patch-testing first is key. "It's also a good idea to have reasonable expectations. Consider them a boost to your daily skin-care routine rather than a product that will make a dramatic difference in your skin's appearance."
---
We rounded up six at-home kits we love, below:
This nifty little kit provides a four- to six-week supply of trial-size, professional-strength chemical peels, including pre- and post-peel necessities. It's completely customizable, so you can choose between 10 different peels—from stronger glycolic acid peels to medium-strength TCA peels—and select the best cleanser, moisturizer, and post-healing facial for your skin needs.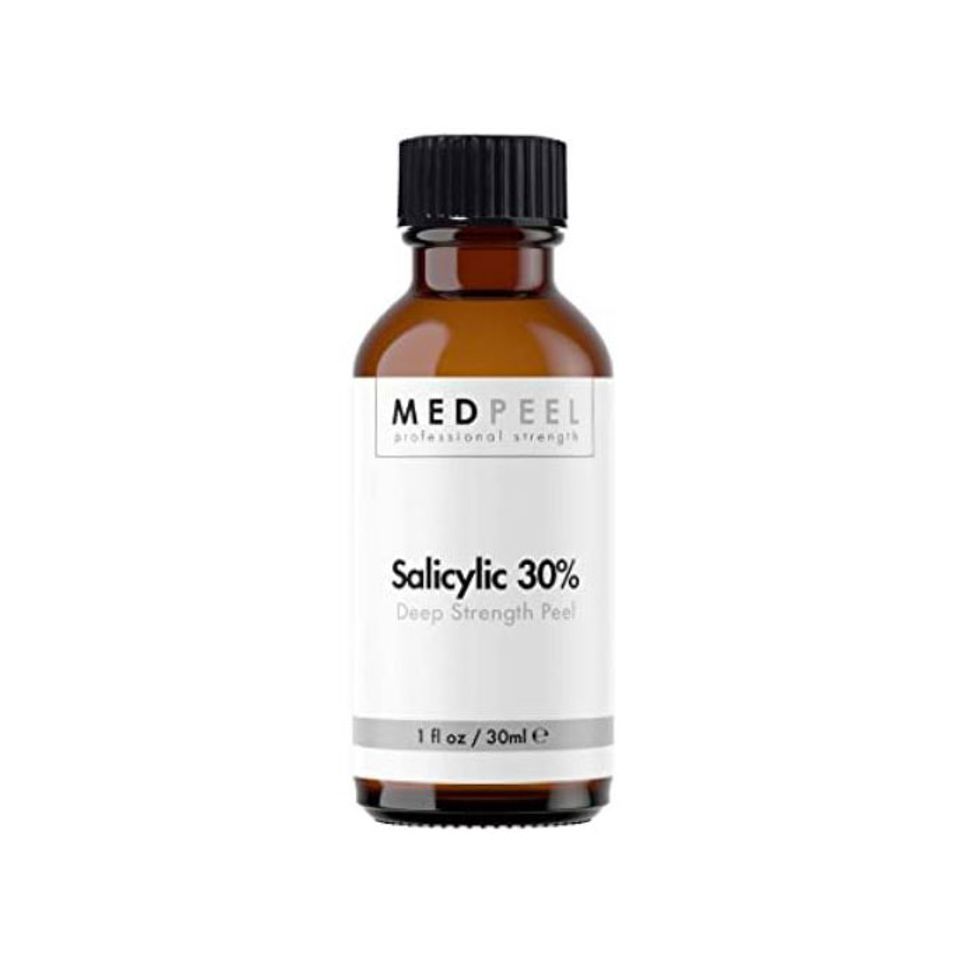 Ideal for oily and acne-prone skin, this peel is powered by salicylic acid to clear clogged pores and improve the appearance of dark spots. We recommend using it with the brand's Deluxe Facial Peel Essentials Kit, which includes the essentials for safely peeling at home: a pH-balancing peel prep serum, a neutralizing spray, and a replenishing serum and cream moisturizer for aftercare.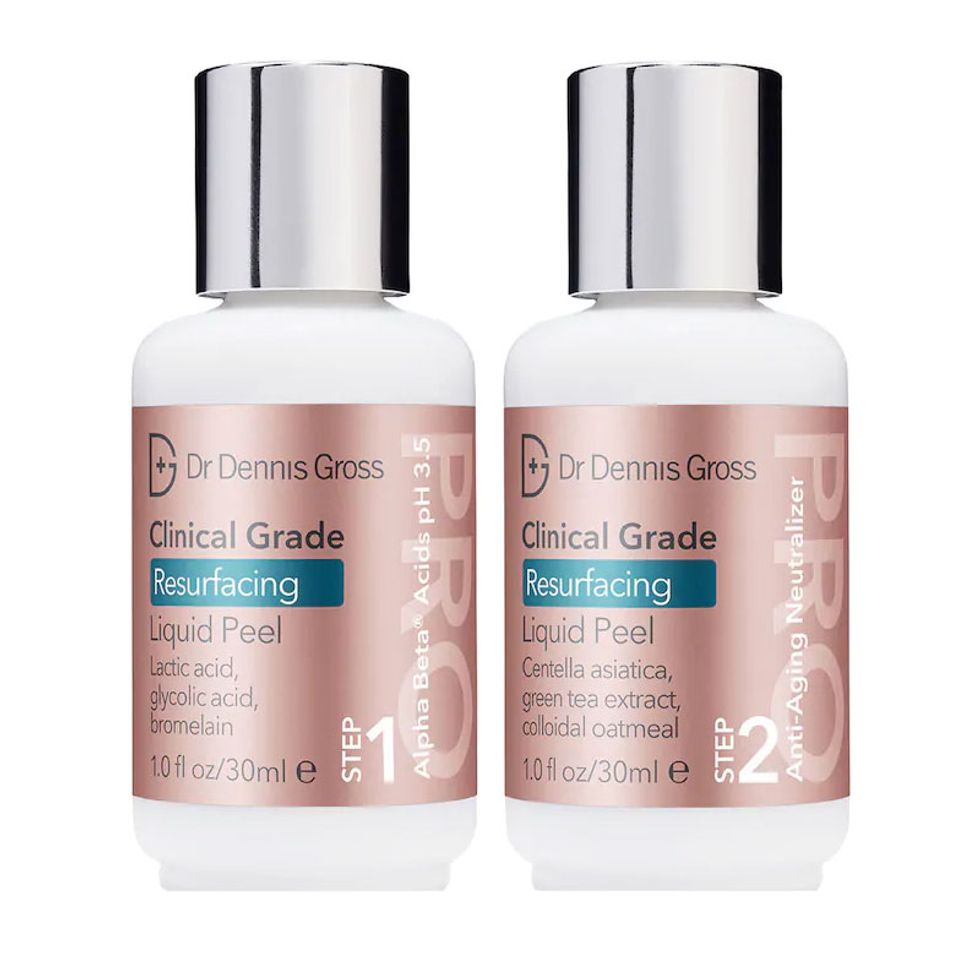 This two-part liquid peel from Dr. Dennis Gross will refine pores, improve the look of lines and wrinkles, and boost your overall glow. The first step is a peel that contains glycolic acid, lactic acid, and bromelain for powerful exfoliation, while the second step is a soothing leave-on solution containing Centella Asiatica extract, green tea extract, and colloidal oatmeal to heal and protect the skin's moisture barrier.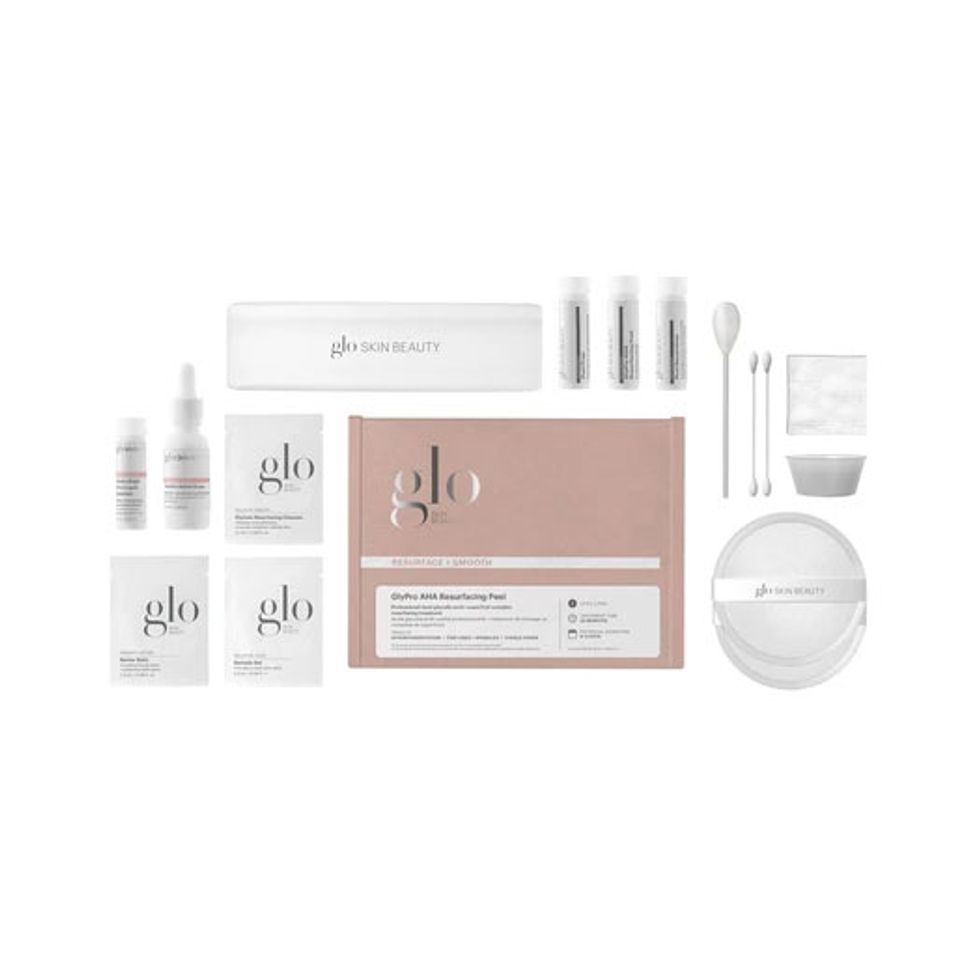 This all-inclusive peel kit from Glo Skin Beauty contains everything you need for a professional peel at home, including skin prep and aftercare. Powered by glycolic acid and other skin-care favorites like niacinamide and retinol, you can expect a smoother, brighter complexion and improved lines, pores, and hyperpigmentation.
One of the original at-home peel kits, this peel from Ellen Lange is powered by glycolic acid to retexturize the complexion. In addition to the peeling solution, it includes a skin-prepping enzyme scrub, peel accelerator pads, and a fan brush and medicine cup for easy, mess-free application.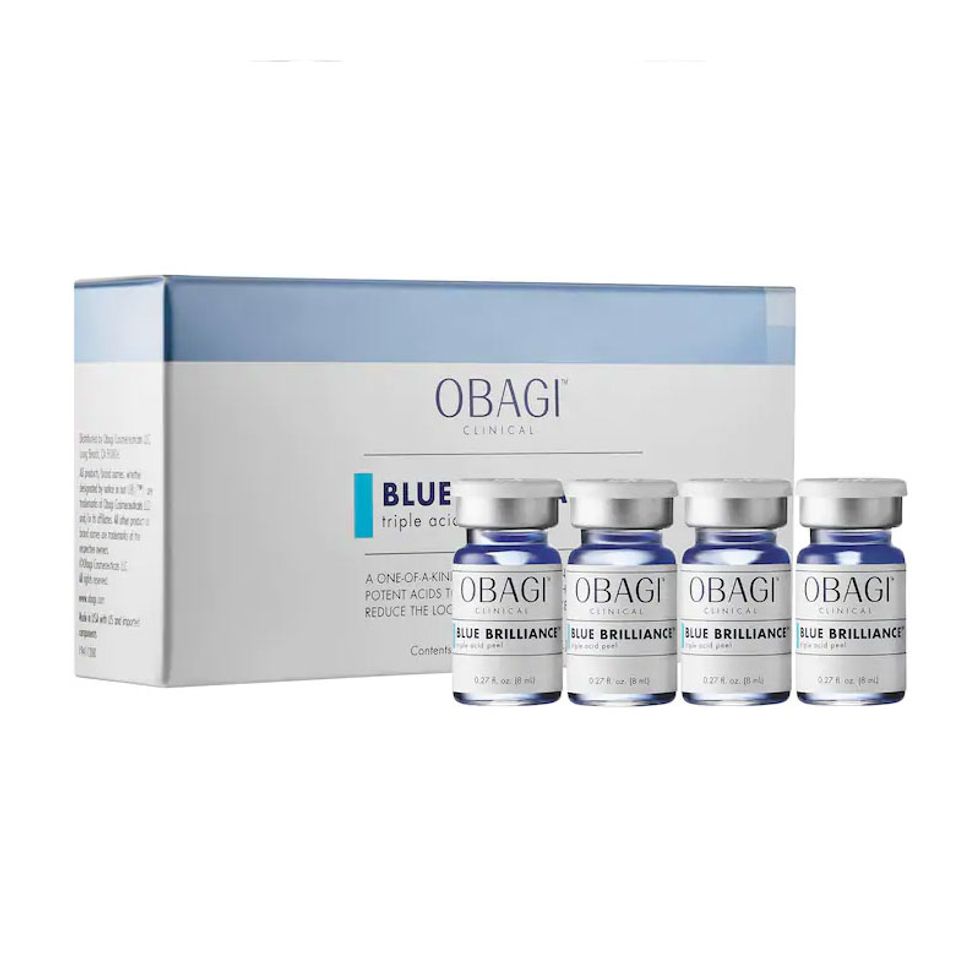 This one might not be a complete kit, but it's Love's favorite for at-home options. "Obagi Medical is known for their in-office-only Blue Radiance Peel," she says. "They've now used their formulation skills to design a gentle at-home peel series designed to provide gradual improved skin texture." The set contains four vials of its salicylic, lactic, and glycolic acid peel to be used every two weeks.