Fashion Sustainability Is No Longer an Option—It's a Necessity
Céline Semaan knows the solution lies at the intersection of industries and cultures.
Designers
Collaboration is one of the fashion industry's favorite tactics. Designers work with fellow creative directors, artists, and celebrities to create new product—think 
adidas x Prada
,
Louis Vuitton x Jeff Koons
,
Air Jordan x Travis Scott
. A particular clich
é,
two heads
—or at least their Instagram followings—
are better than one,
comes to mind. These partnerships so often focus on appearance, whether that be a celebrity name that can drive sales or an artist lending their aesthetic expertise, but there aren't as many collaborations that merge fashion with less glamorous fields to improve the less visible process behind a product. If diversity of thought fosters the best ideas, then why is fashion so confined to like industries?
Céline Semaan
's latest venture,
One x One
, seeks to remedy that by merging fashion and science to combat the industry's harmful effect on the planet. With the help of Swarovski and Semaan's own
Slow Factory
, alongside the support of the United Nations Office for Partnerships, the One x One incubator is a first for fashion, pairing innovative minds from across industry lines to merge their complementary expertise and create garments that fulfill requirements in circularity, human-centered design, and regenerative technologies. The participants include designers
Phillip Lim
, Public School New York's
Dao-Yi Chow and Maxwell Osborne
, and
Mara Hoffman
, along with scientists
Charlotte McCurdy
, Theanne Schiros, and
Custom Collaborative
founder Ngozi Okaro. 
---
Stereotypically, fashion and science are nothing alike. Then factor in social stigma, prejudice, and a layer of deeply rooted aversion to change, and they further polarize. Yet ironically, they both share the same fundamental objective
—
innovation fueled by curiosity
—
but they don't always understand each other. It takes someone like Semaan, a translator, to mediate.



"I speak four languages, and I've lived in between east and west, so for me—translating for my parents, code switching—understanding different worlds and perspectives is everything."



Translation is the binding of Semaan's r
é
sum
é
. Her career began in the tech space as an information architect, interpreting complex information to disseminate to the general public. Translation is the common thread in her personal background, as well. "I speak four languages, and I've lived in between east and west, so for me—translating for my parents, code switching—understanding different worlds and perspectives is everything." The Lebanese-Canadian entrepreneur exists between what she calls the contradictions of her own culture. This familiarity with "otherness" equipped her to act as the connective tissue between so many worlds—science and fashion, of course, but also human rights, technology, and more.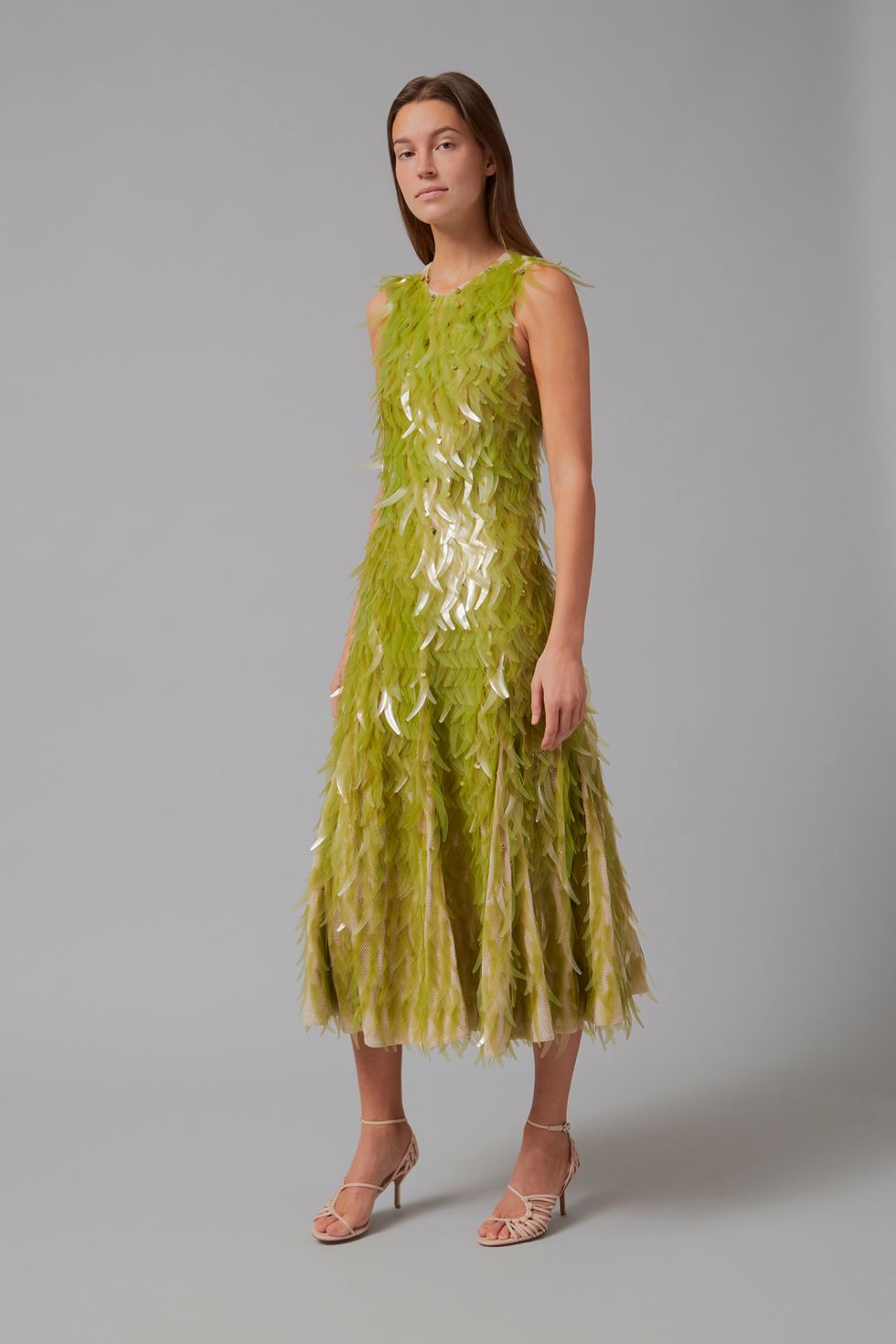 Photo: Courtesy of One x One
One x One champions that same broad scope of intersectionality. Lim and his scientific counterpart McCurdy created a chartreuse A-line midi dress whose sequin rendering rivals
Prada's fall 2011
confections despite its conception from algae. This innovative technology is revolutionary, but the process was about so much more than simply science or design. "Lim's dress is handmade in New York. The team was paid a fair wage—even paid above market rate. Also, we focused on how the material was sourced." The approach is holistic—a favorite word of Semaan's, alongside
accessible
and
transparent
. "It's not just the sequins, it's the ecosystem around them."



"It's not just the sequins. it's the ecosystem around them."



Semaan has been preaching this collaborative, anti-silo rhetoric since (and even before) founding Slow Factory in 2012 as a space where industries could come together to effectively crowdsource ideas to push fashion further in the right direction. Her
Study Hall
foundation, a series of global conferences culminating in an annual summit at the United Nations, promotes transparency and education about these topics through the convergence of intelligence from across industries, across races and backgrounds. As is the case with most pioneers, these programs were first seen by industry folk as "troublemakers," bulldozing their way through barriers between fields. "Those walls don't serve our common goals. They keep us in our lanes. Sadly, that's not how nature works. Nature does not have any walls. Everything is interconnected."
Remember in high school science class when you would conduct an experiment and isolate a variable only to later have your teacher reveal that it would never happen like that in real life because there were too many outside factors in play? Look at this pandemic. COVID-19 is related to
climate issues
. It's related to the persecution of endangered species. It's related to habitat loss. It's also disproportionately affecting underprivileged communities which are often composed of people of color. If nature is so interconnected, our ideas should be, too. "Our approach is informed by eastern philosophy. We're also promoting active learning from indigenous systems," she reveals, which is enabled by her assembly of a diverse team. "It's not an approach that's like, OK, take this pill and you'll feel better."



"It's not an approach that's like, OK, take this pill and you'll feel better."



When I asked her what the best starting point was for companies, she pointed out the flaw in my thought process, one that many of us are guilty of. "I get asked this question all the time because people want a checklist," explains Semaan, but in fact there is no one solution—there are many. "We encourage companies to rethink their values. Just sit down with your team and talk about your company culture. Are you doing what you say you want to do? Close the gap between your intentions and your actions."

Because of this constant evolution, there's no technical arrival, either. We don't even have a sustainability metric system yet—Semaan is working on that, too. She devoted part of her research as a director's fellow at MIT to developing a new KPI that would act as a sort of certification model. The incremental model will then adapt as new developments arise. "It's not a grade that you would get," she says, pinpointing our need society has instilled in us for black-and-white solutions, yes or no, good or bad. "It wouldn't be like A+. It's not there to say, 'OK, I got a good grade, I'm done. I graduated.' It's very complex because you're dealing with a complex system."


Her passion is intense, but then you remember what we're up against here—a ticking time clock on the 2020s that could quite literally doom this planet—and you wonder why we aren't all acting the same way. Semaan says it's this aversion to change that could be catastrophic. "2020 is the decade of action, which means there's 10 years left, approximately, before a total climate collapse. Now we can address it. Now we can slow it down. Now we can resolve some of it. But if we don't do anything, we are going to just jump off a cliff together. That's the biggest
change
that's going to happen to us."
Like the problems, these solutions lie at the intersection of industries, of cultures, of ideas. Tunnel vision, obstinance, a refusal to collaborate—these are all obstacles we are tripping ourselves with. In a situation of life and death, it seems the pre-school-era adage of working together is the foundation of every answer.
Photos: Shana TrajanoskaWant more stories like this?
The Fashion Stigmas We Need to Change In Order to Be More Sustainable
Can Loving Fashion Actually Be an Asset in the Fight for Sustainability?
15 Sustainable Fashion Brands Coveteur Staffers Love