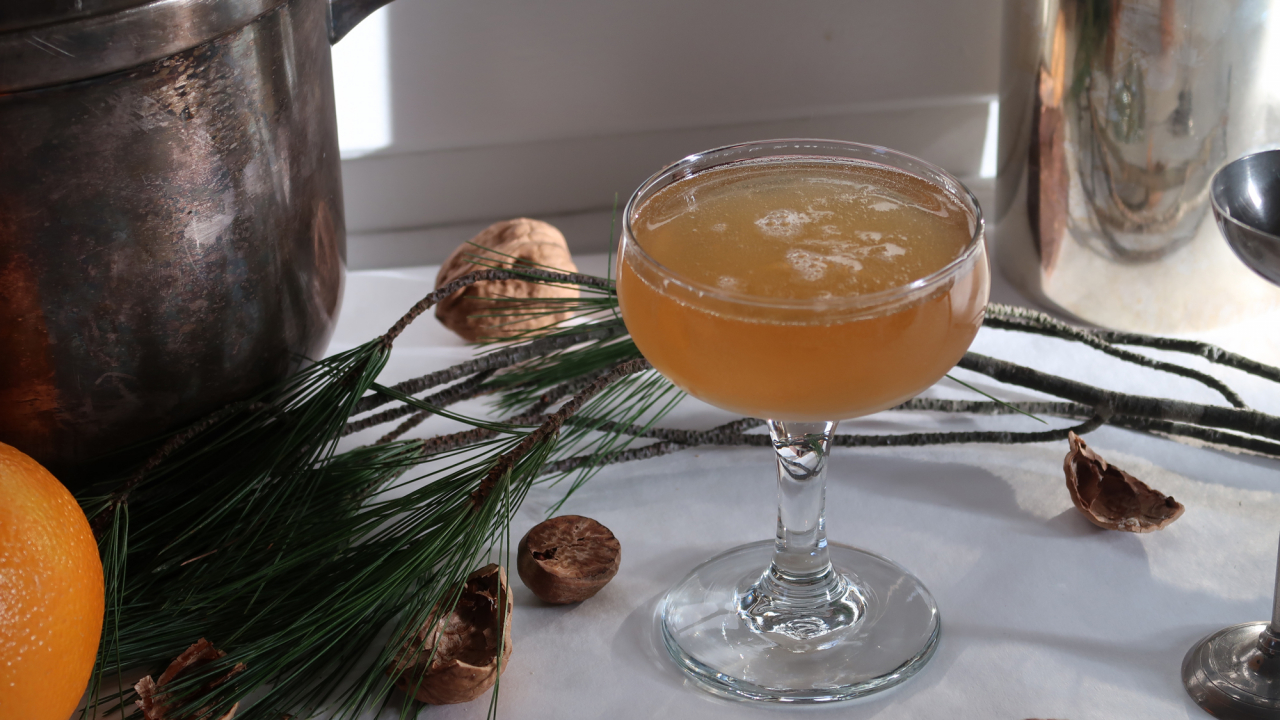 5 Experts Share Their Favorite Cocktail Recipes for New Year's Eve at Home
In case you're in the mood for something a little more complex than champagne.
For many, New Year's Eve will look a little different this year. OK, a lot different. A night of dancing until dusk on the beaches of Trancoso will be replaced with a night at home with a few glasses of champagne and family members in the single digits. But drinks at home can taste just as good as they do at Praia de Taípe—and might even help transport you there. So, to help this New Year's Eve still feel like a festive celebration, we've enlisted our favorite bartenders and spirits experts from around the world to share their favorite cocktail (and mocktail!) recipes for a delicious toast at home.
Writer, bartender, historian, and founder of Al's Cocktail Club
Drink: Abbot of Unreason Bubbly
"This [drink is] based on the Seelbach cocktail, a drink that was invented at the Seelbach Hotel in Louisville, Kentucky, circa 1900. I split the spirituous base between the round, malty Irish whiskey and an unusual rye. I also split the liqueur between the classic cognac-based orange liqueur Grand Marnier and an excellent crème de cacao for a chocolate-orange flavor befitting one of winter's most festive days. The original cocktail, the Seelbach, uses more bitters than I have here, but I think the spirit of the original is still there. I kept the pleasing baking-spice notes from the Angostura bitters, but swapped out Peychaud's in favor of black walnut bitters, a current favorite of mine. All this plus champagne or dry sparkling [wine] makes for an excellent New Year's drink."
Ingredients:
¾ oz single-malt Irish whiskey (Teeling)
½ oz rum-cask-finished rye (Redemption)
¼ oz Grand Marnier
¼ oz crème de cacao (Tempus Fugit)
3 dashes Angostura bitters
3 dashes black walnut bitters (Fee Brothers)
lemon for garnish
champagne or other dry sparkling wine to top
Directions:
1. Combine all but champagne in a mixing glass.
2. Fill the mixing glass three-quarters full with ice. Stir for 20 seconds.
3. Strain into a coupe or other stemmed cocktail glass.
4. Using a vegetable peeler, cut a wide piece of lemon peel.
5. Express the oils from a lemon peel over the surface of the drink. Discard peel.
6. Top with about two ounces of champagne.
Paris and Los Angeles–based writer and author of the forthcoming cookbook À Table
Drink : The Juillet
"The Juillet is one of my favorite celebratory drinks. The ingredient list is short and simple, yet the final cocktail is complex in flavor due to the duo of vermouths sweetened with a bit of elderflower liqueur. That said, my favorite part of the Juillet is that it puts sparkling wine to use...but not too much. Rather than a more traditional few ounces to finish, it employs only an ounce of dry sparkling wine. This lends the drink effervescence without entering spritz territory and encourages drinking a glass (or two) of bubbles as you mix drinks."
Ingredients:
1 oz sweet vermouth
1 oz dry vermouth
1⁄4 oz St-Germain
1 oz dry sparkling wine
lemon peel
Directions:
1. In a mixing glass or shaker filled with ice, combine the sweet vermouth, dry vermouth, and St-Germain.
2. Use a cocktail stirrer to stir for 15 seconds, until the cocktail is very cold. Strain into a coupe glass.
3. Top with the sparkling wine and finish with the lemon peel.
"The Parasol is a fun and easy Daiquiri riff that uses pineapple, banana, and nutmeg to add a bit of savory nuttiness to a clean, refreshing cocktail that works all year round and has a little bit of festive flair to boot."
Ingredients:
2 oz aged white rum (Denizen 3 Year)
1⁄2 oz pineapple juice (fresh pressed, or Dole)
1⁄2 oz banana liqueur
¾ oz fresh pressed lime juice
fresh nutmeg
Directions:
1. Combine all but nutmeg in a shaker with ice.
2. Shake and strain into a chilled coupe.
3. Garnish with fresh grated nutmeg, then serve.
Melanie Masarin of Ghia
Drink: Ghia Ginger + Rose Spritz
"This New Year's Eve is all about hope and moving on from the weird year that was 2020. I'm craving things that are fresh, energizing, and not overly sweet. The ginger, rose, and citrus mixed with the bitterness of Ghia is complex and full of possibilities. I'm hosting a small crew, and I like that all the prep for this can be taken care of ahead of time—I just steep the ginger in my rose water for a couple of hours before. At the ring of midnight, if a few people want to add a splash of champagne instead of topo chico, this cocktail will still make for a nice and fancy low-ABV drink."
Ingredients:
2 oz Ghia
2 oz sparkling water (Topo Chico is the favorite for big bubbles)
1 tsp rose water
fresh ginger, sliced *very* thin
lemon zest
edible flowers
Directions:
1. Mix two ounces of Ghia, two ounces of sparkling water, a splash of rose water, and two ginger slices and stir gently.
2. Serve in a wine or martini glass on the rocks, and garnish with lemon zest. The edible flower sprinkle is optional.
3. For an extra bite, place ginger slices into a small bowl of rose water one to two hours before you sip.
"While I have this as a 16-serving punch recipe in my book, I brought it back down in size to a single serving for the current times. A twist on the classic French 75, it calls for elderflower liqueur in place of simple syrup, which brings a delicate floral twist, taking it up a few notches on the complexity scale. It's been one of my staples for the holidays the past few years, since it sparks celebration from the moment you pop open (or saber!) your bottle of bubbly."
Ingredients:
1.5 oz gin (I like Hendricks)
¾ oz St Germain Elderflower Liqueur
¾ oz fresh lemon juice
3 oz Prosecco
lemon twist for garnish
Directions:
1. Combine the gin, elderflower liqueur, and lemon juice in a cocktail shaker filled with ice.
2. Cover and shake until well chilled, then strain into a champagne coupe.
3. Top with Prosecco and garnish with a lemon twist.
Top photo: Courtesy of Al Culliton
Want more stories like this?
How to Style the Perfect Bar Cart
Bubbly and Beyond: Pairings for the Holidays
5 Holiday Recipes from Our Favorite Chefs Around the World