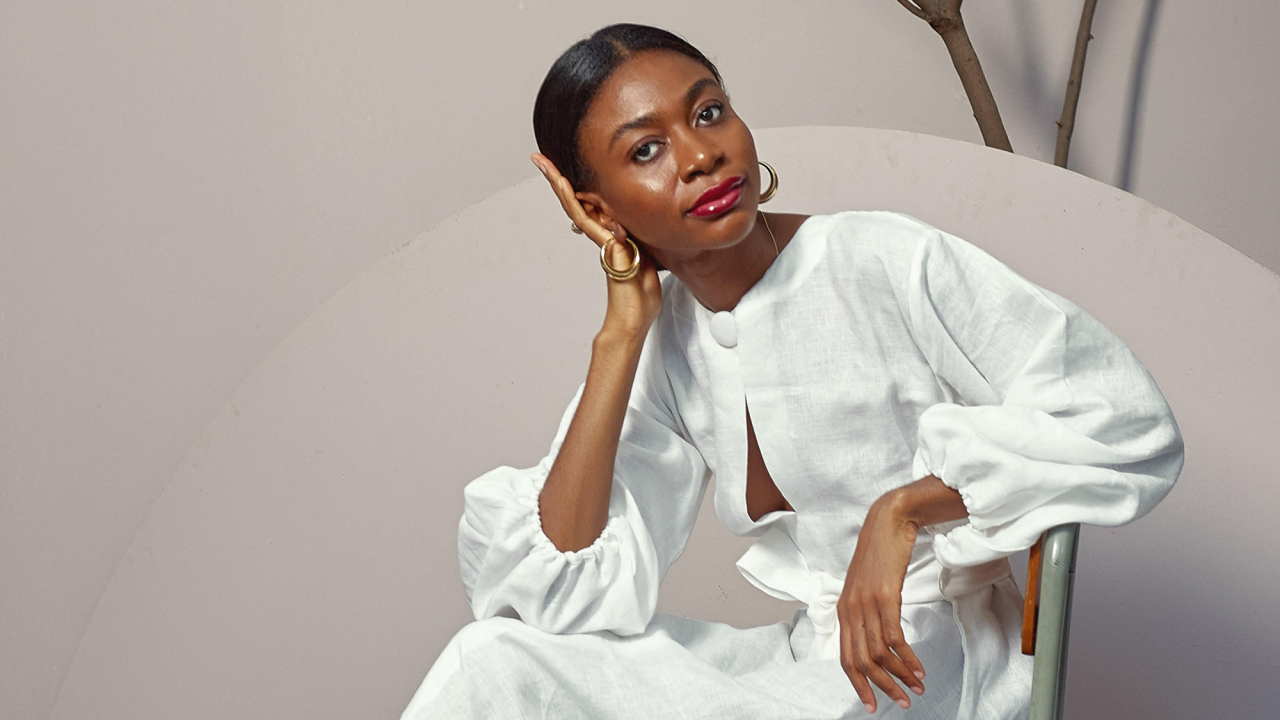 10 Fashion Insiders Share Their Hopes for the New Year
Prepare to be inspired.
A new year always summons new energy. And after the past year of inevitable uncertainties and change, we're ready to usher in a new perspective through an overwhelmingly optimistic lens. This year presented many obstacles to overcome; however, it also fostered a necessary reset in our lives, both personally and professionally—and especially within the fashion community.
An industry that was desperate for a drastic shift, whether it was the perpetual wasteful production cycle or the excessive mindset, the fashion industry has finally taken a pause rooted in reflection to proceed with intention. We sat down with 10 fashion industry insiders, from creatives and stylists to founders and designers, to reveal their newfound priorities and hope for the new year. Each of these creatives has spent the past year implementing new impactful practices into their businesses by enriching company culture, creating deeper community connection, intensifying consciousness of diversity and inclusion, and enforcing sustainable shopping to ultimately manifest the change they want to see in the industry. By definition, hope is the desire for a certain thing to happen, and with hope comes action. The energy these individuals are carrying into 2021 is infectious, and the hope is to sustain this thoughtful momentum beyond 2020 to continue making a difference. Ahead, find out what these fashion insiders are hoping to achieve in 2021—and prepare to be inspired.
"The disruption of the pandemic showed me how incredibly resilient and agile my team is—and I hope to sustain that positive energy and mindset in the new year. This year challenged us to reflect and further examine our impact at large. I am excited to strengthen the amazing connection we have with our community; we will continue to focus on women empowerment through self-purchase and the celebration of one another, from the pieces we create to the deeper dialogues we have with our customers. One initiative in particular I'm very excited about is the development of our Mejuri Empowerment Fund, which supports providing higher education to women and non-binary individuals.
"Something that got me through 2020 and that I will always look to for inspiration is a piece of art I acquired earlier this year. I had been looking for the perfect painting to hang in my living room for quite some time, and this year I finally found one that I absolutely love. It provides me with such a sense of peace and comfort whenever I look at it, and the best part is that it was painted by someone with a close connection to my heart—so not only is the painting stunning to look at, it is also a constant reminder of the support structure that I am lucky to have. It is something I know I will want in my home forever."
"I try to remain conscious of energy, the vibes I absorb, and those that I emit. Moving through 2021, I've committed to a refocus on forgiving myself more, giving myself flowers, trusting the universe more, and continuing to recognize that I am exactly where I am supposed to be. Looking back, my career journey has been rooted in an always-evolving mission, but the pillars have remained constant—the need to be creative and the satisfaction of having folks experience my storytelling in a way that inspires, validates, and provides perspective. I still feel strongly about this, and that allows me to move in a business space that is fulfilling to me as I seek to always meet these goals. While my main creative output has been ingrained in magazine editorial, for 2021, I want to set forth on a path that will allow for new avenues of creative output. I'm uncertain with what that will look like but optimistic that the opportunities will reveal themselves.
"The one fashion item that got me through 2020 and that will continue to get me through 2021 is this sweatsuit."
"I've been reading a lot of books/listening to podcasts on happiness and removing negativity from your life. So I will be working on not speaking badly about anyone, not participating in people's gossip about others, and focusing my energy on wishing everyone well. I think, in this industry, sometimes other people's success can feel like a failure for you or take away from your own success, but it doesn't. We have to be happy for each other and support others because, I feel, if you wish or spread any negativity, it will come back to you.
"As my company grows more and more, I want to work on creating a strong company culture. I want my employees to feel like they're part of a team and a family. I want to check in with them personally and make sure they're feeling good in all areas of their life; I want to be a strong and empathetic leader who follows them and listens. I've never been in the position of needing to lead before, and for me, personally, it can feel much easier to be a follower! But it's part of being a business owner and having a company, so I'm learning more and more every day, trying to improve and be the best I can be for my team and for myself. I think when you have a strong team, a strong company culture, and a unique one—it's something that can't be copied and is a true key to success. So many great companies or people fail because they don't set up a positive company culture or work environment. It's necessary.
"I hope that people become nicer. I think the virus has made everyone a little crazy and even bitter, including myself. From this period of time, I hope we can learn to accept and adapt to situations because we can't always control what's happening. Once we let go, understand that everyone needs compassion and empathy and that we're all going through a hard time and need each other; we can truly succeed as a unit. Right now, it still feels like a lot of people are in it for themselves, and that is not a nice world to live in."
"In 2020 I learned without a doubt that focusing on the good, no matter how small it seems compared to the bad, creates more room for positive things to happen. And that's the energy I'm taking into the new year: to always focus on the good. One of our goals for Míe in 2021 is to be more size-inclusive. Right now, we are at XS–1X. Another goal is to have strong distribution channels in cities where we have the biggest following, especially New York and London. I hope that in the new year, the intensified consciousness of diversity and inclusion only gets better."
"In the new year, I will definitely be focused on my favorite motto—less is more! This past year was both a challenging and amazing experience, forcing me to rethink my priorities. I think everyone has come out of the pandemic with a renewed focus on helping other people and our planet. For me, 2021 will be an opportunity to put my energy toward what really matters and challenge myself even further with my consumption habits. I'm asking myself questions like: Is what I put in my body healthy? Should I really travel for that meeting? Do I need that new handbag? How can I waste less and invest in things that last?
"We are currently focused on international expansion and growing our presence in the two fastest-growing markets for Vestiaire Collective: USA and Asia! We are looking to expand into South Korea and Japan in 2021, which I'm really excited about, as there are many incredible, rare vintage pieces available there. We're also continuing to focus on our sustainability mission and growing our global community of 10 million+ fashion activists. We are empowering our community to drive change in the fashion industry by educating them about sustainable shopping habits. By choosing secondhand, you are voting for change! I hope that 2021 will inspire a more conscientious way to work together and create a better world for future generations."
"I think if 2020 has taught us anything, it is that we can get through anything the world throws at us as a business, but on the flip side, the human race is not indestructible. I will be heading into 2021 with a sense of relief and willingness to make the most out of every opportunity while ensuring we have an enjoyable time doing it. I want to instill the energy of joy and optimism into the universe, into our team and the consumer, while ensuring we are responsible in our practices.
"I think this has been a tough year for all, but it's also brought us all closer together. I hope we go from strength to strength as a company, working together as a strong team, enjoying what we do, and spreading positivity, humor within our workplace and our customers while growing our brand awareness globally. In 2020 we saw the launch of our handbag category, and we are growing this category while hitting key sustainability objectives and ensuring our products are more relevant than ever."
"My 2021 energy is all around hope. We have been through a number of collective traumas in 2021, and it finally feels that we can see the light at the end of the tunnel. There is a feeling of possibility and better days ahead, from vaccines for the pandemic to cures for social injustice. I choose to focus on the positive side of this year, and my main takeaways from 2020 in that regard are how we can come together as people and push for equitable change, harness the power of science for a cure, and continue to live on despite dark times.
"My business goals for 2021 are to continue to expand on my Lefév line of accessories that includes accessible and quality products. We all deserve to dress up and feel empowered by our looks, so my goal is to make sure that our products can provide that confidence for all women!"
"We have been incredibly lucky in Australia this year, the Lucky Country living up to its namesake; I will be taking a newfound sense of gratitude and appreciation into the new year. To make up for the lack of it this year, it's our hope that 2021 sees more togetherness. We will be making time to collaborate to make 2021 an extra-special year for our stockists, suppliers, customers, and family—and to make the most of being a small business by enriching our design process and, therefore, the overall brand experience. My hope is to also see more of the natural beauty Australia has to offer—traveling locally and supporting the regions that were hit so hard by this year's bushfires."
"I'm not hoping for things to go back to the old normal; I believe the world and our society will never be and shouldn't be the same. The pandemic has shown us many things, from grief, instability, unity, hate, love, and many other things. There are lots of things to learn and unlearn. I hope 2021 will give people the courage to not waste another moment to live their life to the fullest and refrain from going back to the familiar. Instead, create a new normal where living life to the fullest and doing good are what matter most."