How to Shop Like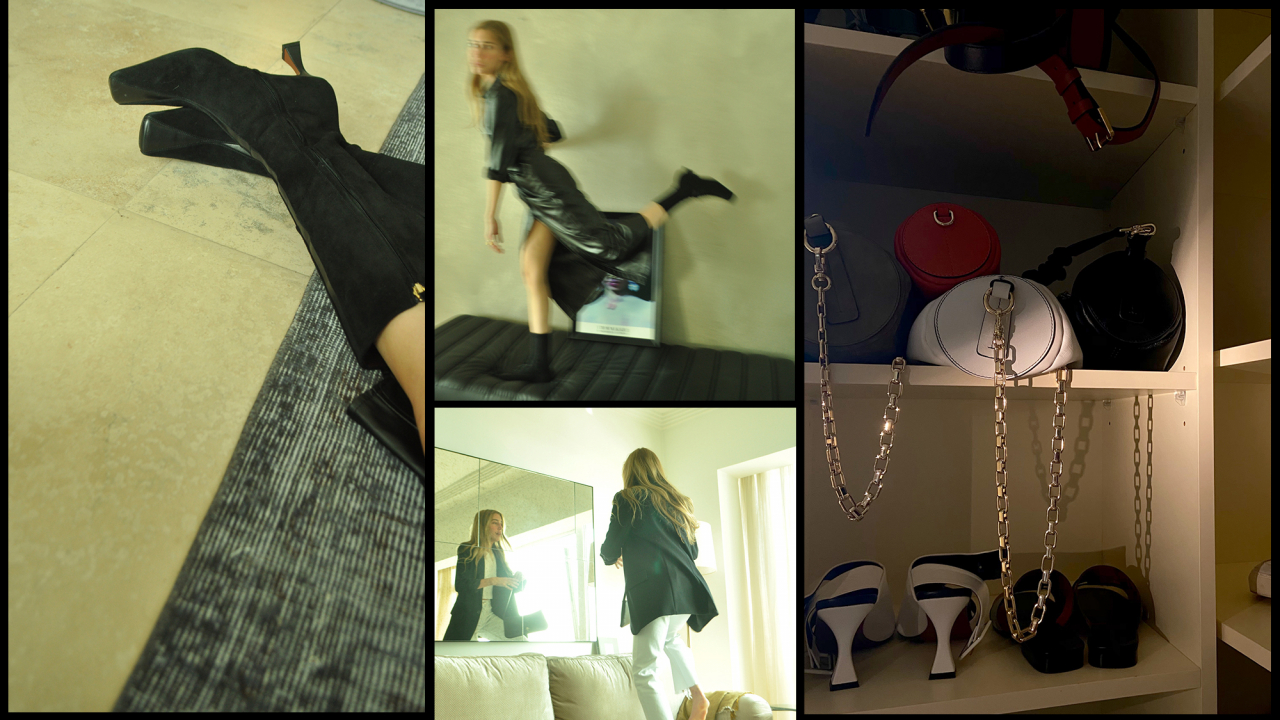 Manu Atelier's Creative Director Talks Personal Style & the Power of a Great Accessory
Merve Manastir is a '90s darling that knows quality when she sees it.
Welcome to our How to Shop Like series, where we spotlight personalities within the fashion industry and take a deeper look at their personal relationship with fashion and how they shop—think all the best insider tips and tricks. This week we're chatting with Manu Atelier creative director Merve Manastir.
What if your job was to look at handbags and shoes all day long? Sound like a dream? It's not. For some, like Manu Atelier's creative director, Merve Manastir, it's very much a reality, but in this case, the fairy-tale job description is backed up with hard work and thorough expertise. She and her sister, co-founders of the brand, grew up in Istanbul watching their father design handbags in an artisanal leather workshop and even toyed with the leather scraps to create their own masterpieces from a young age. The two girls launched their Manu Atelier shortly after they graduated college.
Manu Atelier has struck that tricky balance in their pieces between pushing the envelope and creating classic shapes their customers will want to keep in their closets forever. Their items aren't in-your-face over-the-top, but instead the excitement lies in the details—staple black ankle boots with a modern heel and square toe or '90s-reminiscent handbags rendered in classic hues. Listed as one of Europe's Forbes' 30-Under-30, Manastir exudes this same ethos in her personal style as well, mixing classic vintage pieces with modern accents and colorful accessories. We caught up with the creative director to discuss her sartorial know-how, her background in fashion, and, of course, the power of a great accessory.
Shop Merve Manastir's picks:
When did you first fall in love with fashion?
"I have always been very curious and interested in both fashion and finding unique pieces. Even at five years old, I was very specific about what to wear. I used to drive my mom mad when I would disappear in stores to go try on loads of shoes and dresses. I also liked to style up my elementary-school uniform by adding a cool leather vest on top of it. Even as a child I already wanted to have my own style."
Why did you decide to launch your own line?
"We grew up in one of Turkey's most important leather artisan workshops, watching our father design and handcraft bags. We have been exposed to the raw talent of our father since we were born. Our childhood memories are filled with the smell of leather and the memories of making miniature handbags with leftover leathers taken from our father's factory. Handbags are the most tangible element of our childhood, alongside our admiration for our father and his artisanship. We have always been inspired by fashion and creatives, so it all happened naturally."
How would you describe your personal style? How does it compare to your designs?
"I would describe my style as classic with a twist—that twist being the element that reflects my personality. I always need to add a personal touch of something different. Even if I wear jeans and a basic t-shirt, I will style it up with some gold jewelry. Our designs are also classic and timeless but with that same twist. With our handmade touch, we focus on the small details of our bags and shoes, adding clean-cut details to all our products."
Do you have a uniform?
"Not really. I like to switch things up and wear different pieces depending on my mood, but I'd say my go-to uniform is pants/jeans and a cashmere sweater. I change my outerwear a lot—either a classic coat or vintage oversize jackets. I don't like to wear strong colors, but I will add a pop of color with the choice of my coat, bags, and shoes. Those three items are key for me to create my look."
What do you let yourself splurge on?
"On timeless pieces: a chic coat or a classic, elegant watch. I believe that quality is very important when buying coats, bags, and shoes, as they are investment pieces."
What has been your favorite purchase of all time?
"I have a lot of them, but one of my favorites is this very rare Versace '90s black dress that I love. I also have this old Ralph Lauren tweed-and-suede combo blazer and a vintage Audemars Piguet watch, and I love my vintage Gianfranco Ferré sunglasses."
Where do you look for inspiration for your collections? Is your answer the same in terms of your own style?
"A lot of it comes from the outside world and the people in it. I like watching people and witnessing different cultures and ethnicities. Manu Atelier also draws inspiration from art and architecture. The brand's aesthetic has always been artfully curated since its creation. We are known for our geometric shapes and clean cuts."
In your eyes, what are the characteristics of a great shoe or accessory?
"Quality is the most important thing, then the design aspect and material."
Which stores do you frequent?
"These days I mostly shop online, and my favorite e-shops are Farfetch, Browns, Luisa Via Roma, and Selfridges."
What would your closet be full of if money were no object?
"A lot of runway pieces. I like classic tailor-made items. I would love Alaïa trousers and some Ralph Lauren coats and blazers."
Vintage or new?
"Both."
Your go-to accessories?
"My bags, gold jewelry, and vintage sunglasses."
If you could envision one icon wearing your designs, who would it be?
"Nan Kempner."
What does your current WFH wardrobe look like?
"Pretty much the same that I usually wear. I like a tracksuit bottom or jeans and a cashmere sweater right now, as it's winter here."
Who are your favorite small fashion brands of the moment?
"Totême, Gauchere, Nensi Dojaka, and Marine Serre."
What are the top five most worn items in your wardrobe?
"Straight-cut mid-rise jean, tailored trousers, basic white t-shirt, denim shirt, miniskirt, and an oversize blazer."
What era of fashion is your favorite and why?
"I love the late '90s, as it's when I grew up and discovered my fashion sense. During that era, most of the rules were destroyed and you could really embrace your style. I love that free feeling of the era. I don't like to be restricted while getting dressed since I think your style should reflect how you feel and who you are."
Photos: Courtesy of Merve Manastir
Want more stories like this?
Tour the Whimsical Los Angeles Home of Simon Miller's Creative Director
The Journey of a Trend—Here's Every Factor That Moves Them to the Mainstream
Meet the Designer Championing Quality Over Quantity