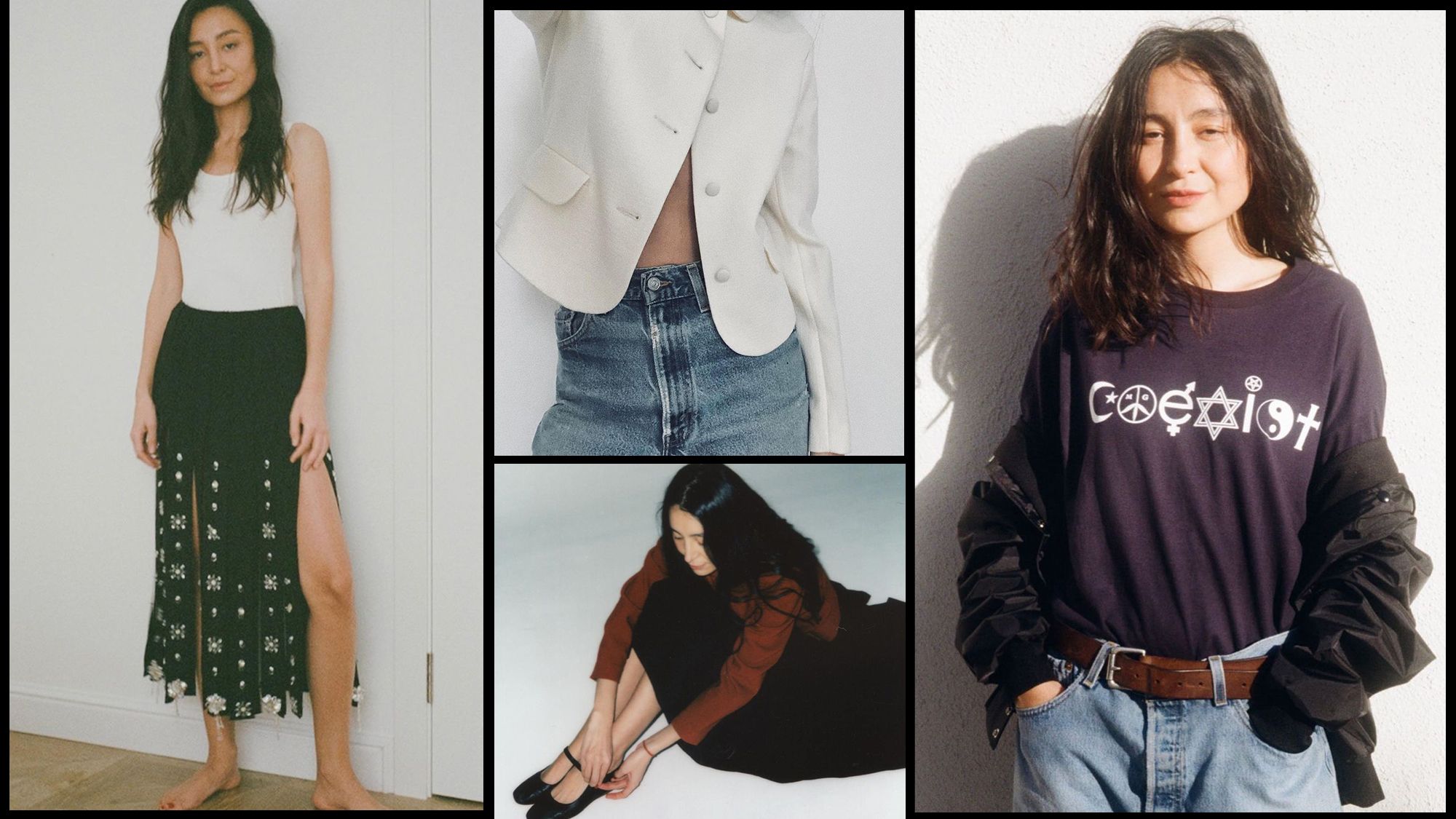 Designers
She's giving us luxury fashion minus the luxury price point.
Graphic
Rachel Pickus
Welcome to our How to Shop Like series, where we spotlight personalities within the fashion industry and take a deeper look at their personal relationship with fashion and how they shop—think all the best insider tips and tricks. This week we're chatting with designer Aziza Azim.
When talking about fashion, and more specifically, shopping, the onus has recently shifted to focus on mindful spending—purchasing items that are not mass produced, but instead buying fewer items that are made to last. While this notion has almost become trendy on the brand side, certain designers saw the light ages ago and built their businesses on that singular idea. We are specifically referencing
Azi.Land
,
Aziza Azim
's slow fashion brand that has been championing this mindset since its inception.
Azi.Land is rooted in superior craftsmanship. The attention to detail is evident in every stitch, every seam, every silhouette. Most of their merchandise is produced on a made-to-order basis to eliminate excess (wasteful) inventory, and margins are kept low to avoid the sky-high price point typically associated with luxury purchases. Along with the construction, the designs themselves exude longevity—these are classic silhouettes you know will endure trend cycles for years, if not decades. There is no coincidence here—Azim has the r
é
sum
é
to back up every decision.
Wearing many hats throughout her career, Azim has worked her way through the fashion industry via her consulting studio
Atelier Azim
, thereby positioning herself to launch her own line. "After consulting with brands in different areas, I've learned to source the best fabrics, collaborate with design talent, manage production processes, and even photograph," she explains. "I love to make a product come alive, from an idea to something tangible."
---
Here's What Aziza Is Currently Shopping For: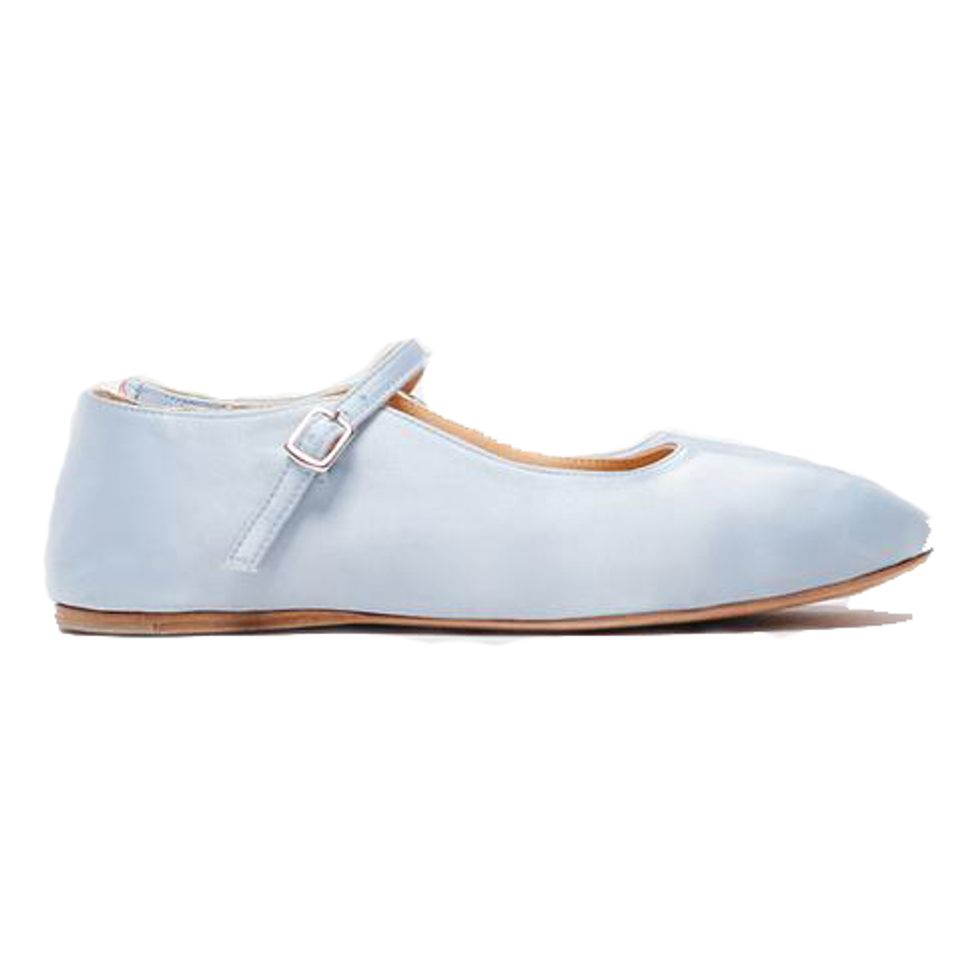 Azi Land
Azi Land
Lesse
Modern Society
Modern Society
When did you first fall in love with fashion?
"At the age of seven, when my mom was in her late twenties, we were living in Manhattan and she would collect Japanese and Belgian designers like
Ann Demeulemeester
,
Issey Miyake
, and
Yohji Yamamoto
. It's just something we always loved to do together
—
treasure hunt."
Why did you decide to launch your own line?
"I wanted to make high-quality clothing at a premium price point. After working for years in the industry, I was disappointed to know that some luxury labels no longer invest in the quality of the craftsmanship; instead, they rely on their brand name or an intense marketing strategy. I want to break that barrier and show that it is possible to create fine, quality clothing without the luxury price point. For me, it's mostly about craftsmanship—the details, the work from the inside, the seams, the lining, the quality of the fabric—that matters to me more than just the style. I want to make fine clothing that will last. Sure, the margins are not high, but the heart of the brand is the quality, and we are not willing to compromise on that. I work hand in hand with the production team, the craft makers, and when I see them smile, it brings me a lot of joy. Without their devoted efforts, there would be no
Azi.land
."
How would you describe your personal style? How does it compare to your designs?
"I just wear what makes me feel good. Sometimes it's about the shapes or colors, but mostly it's about the fabrics and the textures."
Do you have a uniform?
"Hard to say. I wear a lot of denim, blue, white, and black. Vintage Levi's, modern Uniqlo. I love white t-shirts from
Industry of all Nations
. I love coats and jackets."
What do you let yourself splurge on?
"FOOD and fabrics!"
What has been your favorite purchase of all time?
"Celine Country Boots by Phoebe Philo, forever and ever. Bottega [Veneta] made similar ones, but Phoebe was first."
Where do you look for inspiration for your collections? Is your answer the same in terms of your own style?
"It varies. I'm inspired by the old and the new. I just trust my intuition and go with the flow."
Which stores do you frequent?
"I haven't been shopping for clothes since I've started my own brand. I either wear my own or support my friends who make clothes. I want to live in brands like
J.Kim
and
Nina Donis
."
What would your closet be full of if money were no object?
"
Comme des Garçons
,
Vivienne Westwood
,
Alaïa
when Azzedine was with us, and anything
Celine by Phoebe Philo
."
Vintage or new?

"Vintage."

If you could envision one icon wearing your designs, who would it be?

"There are two: Princess Diana, Jackie Kennedy."

What does your current WFH wardrobe look like?

"Anything comfortable, soft, and warm."


Has the pandemic affected your thoughts towards fashion at all?
"Fashion must not be disposable. We must work together in the industry and improve our practices towards a better future. Also, I believe that good things are worth the wait. Patience is a virtue. I am all for slow fashion."
What are your favorite ways to style Azi.Land shoes?
"With a
Pari dress
and a blazer, with Levi's denim and an 
Esha jacket
."
Who are your favorite small fashion brands of the moment?
"I love
Roses and Lace
. It's a project that I've been involved with since inception, from branding to sourcing fabrics to designing signature floral prints. It also happens to be a passion project of my friend Maria. Maria makes dresses that make you feel romantic and feminine.
"
J. Kim
is my absolute favorite—the way it infuses traditional handmade techniques with modern-day shapes. There is a collection that J.Kim made inspired by the Uzbek dowry. I saw myself in it, and I am lucky to own some pieces that no one else has. For example, a hand-embroidered floral top that I can wear with denim, black pants, or a vintage skirt. I'm also lucky to call J.Kim my dear friend!
"
Extreme cashmere
for their lush shapes and textures.
Nina Donis
for their colorful crafted sweats."
Photos: Courtesy of Instagram/@azizaxoxo
Want more stories like this?
Meet the Designer Making Clothes Out of Discarded Electrical Wire
Curator Chelsea Nassib on the Power of Emerging Artists
How to Shop Like Object Limited Founder Anna Gray