Jeweler Brent Neale Shares Her Secret to Staying Creative & the Value of Balance
Plus her style at home and beauty must-haves.
Career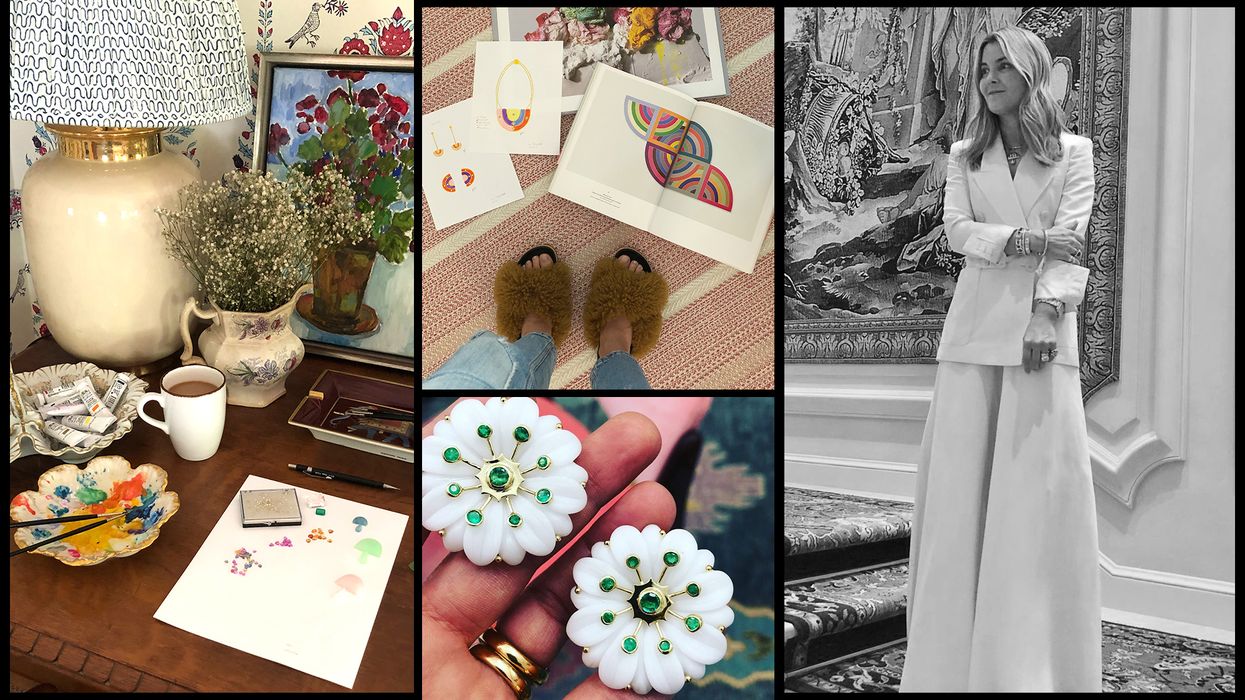 Each week we're checking in with friends to see how they're finding balance, working from home, and generally evolving and advancing their careers. Today we're chatting with Brent Neale Winston, founder and designer of her eponymous fine jewelry collection Brent Neale. Read below on how Winston is continuing to find inspiration from home, blasting Marianne Faithfull, and more.
How do you start your days?
"I start my day with coffee and eggs on toast with LOTS of hot sauce!"
Talk to us a little bit about your work environment right now. Are you back in the office, or working remotely from home?
"I've been in my office in Bryant Park as much as I can, but when I'm designing a new collection, I like to do that from home. I've been working a ton on the weekends from Long Island."
What are the most critical things needed for creativity and to survive a workday?
"For me, going to museums and wandering around the city are usually critical to my creative process. Since COVID-19 has restricted that, I've surrounded myself with books and music. I like to be in environments that are cheerful and warm and cozy. For me, that really helps to motivate and energize me." 
---
How do you stay focused and motivated throughout the day? Any tricks you can share?

"When I'm in the office I have a running list of priorities and know exactly what it is that I have to accomplish that day. On the weekends, I enjoy the distraction of my children and playing outside with them—I need a balance of structured and unstructured time."

It's a tricky time in our world, and economically speaking, it's unclear what the future holds. How do you foresee this time impacting your industry?

"The current climate is a very unsettling one, and the fine jewelry industry has for sure been impacted by this climate just like every other industry. I think the effect it has had on our industry is that everyone has been forced to become smarter about the business decisions they make, such as who their retail partners are and how those partners are supporting them. It has made people have to get more creative about selling opportunities and step outside the traditional box of how jewelry is marketed and sold."

From a creative standpoint, who or what has been your biggest influence?

"My muse this season is Marianne Faithfull, and my new collection launching soon, called Reflections, has been loosely inspired by Frank Stella's work from the late '60s. I'm so excited about the bold scale of the pieces and can't wait for it to be released!"


Tell us a little bit about your style right now. What's your go-to uniform?
"My style hasn't changed so much—I love beautiful clothing; it makes me happy, so I continue to get dressed because for me it's a sense of security and normalcy. If I'm home designing, I normally wear a t-shirt, cashmere cardigan, worn-out jeans, and all my jewelry."
Let's switch gears for a minute: Are there any beauty products essential to your day-to-day?
"My beauty routine… OK, so I don't wear makeup unless I'm leaving the house, and even then it's really minimal because makeup has never been my thing. But I wash my face first thing with my dermatologist's (Dr. Macrene Alexiades)
cleanser
, and then I put on perfume. I love to change my perfume, and I wear three different Aerin scents."
How do you unwind at the end of the day? Cocktails? Recipe, please!
"A glass of wine at the end of the day is such a treat, and I'll sit with my husband or a friend and unwind. Recipe: uncork, pour, and enjoy ❤️."
Photos: Courtesy of Brent Neale WinstonWant more stories like this?
The Co-Founder of Club House Global Talks the Power of Music & Creative Solutions
A PR Executive Shares Her Secrets to Work-Life Balance & Building a Business
Ina Garten on Thanksgiving Traditions & the Secret to Easy Entertaining