Interiors
The Boutique Design Store Taking Over the Lower East Side
Fabiana Faria and Helena Barquet, the design curators of Coming Soon New York, are hard at work.
For the last few years, Fabiana Faria and Helena Barquet have been a cornerstone of their Lower East Side neighborhood. As the whole neighborhood flourished around them, their design store
Coming Soon
continued to grow in popularity and impact for a growing crop of design enthusiasts interested in bold, bright colors, Memphis-inspired objects, and abstract collaborations from the duo and their coterie of equally impressive artisan friends.
On November 12th, though, the store celebrated a new milestone of seven years bringing high design to the Lower East Side. While they've been working from their Orchard Street location all this time, Barquet and Faria are moving their collection of small objects and decor accessories down the street to a new location on the corner of Orchard and Canal Street.
"The lease in the store was up on January 1st," says Barquet. "We saw that space was available, and we thought, 'Lets just do that.'"
"We were sandwiched between a sandwich shop and an ice cream parlor [at the Orchard Street location,]" adds Faria. "People thought the move was really about exposure, but it's not. It was mostly just the space itself. We've become a destination in the neighborhood. When people go to the store directly, it's about 200 square feet bigger, too."
---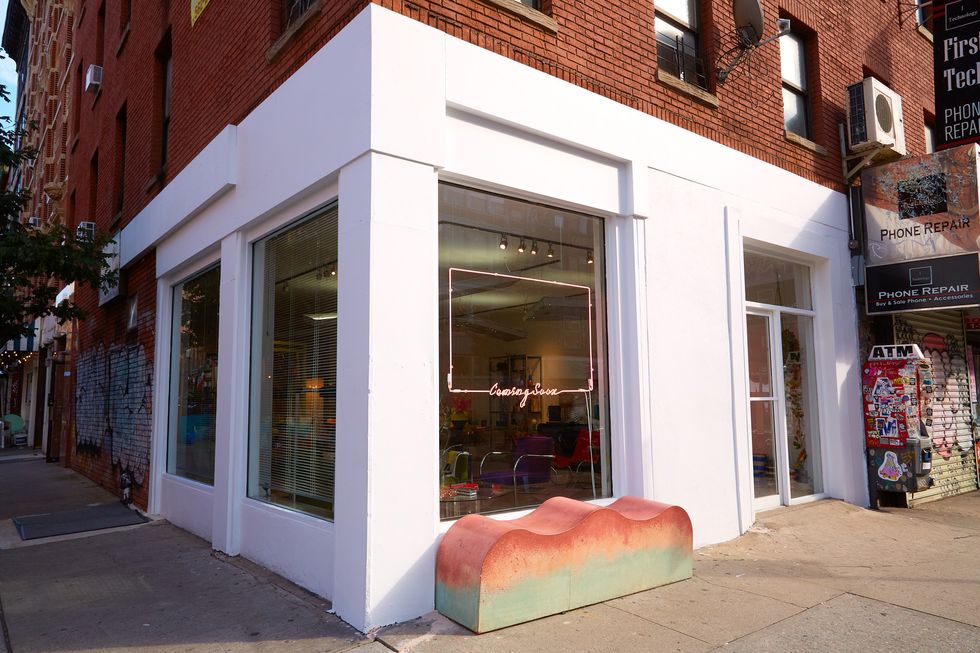 Photo: Courtesy of Coming Soon
In addition to their design store, the duo also manage a larger, by-appointment showroom of larger furniture—primarily vintage pieces in keeping with their retro '80s aesthetic, reimagined by them with new upholstery and vintage upgrades.

"The Allen Street showroom we're keeping," explains Barquet. "It's been a benefit that we're still keeping both spots. We're just moving the 'small' stuff. And now they're bigger and closer to one another."

Like most small businesses, particularly in New York, the coronavirus pandemic has forced entrepreneurs to reimagine different aspects of their business. "We just try and carry on," says Barquet. "It's as much as we can to stay the course." To that effect, and after having to shut the store down for months when the full lockdown was in place, they've revamped their website to best work to their brand narrative and customer base's personalities. "I think, for us, if anything, the pandemic made us very busy with online sales," adds Faria. "But what helped us was creating photos of what we sell in actual homes instead of studio images."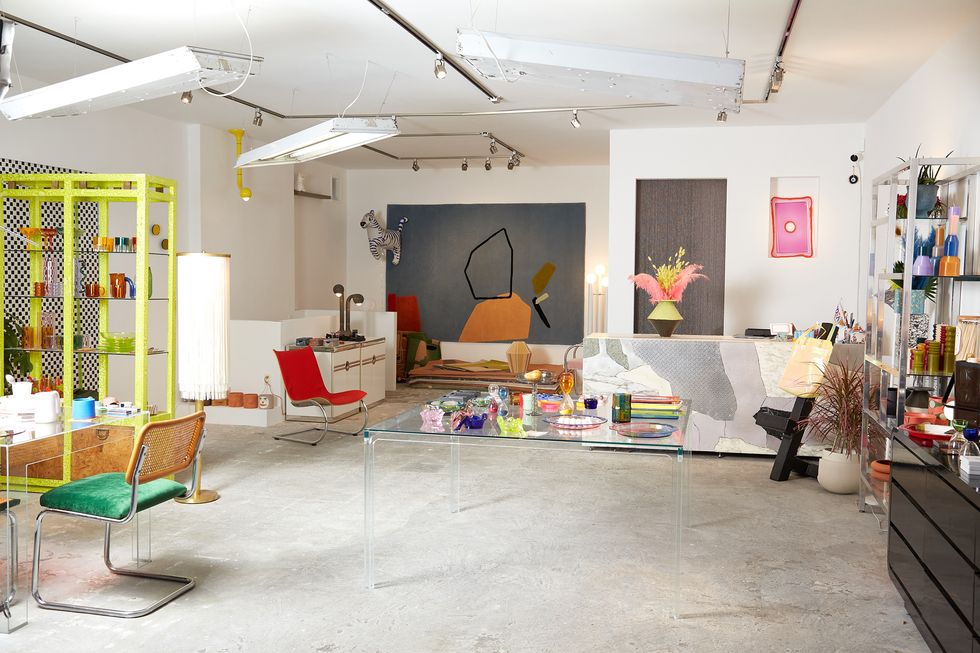 Photo: Courtesy of Coming Soon
Perhaps their best work during the last nine months of the pandemic have been their collaborative efforts and product launches with their fellow peers and friends of the design world. They've debuted pieces in partnership with designers like Chen Chen and Kai Williams,
Cold Picnic
, and a slew of other artisans and makers.
"The collaborations were all planned before, they just take so long," says Faria. "We just did a new bath mat with Cold Picnic that's a tushy. So many people connect with us at the store or in a physical way, so when the pandemic happened, we went all in on mailers and changed our website to shop by
mood
. We tried to create a brand online that felt like being in-store with our reverence and humor." Their work goes beyond just collaborating on products, but in engaging as many members of the design scene as they can to make the most of these opportunities. "Yeah, we plan these things out long in advance," Barquet adds. "With Chen and Kai we did an arm vase and were planning on having a party at the store, which didn't happen. We just brought them to a more virtual space. We were able to schedule pickups at the store and gave them away with floral arrangements in them from our friend Robin from Fleurotica."
Chen and Kai have also worked with the duo on their new store, taking their talents with stonework to help create a new space. For example, after the longtime local favorite Mission Chinese Food closed recently around the corner, the team came together to repurpose it.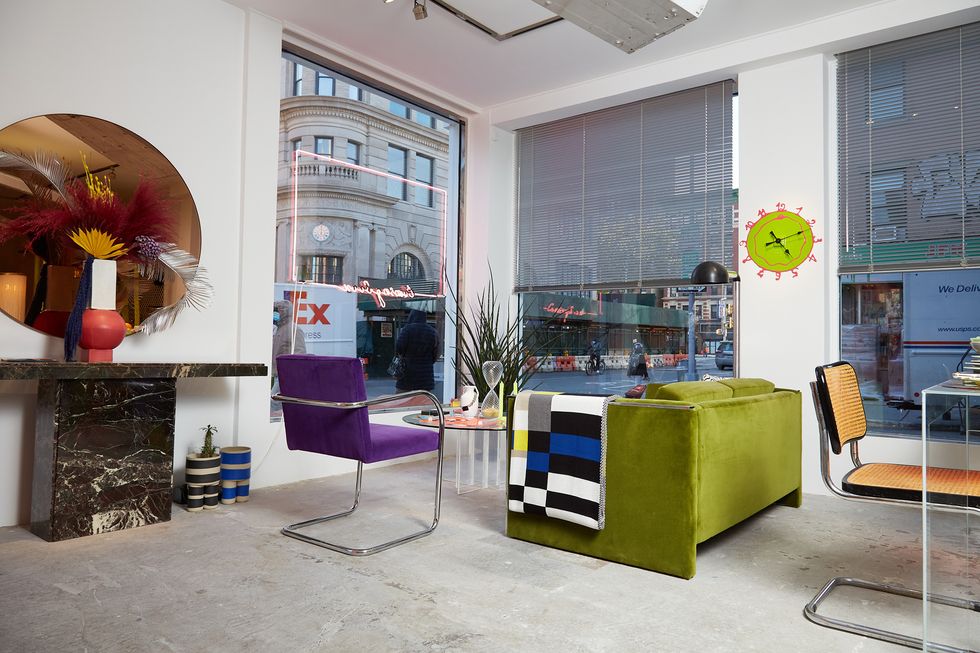 Photo: Courtesy of Coming Soon
"We're actually using the bar from Mission Chinese in the new store," says Faria. "We redesigned it with Chen [Chen] and Kai [Williams,] and we're using it for shelves in the new space."
"Chen and Kai did our counter for the new store, too," Barquet notes. "It was all from scraps they had laying around in their studio. Design is a collaborative thing. We're all used to collaborating together anyway. Most of these things take such a long time that it doesn't stop, it needs to keep moving forward."
Someday in the post-pandemic world, Coming Soon will still be filling people's homes in New York and beyond with beautiful pieces from the growing group of unique makers. Until then, stop by their new shop downtown and check out what's new. "Our anniversary of the store being open for seven years was November 12th," notes Barquet. "Commemorating that, along with opening the new store, was super exciting. We're looking forward to the holidays and unveiling [our new collaborations.] It's a lot of the same, but a lot of new things, and the design of it is more intentional."
Photos: Courtesy of Coming Soon
Want more stories like this?
Inside an Interior Design Couple's Pop-Art-Filled Berkshires Escape
Step Inside This Fashion Couple's Modern-Meets-Traditional Penthouse
Inside This Bridal Designer's Whimsical Oasis in the English Countryside