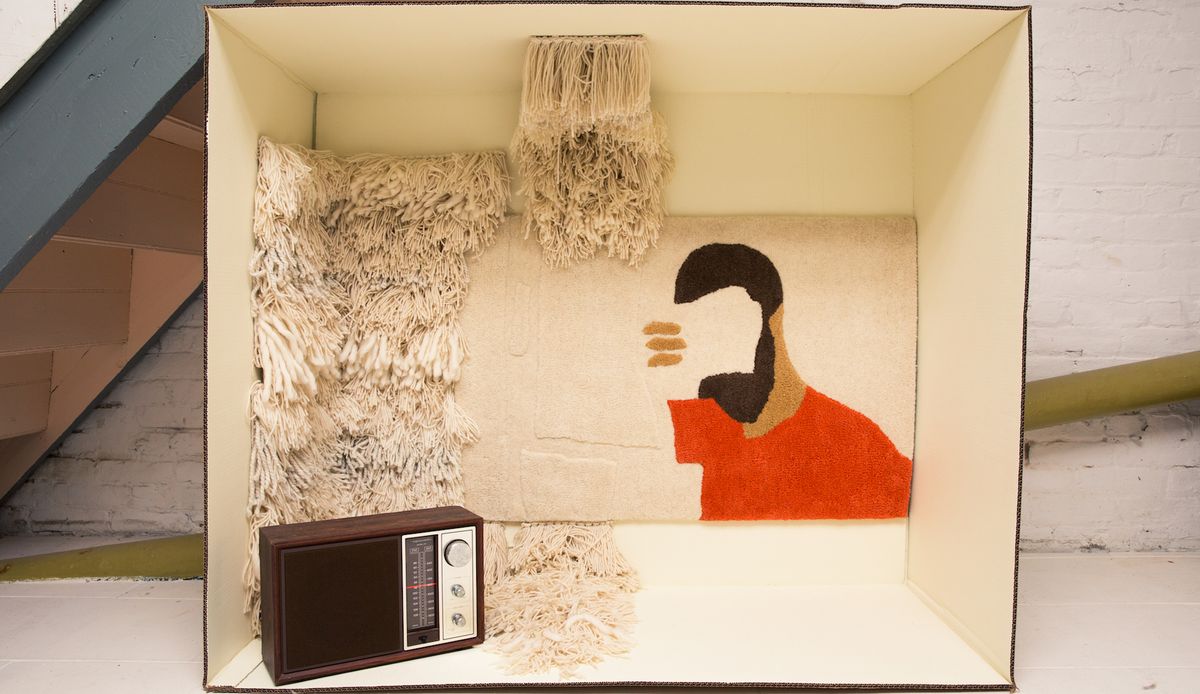 Culture
Just wait until you see their dogs.
Alec Kugler
The first thing I notice inside Cold Picnic's cavernous studio space is a handmade carpet within a meticulously-styled diorama with what looks to be Drake's outline dyed into the fabric. Phoebe Sung and Peter Buer, the couple behind the playful lifestyle brand, gamely acknowledge the similarity. "It does look exactly like Drake," Phoebe says. "For the last collection, we were looking at this movie called Ali: Fear Eats the Soul, about a Moroccan immigrant who looks like him." The effect, along with the eight other dioramas they created for their interiors collection, is stunning regardless. Although, not surprisingly, they now have a reputation at Staples as the couple with a penchant for exceptionally large boxes.
The designers' Ridgewood, New York, home is pretty much the epitome of goals, with the work space conveniently located in their basement. "We'll work and then come upstairs and wash the dishes and take the dogs for a walk," Phoebe says. Peter agrees, "Which is good because you can take a break from the work and come back ready to go again."  Their adorable canine roommates, Daisy and Philip, frequently star in Cold Picnic's Instagram. I make a mental note to find a dog that matches my furniture. Aesthetics are important.
---
The idea for the 7-year-old brand started when Sung and Buer met at the Massachusetts College of Art in Boston. "We would give each other homework. If there was something [Peter] was bad at, I would do it," says Phoebe. Peter elaborates, "We both studied fashion, and then when we got to New York, we started making jewelry and bags." Initially, the couple had a brick-and-mortar space in Brooklyn. "We didn't have a budget to buy stock, so we started making everything at the store—shampoo, soaps, bags, wall hangings, planters," says Phoebe. "As the brand grew, we had to shed a few things."
Now Cold Picnic operates solely online, and their focus has shifted to textiles, culminating with their infamous "Private Parts" rugs and bath mats. While the collection is essentially Instagram gold, the pair actually stumbled upon the idea after noticing recurring shapes in their previous designs. They decided to embrace the concept wholeheartedly.
"We'd be like, 'oh no, we can't do this, it's too phallic.' But now, we have the boobs, penis, and the whole torso," says Peter. "People get a bath mat, do something fun with it and then tag us in it."
"Social media is cool because it opens up communication between the maker and consumer in such a new and unique way," says Phoebe. "If we'd had our brand 20 years ago, we wouldn't have access to all these images of our pieces in their new environments."
Without a separate studio space, the designers understandably spend a lot of time together, but have found a way to cohabitate and collaborate harmoniously. The test? Start a business in a tiny apartment, sleep together in a twin bed for two years, and if you don't kill each other, you will probably be successful.
"It was kind of built into our relationship," says Phoebe. "We moved in together after five months of dating. We always had to get along."
As I listen to them finish each other's sentences another half-dozen times, I finally understand how the pair have been so prolific over the past seven years. Phoebe says, "We have the luxury of the other person knowing what we want already, so we never have to boss each other around."  Peter agrees. "We don't get our feelings hurt. When we design, [she] does stuff sometimes by hand and I do [it on] the computer, and then we bring all of our designs together."
Now as Market Week approaches, they have no plans to slow down, and are even considering designing cutlery (yes, like knives and forks.) "I'm always a bit intimidated to jump into a new project, especially a new category, so we've kind of been putting it off," says Peter. "But we're going to do it." Eyeing their meticulous workshop, with Drake's doppelgänger looming in the background, I can already sense it will be great.