Inside an Interior Design Couple's Pop-Art-Filled Berkshires Escape
Color, creativity, and personal touches are the Novogratzes' bread and butter.
Interiors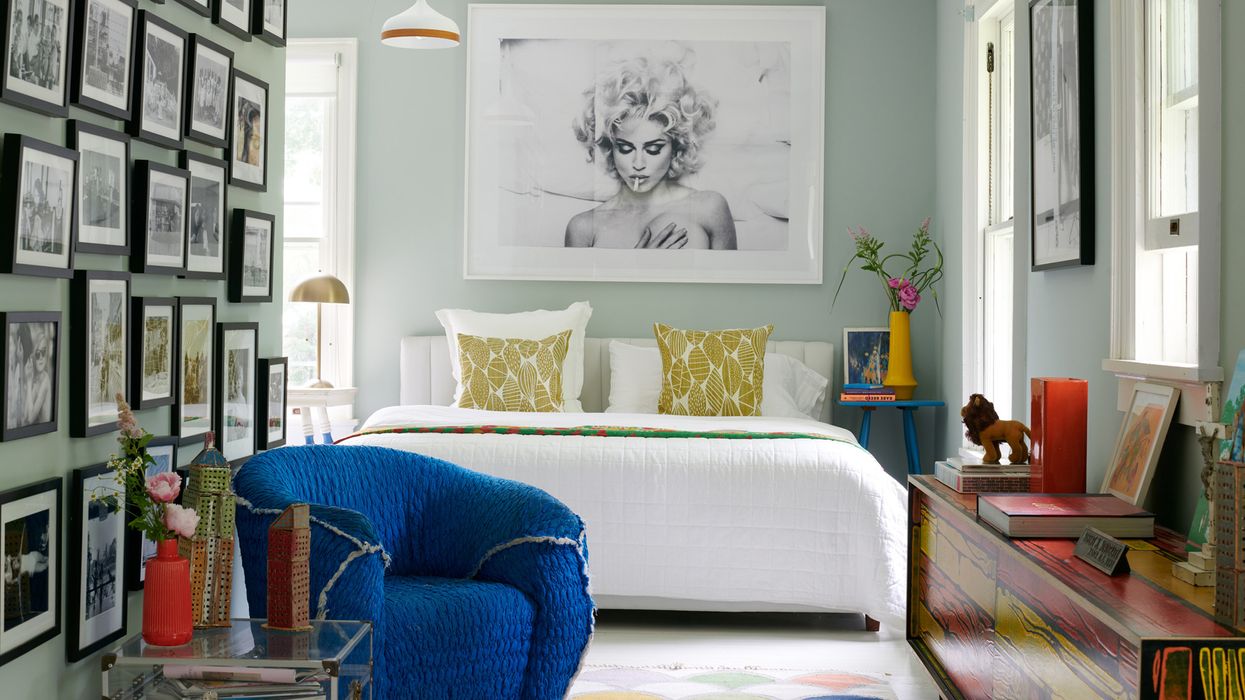 Interior design duo 
Cortney & Robert Novogratz
first purchased their Berkshires house in the wake of 9/11. A downtown Manhattan family with four young children at the time (the couple now has seven kids!), they were looking for a safe haven. Built in 1917, the house was incredibly run-down when the Novogratzes stumbled upon it. "It needed a lot of work, but we fell in love with it because we enjoy projects," says Cortney. "No one else wanted it, so the price tag was good!"
Since then, the home has undergone multiple remodels (the most recent included adding a pool, a home gym, and an in-ground trampoline) and served as a sanctuary and retreat for the family on countless occasions. "We ran there after Hurricane Sandy hit our town house and at the beginning of the pandemic," she says. When imagining the country estate as their ultimate city escape, the couple's guiding design idea was the desire for a space that was airy and filled with light. Given the house's age, the rooms were originally quite small and dark. They knocked walls down in order to create a more free-flowing floor plan and kept the original hardwood floors, but painted them white.
These juxtapositions—between old and new, high and low, vintage and modern, quiet and bold—run through the entire house and are evident of the Novogratzes
'
design philosophy at large. Antique chandeliers mix seamlessly with stainless-steel appliances, while pop art sits alongside Rococo-style mirrors. Not only is their mix-and-match approach evident when it comes to time periods and design styles, it's also applicable to both expensive and affordable finds. "We put a $20 coffee table next to a $50,000 piece of art," laughs Novogratz.
The idea that design needn't be too precious and should be made for real life runs through the duo's DNA. Though they have acquired several investment-worthy art pieces over the years (work by Robert Rauschenberg, Graham Gillmore, Ann Carrington, Linda Mason, Cheyenne Randall, and Martin Schoeller, just to name a few), they don't save them for the main entertaining areas, opting instead to hang museum-quality paintings in their children's bedrooms and smaller nooks throughout the house. "My kids are far from perfect. They wrestle at times, but they're not knuckleheads," says Novogratz. "They understand that we should appreciate and respect art. I'm against the idea that the whole house has to be plastic because we have kids. If we waited for that, I'd never have nice things."
---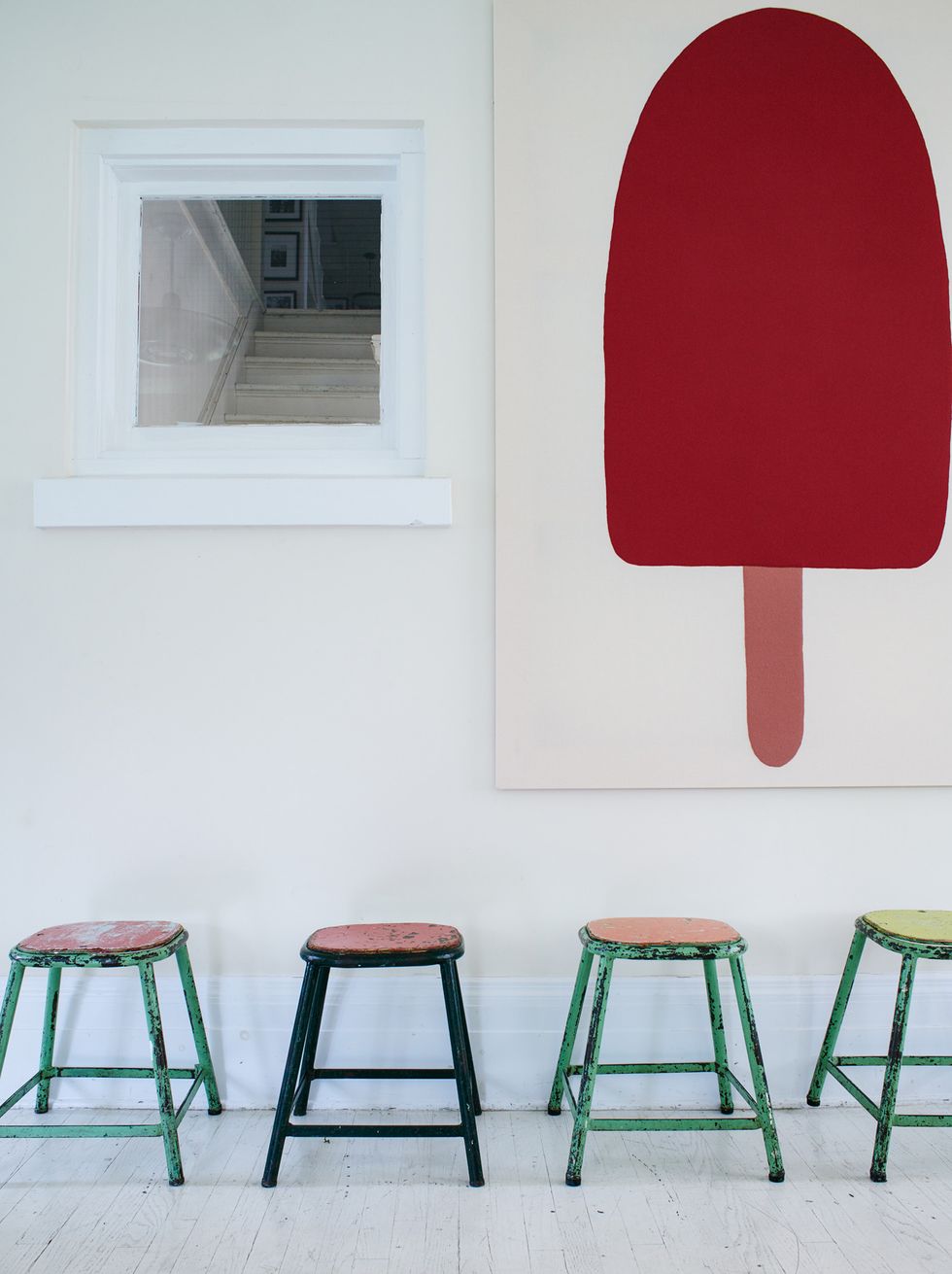 Photo: William Waldron
The family is also super transparent about how they've managed to grow their extraordinary collection over the years. "We spend and splurge and then save," says Novogratz. "I want this special bed for a new project we're working on, and I'll probably sell something in order to justify the expense." Additionally, over the years, they've rented out the house. Several years ago, upon returning to the house after renting it out, the family found more kids' heights added to the wall in the kitchen that reflects the children's heights as they've aged, along with phone numbers for pizza delivery and other nostalgic messages. "We were like, who is Jack? Who is Max? We wonder how tall they are now," she jokes. "We'll never paint over it," she says, relishing all the twists and turns these moments bring to the story of the home.

"Because we're designers, our house is always evolving and changing," explains Novogratz, who frequently repaints, rearranges furniture, and brings new pieces in and out. Even during quarantine, she's re-wallpapered several bedrooms upstairs. Constantly sourcing new items for clients, going to tag sales, and antiquing means continually falling in love with new things. "We buy pieces we absolutely love," she says, whether it's going into a new project or a forever item for the family home. "My dining-room table has changed quite a bit over the past 20 years, but we've finally decided we're going to keep this old, industrial table we bought in France."

The one thing that remains a constant in the Novogratz home is the ever-growing collection of black-and-white family photos in the hallway. "None of the frames match, they're not expensive or measured properly," says Novogratz. "It doesn't matter. If it means something to us, it just goes up on the wall." It's a tradition that started just prior to Cortney and Robert's wedding and has followed the family throughout every home they've owned. For these professional designers, it's always the personal touches that matter most. Drawings by their kids hold equal merit as priceless paintings. A crystal chandelier hanging in the dining room is special not because of its worth, but because of the absurd memory of carrying it on a lap (along with a new baby!) on a flight home from Europe. Pink shutters on the house's exterior are a moment of added fun. A room where all nine family members could hang out and watch movies together was paramount.

Ultimately, color, creativity, and an openness to exploration are what make this home so striking. "I've never had a dream house," says Novogratz. "The dream house is just a journey—it's a process, working, changing, and always growing."