Deskside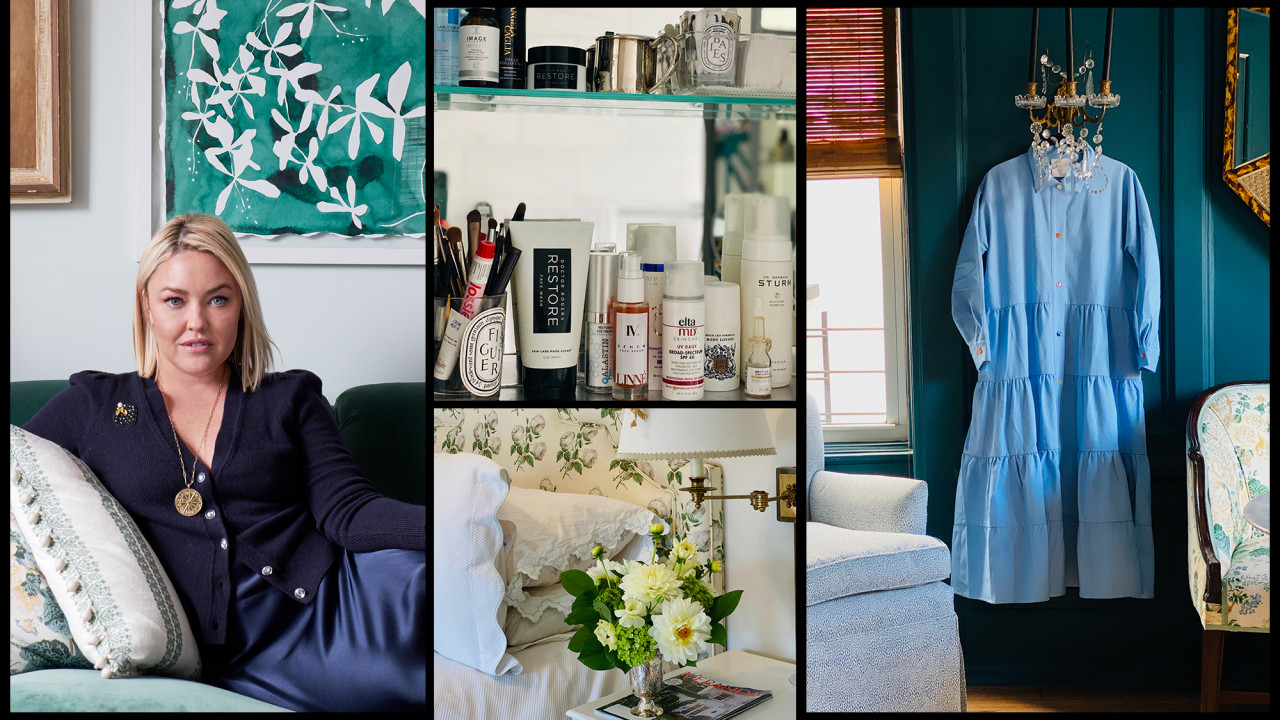 A PR Executive Shares Her Secrets to Work-Life Balance & Building a Business
Plus, the sheer power of simply getting dressed.
Each week we're checking in with friends to see how they're working from home and leaning into the winter months. This week we chatted with the public relations titan Elizabeth Tuke Dake, founder of TUKE Consulting and TUKE BAZAAR. Throughout the pandemic, Tuke has been juggling the many aspects of a rapidly expanding business while raising an infant and a toddler—no small feat! Tuke says it best, though: "Women are superheroes," and we couldn't agree more. Read below on how this working mom isn't letting anything get in her way.
How do you start your days?
"My mornings always begin with opening the curtains to bring in the daylight—the weather generally sets the tone for my day. After that it is coffee and snuggles with my two children. I am guilty of immediately looking at my phone when I wake up, whether it's to check email, news, social media, or my activity on my new venture, TUKE Bazaar. I know I should ease into screen time, but I can't help it!"
Are you incorporating movement or exercise into your routine? If yes, anything you're loving at the moment?
"I gave birth to my daughter, Clementine, in July. Having a newborn baby and a three-year-old boy requires a lot of moving around! I could honestly spend 24 hours a day picking up toys and doing laundry. I am also loyal to Tracy Anderson, and her online studio has been a godsend during Covid—it also creates some sense of normalcy while her NYC studios are closed."
Talk to us a little bit about your work environment right now. Are you back in the office, or working remotely from home?
"Team TUKE has been working remotely from home. In my case, it requires a serious balancing act with the consulting business, the Bazaar, a newborn baby, and a super-energetic little boy. It really forces me to create a schedule and space for both work and personal obligations. We were uprooted to Florida during COVID, so fortunately, being outside with the kids is a big part of my day—having the opportunity to connect with nature during the workday has been a whole new experience for me!"
What are the most critical things needed for creativity and to survive a workday?
"Despite working from home, it is always very important for me to get dressed. The mere act of putting on an outfit shifts my psyche from being relaxed to active and motivated. Staying connected with colleagues, friends, and fellow entrepreneurs has been a big incentive for me in terms of creativity—this happens a lot via social media, but it's inspiring to see others continue to create and innovate during an unusual climate."
How do you stay focused and motivated throughout the day? Any tricks you can share?
"I love being active and busy, but can easily get distracted and off track while at home. I really have to stick to a routine and ensure I have the necessary help with the kids to tackle both work and my to-do list (I make a lot of lists!). I have a big calendar in our kitchen that highlights everything happening each day, including my work meetings and calls. I also write down everything versus putting it in my phone—the act of checking something off has always been an incentive for me. I have used a Smythson planner for years."
It's a tricky time in our world, and economically speaking, it's unclear what the future holds. How do you foresee this time impacting your industry?
"I think a seismic shift or an involuntary disruption forces us to rethink and re-energize our work. It makes us dig even deeper for inspiration, creativity, and resilience. I think these 'life quakes' are meant to challenge us and think outside of the box. No question that the fashion industry will be better for this eye-opening disruption."
From a creative standpoint, who or what has been your biggest influence?
"My inner circle of friends are so intellectually and creatively stimulating. Not only have they been so supportive of the TUKE Bazaar (what up, Bazaar Besties!), they are all so impressive in their work and personal lives...not to mention they all have amazing style. I would also be remiss to not mention how in awe I am of working mothers during this time—women are truly superheroes."
Tell us a little bit about your style right now. What's your go-to uniform?
"I have always been obsessed with dresses and love that the 'house dress' trend has become a thing. Dresses are a big category on the Bazaar because they are easy and comfortable, but also feminine and pretty! I've been wearing the Casey Marks Grace Dress, Campo Collection Hanane Dress, and numerous styles from Daphne Wilde."
Let's switch gears for a minute: Are there any beauty products essential to your day-to-day?
"I have become a loyal devotee of Linné Botanicals cosmetics, particularly the Vitamin C Serum, as it helps clear up sun-damaged skin. The founder, Jenna Megroz, is also beyond gorgeous...so I am hoping the products make me look like her.
I use Elta sunscreen every single day regardless if it is sunny out, and for vanity purposes, I am coveting the Hermès lipstick in Rouge Exotique and Beige Naturel.
"If I was stranded on a deserted island, or the 2020 equivalent—my house—I would have Dr. Rogers Healing Balm. It is the universal ointment for dry skin, chapped lips, tired eyes... I also use it on the kids as it's a superclean product."
How do you unwind at the end of the day? Cocktails? Recipe, please!
"Casa Dragones tequila blanco, soda, and a lime usually does the trick. On special occasions or if we have a guest, I love serving potato chips (I prefer my stepbrother's brand, Hen of the Woods) with a dabble of caviar from Portage foods."