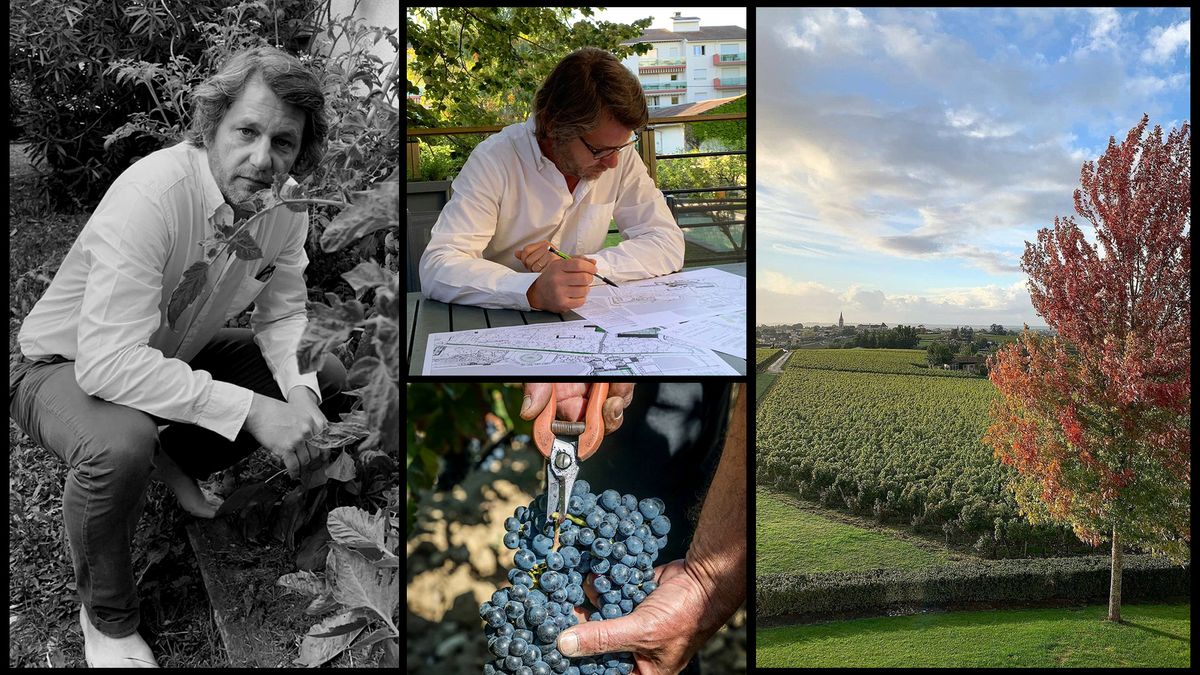 Career
How the Founder of a French Vineyard Is Looking to the Future
And the importance of making mistakes.
Graphics
Rachel Pickus
Each week we're checking in with friends to see how they're finding balance and generally evolving and advancing their careers. This week we chatted with Aymeric de Gironde of Château Troplong Mondot, a vineyard in the countryside of France, about the lessons he's learned from this pandemic, as well as the importance of living in harmony with your environment. Read below on more peaceful tips for how we can incorporate better practices as we WFH and begin returning to the office. 

How do you start your days?

"I begin my days with an hour of workout (every other day), then tea and breakfast with my kids."

Are you incorporating movement or exercise into your routine? If yes, anything you're loving at the moment?

"Squats to get ready for next year's HeliSki trip in Canada."

Talk to us a little bit about your work environment right now. Are you back in the office, or working remotely from home?

"We are undergoing a massive renovation at the estate—building a new state-of-the-art winery. To catch up with the delay due to the quarantine period, I moved the offices in the winery, so our offices are tucked between vats. It is a bit surreal, but it works. We are also re-opening our hospitality activity and have recently welcomed our first guests—it is so great to see activity again. No more working from home here; everybody is back to work!"

 
---
What are the most critical things needed for creativity and to survive a workday?

"For me, it is essential to secure free moments in my schedule and walk or ride my bike through the vineyard daily. It allows me to free the mind from daily stress. Having a glass of Château Troplong Mondot after a workday helps me to get ready for the next day!"

How do you stay focused and motivated throughout the day? Any tricks you can share?

"I think having a clear vision of what you want to achieve through the day is essential. Focusing on 'doing' vs 'talking' is my way of being efficient and motivated. You need a plan. If you do not know where you are going, you have no chance to get there."

It's a tricky time in our world, and economically speaking, it's unclear what the future holds. How do you foresee this time impacting your industry?

"It is indeed a rather blurry future that awaits us. For the luxury wine industry, we can definitely see a slowdown in the restaurant and hotel business and certainly a drop in the short term of visitors to the estate. But I believe one should focus on how to use this downtime to look forward and question our daily practices and beliefs. After this global crisis, I strongly believe that customers will be seeking more meaningful purchases, they will need to know what is the real story behind the bottle of wine, who the people are making this particular wine, what is their philosophy, are they living in harmony with their environment, et cetera. Personal, sincere, and genuine communication will be more than ever essential. Trust will be at the center of future relationships between a brand and a consumer, so it is up to us to make this happen. Long-term plans and strategy, in line with our shareholders' values, is to me the only way to look at the future."


From a creative standpoint, who or what has been your biggest influence?
"I can't think of a clear influence from one or another. I always try to keep an extremely open mind and am constantly pushing the team around me to be daring and to have fun thinking about new projects. The most important thing is probably to fight all preconceived ideas, avoid the 'it was better before,' and let everybody speak their mind, whatever their rank. Allowing mistakes is another essential element of generating creativity."
Tell us a little bit about your style right now. What's your go-to uniform?
"I am a very classic man. I wear chinos with a shirt (white or blue). One could consider it boring, but I find it extremely practical and easy."
How do you unwind at the end of the day? Cocktails? Recipe, please!
"It depends how hard the day was! Being a winemaker, wine is always a first option for me, whether it is champagne, rosé, or Troplong Mondot. I actually have a wine cocktail which is amazing. You need to use Sauternes or sweet wine, pour in a large bowl-shaped glass filled with ice, and add an orange peel: refreshing, extremely aromatic, and so delicious. When I go for a cocktail, I am quite classic as well and go with a good mojito."
Photos: Courtesy of Aymeric de Gironde
Want more stories like this?
Move Over, Wine—Sake Is Our New Go-To Beverage for Fall
Meet the Woman Celebrating Black Female Talents in Food and Wine
How to Pair Wine with All the Comfort Foods You're Eating Right Now