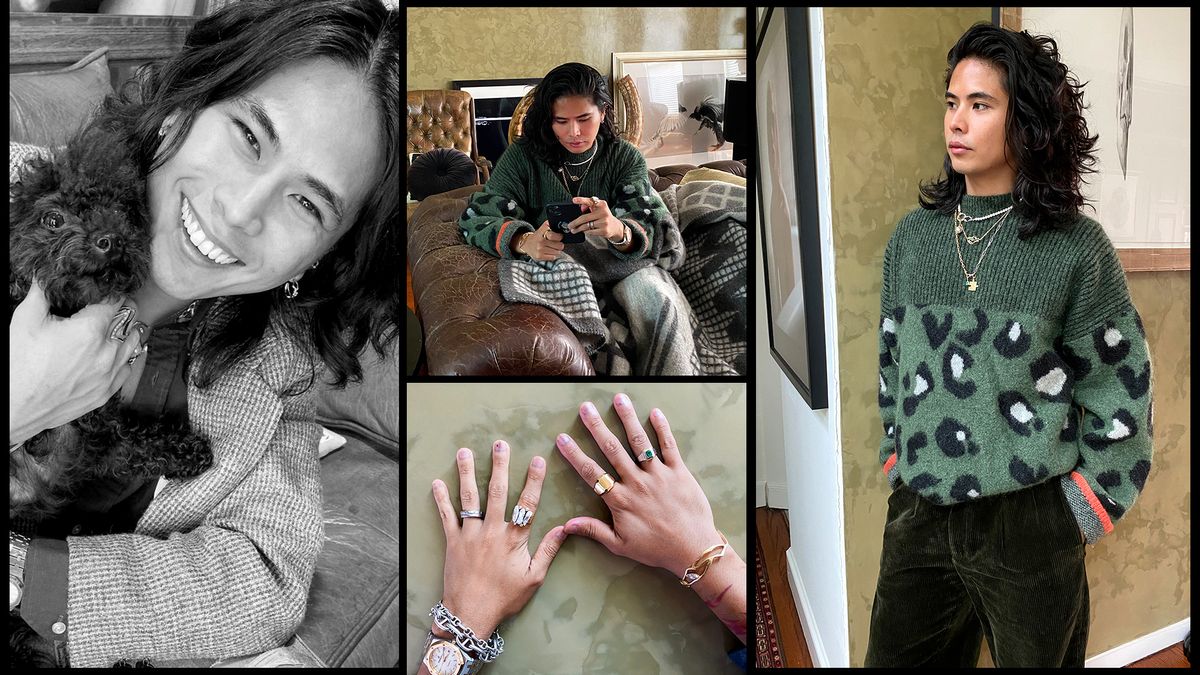 Career
Meet the Designer Whose Jewelry Is Rooted in Storytelling
Adding every Milamore piece to our shopping cart immediately.
Graphics
Rachel Pickus
Did you know most engagement rings are rendered in platinum because that signifies eternal love? That sapphires are known to carry wisdom? Or that crystals supposedly ward off evil spirits? Well, that's how designer
George Root
has cornered the jewelry market—by uncovering the stories behind his modern yet iconic pieces.
Root, of Japanese heritage, founded his jewelry brand
Milamore
in April of 2019 after working all across the industry. His background is in PR and branding, counting multiple international luxury brands among his clients, but he fell in love with jewelry and its heirloom qualities while working at a jewelry store in Japan in his early twenties. So not only does he understand the value of storytelling in a business sense, he is fascinated by it personally. "That's why, when you look at my website, we always talk about the meanings of emeralds, the philosophy behind the
Kintsugi
."
A chronic globe trotter, Root designs his pieces in New York and then produces them in Japan, but when we caught up with him (via phone), he was in London. His pieces reflect his wanderlust, with traces of all different cultures in the silhouettes and stones. Luckily, as is the case with many younger brands, the company was run out of Root's SoHo apartment before the pandemic struck, so working from home was not a new concept. We asked him to divulge what's keeping him sane these days, and the answers ranged from kickboxing to Japanese umeboshi.
---
How do you start your days?

"I typically start my day with a glass of water and checking emails."

Are you incorporating movement or exercise into your routine? If yes, anything you're loving at the moment?

"I've been kickboxing for the last 10 years, and I've been more consistent with it since quarantine started. Recently, I've been learning to play golf."

Talk to us a little bit about your work environment right now. Are you back in the office, or working remotely from home?

"Since the pandemic struck in the US, the team and I have been working from home mostly. I've been between New York and Japan to develop some new pieces, but as long as I have my phone, anywhere can be my office."

What are the most critical things needed for creativity and to survive a workday?

"Food is the most important thing for me! I can't think on an empty stomach, so good Japanese food is a must."

How do you stay focused and motivated throughout the day? Any tricks you can share?

"I like to think about how my life will be once I turn 40 if I stay focused now. Envisioning this helps keep me motivated."

It's a tricky time in our world, and economically speaking, it's unclear what the future holds. How do you foresee this time impacting your industry?

"This moment has definitely impacted the market, but the industry is more united than ever. We all want to see each other win and survive. I feel that we're also more resilient than ever. I started Milamore in 2019, and they say that if a company can survive three years, then it can survive five years, and then 10 years. If I can keep Milamore going for 18 more months post-Covid, then we can survive another century!"


From a creative standpoint, who or what has been your biggest influence?
"My husband, Jed, is my greatest influence. He's so wise, and my preference in photography is highly influenced by him."
Tell us a little bit about your style right now. What's your go-to uniform?
"My uniform these days is simple. I throw on my chestnut cashmere sweater and vintage vest. Then I add lots of Milamore necklaces and charms."
Are there any style essentials you rely on for your fall wardrobe?
"I'm loving my lemon-yellow alpaca-yarn cardigan—I'm really into cardigans right now."
Let's switch gears for a minute: Are there any beauty products essential to your day-to-day?
"Yes! I'm in the jewelry business, so my skin needs to shine like my diamonds. I use a Japanese skin-care brand called
Meeth
, and
Drunk Elephant
has some of my favorite skin-care products."
How do you unwind at the end of the day?
"I don't drink, but after a long day, I love a bite of umeboshi. Umeboshi is pickled ume fruit from Japan. It's very similar to plums."
Photos: Courtesy of George Root
Want more stories like this?
13 Jewelry Brands That Are Still Innovating and Thriving Amid the Pandemic
Meet the Designer Making Clothes Out of Discarded Electrical Wire
The Savviest Way to Shop for Vintage Fine Jewelry