Deskside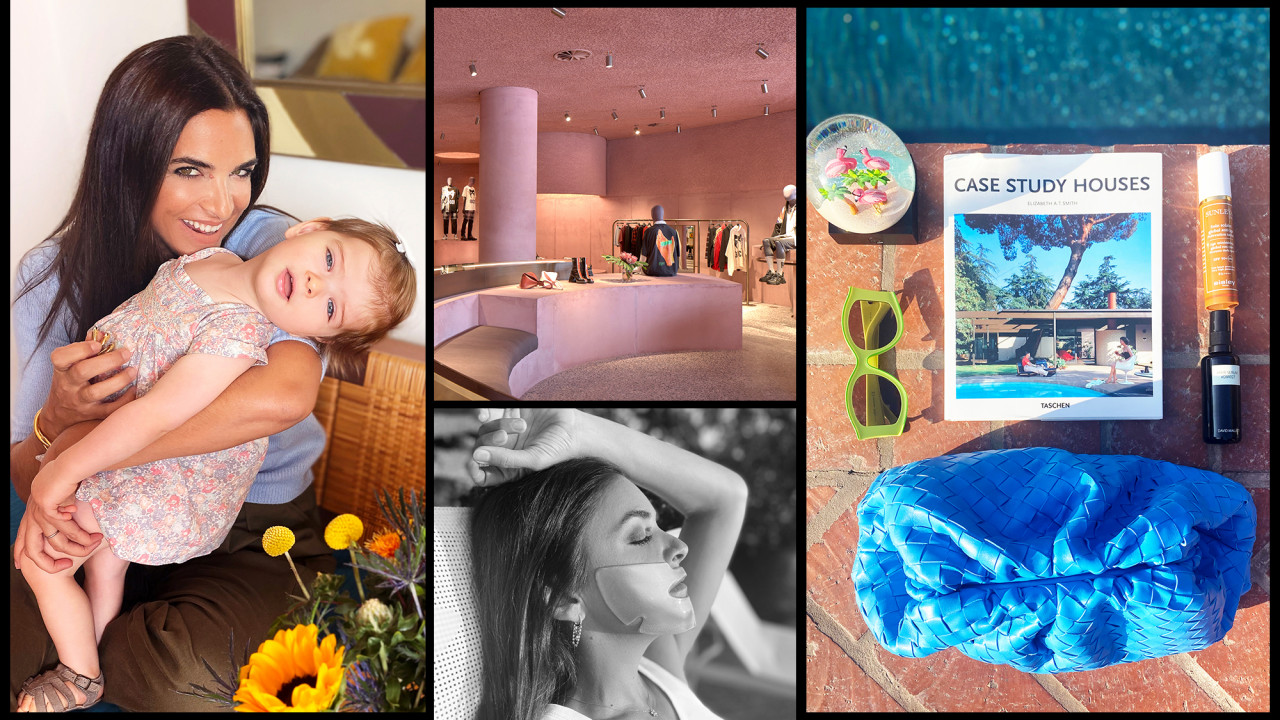 French Entrepreneur Laure Hériard Dubreuil on the Value of Investment Pieces
The Webster founder talks business, opening new stores, and how to add some luxury back into your wardrobe.
Each week we're checking in with friends to see how they're finding balance, working from home, and generally evolving and advancing their careers. This week we chatted with Laure Hériard Dubreuil, founder and creative director of The Webster, one of our favorite shops for timeless luxury pieces and emerging must-have designers. Read below for more on how she managed to open not one, but two stores during the pandemic, her creative prowess, and some shopping tips for those looking to add some luxury back into their WFH wardrobes.
How do you start your days?
"My days start around 6:00 AM for both my children and for work! Since I moved to the West Coast last August, this time allows me to be available for the working hours of Europe and the East Coast. I always have a cup of hot water with lemon before I do anything, followed by a quick shower and air dry with Clarins Tonic Oil. I have always favored a low-maintenance morning regimen when getting ready and even more so as a mom. I currently alternate between using Joanna Vargas Daily Serum, Augustinus Bader Rich Cream, and Vintner's Daughter Serum and Essence.
"Next I am in full mom mode! I help my son Marcel get ready for his Zoom classes and feed my daughter Marguerite breakfast. And after all that, if there's time in between meetings, I try to squeeze in some yoga!"
Talk to us a little bit about your work environment right now. Are you back in the office, or working remotely from home?
"I have always worked primarily remotely as I am constantly on the go, traveling to our seven (South Beach, Bal Harbour, Houston, Costa Mesa, Soho, Los Angeles, and Montecito) stores and fashion weeks. So other than a significant cutback in travel, my routine pretty much stayed the same. While I definitely missed traveling, I am so grateful for this extra time at home with my children that are both at such exciting stages! Our offices are partially open with our employees coming in on designated days broken into small groups to ensure social distancing, while all of our stores are fully operating under CDC and state guidelines."
Launching a new brick-and-mortar store in the middle of a pandemic must have been challenging. Can you tell us a little bit about the process and why you decided on this particular location?
"2020 has been a rollercoaster! We started the year launching our Los Angeles store designed by Sir David Adjaye; halfway through, in the height of the pandemic, we opened at Rosewood Miramar Beach in Montecito. There were so many emotions and thoughts going through my head about opening stores during this time, but I had this underlying yet reassuring feeling from when I opened the original The Webster in South Beach over 10 years ago at the start of the 2008 recession.
"Like all of our stores, Miramar was very much a labor of love. It was designed by a member of The Webster family, the creative director of our home category Stephane Parmentier. Unlike our other stores, Miramar is a little gem that spans only 585 square feet tucked in the Manor House of the resort. A true full-circle feeling, as The Webster's namesake stems from the historic art-deco landmark The Webster Hotel, which is the location of the original South Beach store."
What are your thoughts on fashion right now?
"This year has been quite challenging for our industry, to say the least, but I remain so impressed with how many have been able to evolve with the current climate, and I am very optimistic about the future. From the creativity of the digital fashion weeks, the resetting of the fashion calendar to promote healthier businesses for all, to committing to fight and make changes for racial equality, body positivity, sustainability, and even politically. Fashion is a celebration of creativity, and it would not be as beautiful without diversity!"
Are there items you recommend people invest in for fall? Any trends you're loving?
"Now more than ever, I would focus on investment pieces and those 'it' pieces that you know you will have in your closet for years to come. One of my favorite parts of my collection is being able to look at an 'it' item from seasons past and be instantly flooded with memories from that time, creating a beautiful visual timeline of my life.
"At the moment, I am all about the utilitarian boot trend as I have always loved this style and have lived in my Pierre Hardy ones for the last couple of years! There are so many great options, especially from Bottega Veneta and The Row!
"Other must-haves for the season are: Balenciaga Hourglass bag, Khaite bra and knit sweater sets, Eera Chiara earring, Amina Muaddi Gilda slipper (The Webster exclusive), Marine Serre All Over the Moon print pieces, Bottega Veneta Pouch bag, and CHANEL 19 handbags."
Let's switch gears a bit. What are the most critical things needed for creativity and to survive a workday?
"Being connected and communicating with my team. I get so inspired speaking with them and love the moments where calls turn into these amazing brainstorm sessions.
"On the opposite end of the spectrum, I find creativity can stem from peace and quiet and the rare moments of solitude within my own home.
"And lastly, sunshine! It is what nurtures creativity to the highest form!"
How do you stay focused and motivated throughout the day? Any tricks you can share?
"In the last year, I discovered coffee. I have always been a tea drinker until I moved to L.A. and fell in love with oat milk cappuccinos. It truly helps me through the long days and helps me stay focused. Taking a moment for myself during the day for yoga or personal training helps me reset and channel positive energy, especially during these challenging times. As someone who has a hard time slowing down, I have learned a lot from my personal trainer and have really started to see the effects of my daily motivation. My husband lives a vegan lifestyle and has definitely influenced me in moving towards almost becoming one! I found a new energy source by focusing on what I put in my body and where it comes from. We have weekly farm food deliveries, which not only provides the freshest products, but also supports local farms."
Who or what has been your biggest influence, especially as you have scaled this business?
"My team. I'm so grateful for them, they're the ones who helped me expand the business beyond my wildest dreams!"
Tell us a little bit about your style right now. What's your go-to uniform?
"My style right now is the same as it always has been! I am a firm believer in dressing the way you want to feel. So even if I am not leaving the house, I still dress as if I am, however, without shoes—I am always barefoot at home! Luckily, my style, especially since becoming a mom, has prioritized comfort but with a chic twist. My uniform consists of sweaters, jumpsuits, and skirts from my own line LHD, Khaite Denim, The Row, and Loewe Knits, Celine denim skirts, Proenza Schouler skirts, and then Pierre Hardy Desert Boots or the Proenza Schouler x Birkenstock collab. I have lived in them since they have launched! My daughter and I are both Virgos, so I am looking to invest in some new jewelry pieces that we can wear together."
Are there any beauty products essential to your day-to-day?
"We just recently launched our beauty category on October 12th, and our creative approach was around the theme of recommendations. When discussing with the team, we all came to the conclusion that people try beauty products mainly from a recommendation, whether it be from a friend, a professional within the industry, or simply from someone on the internet. So our amazing selection came together by members of our team that are of different ages and races sharing their experiences and favorite products to create the ultimate curation with the industry's leading brands.
"Some essential products for me are: Augustinus Bader Rich Cream, Tammy Fender Cleansing Milk, Vintner's Daughter Essence and Serum, Clarins Tonic Body Oil, Clarins Lip Comfort Oils, Joanna Vargas Daily Serum, Royal Fern Moisturizer, Sisley Black Rose Eye Serum, Dr. Sturm Glow Drops, Joanna Vargas Forever Glow Mask, MZ Skin LED Mask, and Costa Brazil Kaya Jungle Firming Body Oil."
"I have always gravitated towards the 'no-makeup' look; it is very much the French girl in me that loves when makeup highlights one's natural features in an effortless 'I just rolled out of bed' type of way! When wearing makeup, I love using the Westman Atelier Eye Love You Mascara and the Baby Cheeks Blush Sticks. I love Gucci's second-skin approach!
"When it comes to my hair, I live and breathe for David Mallett products, especially the Hair Serum #DM027 and the Australian Salt Spray. David has been cutting my hair for years in Paris, and we are so lucky to now have his US outpost in our Soho location.
"Growing up, my father taught me all about being able to identify the notes within our cognac. I have such a keen sense of smell that one day I was able to track down my grandmother in a hotel just by following the scent of her perfume. It was my dream to become a nose, but then I quickly realized that it was a much slower process, so I decided to focus on fashion!
"Some of my favorite perfumes are Frederic Malle Lily of the Valley and Veronique Gabai Sur la Plage Eau de Parfum."