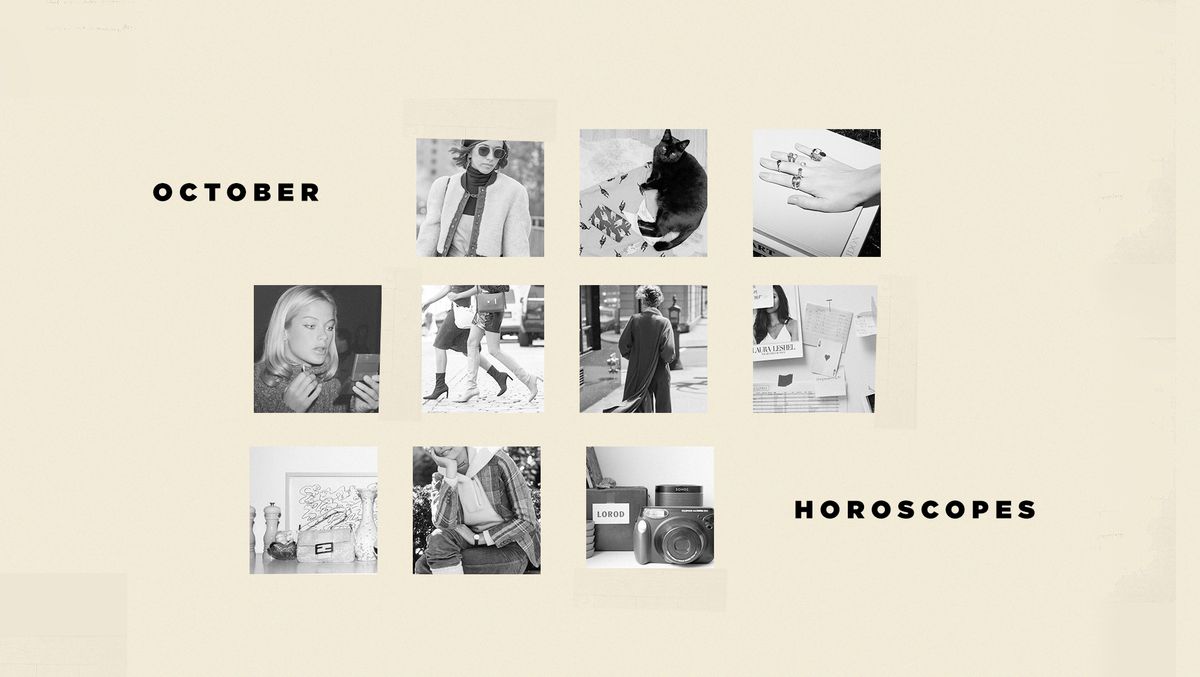 Horoscopes
Try to stay levelheaded.
Graphic
Rachel Pickus
Bookended by two full moons and punctuated by Mercury stationing retrograde mid-month, October's astrology keeps us on our toes and unearths important insights, both personal and social.

As the sun ventures through the beguiling sign of Libra until October 22nd, the collective mood turns spirited and conversational. Ruled by magnetic planet Venus, Libra season is a time for connecting with others and bridging gaps. As Libra is represented by a scale, Libran topics revolve around fairness, justice, mediation, and striving for balance.

The first week of October is high-energy, as a rowdy Aries full moon brings simmering passions to a boil. Balancing a scale can bring ups, downs, and sometimes extremes—so levelheadedness is the hot commodity this month. Earth signs (Taurus, Virgo, and Capricorn) are dealt a fortunate hand, with lovely Venus in Virgo from October 2nd through the 27th creating a supportive landscape for real-world projects and connections. This time is ideal for fine-tuning, research, and development.

Mercury, the planet of communication and commerce, is retrograde from October 13th to November 3rd. No need to stress, it's just another cosmic reminder to slow down, be deliberate, and watch what you say and send. We may be revisiting familiar territory during retrograde periods, but this is not the time for cutting corners. Consider each Mercury retrograde a quasi-quarterly check-in to see if anything needs tuning up. Are your registrations, subscriptions, and prescriptions all up to date? Are your photos and files backed up to a secure spot? If possible, avoid making long-term commitments, and schedule a little cushion time for any projects, meetings, and deliveries.

A gusty Libra new moon on October 16th urges us to face our goals head-on. Even with Mars and Mercury backtracking, there are simple and foolproof ways you can make inroads on goals. Tap into your personal power, and don't be afraid to start small.

The vibe becomes more enigmatic as the sun enters passionate Scorpio on October 22nd, encouraging everyone to get a little deeper. The sign of Scorpio is associated with all things subterranean and hidden, so remember that appearances aren't the full story. How can we be more honest with ourselves and each other?

An electrifying Taurus full moon on October 31st (a Halloween Blue Moon!) might bring unexpected events thanks to a plot twist from the rebellious outer planet Uranus. Get ready for tricks, treats, and everything in between.
 

ARIES
Lovingly let yourself change. With your ruling planet Mars backtracking, the call to action is to go inward and refresh. Updating an aspect of your life sometimes feels like betraying yourself—it's not. Growth and change is your divine prerogative. An exhilarating Libra new moon mid-month invites fresh energy to your relationship sector and helps you establish expectations and boundaries. Who deserves to be on this journey with you? Take it step by step, and be specific with what you want. 
TAURUS
You can't predict everything. This month, rather than fighting the tide, let it carry you somewhere you've never been. As sensual Venus activates your sector of romance and self-expression, consider it an invitation to indulge in the finer things in life. Mercury retracing its steps may bring people or situations from the past back into focus—what are they trying to tell you? With a raucous Taurus full moon on Halloween stirring up unexpected emotions, stay flexible and give yourself time before reacting. 
GEMINI
October wants you to tackle your to-do list and do it right. Mercury retrogrades remind you to handle the menial (but necessary) stuff so that you can confidently move towards more thrilling prospects later on. Try to stay on top of things, but most important, your health: Prioritize stretching, breathwork, and grounding this fall. An exciting Libra new moon on October 16th is a chance to reconnect with your visionary, creative side—trust your gut, and commit to projects that inspire you. 
CANCER
Tend to your garden, Cancer. The astrological weather illuminates your personal sphere and encourages you to nourish it. How can you harmonize the various parts of your identity to make a more joyful whole? The Aries full moon on October 1st offers clarity around your ambitions; forget the words "should be," who do you WANT to be? You're the captain of your own fate. Listen to your intuition, and think outside the box, especially around the unpredictable full moon on the 31st. 
LEO
Thoughts and words are powerful. October encourages you to vocalize what matters to you and recognize the kind of self-talk you engage in. Are you being destructive, or constructive? As the days of sunshine get shorter, intimacy becomes more essential for solar-powered Leos. Embrace any opportunity for coziness and connection. The full moon on October 31st will be a refreshing jolt to the system and remind you that anything is possible; where would you like to be six months from now? 
VIRGO
Slow your roll, Virgo. As much as we'd like to get things done, the planets are emphasizing quality over speed. With enchanting Venus in your sign for most of the month, you have a magnetic aura that attracts new opportunities and people; smell the roses, and embrace the power of positivity. An adventurous full moon on October 31st highlights a new perspective that could inspire you. What message do you need to get out there? 
LIBRA
Your day in the sun is here, Libra! A productive Harvest Moon kicks off the month with gusto and puts a spotlight on your relationships. Refuse to undervalue or shrink yourself around others—take up space, and raise your price if necessary! A productive new moon on October 16th is the chance to declare your intentions for the upcoming year. What foundations are you ready to build? When romantic Venus enters Libra on October 27th, you could experience a boost of confidence and charm; use your powers of persuasion for good. 
SCORPIO
Scorpio Brené Brown theorized that courage is a habit, something you practice. As the cosmic clock approaches your season, this is your chance to embody bravery. Standing on the precipice of a new year, try to transmute your uncertainty into motivation. Sometimes we know when it's time to take the first step, no matter how timid or small. What is that first step for you? The dynamic Halloween full moon is your chance to release all that's out of your control while celebrating your own capabilities. 
SAGITTARIUS
October kicks things up a notch. As your desires pull you in various directions, the stars remind you that you'll have to commit to one path eventually. With planets retrograde, carefully consider every prospect before riding off into the sunset. Mid-month is a great time for creating a vision board, setting intentions, and envisioning your next year. What really matters? The messy Halloween full moon could throw you a curveball; stay flexible, and remember that luck is on your side. 
CAPRICORN
Full steam ahead! Capricorn's hardworking ruler—Saturn—concluded its retrograde period, emboldening you to rise to the occasion. Prepare for an increase in energy and commitment around personal goals. Provocative Mars could be inciting some irritation at home, but this motivates you to problem-solve. What is the real root of the issue? A compelling Libra new moon on October 16th is an opportunity to set intentions around long-term goals and career. You're an influencer within your personal sphere, so be the change you wish to see. 
AQUARIUS
As the world keeps changing, October invites you to thoughtfully shed your old skin. As you dream up new ways of living, leading, and loving, it's important to be thorough. How do you want to be remembered? With Mercury retrograde, say only what you mean and back it up with substance. The October 31st full moon could be a wake-up call, introducing major change whether you asked for it or not. Engage your inner dialogue, and decide how you want to ride out 2020 with everything you know now. 
PISCES
Clear out the cobwebs before entering autumn. October urges you to manage your physical environment so that your mental sphere has room to grow. The Libra new moon on October 16th is a great chance to create thoughtful systems
—
"a place for everything, and everything in its place." With Mercury going retrograde, it's totally normal to be rethinking certain plans or perspectives. The Halloween full moon could offer a breakthrough, but no need to act right away—give your visions time to crystallize. 
Want more stories like this?
Nneka Julia Odum Was Born to Be a Storyteller
Jenny Welbourn Wants to Change Fashion from the Inside
Being a Role Model Is Second Nature for This Emerging Model