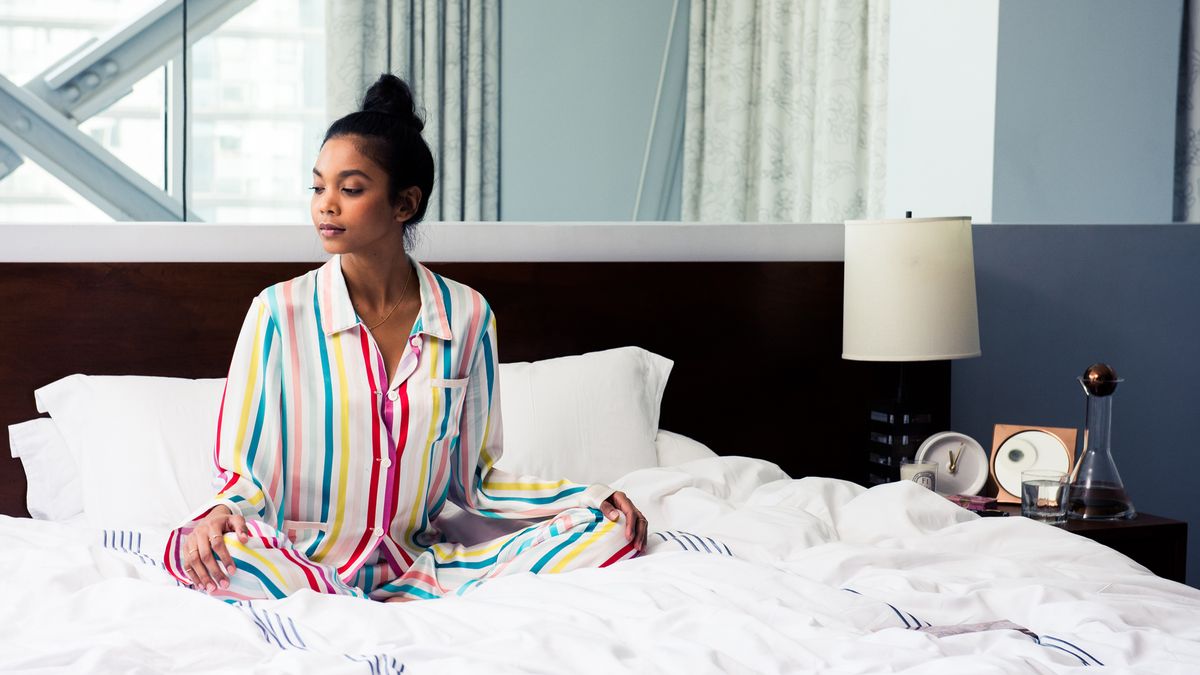 Skin
Clearer skin, calmer mind—my mornings will never be the same.
If someone were to tell me a year ago that I would be waking up at 5:00 AM to meditate in 2020, I would have laughed in their face. I am a night owl by nature; I'm most productive and creative at night and have detested waking up early in the morning ever since I was a kid.

A year ago, mornings meant snoozing my alarm clock for about an hour straight only to be roused awake by a twenty-ounce cup of coffee paired with an early morning iPhone scroll. With coffee and phone in hand, I'd trudge to the restroom to shower and complete my skin-care and makeup routines. Then I'd get dressed and rush out the door to make it in time for my 9;00 AM class. I made no time for myself to do things other than looking presentable for the day. And I'm not alone; growing up in New York City, I've been surrounded for my entire life by anxious people cramming before their exams, eating their breakfasts to-go, or even doing their makeup on the subway.

As quarantine descended on the city, the accompanying hustle and bustle stopped. At first it was quite eerie; how could the city that never sleeps be so silent? I felt as if I was in an old Western watching tumbleweeds roll in front of me, only I was in Brooklyn watching the occasional set of bicycle wheels make their way down the road. With this extra time and stillness, however, I was finally able to listen to the thoughts running through my head and the pains in my gut—I was running on anxiety, IBS, and constant fatigue. After researching several holistic approaches to healing, I landed in the world of Ayurveda.

Yes, Ayurveda is a seemingly new *trend* in our Western world, but the oral traditions were recorded in sacred Indian texts, the Vedas, back in 3000 BCE, making the practice more than 5,000 years old. Within this ancient tradition is something more robust than I have ever seen: the Ayurvedic morning routine. This ritual calls for many slow practices, some including dry brushing, oil pulling, and waking up before sunrise. Being someone who would rather roll out of bed at 11:00 AM, I considered that last part long and hard before deciding to dive straight into this new lifestyle.

Of course, rather than starting a solely research-based (by that I mean Google) routine, I decided to consult with professionals about the proper ways to practice Ayurveda. Martha Soffer, Ayurvedic doctor and founder of Surya Spa in Los Angeles, and Karen Ruimy, founder and CEO of Kalmar, provided me with helpful tips on how to maximize my slow morning.

The Ayurvedic morning routine has helped me to finally clear my skin, decrease bloating and inflammation in my body, and most important, to learn to make time to love and care for myself. Here is how I incorporate these slow practices into my busy life in a time-efficient way.
 

Wake Up with the Sun; No, Earlier Than That
The key to a proper Ayurvedic morning is to wake up before the sunrise. I typically wake up at 5:00 AM while the house is still quiet and make sure to leave my phone as far away from me as possible. Ruimy explains that early morning is an ideal time to wake up because "at this time, the Earth has a calm energy" that is far different from the energy that surrounds us at a time like 10:00 AM. This is a time of solitary introspection, and street noise, bright lights, and
blue light
plus an inbox full of emails can't distract me from being with myself. 
Scrape the Night Away
Before doing anything else, I scrape my tongue with a copper scraper. This is extremely important to do first thing because the tongue is pretty raunchy in the morning—just think of all the bacteria fermenting in your mouth during the night. Soffer explains that tongue scraping also helps to clear the entire digestive system because it prevents toxins that may have traveled up the digestive tract and onto the tongue from re-entering the body. I start by placing the scraper as far in my mouth as I can and then scrape all the way down to the tip of my tongue ten times.
---