Most People Skip This Skin-Care Step, & It's One of the Most Important
Especially if you want sculpted, glowing skin.
Skin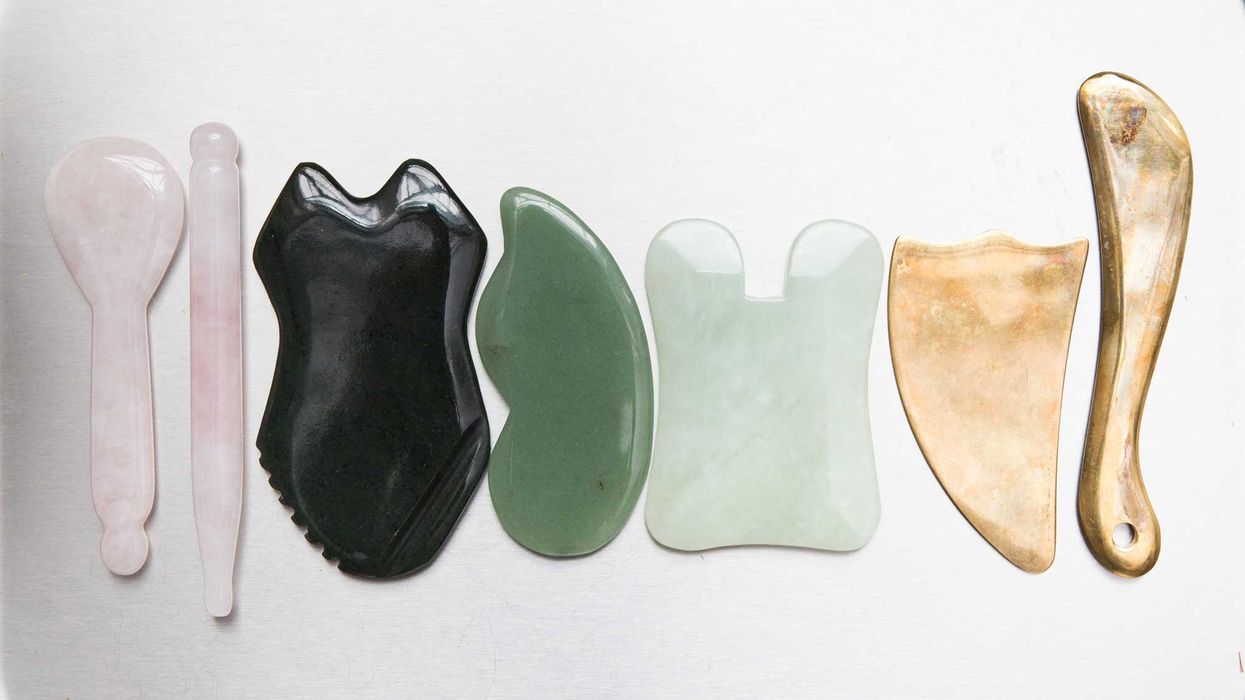 The period in between the holidays and New Year's is often, unfortunately, not the best for your skin's health. Hours of blissful inactivity, multiple glasses of wine, and rich food can wreak havoc on your otherwise carefully tended-for complexion in the form of puffiness, congestion, and uneven tone. But don't freak out—now is the perfect time to jump back into your skin-care routine
—
armed with some new tips and tricks
—
and bring out your most luminous skin for 2019.
If you haven't already received a face massage at the hands of your most beloved facialist, or you're having trouble carving out an hour or two to visit the spa, you should consider adding an at-home facial massage to your self-care routine. Whether you're already a fan of
jade rolling
or
gua sha
, or have yet to dip a toe into the massage pool, self-massage is one of the best ways to sculpt your face and stimulate your skin for maximum glow. To get all the intel on the best techniques and practices, as well as the many skin-care benefits, we consulted one of the best aestheticians in the business,
Cara Peloso
at
CAP Beauty
, whose facial massage technique is revered by many a beauty editor. Check out her advice below, and prepare to add some much-deserved relaxation to your beauty regimen.
---
What are the skin-care benefits of facial massage?
"Stimulating facial massage increases oxygen flow to the skin, which helps to produce collagen and create a glow. Massage also helps to soften facial tension, even TMJ symptoms, so your face will look more relaxed. There are pinching massage techniques to help firm and sculpt the facial muscles. Another massage technique, lymphatic drainage, reduces fluid retention and aids with natural detoxification, which helps to diminish blackheads and congestion."
What area of the face should you start with, and what is the technique for each?
"When using your hands for a stimulating massage, do rapid, firm, stimulating moves working from the neck up to the forehead. For a drainage massage, use the pads of your fingers and light, pumping-downward movements, using the same amount of pressure it would take to move a coin across a table. There are various types of drainage massage techniques, but in general, it
'
s done with downward movements towards the base of the neck."
What products do you recommend applying before starting a facial massage?
"It's good practice to do an oil cleanse and compress with a warm, damp face cloth so the skin is warm and soft before massaging. Simple
oil serums
or a single carrier oil, like jojoba or grapeseed, are perfect for facial massage, as they provide a good slip and prevent pulling the skin. [Cream] moisturizers generally absorb too quickly for massage. If you're doing a lymphatic drainage massage, it's most effective on dry, oil-free skin."
Do you recommend using any tools or just your hands?
"Either way
—
as long as you're massaging regularly, use what feels best for you. There are so many wonderful tools available, use the one you are most comfortable with and follow the recommendations. In general I use my hands, but I have a couple of tools I like to use. For a drainage massage, I use a small round 
dry brush for the face by Karmameju
. It comes with a handy step-by-step diagram. For more stimulation, I use a
jade roller by Province Apothecary
. It's cleverly designed with a textured jade roller—which helps with product penetration—on one end and a smooth side for a more vigorous massage on the other end."
How long should you spend on each section of your face?
"Spend as much time as you want on your massage—at least three minutes—and focus on any areas that need extra attention. For me, it's my eyes and jowls."
When is the best time to perform facial massage?
"Incorporate facial massage whenever you do your cleansing routine, morning or night. You can start with a stimulating massage and end with a drainage massage, or do one or the other. You may notice the benefits most in the morning, when the face is usually puffier."
Although we'd all love to visit a facialist daily, is it possible to achieve the results of a professional facial massage at home?
"You can't copy the same hand positioning or achieve the same level of relaxation as a professional treatment, but you can achieve good results with self-massage when done consistently four to five times a week."
Want more stories like this?
Expert Advice on How to Avoid Dry Skin
The Best Skin-Care Tools for Lifting and Sculpting Your Face
A New Body-Care Line Prioritizes Whole-Body Health and Sexual Wellness