WWWRN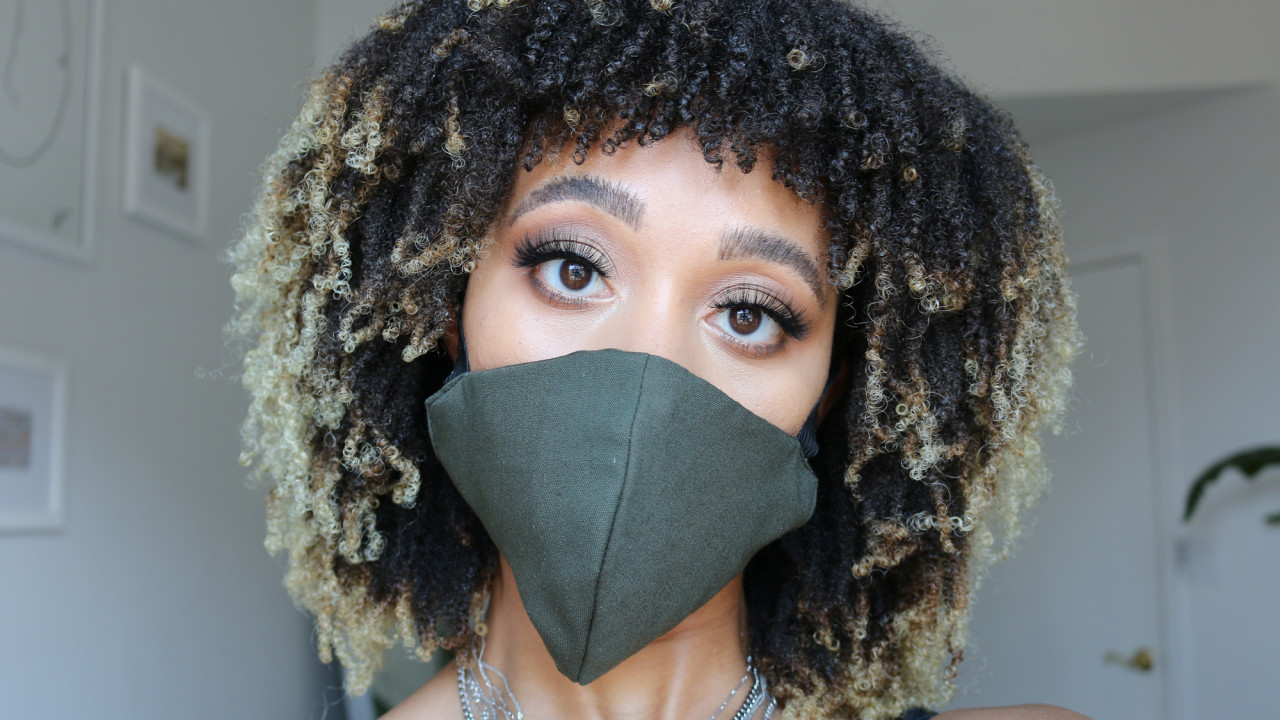 4 Eye-Catching Makeup Looks to Pair with Your Mask
It's time to get creative and have some fun.
Since social distancing is the new norm, many events that were formerly inside, like weddings, have been taking place on stoops, in streets, parks, or backyards. Once you have picked out the perfect outfit and accessories, now the question is: What do you do with your face? Of course, popping on your mask and going makeup-free is more than fine, but if you're craving some sense of normalcy and still want to wear makeup, many questions probably come to mind: How do I not get makeup on my mask? Will this clog my pores and cause maskne? Can eye makeup alone make this look come together?
Not to worry: I've done the legwork for you and created four looks to hopefully inspire your next mask makeup moment. As odd as it may be compared to my previous approach to beauty, I've learned that there is a symbiotic relationship between makeup and masks, and honestly, pairing them together is so much fun! And since we're not going to be able to stop wearing masks for the foreseeable future, I suggest leaning into it and trying out a few different makeup looks.
No matter the next outdoor event you are attending, or if you are just wanting to spice up your next grocery store run, there is a beauty look here for you.
Nothing compares to the power of a good smokey eye. To start, prime your eye with the same concealer that you will be using on your face, and set it with your favorite setting powder. For this eye look, I used the Warrior II palette from Black-owned brand Juvia's Place. Blend Kana (or a medium-brown taupe shade just a hint deeper than your skin tone) into the crease with a fluffy blending brush until there are no visible edges.
With a smaller blending brush, blend a warmer brown two or so shades deeper than the first, like Yodit, into the crease to warm it up and create dimension. To create depth, lightly smoke out the other third of the lid with a deep taupe brown like Walzana. This will help to blend but neutralize the orangey undertone of Yodit.
To complete the color gradient, I applied Zaz to lighten the first third of the eyelid and blended the warm-toned brown onto my lower lash line. I finished off the look by adding mascara to my top and bottom lashes and popping on some big, wispy false lashes.
For my face, I wanted to keep the focus on the eyes, so I applied concealer to the top half of my face (leaving the area covered by my mask makeupless) on any dark spots from past acne, and then applied a gold-toned highlighter to both my brow and cheekbones for a bit of glow. I chose to wear a forest-green mask, made by my grandma (thanks, Gram!) to emphasize the brown in and on my eyes.
Eyeliner is all about precision. Once you get comfortable, there is so much room to play and make it what you want. For this look, I wanted to keep my makeup looking as fresh as possible, so I applied concealer to my under-eyes and spot-concealed any blemishes. Only apply makeup to where it will be visible to save the skin from clogged pores and breakouts under the mask.
Then I used the Suva Beauty Hydra Liner in Grease and drew a line from the outer corner of my eye towards the end of my eyebrow, and then angled the end of that line back in and downward, stopping at my crease.
Next, I drew a wing from the center of my lash line to meet the first line. I then connected the end of the line drawn from the center of my lash line to the small line and filled in the wing with the eyeliner. To add a bit of interest, I added just a little bit of eyeliner to my inner corner, and voilà! It's a subtle way to amp up a traditional eyeliner look. I popped on my Até-o-Fim mask to add crisp white color for a nice contrast to the black eyeliner.
You may think this look is intimidating, but don't be scared—it's much easier than it looks! It's essentially just an oversize wing. I used a white eyeliner and started my line just above the tear duct in the crease. I followed my natural crease and winged out the end past my eyebrow. Then I lined up my brush at the starting point and created another line just below and filled it in with white eyeliner.
This is where things get creative. To create the actual prints, I took an art brush that has a round and blunt tip, and a black eyeliner, and started creating some misshaped circles, adding them on top of the white eyeliner on each eye. The key to this look is that there is no symmetry with the spots—as long as they are placed above the crease, you are golden.
If you are like me and live in a hot and sweaty city, the spots could start to transfer to the lid if placed too low. To keep the focus on my lids, I added a light coat of mascara and then finished off the look with a matching cow-print mask.
One of my favorite makeup looks, mask or no mask, is a halo eye. It only requires three eyeshadow colors, plus a glitter, and it emphasizes your eyes like nothing else. To start, I began with my complexion makeup, then I primed my eyelid and buffed a medium brown like Kana (just a bit deeper than my skin tone) into the outer third of my lid and crease into the inner third of my eyelid. You want to blend the crease from the outer and inner lid with this shade while avoiding the middle third of the eyelid to create the halo.
Once that shade was blended to perfection, I used a smaller blending brush, and just below the crease I buffed in a medium brown shade (like Yodit) onto the inner and outer third of the eyelid. This is going to deepen the look. For the center of the lid, I used a golden shimmer shade like Bakwa and applied it with my ring finger, patting it on up to the crease color.
To create even more dimension to this look, I added a glitter lid topper with my ring finger and blended the medium brown shade onto my lower lash line to create depth. Finish this look off with a heavy dose (two to three coats) of mascara, and pop on a clean white mask.
Creating a gorgeous makeup look doesn't need to stop just because we have to wear masks. Honestly, the mask feels like an additional accessory that I get to play with or coordinate with my look. Who doesn't love accessories? Spend some time trying out these looks, be patient with yourself, and remember to have fun. Mask makeup is here to stay, for a while at least, so challenge yourself and get creative.
Photos: Courtesy of Chelsea March
Want more stories like this?
Celebrate National Lipstick Day with Our 18 Favorite Shades
The 8 Best Waterproof Mascaras That Will Never Run or Smudge
3 Makeup Artists Reveal Their Favorite Products for Full, Defined Brows
Part of the series:
WWWRN