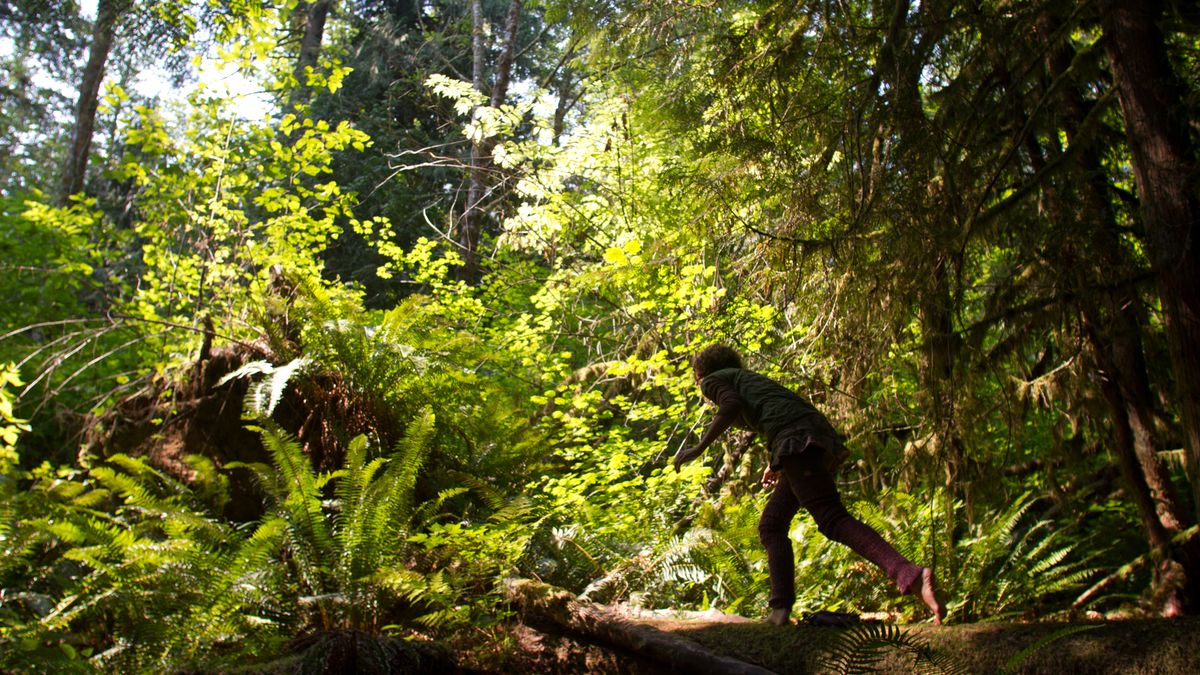 Health
The Japanese practice of Shinrin-Yoku is everything we want out of modern wellness.
Imagine for a second your happy place: Maybe you're surrounded by crashing waves and warm sand, or hear a river softly gurgling in the background. There is, above all, silence, stillness, and peace. More than likely, you're in nature, away from the incessant beeps and buzzing of everyday life. Sound familiar? Well, there's a reason an escape to the woods in real life feels so restorative—it's the ethos behind the Japanese practice of Shinrin-Yoku, or forest bathing, and it might just be the thing your
wellness routine
is missing to
help you de-stress
.
---
The History of Shinrin-Yoku
Let's back up for a moment. In the late 1970s, Japanese workers developed the term
karoshi
 to describe the people who were dying after spending too much time (think 12-, 13-, 14-hour days) in the office. The literal translation is "death by overwork," a concept that is not unique to Japan. Long hours, overtime, the hustle—whatever you want to call it, grinding away at your job has been somewhat glorified in major cities, a necessary evil in order to get ahead and achieve your professional and personal goals. New Yorkers, rarefied class of over-achievers that we are, definitely understand the concept of
burnout
, but many of us still consider it a means to an end.
However, a
2012 study published in PLoS ONE
found an unhealthy correlation between long hours and your overall happiness. Says Dr. Virtanen, one of the paper's co-authors, "Although occasionally working overtime may have benefits for the individual and society, it is important to recognize that working excessive hours is also associated with an increased risk of major depression." This is certainly not the first study to identify how working yourself into the ground, so to speak, is detrimental to your well-being, and as much of the world continues to work from home (further blurring the lines between your professional and personal lives), it likely won't be the last.
The Benefits of Forest Bathing
Which brings us back to forest bathing. Following the rise of office-workers' deaths, Japan eventually declared Shinrin-Yoku a national health program in the 1980s. It makes sense, considering that two-thirds of the island nation is covered in forests and both of the major Japanese religions (Shinto and Buddhism) relate to and see forests as the realm of the divine.
Forest medicine expert 
Dr. Qing Li
 has studied Shinrin-Yoku for over 30 years and published a book, 
The Art and Science of Forest Bathing
, outlining its practice and benefits. He reveals that there are now 60+ forest-therapy businesses across Japan offering everything from forest guides to blood-pressure checks and
aromatherapy products
to enhance your experience. As he explains of Shinrin-Yoku's rising popularity, "It makes sense that people turn to the forest for help."
The Practice Basics
So what are you actually
doing
during this ritual? Well, it's not quite like a hike, states the
Association of Nature & Forest Therapy
, but rather an intentional walk through the forest. The first time I ever joined a group forest-bathing session (a forest bath?) in
upstate New York
, our guide compared it to a moving meditation. It was little more than a quiet, purposeful stroll through the woods, sometimes putting a hand on a particularly impressive tree trunk or stopping to admire the sun through the canopy of leaves. It almost felt
too
easy for my anxious urban-dweller mind. Yet experts like Li will assure you that there is a scientific basis for why you feel so much better after a session—I know I certainly did.
Aside from the pure physical benefits of walking for 40
–
50 minutes, forest bathing also helps to reduce your blood pressure, reduce blood-sugar levels, lift depression,
improve sleep quality
, boost your immune system, and improve your concentration. There are also numerous
studies on forest-bathing practitioners
and their parasympathetic nervous system showing lower concentrations of cortisol (a stress hormone) and a lower pulse rate after enjoying a session. We all understand how good it feels to take a day off from work to concentrate on anything other than your inbox—forest bathing simply enhances that calm by placing you back in nature and forcing you to slow down.
Best of all, you don't need to live next to a national park to reap the benefits. Dr. Li reveals that even a walk through a city park is enough to lower your anxiety and boost your mood. The most important thing is to use your senses—hearing, touch, smell, taste, and sight—to take in the forest atmosphere and connect to nature.
"By opening our senses, it bridges the gap between us and the natural world," he explained in a
2018 article for Time
. And since the average person spends 93 percent of their time indoors,
according to an article
sponsored by the Environmental Protection Agency, reconnecting with the outdoors is paramount to our overall well-being. So consider this your call to put down your phone and take a walk through the woods. No earbuds, no technology—just breathe in that fresh air, dip your toes in a stream, taste the breeze, and
relax
. We could all use a bit of that right now.
Photo: Getty
Want more stories like this?
The Hot New Thing in Health? The Ancient Healing System of TCM
4 Simple Acupressure Routines to Help Reduce Stress
The 6 Best Northeastern Summer Getaways for 2020