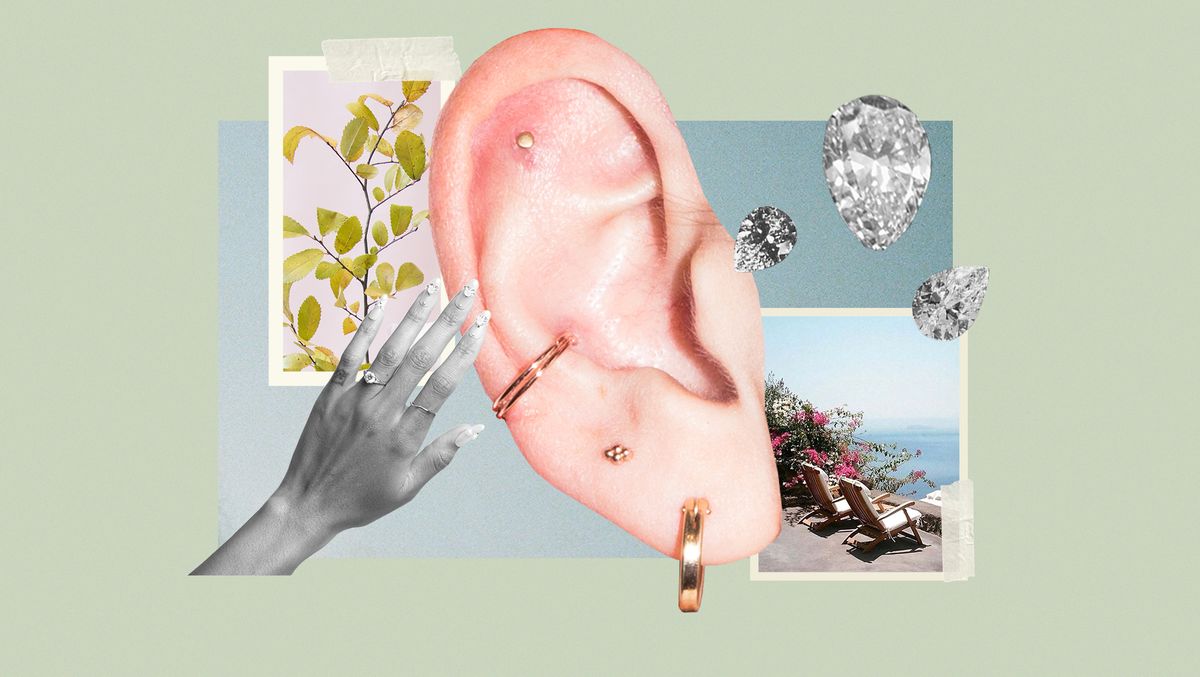 Health
Look good, feel good.
Graphic
Rachel Pickus
While many of you might already be familiar with various aspects of Traditional Chinese Medicine (TCM) like acupuncture, acupressure, and cupping, ear seeding is the latest healing modality to pique our interest in the name of self-care. Stress and anxiety levels are still at an all-time high despite stay-at-home restrictions easing around the world, which means we're open to anything that can offer a bit of relief.

Despite the name, ear seeding does not mean the treatment only provides benefits to the ear itself—rather, your ears are the area wherein seeds are used to apply pressure to specific acu-points. WTHN co-founder Shari Auth explains that the practice dates back thousands of years, when actual seeds from the Vaccaria plant, or prairie carnation, were used in parts of Eurasia in a method similar to acupuncture needles. "In TCM, the ear is a microsystem of the whole body, with dozens of acupressure points that help to empower healing of the body and mind," she explains. "These points have healing properties such as reducing stress, boosting immunity, supporting digestion, reducing pain, and more."

The seeds, which nowadays can be made from both Vaccaria seeds and metal, provide a gentle, ongoing stimulation of an acu-pressure point on the ear, either as part of a broader acupressure session or alone. They have a sticker on the back so that you can place the seed on your ear and it will stay, unassisted. The overall effect is similar to a sprinkling of piercings around your ear—you can even find seeds that have Swarovski crystals on them for a touch of sparkle.

Of the various TCM practices, seeding is one of the easiest to DIY while we wait for businesses to reopen, and bonus, there are zero needles involved. All it takes is a bit of instruction to learn where to place the seeds. Says Auth, "There are dozens of acu points in the ear, so it's best to determine your key health objectives and strategically place the seed where it can help you the most. You can also use multiple ear seeds at once. For example, you can use a seed to balance hormones and a seed to calm the mind—the two points will work together to produce a greater result." One of her favorite combinations is Shen Men, a stress point located in the ear cartilage (similar to where a rook piercing would go), with Point Zero (a centralized area similar to a daith piercing), which addresses hormones, to relax and balance at the same time.

If you're eager to try out the practice for yourself, Auth recommends waiting 24–48 hours after applying your first seed before adding another so as not to desensitize the point. Also, be sure that the area is clean and dry so that the seeds stick. And while they can last for several weeks, she recommends removing the seeds after three to five days if they don't fall off on their own.

Check out a few of her other favorite ear-seeding treatment combinations below, and if you still feel like you need help with placement, WTHN offers a video tutorial to make it even easier.
 

Anxiety, Stress, and Insomnia
"Place ear seeds on Shen Men (stress point) and Point Zero (hormones) to relax the mind and balance hormone levels. We recommend pairing ear seeds with
relaxing essential oils
, sound therapy, and acupuncture for best results. Gently press on the seeds to give them a boost when you are feeling stressed, anxious, or are trying to fall asleep." 
Headaches
"Ear seeds are great for pain. For headaches, use the neck and shoulder point (as neck and shoulder tension can contribute to headaches) as well as Shen Men (stress point) to relax the mind. Gently massage the seeds when you are feeling pain and couple with a magnesium to relax the muscles."
---
Wthn
Vie Healing
Vitruvi