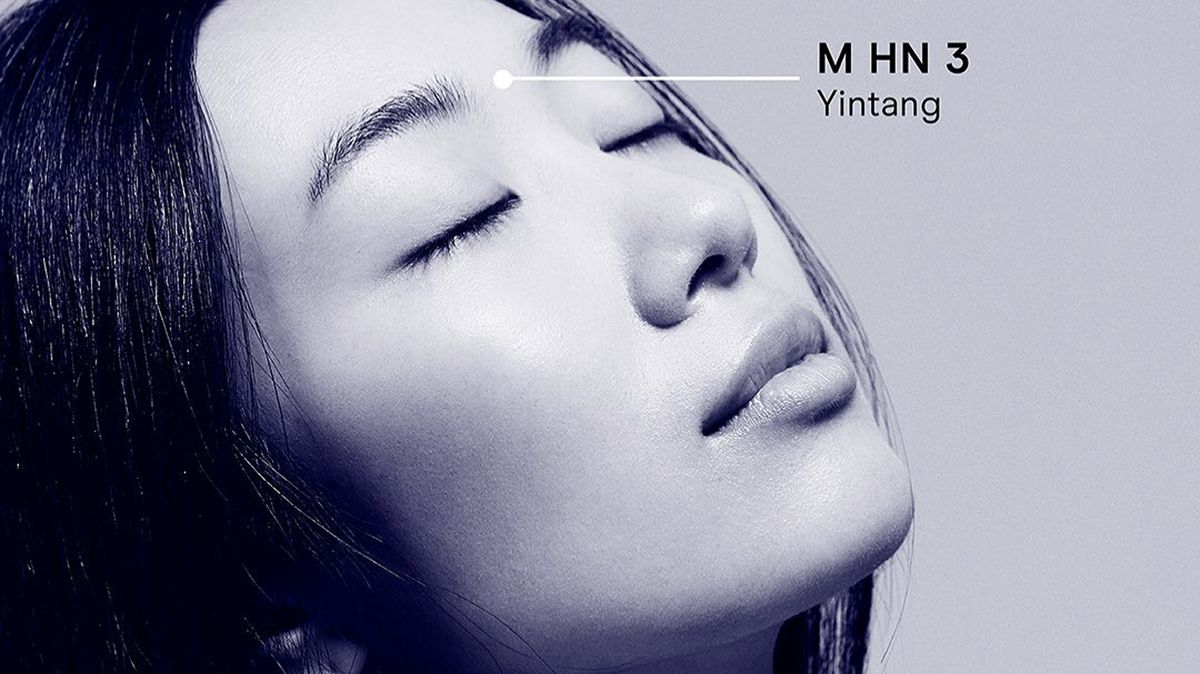 Wellness
15 minutes is all you need.
Like most people right now, we would describe our current stress level as somewhere between devouring an entire tub of Nutella in one sitting and endlessly pacing around our apartment in day-four
sweatpants
. There's no shame in it—the world is filled with unknowns, which are often more anxiety-inducing than cold, hard facts. However, the silver lining of experiencing an unprecedented global pandemic in 2020 is that technology has made it easier than ever to stay in touch with loved ones and access services that you would otherwise leave your house to experience. Missing your
Pilates class
? Stream it over Instagram. Learning
how to cook
every breakfast, lunch, and dinner? Tune into a YouTube tutorial. In desperate need of an acupuncture or chiropractor session? Maybe it's time to try acupressure at home—we can teach you how.
For the uninitiated, acupressure applies the same theories of Traditional Chinese Medicine (TCM) as acupuncture, wherein you apply pressure to different targeted points throughout your body. There are hundreds of points altogether, which can be activated by either specialty needles (acupuncture) or manual manipulation (acupressure), and according to Dr. Shari Auth, co-founder of
WTHN
, by doing so you are able to signal your brain to alter your overall brain chemistry and "tell the body to react to achieve a desired result." Gabriel Sher, director of acupuncture at ​
ORA
, notes that the practice is a "self-healing alternative that individuals can do at home to help circulate Qi, increase blood flow, and decrease stagnation in the body." In other words, it's an accessible wellness practice that might help you to overcome bouts of anxiety, tension, and even physical pain.
Traditional Chinese Medicine teaches us that everyone has a map of different channels within the body, and in order to treat stress specifically, you will need to target the ones that influence that part of your system. Says Sher, "applying pressure to these points stimulates the nervous system and causes the release of nitric oxide and endorphins, which help lower your blood pressure and trigger positive feelings."
---
While studies in the Western world are still limited, Auth references two papers that exhibit promising results from the practice, which dates back thousands of years. One, from the
Journal of Physical Therapy Science
, uses acupressure for chronic lower back pain (which many of us might be experiencing due to a lack of proper desk space), and another from the
American Society for Pain Management Nursing
, which cites 15 studies that utilized acupressure for a range of conditions, like menstrual pain, labor pain, chronic headache, and more, all with promising and measurable results.
Both Sher and Auth recommend practicing acupressure multiple times per day to help calm your nerves, relax tight muscles, and relieve aches and pain. All you need are your hands (or if you're quarantining with someone, you can treat each other, as well) and a few essential oils for an added boost of relaxation. And while you can perform acupressure anywhere, it's best to create a calming environment for each session, away from noise and other people—even if it's just closing the door to your bedroom for 15 minutes.
In terms of technique, Auth says, "Use your thumb to gradually apply increasing pressure on a point until you find the sweet spot, where it's just enough pressure to feel some resistance without discomfort or pain. Then hold constant pressure and make a circular motion with your thumb, gently massaging the point. Take 10 deep breaths, and then release." Try it out by following along with these four easy acupressure techniques.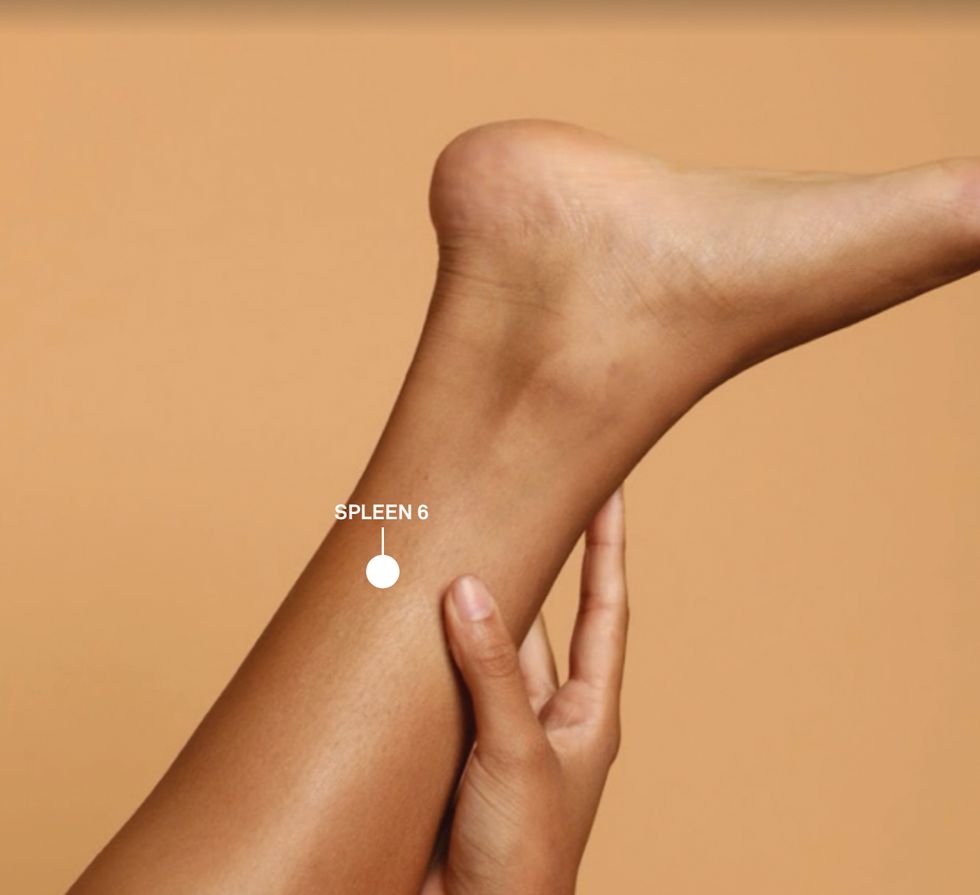 Photo: Courtesy of ORA & WTHN
Spleen-6
Helps balance hormones and reduce stress
Says Auth, "This point balances hormone levels to calm the mind, so it's great for stress, anxiety, and insomnia. I find myself using this point on 90 percent of my clients."
1. From a seated position, place your ankle on top of the opposite knee—or lie down and bend one knee and rest your other ankle on that knee.
2. Spleen-6 is located about a palm's distance (or about three inches) above the inner ankle.
3. Rub the area between the shin bone and the back of the calf, taking 10 long, slow, deep breaths, then switch to the other side. Do this daily.
Taiyang
Relieves headaches
There's actually a good reason why you're rubbing your temples after a hard day. "The temples are acupressure/acupuncture points collectively known as Taiyang," explains Auth, "and have been used to calm the mind for thousands of years. These points can also be used for tension headaches, a common symptom of a high-stress lifestyle."
1. Place the pads of your index and middle fingers on your temples.
2. Rub the point in a circular direction, slowly breathing in and out for 10 deep breaths.
3. Rest your fingers in the center of your temples and hold the point for two more deep breaths. Slowly release.
Pericardium-6
Good for anxiety, calming the system, and nausea
Sher recommends activating this acupressure point 2
–
3 times a day for maximum benefits.
1. Find the point on the midline of your wrist, four fingerbreadths above the wrist, and the crease between the two midline tendons.
2. Press on the point in a circular motion.
3. Massage for 15
–
20 seconds.