The Truth about Postpartum Anxiety During a Pandemic
Sara Larson's deeply moving personal essay.
Health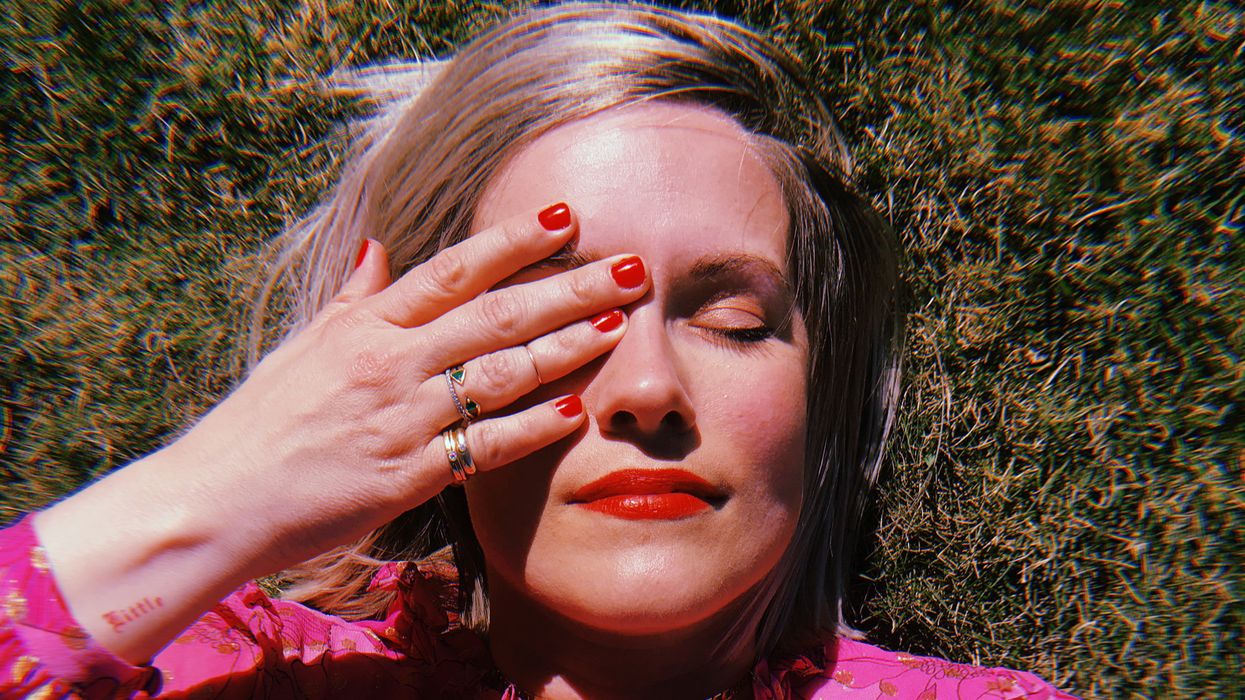 Last summer, after the birth of my son, Royal, I ended up in the ER thinking I was going to die from a heart attack. It was actually a panic attack, but I'd never experienced anything like it before. I'd just returned from a week-long work trip to London, where I pumped around the clock and smuggled 177 ounces of breast milk home in my suitcase with a travel cooler my husband found at CVS. I also have a seven-year-old daughter and never experienced anything like this with her.
When we had Ihlen, my daughter, the world was our oyster. We lived in the East Village, both pursuing our creative passions—me, fashion, and Gunnar (my husband), interiors. Then, when Ihlen was three, everything changed—Gunnar's dad was diagnosed with pancreatic cancer out of nowhere. He lived 15 months and fought fucking hard. We were with him in Minnesota when he passed on to the next life (we have also been in quarantine there). He died four years ago, and the silver lining of quarantine has been Gunnar getting to finish his father's dream, the Larson Lodge on 55 acres. While this was happening, my mom was diagnosed with lymphoma. Right before I gave birth to Ihlen, my mom became very sick and unable to fly—it was probably the closest thing I've ever felt to purgatory. Having a mother wanting to help me raise a baby, but too fragile, rapidly aging, and too weak to travel. My mom, Julie, became ill when she was only 52 and died at the age of 59. She was incredibly young.
To put the timing in perspective, Glenn (Gunnar's father) died in May, and my mom the following March—just nine months apart from each other. Feels surreal. During this time I had tried SO hard to get pregnant with our second, as I wanted them both to "know" I was having a baby—maybe it would give them hope to try to live? I honestly don't know what my obsession was. Maybe I was trying to control something. I had just started a new position full-time when my father-in-law passed, and threw myself in full speed—then my mom died. I still remember screaming, "I wasn't ready! I wasn't ready!" when I got the call. After about a year, I finally
stopped trying so hard to have another baby
. I gave up in a way because I was convinced something was wrong with me—I had to have a myomectomy about a year after Ihlen was born because I had a cystic fibroid growing at a rapid pace in my uterus, and it would suffocate any baby I could conceive. I was convinced that I was defected after this procedure. Fast-forward a year later, I changed doctors and was given the best advice of
"
just have sex every other day
"
(not three times a day when you're ovulating), and
voil

à—
just like everyone had said "it will happen when you stop trying," I was pregnant a month later. We also had just moved to Greenpoint (I know now it was all connected). 
---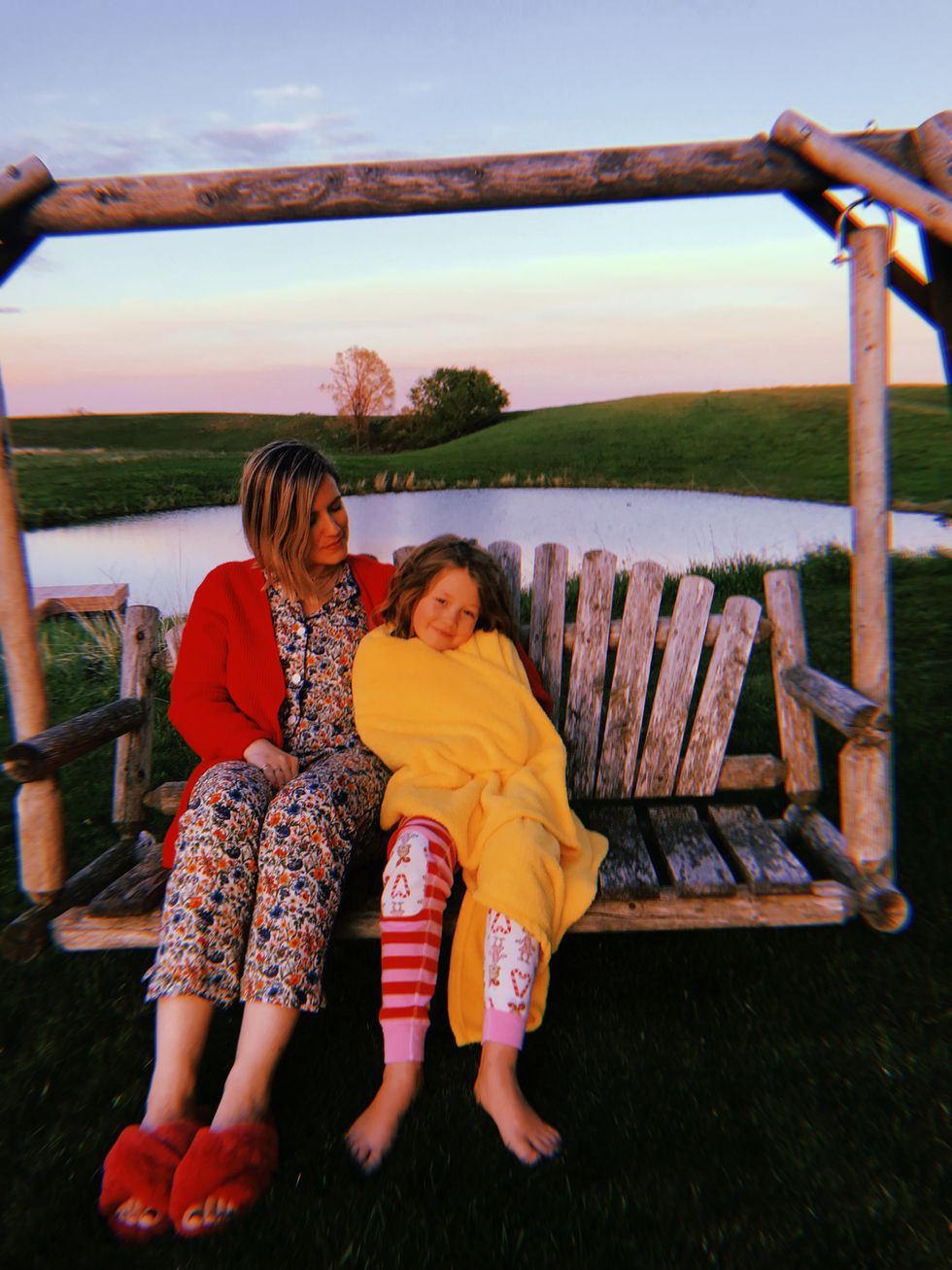 Photo: Courtesy of Sara Larson
I had an incredible pregnancy. I love being pregnant, and it was so special to just cherish the time with Ihlen while blossoming with this little magical creature inside my expanding body. Royal was a BIG baby. I actually
had a gentle C with him
and gave birth two weeks early because he was so large. I knew I'd have to have a cesarean, but didn't realize I could choose and still had a choice of how the birth would be. It didn't need to just be a surgery—it could be the story I wanted to tell. It was an out-of-body experience and one that is just as special and remarkable as the vaginal birth I had with my daughter. My friend Becky is the one who really grabbed my attention by reminding me I had a choice for my birth and could request a gentle C, which my doctor was so agreeable to.
Fast-forward to London. Royal was four months old, and I'd never been away from him for one night, let alone five. It was traumatic. Less than two weeks after I arrived home, I ended up in the ER (as mentioned at the beginning of my story), and when they released me, the doctors had no idea what was wrong because everything looked fine. I was convinced it was my heart (no reason at all, but convinced). I had a heart sonogram and wore a monitor for 48 hours to test for any out-of-ordinary rhythms. I was terrified I was going to die—just like my mom and my father-in-law—and leave my kids and husband alone.
My OBGYN mentioned that maybe a small dose of antidepressant could help me with the anxiety, but I told her I didn't need it. You see, my mom took antidepressants my whole life, and I had a terrorized stigma of them—and also of my path becoming the same as hers. I resisted for months, and finally a friend was like, "If you were physically ill, wouldn't you take medicine to get better?" The idea of antidepressants to me was so negative, it took me a long time to change it, and I'm so thankful I did because I feel so much better, and every day is different. Since this past March (my second trip to London since the baby), I've been a lot more myself, which feels so good. There are so many things I'm working on, processing the grief from the past—but also mom guilt from working, and loving myself and my body. You know, the basics!
Photo: Courtesy of Sara Larson
Suddenly, the day before Mother's Day this year, my aunt (Gunnar's aunt by marriage) passed away. I thought it was some kind of sick joke. I had just spoken with her the night before she died (we talked all the time, multiple times a day). Her name was Nancy, and she was larger than life! She was more than a grandma to Ihlen—she was a fairy godmother to all four of us. She never had children, but she poured her heart and soul into our family. So you can imagine the indescribable surprise of the phone call we received saying she was gone. It was like, "Please let me turn back time for a few hours so I can talk to her one more time. This can't be real." It still doesn't feel real less than two months later. The thought of going back to NYC and having to face so many special pieces in our apartment that she manifested in some way—it feels like we are facing another memorial there.
It just feels so heavy—now three great loves of my and Gunnar's life are gone. Let alone having one of them die during a pandemic.
The point of all of this is that I hope to inspire other women and mothers. Life can be hard. It can throw you curve balls, and grief is a bitch. But it is also beautiful. It opens a part of you—a part you didn't know existed. It reaches DEEP into the heart—straight through you. It's that torn-apart feeling that gives you the chance to be reborn—create the new narrative—especially with kids. It's up to you on what to tell them, how to raise them, what to show them. And that postpartum anxiety—it's totally normal and OK! There has been such a stigma around women and mental health for so long, but we are changing it—now, more than ever, let's tear the walls down and just be bare and vulnerable with each other. That is OK and the only way to share this beautiful thing called life that we get for just a very, very short time. Talking about the things that matter most. The things that will make a difference for future generations. LOVE. Being different, confidence, gentleness, kindness, and the evolution of change. These are the things I want my kids to inherit.
Photos: Courtesy of Sara LarsonWant more stories like this?
What It's Like to Be a New or Expecting Mom Right Now
Can I Do My Yearly Well-Woman Visit via Telemedicine?
Ear Seeding Is Our New Go-To Wellness Routine