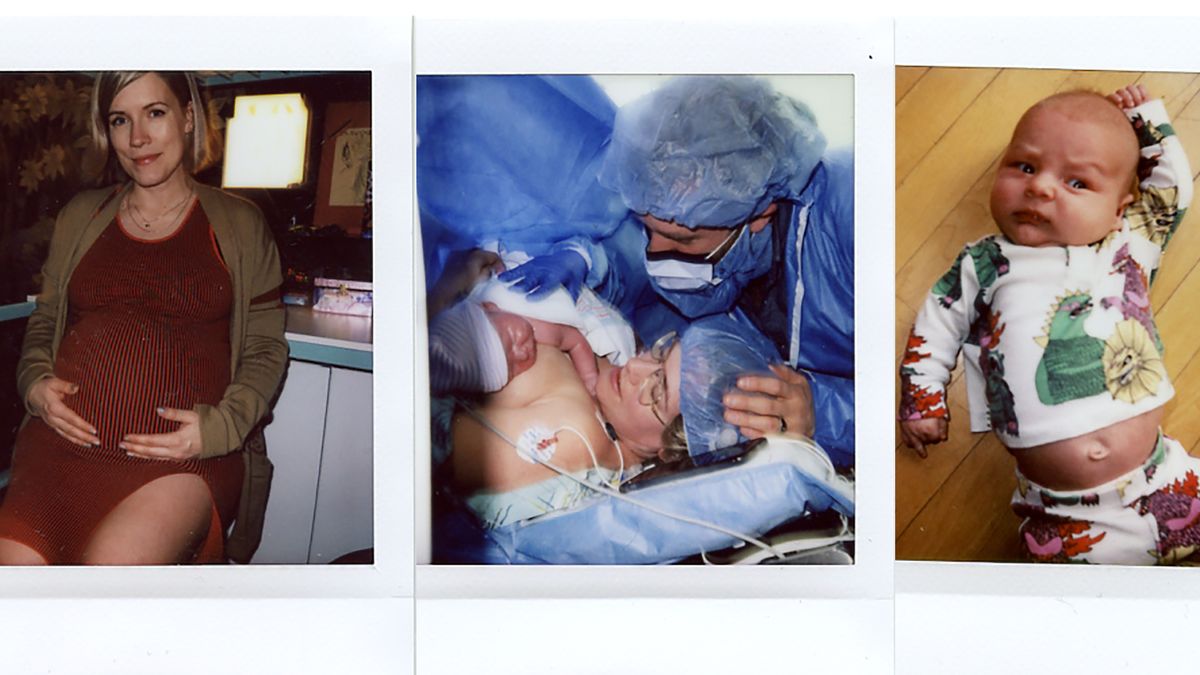 Health
Having a "Gentle C-Section" Changed My Mind about Cesareans
They're growing in popularity, and made my delivery so much better than I could have expected.
This story is part of Coveteur's Women's Health series. For more on this topic, head here.
When
Sara Larson
learned that she would have to deliver her second baby by cesarean, she was overwhelmed with fear and anxiety; it wasn't what she wanted or envisioned for herself. After consulting with her doula and doctor, though, she settled on what's been coined a "gentle C-section," where mother and baby are able to bond quickly with minimal disruption. For Larson, this turned out to be an ideal alternative to a traditional cesarean. Ahead, she reflects on the experience and what it taught her.
Did you have a C-section with your first child? Why was a C-section recommended for your second?
"I had a vaginal birth with my daughter, Ihlen. In between my pregnancy with her and my son, Royal, I learned I had a large fibroid that would prohibit me from ever getting pregnant again. I had what's called a myomectomy, where the uterine wall undergoes a deep incision to remove the fibroid. After this type of procedure, a mandatory cesarean is recommended to avoid the uterus rupturing during labor."
What was your initial reaction to learning you'd have to have one with your second baby?
"I was in denial. Devastated, really. I had a lot of fear surrounding a cesarean, and as I look back on it, a lot of it is to do with what I've seen in the movies combined with the way I've always heard it talked about. My mom loved watching '90s thrillers, where oftentimes at the height of the film women would end up having an emergency cesarean to save the baby, and it was always a life-or-death situation. In addition to this preconceived idea, I personally felt totally out of control with a cesarean and had no idea what to expect. This scared the shit out of me.
"To make it harder, whenever I told someone my due date, the question of natural birth vs. cesarean always came up. A lot of people asked why I was having a C-section, which made my anxiety that much worse when I had to explain the reasons.
"Eventually I learned to just roll with the fact I was having a Cesarean and that it was
OK
. It didn't make me less of a woman or mother, and I was doing what was best for my baby and my body." 
---
How did you learn about what's known as a gentle C-section?
"The idea of a gentle cesarean was first mentioned to me by a dear friend who sat me down one day and said,
'
Just because you're having a cesarean doesn't mean you can't have a birth story.' A huge wave of joy washed over me because this was the first time I stopped to think about Royal's birth in this way. I immediately discussed this option with my doctor, and much to my surprise, she was totally on board. I was ecstatic.
"This was the moment my attitude changed from 'surgery' to 'birth.' The fact that I was going to have a birth story felt empowering, regardless of how it would actually happen. We decided right then to have a doula and called the Doula Sisters, who made all the difference in the delivery."
What's the difference between a traditional C-section and a gentle C-section?
"My obstetrician, Dr. Mahino Tahlib, says this:
'
Historically, a cesarean delivery, while providing us a safe and at times absolutely necessary alternative to a vaginal delivery, has taken away some of the immediate intimacy shared by the baby and the mother due to the acute nature of the procedure. The emergence of the so-called 'gentle C-section' has found ways to give some of this crucial intimacy back to the mother, thereby allowing the mother-baby pair to meet and bond with only a few necessary interruptions. The gentle C calls for a clear, sterile drape to be placed in front of the traditional opaque drape. The anesthesiology team assists us by dropping the opaque blue drape right as the baby is being delivered. For these first few precious moments, the baby is held up for the parents to see. The opaque drape is then redrawn so that the surgery can continue. The clear drape allows the mother to be a part of her child's birth without compromising the sterility and safety of the procedure.
'
In a gentle C, we also ask that the anesthesiologist place the EKG leads on the mother's back to allow access to her skin. This is critical to the moment when the pediatric team deems the baby healthy enough to be transferred over to her to hold directly on her chest—the classic skin-to-skin. This allows for the baby to adjust to life in the outside world during the
'Golden Hour,'
which is very important for maintaining the baby's delicate body temperature, bonding, and breastfeeding, should the mother choose to do so.'"
Are gentle cesareans becoming more common? What do you attribute that to?
From Dr. Tahlib:
"They have become more popular, and it's mostly because of gaining awareness regarding restoration of birth experiences from both the physician and the patient. In other words, if both the patient and physician know this option exists, more and more women are likely to opt for it if they are offered it."
What was your gentle C-section experience like?

"It was an out-of-body experience. The morning of, I kept thinking, This is so crazy. I'm taking a bath, then I'm getting dressed and packing my bag, and I'll be holding my son in just a couple of hours.

"The night before Royal's birth, I decided to completely surrender to the experience and release all of the fear surrounding it. I let the 'unknown' wash over me from the very beginning of the day. As I was prepping for the OR, the anesthesiologist asked me to sign a waiver and also asked if I wanted to be an organ donor. It sounds dramatic, but I was like, I'm not going to die today. I'm going to have a baby, and I can't wait to meet him. I had so many emotions pouring out of me at this point. The feeling when you're about to fall in love with someone for the rest of your life and you're meeting them for the very first time. It brings a new meaning to love at first sight.

"When I arrived to the OR, I was immediately administered an epidural and had what felt like a million people buzzing around me. It was at that moment it started to feel similar to my natural or vaginal delivery with my daughter. I had to focus and remain calm. My body was not my own from then on. I was sitting up and just staring into my doctor's face making small talk, but staying focused on her as the lower half of my body began to go numb, all while what felt like several different people were asking me questions about the anesthesia and what I could feel and where.

"When it was time to lie down on the table, my husband, Gunnar, was able to come into the room and be right next to me, along with our doula. The blue curtain went up, and shortly after that the journey to Royal's arrival was under way."


"Gunnar was on my right side holding my hand and recounting stories about our life together. (We met in college when he was 20 and had braces. We've known each other for 14 years and have been married for 11 years this July.) It felt like I was laying there for an eternity. I just kept focusing on Gunnar's voice and following his verbal picture show. At one point he stopped talking, and I urged him to continue; I needed to hear him, like I needed air to breath. We were laboring together as one, and I needed all of his power and support to get through it. The pressure I was feeling took me by surprise. I had not anticipated feeling anything on the table. There was a moment when I felt a pop on my left side, and I had to just stay focused on breathing through it. What I felt was the labor zone. I wasn't prepared for it, as funny as that sounds, considering I was giving birth. I had this idea that it would be a painless experience, so I was not prepared for the emotional or mental transition that I would actually labor in this pregnancy.

"There was a moment when my instincts took over, and I just continued to breathe as the minutes passed. The blue drape was at the top of my rib cage, so there was not a lot of room to move the upper half of my body. All of a sudden I heard shouts of joy from the doctor and medical team. The next thing I knew, the blue drape had dropped, and I could see my beautiful son, so perfect and healthy. I was sobbing quietly with the most heart-exploding joy—it's hard to put into words. The love started to just pour out of me, and the tears were endless. They brought him to me for skin-to-skin, which was one thing I wanted the most throughout the whole experience. His little face was a beacon that carried me throughout the remaining time needed to sew up my abdomen.

"My husband being in it with me, every step of the way, carried me. Our doula described the operating room as the sphere in Columbus Circle, where everyone who entered transcended into Gunnar and my's love story. We left ourselves completely open when we walked into the room, and at moments it was like we were the only ones there."


What are your thoughts on the negative stigmas often associated with scheduled C-sections?
"A scheduled cesarean is a very popular delivery choice among many women, and I totally respect that. My experience was that throughout my pregnancy and even after, the majority of people I mentioned the word
cesarean
to had the immediate reaction of 'I'm so sorry.' It's crazy. This attitude did not help my anxiety or fear going into the birth, but I quickly learned to let these opinions roll off me and chose to focus on all the positive elements. Ultimately, the fact that I had a healthy baby boy without any complications made everything else fade away. Birth stories are unique and special to mother and child, which is why supporting each other with words of affirmation is so important."
What has the recovery process been like?
"It's been intense, to be honest. This is the one thing many mothers I know who've had cesareans shared with me—the recovery can be brutal. I've had extreme highs and lows. I've been way more emotional this postpartum than I was with my daughter. My doula says boys have a different impact on your hormones, which I agree with. There's a different level of fragility and tenderness this time around.
"It's very hard for me to stop. I've had to force myself, especially physically, to take it easy. The first few days after the delivery, I could barely walk from the couch to the bathroom—let alone a full block—and I could only lift Royal. For someone who traipses all over Brooklyn and Manhattan on the daily, this was difficult for me. I realized early on that I have to give myself some grace and not overdo it. Also, the exhaustion has been way more intense this time because we have another child.
"In the early days, sleeping as much as possible, taking
placenta pills
, and having an energy worker come over to help talk through any postpartum feelings have all been huge in fighting off the blues.
"In the birthing process, the key element that matters most is being educated on your options. Explore everything, and ask your doctor what is possible within the realm of what your dream birth story looks like. Whether that be a home birth, vaginal delivery, or cesarean—and now gentle cesarean—the story is yours to write."
[Editor's Note: As ever, we are not doctors or medical know-it-alls. And everybody is different, so make sure to check with a doctor about all of your options.]
Photos: Courtesy of Sara Larson
Want more stories like this?
7 Women on What It's *Really* like to Give Birth
Molly Guy on the Realities of Becoming a Mom
What It's Really Like Being a New Mom