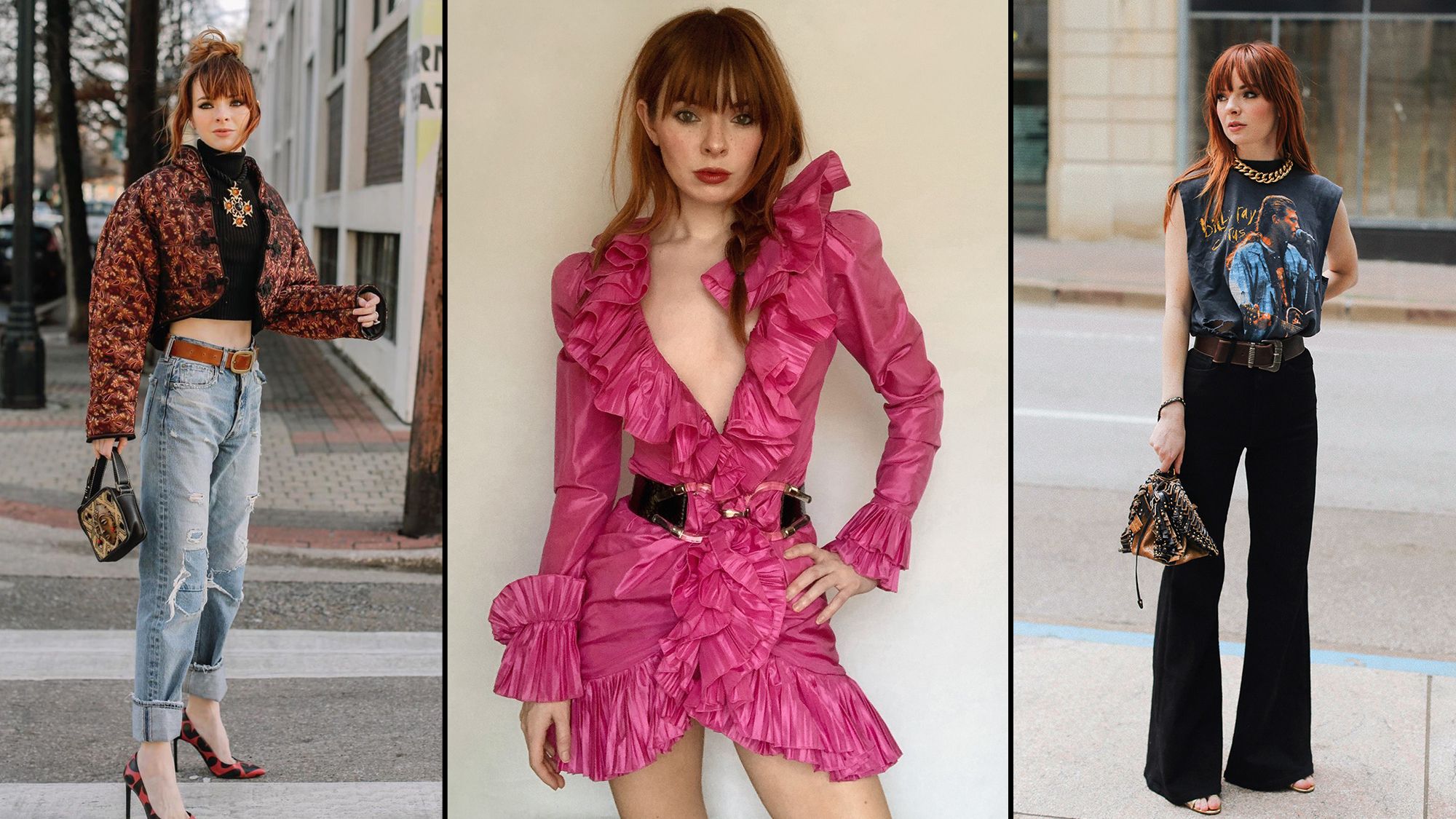 Shopping
She is an encyclopedia of fashion history.
Graphic
Rachel Pickus
Jane Aldridge
is one of those people for whom shopping is more than just a pastime—it's a love, an art form, an education. Aldridge, who started her blog
Sea of Shoes
as a hobby in 2015, rose to prominence with the first wave of fashion bloggers. Instead of taking the traditional influencer route, jetting to fashion weeks and posing among the
street-style set
, she has cultivated a very unique platform where she advises her followers on everything from fashion in film to secondhand style to her
tips for entertaining
.
Instead of catering to fickle trends of the moment, Aldridge cherry-picks her favorite, long-lasting styles from different decades in fashion history to create a timeless, and entirely unique, collection. Speaking with her made us understand the importance of a little (or a lot, in her case) of fashion education in vintage shopping. A mix of vintage, designers of all kinds, and a particular affinity for Japanese brands, her style ranges from super casual to elegantly dressed-up, but is always rooted in great accessories—belts and shoes, specifically. Continue reading to discover her favorite sources for vintage finds, how she developed a relationship with fashion, and the superstar pieces of her wardrobe.
---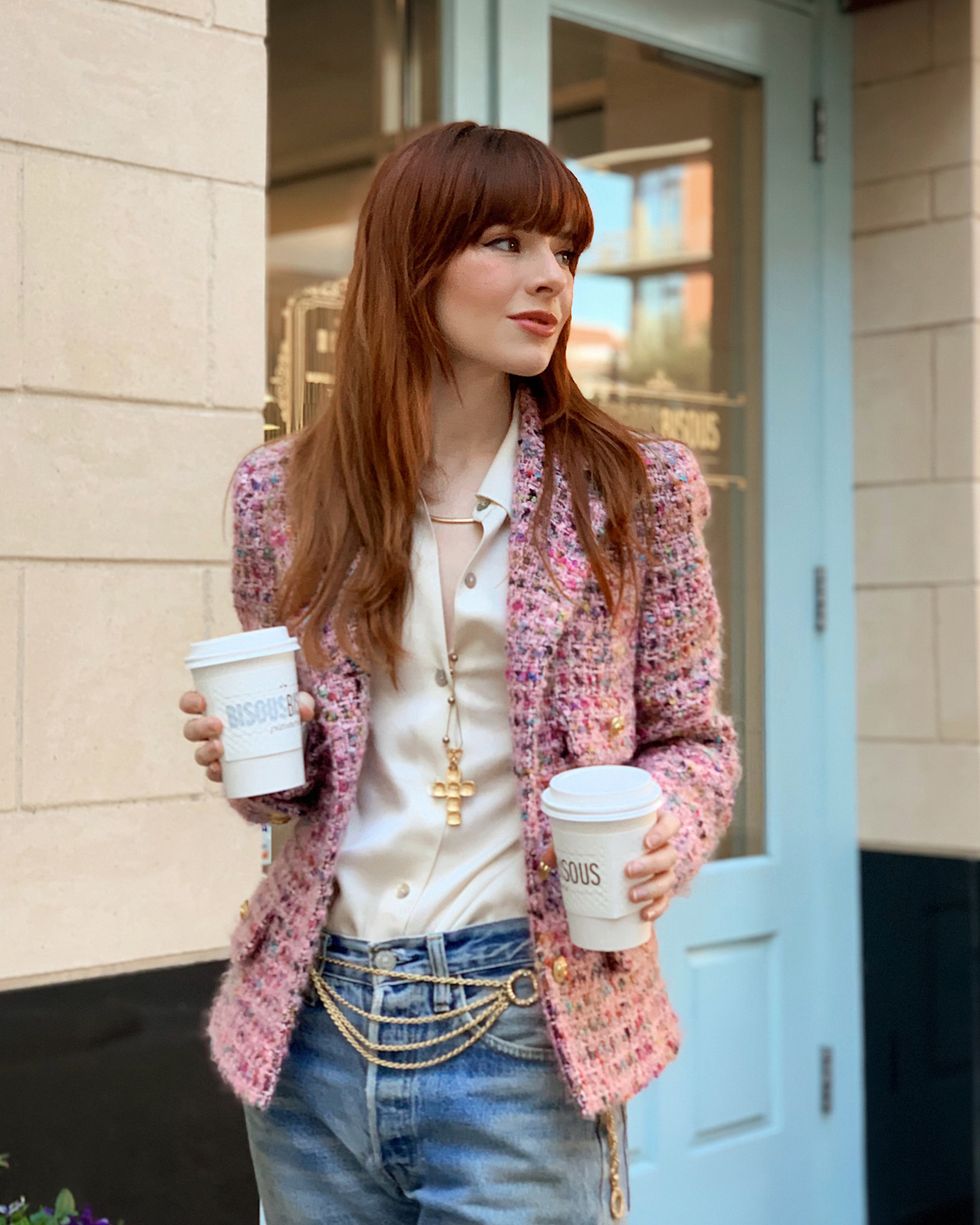 Photo: Courtesy of Jane Aldridge
When did you first fall in love with fashion?

"I think as early as possible, I had very strong opinions about clothes. The first day of second grade, I wore a black suit with a '40s Bakelite swordfish brooch. I think I've always been this way."

When did you become passionate about vintage?

"As soon as I was old enough to start fitting into women's sizes. My mom and my grandma always took me to flea markets and thrift stores on the weekend, and I learned about labels to look for and how to date clothing. I started going regularly probably by the time I was 11/12. Early internet fashion archivists like Liz Eggleston shared all these scans from European fashion magazines from the '70s, and I learned a lot from her and other people who took the time and energy to share fashion history with the internet at large. I was always watching old movies, too. My dad had Turner Classic Movies on constantly, and I was always drawn in by the glamorous clothes and hairstyles."

How would you describe your personal style?

"I like so many different looks, it's difficult to narrow it down! I like bright colors and feminine silhouettes, but I also like leather pants, men's blazers, and cowboy boots. I guess a defining thing about my style is I like clothes that are quite big and take up a lot of space around me. I go for full skirts and big jackets. And for me, belts and shoes are always the most important things."

What is your favorite thing about fashion?

"Self-affirmation is necessary to be a sane person, and I appreciate fashion as a tool for reinforcing our beliefs in who we are. It's also a way to have fun, if you aren't very serious about it."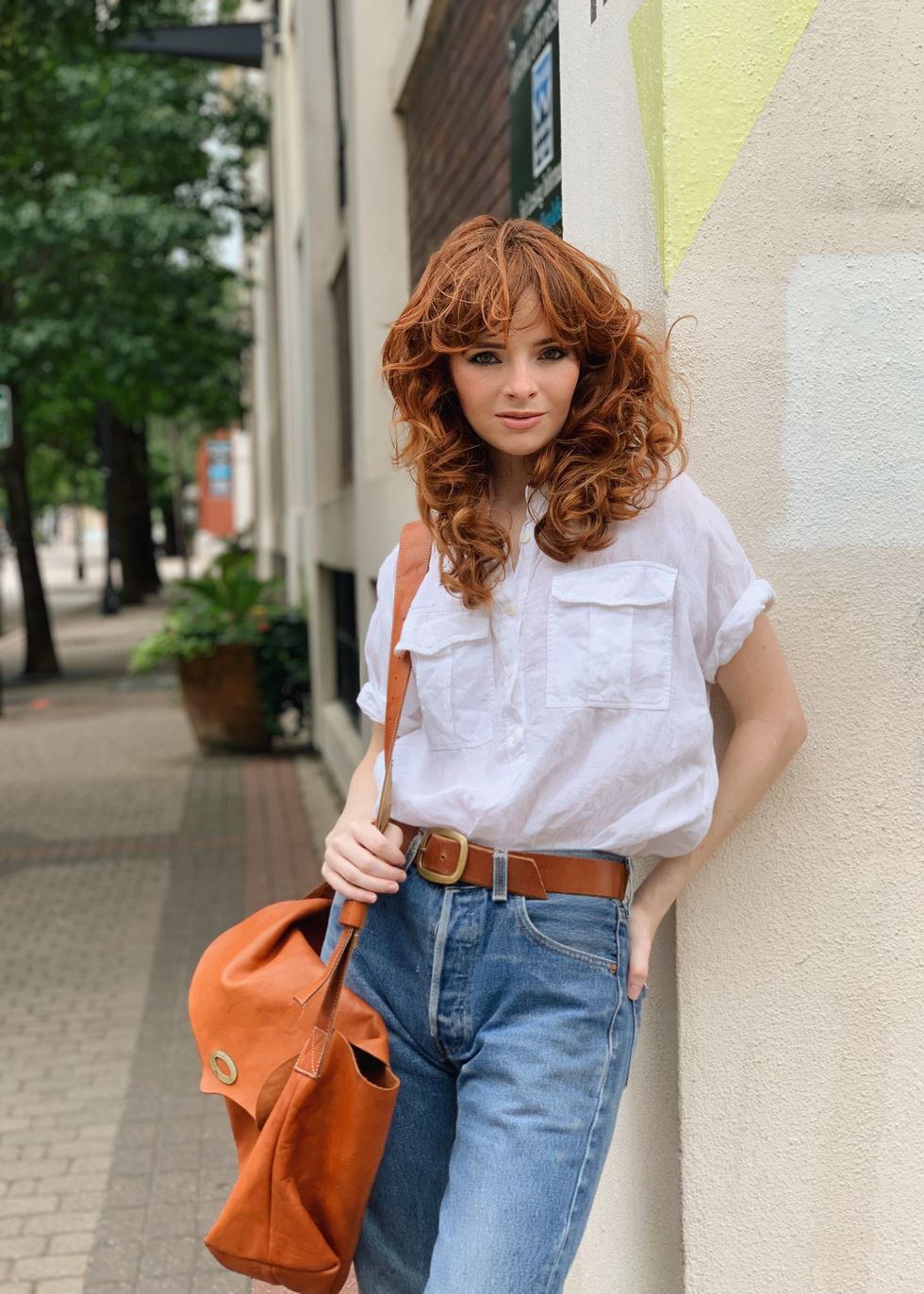 Photo: Courtesy of Jane Aldridge
Do you have a uniform?
"I am not very fashionable for everyday duties. It's always grey jeans or leather pants, battered Western boots, men's shirts, and shrunken or oversize blazers—very 2007. I try to punch it up with good belts. If I have to dress up and I don't know what to wear, I always wear a big taffeta skirt (I have several colors) with a sweatshirt or sweater tucked in and really fun heels. It never fails and makes a nice, simple base for accessorizing with cute belts and bags."
What do you let yourself splurge on?
"Definitely shoes. Right now all I want is really colorful sneakers, but I haven't bought any. Where would I wear them?"
What has been your favorite purchase of all time?
"That is so difficult to answer! I have a pair of Junya Watanabe fall 2006 pants I got from
Replika Vintage
at A Current Affair that are highly prized. Also my wedding dress, which was a 1950s dress with a floral bodice and a bustle in the back. I got it on Etsy."
Who are your favorite designers to find in vintage stores?
"I have a very long list. At the moment, I am into Flora Kung for amazing prints and colors, Donna Karan for great belts and sleek '90s pieces, and Gina Fratini for dresses that look like '70s versions of medieval witch clothes. If I find a new label I haven't come across yet that I like, I write it down in a notebook. I am working on a list of 2000s European designers right now."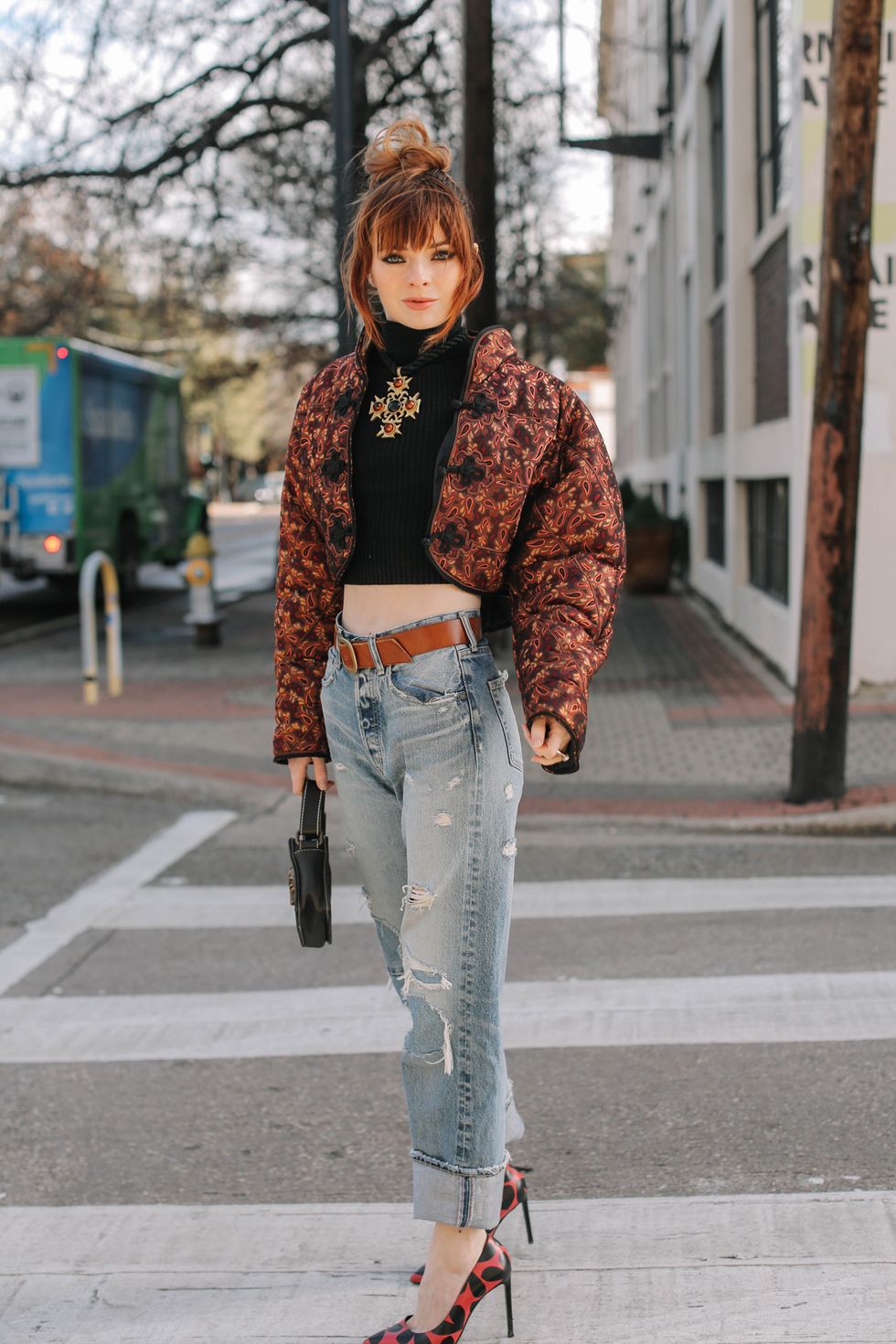 Photo: Courtesy of Jane Aldridge
What accessories are on your current rotation?
"Well, since I am in self-isolation, my three accessories are probably like, zit cream, scrunchies, and bare feet. In a better world, they would be a silk flower brooch I like to wear on printed blazers, a pair of orange neon '00s Dior sandals with a chrome kitten heel, and a studded and fringed Prada F/W 2011 wristlet!"
Do you prefer the in-store experience, or would you rather shop online?
"Definitely in-store—that is where the best finds are. I have spent years getting my eBay searches in order though, and I still do make great finds there all the time."
What would your closet be full of if money were no object?
"It would be full of Comme des Garçons, no question!"
What are your favorite sources for vintage?
"Keeping a close relationship with your favorite vintage dealers is a good, healthy way to shop sustainably and support your community, so I try to do that as much as I can. It's easy now with Instagram.  My friend Ken Weber at
Vintage Martini
will text me if he gets things in that he thinks I'd like. I also love
Cheap Thrills Vintage
and have been shopping with her for about fifteen years. I have friends with vintage stores who do flash sales, like
@juicyfruitvtg
. But we have great thrift stores here in Dallas, like the
Genesis Women's Shelter Thrift Store
, where you can really make great vintage designer finds. I always find good vintage at
Buffalo Exchange
and
Crossroads
here, too."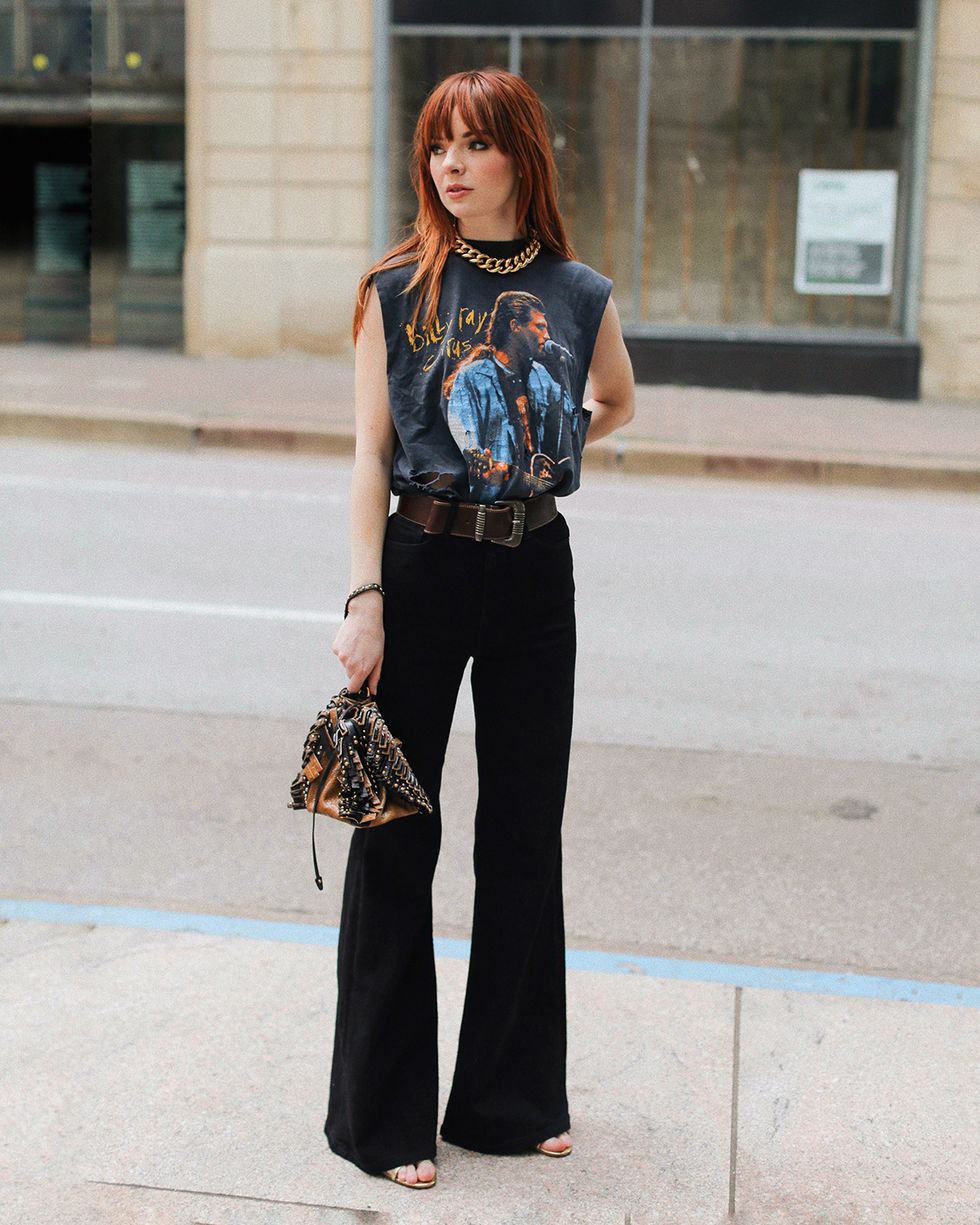 Photo: Courtesy of Jane Aldridge
What does your current WFH wardrobe look like?
"I have been painting a lot, so I've been alternating between Hanes tank tops and these high-waisted AG striped sailor pants that look not so bad with paint all over them, and an indigo linen sack dress I thrifted with the intention of being able to ruin it. I have a tie-dye denim midi skirt I wear with a Madonna t-shirt when I cook. A few silk negligees I picked up for $15 a pop on eBay. It's grim. I miss dressing up very badly."
Who are your favorite small fashion brands of the moment?
"I am very excited by what
Super Yaya
is doing. I find the Japanese designer
Jenny Fax
so whimsical and funny. The shoes
Brothers Vellies
are doing are wonderful!
Suzanne Rae
, too. Also,
Shushu Tong
."
If you could only keep three pieces in your closet, what would they be?
"This is really hard. Probably a PVC quilted puffy apron dress by Noir Kei Ninomiya, a yellow silk embroidered puffy ski coat by Bernard Perris, and a pair of strappy black Guidi boots I bartered for."
What era of fashion is your favorite, and why?
"I like all of them! I think the '70s and the '40s would probably be my favorite. They were the most romantic and evocative and full of great prints. I'm a textile lover, so that seals the deal for me."
6 Items Jane Aldridge currently has in her shopping cart:
Junya Watanabe
Christopher Kane
Christopher Kane
Ssone
Ashley Williams
Stormy MFG