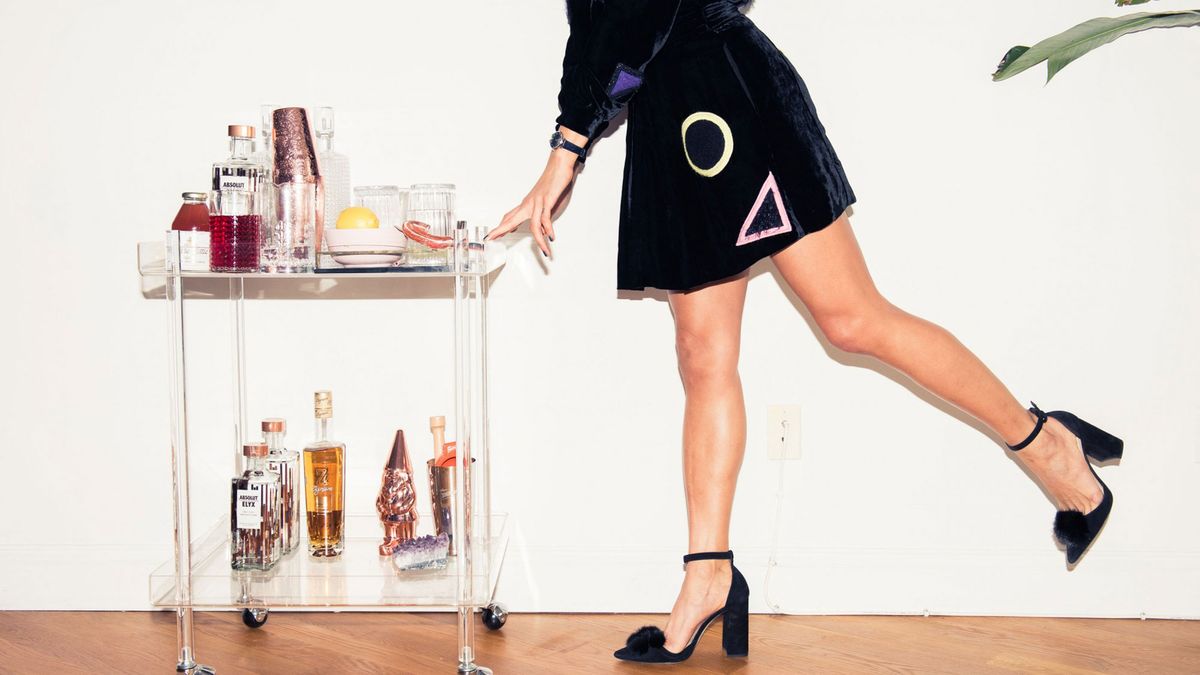 Entertaining
Karleen Roy of The Vanity Group proves no space is too small for a soiree.
Here's the dilemma of a generation: You love to entertain. Yet you live in a studio apartment so small, there's hardly enough room for your Louis Vuitton Keepall 60, let alone a group of friends. But that's why we rang up a pro. Karleen Roy, the founder and creative director of The Vanity Group, has given us her downright genius tips for utilizing every inch of your space and hosting a memorable party (for all the good reasons!), so that we don't have to huff it to a locale with more square-footage.
 

The first thing you should do:
"Clean your apartment! If you don't have a go-to housekeeper (because you'd rather spend your extra cash on clothes or Ubers), then download the app Handy. You can book same-day service on this app, and the cost is pretty reasonable. First thing I look at when I go to someone's house is their restroom, so make sure yours is sparkling clean." 
A couple of tricks to make the space appear larger than it is:
"Remove clutter from the perimeter of the room—gym bags, boxes of items that need to be returned, piles of magazines, miscellaneous junk, etc. Bulky furniture that you don't need, push that to the [side] if you don't plan on using it. Or purge completely—take it to the Goodwill. It's a tax write-off." 
When decorating, go simple:
"In a small space, less is more. Keep [it] simple and chic. My go-tos are always white flowers—roses or hydrangeas—in low vases and tons of votive candles or white candles in clear cylinder vases. Spread them throughout your apartment, and they will instantly add a luxe touch to your space. Don't forget a few scented candles also. We love Diptyque!" 
Your best option for drinks is one big-ass bowl of punch:
"I always recommend a signature cocktail for a party at an apartment. 1) It's less
'
stuff' to have on display (tons of cups, mixers all over the place, and so on), and 2) it's a classier presentation. I usually make a signature cocktail in punch style and serve it out of a clear glass cocktail pitcher. Or champagne with a raspberry dropped inside for extra color and a touch of glam. Don't forget to grab ice from the market as well. Don't forget to set up your glasses and pitcher on a decorative tray to complete the presentation." 
As for food:
"You don't need a Thanksgiving spread, but you do need something for your guests to nibble on. Don't count out a good ol' fashioned snacks-and-appetizers setup as a grazing table. If you aren't a cook like me, I would order food from your favorite restaurant and transfer it to platters to make people think you took the time to prepare it yourself." 
You don't *need* seating:
"At a party, you don't want a lot of seating. You want just enough, in case people need to rest their feet for a sec. The purpose of a party is to mix, mingle—if there's a seat for everyone, then everyone will sit, and that's boring!" 
The trick to making your guests forget they're in a small space:
"Get them drunk off your signature cocktail, and they'll be too busy having the time of their life to criticize your space. Or maybe a classy shot upon entering the apartment. Oh, and dim lights, that makes it feel like it
'
s intimate and small on purpose." 
Make sure your place doesn't become a sweatbox:
"Blast the air as cold and high as it can go before your guests arrive—at least two hours [before]. It may be cold to start, but as the bodies arrive and the drinks start flowing it will quickly warm up and even out the air in no time." 
Something to avoid:
"Unwanted guests, because there's not a lot of space to go to avoid them." 
Want more stories like this?
3 Solo Dance Moves to Do at a Party
The Art of the Parisian Dinner Party
How Emily Post Would Party in the Age of Social Media