WWWRN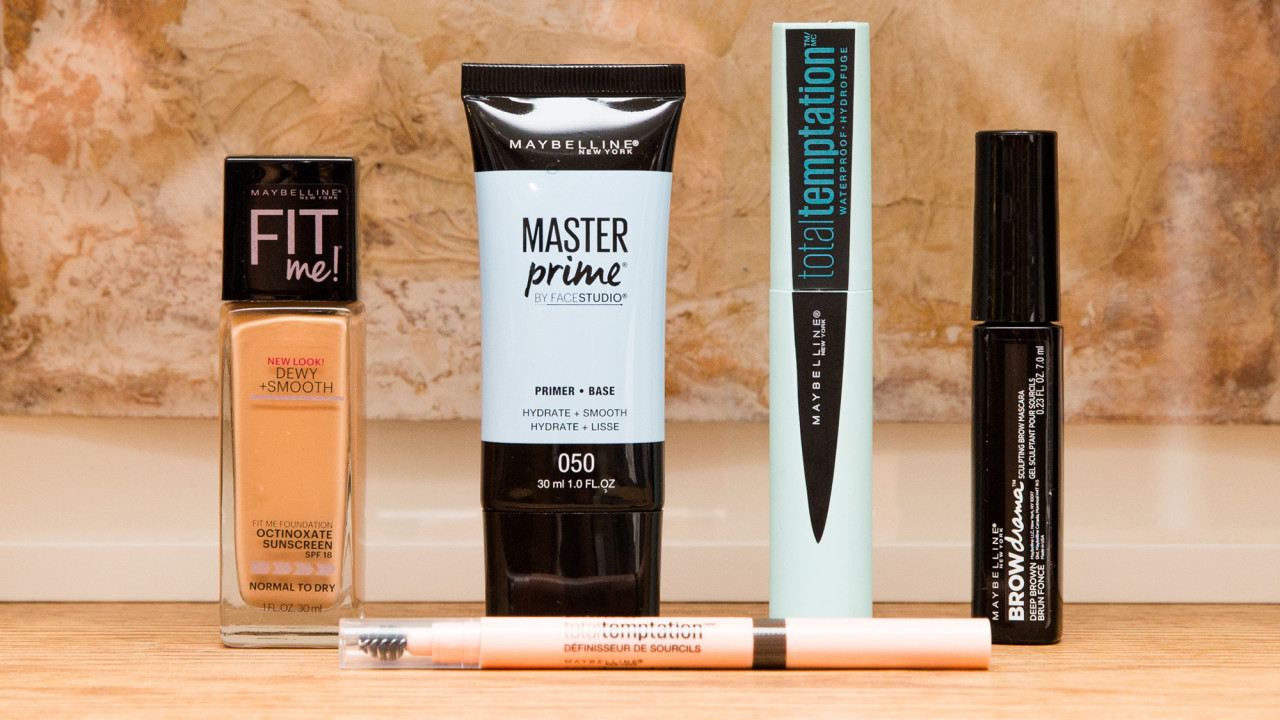 24 Drugstore Beauty Staples We Can't Live Without
Bonus: They're all under $30.
Since the rise of the beauty shelfie, we're all guilty of wanting the most luxe and notable products on display in our bathrooms. And not to knock those—they work, and they're pretty—but there's also a certain joy in running to your corner drugstore to pick up some tried-and-true staples for just a few bucks. Beauty on a budget is totally doable, because unless you're a Rockefeller, there's no reason to shell out a whole paycheck to keep your hair shiny, your skin moisturized, and your makeup on point.
Below, we share a few of our drugstore beauty favorites, some of which have been in our rotations for years. From a beloved bar soap to a $6 acne cream, consider these your new summer must-haves.
---
Jessica Teves
Head of Content
1. Maybelline Falsies Washable Mascara: I've been wearing this brand of mascara for at least 10 years, most often in shade 280 (blackest black). I've tried just about every formulation under the sun and always return to this OG for its budget-friendly price and intense thickening power—it's truly magic!
2. Dove Moisturizing Soap: I'm going to go ahead and hop up on my soapbox (see what I did there?) and shout about my love of basic Dove bar soap. I've been using it since college and will never, ever use anything else. It's the absolute best for removing makeup, doesn't dry out my skin, and since I use it all over my body, it's just a win-win.
3. Zaditor Allergy Eye Drops: Ever since I moved to the Northeast, I've struggled with allergies. My eyes, in particular, can get really red and itchy in the spring and summer, and Zaditor has been a savior. It's a prescription-strength formula that stops the itching for almost 12 hours. I put in a drop or two in the morning after my serums and sunblock and feel a noticeable difference.
---
Leya Kaufman
Head of Sales
1. Paul Mitchell Tea Tree Lavender Mint Moisturizing Shampoo: This shampoo is the one thing that my husband and I can always agree on. It's a shared shower staple that doesn't weigh down my color-treated hair. On stressful mornings, I'm thankful for the built-in aromatherapy, too.
2. NYX Professional Matte Lipstick in Shocking Pink: When life gets too boring, I love to experiment with unexpected lip colors. Luckily, NYX Professional matte lipsticks are affordable and come in a wide array of colors to support that habit. This Shocking Pink is one of my go-to, all-time favorite lipstick risks.
3. Wet Brush Detangler Brush: I've been in love with this brush for over a decade. I can honestly say that I've never encountered a tangle that it can't tame—and my hair is incredibly thick, long, and [often] windblown. Contrary to what the name might have you believe, this brush also works through knots on wet, damp, or dry hair.
---
Olivia Kenney
Creative Producer & Social Media Manager
1. Maybelline Superstay Lipstick in Heroine: OK, if you're anything like me, when you throw on a red lipstick you become a liability. It's usually on me, on my cheek, on my shirt, and the same for anyone in my radius. This lipstick, however, will not come off until you absolutely want it to. Full meals, plenty of drinks—this is better than any high-end lipstick I've ever bought (and I have done my fair share). Plus, it comes in a ton of colors!
2. Nivea Skin Tightening and Toning Lotion: I have recently attempted to treat my body with the same TLC that I give my face. It's been a pricey road to go down, but I realized that a lot of the products that give the best results are found at the drugstore. This is certainly one of them. For any uneven skin tone, skin tightening, cellulite—this bargain cream will get you ready for summer.
3. Sally Hansen Insta Dri Nail Polish: I have no idea why this nail polish is five dollars cheaper than every other nail polish on the market, but that is the second reason why it is my favorite product ever. This polish is for people who paint both hands the way most paint their opposite hand—you read that right. I am terrible at DIY manicures, but this goes on so smoothly, dries in an actual minute, takes a week to chip, and is super affordable. Win!
---
Rachel Pickus
Creative Associate
1. CeraVe Moisturizing Cream: Whenever my skin breaks out in dry patches (which is unfortunately very often), I simplify my skin-care routine and turn to this CeraVe moisturizer. It's fragrance free, hydrating, and instantly soothes any amount of irritation. Oh, and trust me when I say a tub of this will last you forever.
2. L'Oréal Paris Voluminous Lash Paradise Mascara: My issue with mascara has always been its tendency to flake, leaving me with shadowy raccoon eyes by 5:00 PM. That was until a friend tipped me off to this formula from L'Oréal. Famously known as the dupe to Too Faced's Better Than Sex mascara, L'Oréal's Lash Paradise delivers full, fluttery lashes without the fallout. Seriously, this stuff is GOOD.
3. Scunci Headwraps: Who knew the drugstore headbands of my youth would later become a chic accessory? I'm not sure when we crossed the threshold from middle-school soccer practice to supermodel off duty, but I'm very much here for it.
---
Halle Lagatta
Associate Creative Producer
1. Thayer's Witch Hazel: I don't limit the use of witch hazel to my face—after all, Jackie Onassis used a pH-balancing toner as a deodorant. After I shave (any part of my body), I use witch hazel to prevent razor burn and ingrown hairs. Thayer's witch hazel is alcohol free, so no need to worry about that painful stinging feeling!
2. Tweezerman Slant Tweezer: I'm always sure to keep a tweezer on hand. I can't tell you how many times I've been able to come to the rescue with my Tweezerman—splinters, ingrown hairs, and all other catastrophic events can be saved by this handy tool!
3. Cetaphil Daily Facial Cleanser: I think we all were introduced to this face wash the moment our first blackhead appeared on our faces in middle school. Cetaphil and I have been through thick and thin—from cleansing my skin of the heavy eyeliner I was wearing during my emo phase, to washing away the pollutants my skin comes into contact with after a long day's bike ride through NYC. This cleanser is my ride-or-die.
---
Hannah Baxter
Senior Beauty Editor
1. Lubriderm Advanced Therapy Lotion for Extra Dry Skin: I don't know how some people can get out of the shower or bath and not slather themselves with lotion immediately. It's the only way to keep dry skin at bay, and as much as I love my collection of luxe body creams, I'll always keep a bottle of this Lubriderm formula in my cabinet. This stuff works, and since it's less than $8, I have no qualms about heaping on an extra layer if it feels like my skin needs it.
2. La Roche Posay Anthelios Ultra Light Face Sunscreen SPF 60: There's nothing I love more than discovering a new face sunscreen, but when I'm packing up for the beach and want to make sure I am fully stocked for the entire day, there's always a bottle or two of this La Roche Posay sunscreen. I've used it for years, and it's never caused a breakout or failed to prevent my fair skin from burning. It's a must for summer.
3. Clean & Clear Persa-Gel 10 Acne Medication with Benzoyl Peroxide: I know I'm not the only one dealing with stress acne at the moment, so I'm going to let you in on a little secret—this benzoyl peroxide topical treatment is my ride-or-die product, and I've had a tube in my beauty cabinet since I was 13 (not the same one, yikes). Just add a little dot on cleansed and moisturized skin at night to help draw the pimple to a head so you can safely extract it, or if it's a cyst, it will help kill the bacteria and reduce the size over time.
---
Jacquelyn Greenfield
Editorial Production Fellow
1. Urban Skin Rx 3-in-1 Cleansing Bar: I'm usually not a fan of multipurpose products, but I've been using this bar as just a cleanser for about two and a half months now, and the results are insane. As a woman of color, I often deal with uneven pigmentation and discoloration around my face, especially during this time of year—but now my skin has never been this even, ever! Try using the Dark Spot Treatment for the ultimate duo.
2. Aveeno Protect + Hydrate Face Sunscreen Lotion with SPF 50: I've been quarantined in Florida, and this sun is no joke. This was the first thing I bought when I touched down and have repurchased at least three times since. This sunscreen is absolutely perfect—it's inexpensive, extremely hydrating, and doesn't reek of that typical sunscreen smell. What's not to love?
3. Pond's Fragrance-Free Cold Cream Makeup Remover: Not that I'm wearing as much makeup as usual, but I've been trying to reduce my carbon footprint and stop using makeup wipes and cotton rounds as much. I like to use this right before the shower so I can wash off any excess makeup.
---
Camille Freestone
Writer
Part of the series:
WWWRN