WWWRN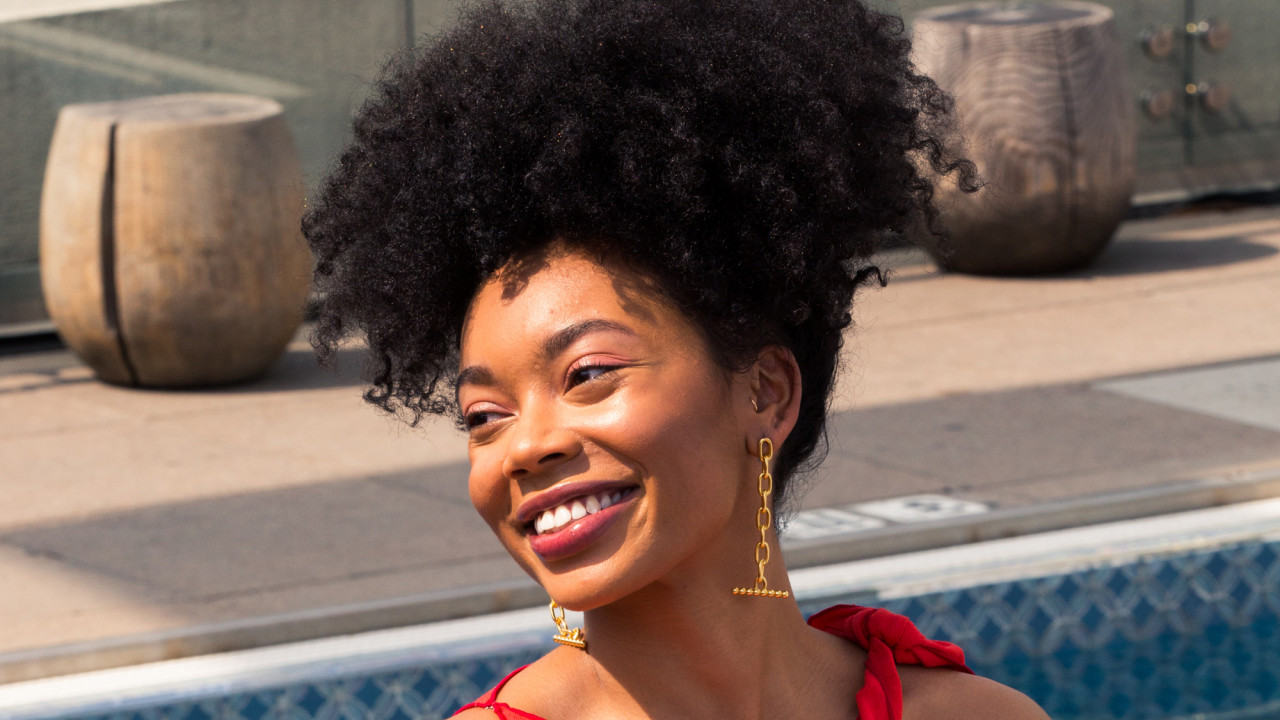 18 Products We Love for Shiny Summer Hair
Don't let the heat wreak havoc on your 'do.
Summer beauty is a favorite topic of ours around here, especially when it comes to hair. No two textures are exactly the same, which means we all have our own unique approach to caring for our hair once the warm weather roles around. Generally, anything that helps us retain moisture, keeps our preferred style looking fresh once we leave the office, and prevents damage from the sun and surf is a must-have. Check out what six editors are loving for their summer hair-care routine below.
---
Hannah Baxter
Editor
1. Bumble and bumble Surf Styling Leave In: Beachy surfer hair is my year-round goal, and since I already have wavy texture, I just need something to give them a little definition and smoothing. This cream also protects my hair from UV rays when I actually am out at the beach attempting to surf.
2. R+Co Acid Wash ACV Cleansing Rinse: Since my hair is both textured and color-treated, I try not to wash it every day. That inevitably leads to buildup on my scalp, so instead of using a clarifying shampoo (which can strip your hair and dry it out), I use this apple cider vinegar rinse before I cleanse to remove it. It also makes my hair super shiny.
3. Kristin Ess Wide-Tooth Detangling Comb: You'd be surprised how less frizzy your hair is when you comb it out in the shower. Rather than use my trusty Mason Pearson brush on wet strands, I use this wide-tooth comb while the water is still running to remove any knots, then let the shower smooth the rest of my hair and towel-dry the ends. It's my favorite hair trick, especially in the summer when humidity is my worst enemy.
---
Ivanna Martinez
Social Media Associate
1. Joico Defy Damage Protective Shield: I have been using the Joico Defy Damage System for about three months now, and I'm fully obsessed with this system. It's the first and only product that has allowed me to color my hair and still keep moisture in. I love the protective shield, especially for the summer. It helps fight against UV rays, so I use it daily. 
2. Davines Love Smoothing Conditioner: I was introduced to this product by my lovely hairstylist at Robert Peetoom Salon a couple of weeks ago. I'm amazed at how this can really help shape the texture of my hair. It smells great and is perfect to put on after a full day at the beach.
3. Ouai Hair Oil: I've been using this hair oil for about a year now, and it's my lifesaver every morning. I notice that my hair can be a little dry from my pillowcase, so using two pumps of this and applying it to my ends helps lock in all the moisture I need for the day. I'll sometimes do a four-pump treatment on the weekends and sleep on it, giving me the perfect shine and moisture for the week ahead. 
---
Monique Kamargo
Editorial Producer
1. Amika Reset Pink Charcoal Scalp Cleansing Oil: I have pretty long, thick hair and have been looking for a product to help my dry scalp and occasional dandruff. Coming across this Amika Hair Cleansing Oil was a game changer for me. While I was hesitant at first, as it's an oil, I now use this product one to two times a week and find it thoroughly removes buildup without the greasy aftereffects. I massage it directly onto my scalp, rinse off in the shower, then follow with my normal shampoo/conditioner. My scalp and hair feel instantly cleaner every time I use it. Game changer, I'm telling you!
2. Briogeo Rosarco Milk Leave-In Conditioning Spray: I spritz this stuff all over my damp hair before I blow-dry it to help tame frizz and protect against heat. It also helps me detangle my knots, which is a major plus for me. Oh, and it smells delicious!
3. Kérastase Nutritive Mask for Dry Thick Hair: In addition to using a scalp oil, I love using a hair mask every so often to refresh my hair and lock in moisture. I love all Kérastase products because they really work, and this mask never fails to leave my hair feeling extra silky and smooth when I use it.
---
Jodi Taylor
Editor
1. Rahua Legendary Amazon Oil: I use hair oil every single day, and this one from Rahua has become a go-to of mine. It's not too heavy, absorbs quickly into your hair, and never leaves it looking greasy. Bonus points for the fact that it smells incredible.
2. Aquis Rapid Dry Hair Turban: This brand has changed my hair for the better. I use their entire four-step system (pre-wash, shampoo, hair turban, and leave-in conditioner), and my hair has never been so voluminous and shiny. And as someone who has superthick hair yet never uses hot tools (that's me!), this hair turban is a blessing.
3. Verb Dry Shampoo: Dry shampoo is a must for me when I'm traveling. You never know what situation you might find yourself in or how quickly you may need to get ready for something. This one from Verb is my absolute favorite as it's a powder, not a spray—easier to control, and you can pass on using an aerosol can. Win-win.
---
Noah Lehava
Director, Lifestyle and Talent
1. Briogeo Scalp Revival Charcoal & Tea Tree Scalp Treatment: I'm a minimalist when it comes to my hair. I'm a reformed bleach blond and have had natural hair for nearly a decade, so my maintenance level has drastically decreased. I hardly even use conditioner! But what I do use is a scalp treatment.
2. Batiste Dry Shampoo: I'm not a die-hard dry shampoo fan, but every now and again I'll need a refresh. Batiste is the OG and has been my go-to for years.
3. L'Oréal Paris Elnett Hairspray: When I do throw in a curl, I always, always spritz with Elnett. It has a touchable finish, so no crunchy bits here.
---
Leah Faye Cooper
Editorial Director
1. Shea Moisture Gotu Kola & Raspberry Seed Oil Pre-Swim Leave-In Protection: I plan to spend a lot of time at the beach and in the pool this summer, but I don't plan to let my thick, natural hair get dry. Enter this rich leave-in, which I'll be dousing my strands in through Labor Day. It's super rich and moisturizing, and provides a shield from sun, salt, and chlorine. I'm thinking I'll need at least three bottles.
2. Anu Essentials Medicinal Hair Oil: When I don't have my hair out, I wear it in braids, and I use an oil to keep my scalp from getting dry. The founder of the brand, Anu Prestonia, is an OG natural hairstylist and expert. If there's any product range I'll use without question, it's hers.
3. Oribe Moisture & Control Deep Treatment Masque: I've been a fan of Oribe's luxe products for years, so I was thrilled when they launched a line specifically for natural hair. I'll be using this weekly to keep my hair hydrated and my curls intact.
Want more stories like this?
Celebrity Stylist Vernon François‎ Breaks Down Caring for Natural Strands
Our Favorite Summer Lip Color Is Also Super Hydrating
7 Products for an Effortless Summer Makeup Look
Part of the series:
WWWRN