Book Club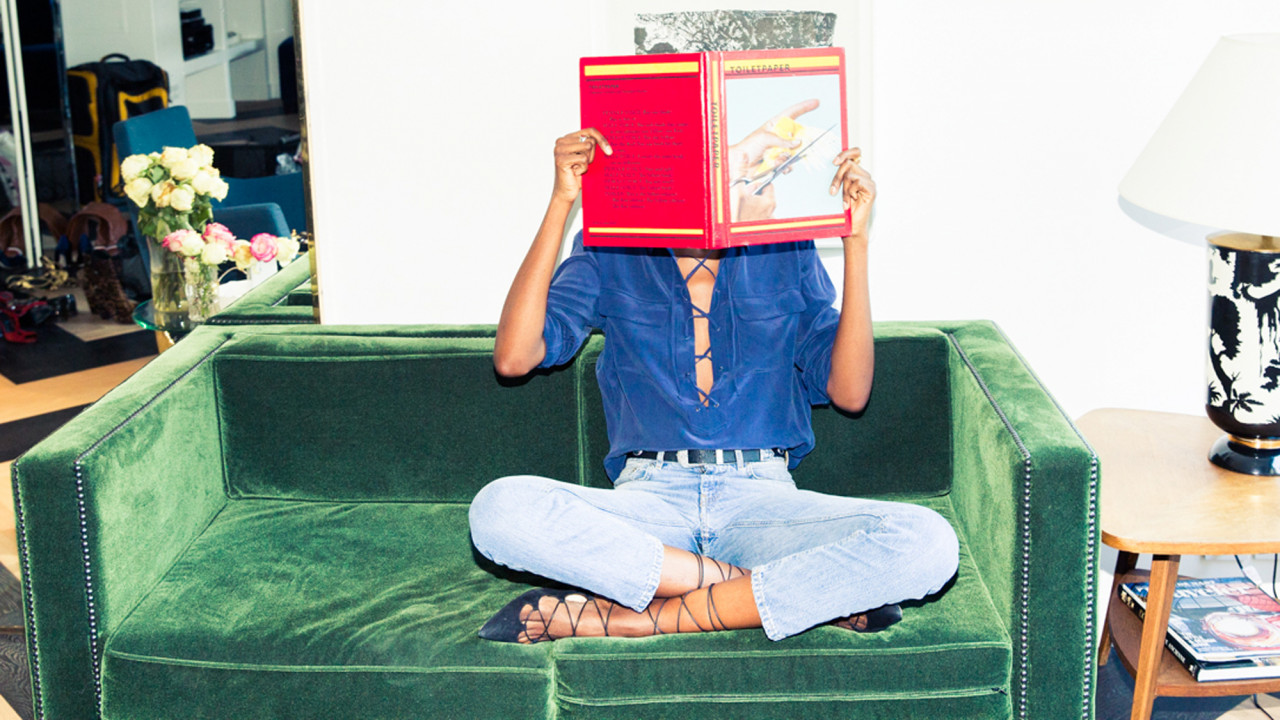 18 Books We're Checking Off Our Summer Reading List
Best read underneath a shady tree.
As the days get longer and the weather gets warmer, we tentatively look ahead, excited at the idea of potential picnics in the park, sun-kissed beach days, and, more important, extra time to read.  The world is struggling, and the news is hard to comprehend for so many reasons, so now more than ever, we're hoping to snuggle up with a good book (or several) and do some self-educating, thinking, and escaping. Now the only problem is which one to read first.
---
Jacquelyn Greenfield
Editorial Production Fellow
1. Sex and Vanity by Kevin Kwan: I'm a huge Kevin Kwan fan. I've read the entire Crazy Rich Asians series, saw the movie opening day, and not to mention he spoke at my college commencement. So when I heard  last week that his latest novel is available for preorder, I couldn't contain myself. Kwan's new novel still holds a sense of lavish luxury, but this time the main character, Lucie Churchill, has caught herself in a racy—yet romantic—love triangle.
2. The Autobiography of Malcolm X: As Told to Alex Haley: When I was younger, I despised my summer reading lists with a passion. I would wait until the last two weeks before school started until I opened a book. But that all changed when this book appeared on my junior-year summer reading list. My stepfather recommended I "start this one early," and I couldn't put it down. I was introduced to the ideals of Malcolm X, and for the first time in my adolescent life I truly felt and understood the mistreatment of black people in this country. Since that summer, I have reread bits and pieces of this book every year.
3. Dead Sleep by Greg Iles: Since I've been quarantined back at home with my brothers and friends, we've decided to start a book club to help pass the time. When my brother came across Dead Sleep, we knew it would be this month's pick. A suspenseful thriller about a young photojournalist who walks into a museum to find herself staring back at her through a painting…but it's not really her *dun dun dun.* Even though I'm only a couple of chapters in right now, this book is a 10-out-of-10 recommendation.
---
Ashley Combs
Design Director
1. Stray: A Memoir by Stephanie Danler: We are collectively surviving some of the heaviest, most emotional and confusing days of all our lives. For me, reading about someone else's journey through love, grief, and growth is a great way to cope and stay positive.
2. Where the Crawdads Sing by Delia Owens: I know I'm late to the party on this one, but I still look forward to diving in. All I've heard is that it is impossible to put down, and with my mind all over the place these days, that's exactly what I need to actually finish a book.
3. Trick Mirror by Jia Tolentino: This is a book of essays, which makes it a great one to pick up and put down as you have the time. It's the perfect blend of compassionate, funny, and raw. I know it was a big hit last year, but in light of where we all find ourselves, "Reflections on Self Delusion" feels more relatable than ever.
---
Abby Miller
Head of Production
1. Writers & Lovers: A Novel by Lily King: This was one of the first books I dove into during quarantine. It's beautifully written and captures the pain and angst that comes along with entering new chapters of your life—and of adulthood. I read it in a weekend because I literally could not put it down.
2. White Fragility: Why It's So Hard for White People to Talk about Racism by Robin Diangelo: This book has been recommended to me recently by so many different sources. I am eager to educate myself on the ways I can be a meaningful part of the conversation that is taking place in our country right now about systemic racial injustice.
3. Ordinary Grace: A Novel by William Kent Krueger: This was a book that one of my girlfriends suggested for our book club. It's by no means a new release (I think it came out in 2013), but it's a coming-of-age novel about a young boy and a murder in his town. The story focuses on him grappling with the loss of innocence that comes when you see the world for what it truly is—filled with secrets, lies, and betrayal. You'll fall in love after two pages, I promise.
---
Hannah Baxter
Senior Beauty Editor
1. Hood Feminism: Notes from the Women a Movement Forgot by Mikki Kendall: Author, activist, and cultural critic Mikki Kendall doesn't mince words in her newest work, which is a call to action for all feminists to question their intersectionality. She brings to light the women who have too long been excluded from the mainstream feminism conversation, namely women of color, queer women, women with disabilities, and lower-income women, and challenges everyone associated with the movement to re-examine their thinking and acknowledge their privilege. If you want to know what an effective call to action looks like, this book is it.
2. Orange World and Other Stories by Karen Russell: If you're a fan of either the macabre or magical realism, it's time you got to know the writing of Karen Russell. Her latest collection is extraordinary, otherworldly, and transports you in the way all the best storytellers manage to do.
3. Wordslut: A Feminist Guide to Taking Back the English Language by Amanda Montell: Even if you never took a linguistics class, or have yet to ponder the history of gendered slurs or vocal fry, Amanda Montell's textbook-level thoroughness, along with her approachable and humorous presentation, will have you flying through each chapter, desperate to learn more.
---
Halle Lagatta
Associate Creative Producer
---
Kelsey Grad
Senior Marketing Manager