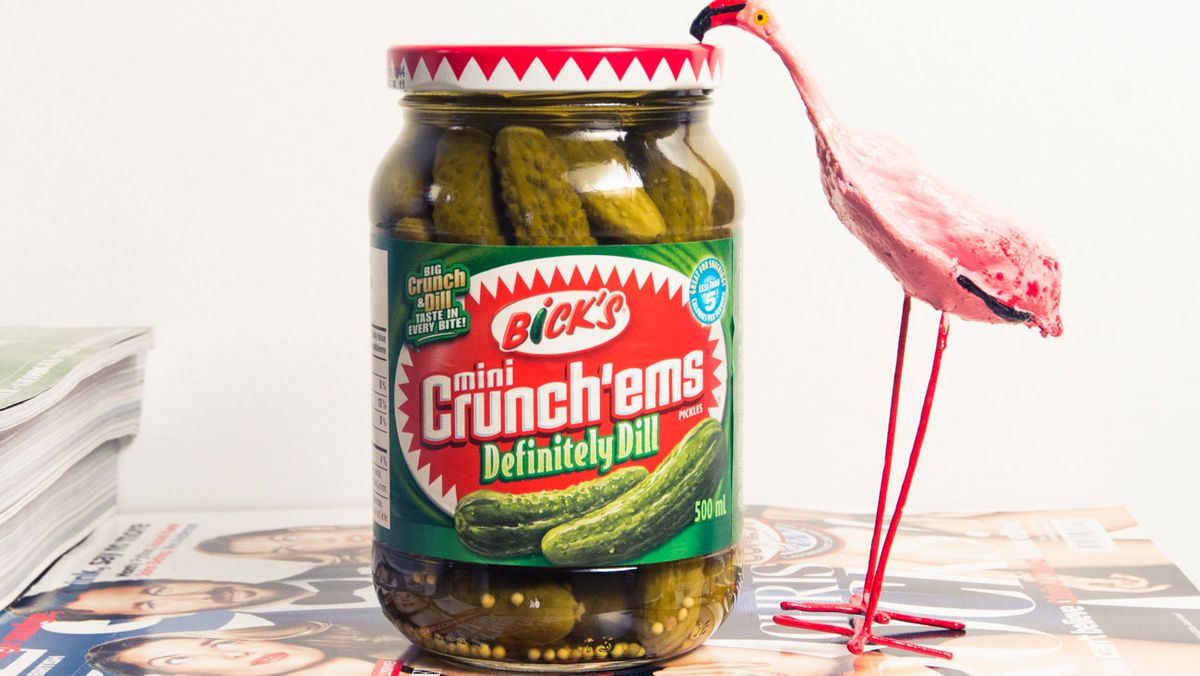 Food
What to Make This Weekend: Pickled Everything
Bread burnout? Here's your next project.
You've baked loaf after loaf of banana bread, you made focaccia art, and, of course, you've spent hours working on that sourdough starter. And then you made those viral mini sourdough pancakes... So now what?

Whether you're feeling a little carb fatigue at this point in quarantine, or you ran out of flour (and/or yeast), it's time to delve into pickling. Or, if you're looking for a more laborious, involved project, go the fermentation route (think kimchi and sauerkraut). During fermentation, the natural bacteria on fruits and veggies thrive and produce lactic acid—the lactic acid not only preserves the vegetables, but also gives fermented pickles that very specific tartness. Alternatively, you can quick-pickle in no time at all. (FYI, quick-pickled veggies are not fermented. They get their flavor from the vinegar.)

Both methods are a great way to utilize produce that needs to be used before it goes bad. Plus, pickled veggies are a great addition to so many dishes, thanks to the nice acidity and crunch. Put them on sandwiches, salads, tacos...you name it.

We spoke with David Lee, the chef and co-founder of PLANTA restaurant group, for a few pickling pointers. "My 'pickling' mentor was actually a former pastry chef of mine," he says. "She taught me everything to know about pickling—and she used to live on a farm, where they pickled everything and anything! Pickles add contrast. For example, at PLANTA Queen, we pickle Asian pears and cucumbers to add complexity to a salad."

Here, he shares his pickling tips and a killer recipe for pickled ramps.
 

Tools
"In terms of equipment, you'll need mason jars, clamps to seal the container tightly, tongs, and a big pot. There are a lot of canning kits online that you can purchase," says Lee. 
Ingredients You Will Need
"For your pickling liquid, you'll need salt, sugar, and vinegar. My typical pickling brine consists of the following: 400 g water, 500 g vinegar, 150 g sugar, and 60 g salt. You can incorporate different spices—like star anise, black peppercorn, mustard seeds—into your pickling liquid to add more flavor to whatever you're working with, whether it is vegetables or stone fruits. Maybe even chili flakes to add some heat," he says. 
Expert Tips
"Here's my pro tip: When your pickle can/jar comes out of the boiling water, let it sit until the lid 'pops.' It could take up to one hour or up to a couple days for it to pop. Once you hear the pop, you know the seal has been created." 
Quick Pickling
"If you aren't making a traditional pickle or are pressed for time, you can make a quick pickle. You need sweet, salt, and acid—so sugar, salt, and vinegar."
To make quick-pickled vegetables, combine ½ cup unseasoned rice vinegar, 1 tablespoon sugar, and 2 teaspoons Kosher salt in a small bowl, and let sit until the sugar and salt dissolve. Add in 1 cup thinly sliced vegetables (onions, carrots, cucumbers, etc.), and let sit for at least a half hour (two to three hours is preferred). Store in the fridge until you're ready to use them. 
Favorite Veggies to Pickle
"Ramps! I have a farmers' market in walking distance from my home, and every spring I scout out the best ramps to pickle and have year-round. I also love making a traditional dill pickle." 
Produce to Avoid Using
"You don't want to use overripe fruit or something that is naturally very soft because the resulting texture might err on the mushy side and the flavor will deflate." 
Shelf Life
"It could last for up to a year if stored properly in a basement." (Note: Quick-pickled veggies have a much shorter shelf life. They will keep in the fridge for days.) 
Pickled Ramps by Chef David Lee
2–3 bundles ramps
8 peppercorns
1 star anise
10 mustard seeds
 

Pickling brine
500 g vinegar
400 g water
150 g sugar
½ cup (60 g) salt
 

Directions
1. Clean the ramps thoroughly and remove the small roots. Cut off the leaves. (Tip: Reserve them for another use, such as ramp pesto.)
2. Pack the ramp bulbs into a clean one-liter sealable mason jar. Arrange them bulb-side down and slot them in heaps to fit more into the jar. Add the peppercorns, star anise, and mustard seeds directly to the mason jar with the ramps.
3. Bring vinegar, water, sugar, and salt to a boil in a saucepan, and pour the brine over the ramps, leaving half an inch of headspace. Seal the mason jar. Store in the refrigerator. 
Want more stories like this?
In the Kitchen with Sami Miro and Michael Voltaggio
How to Cook Like You're In the French Countryside
The Best Digital Cooking Classes to Try Out Now