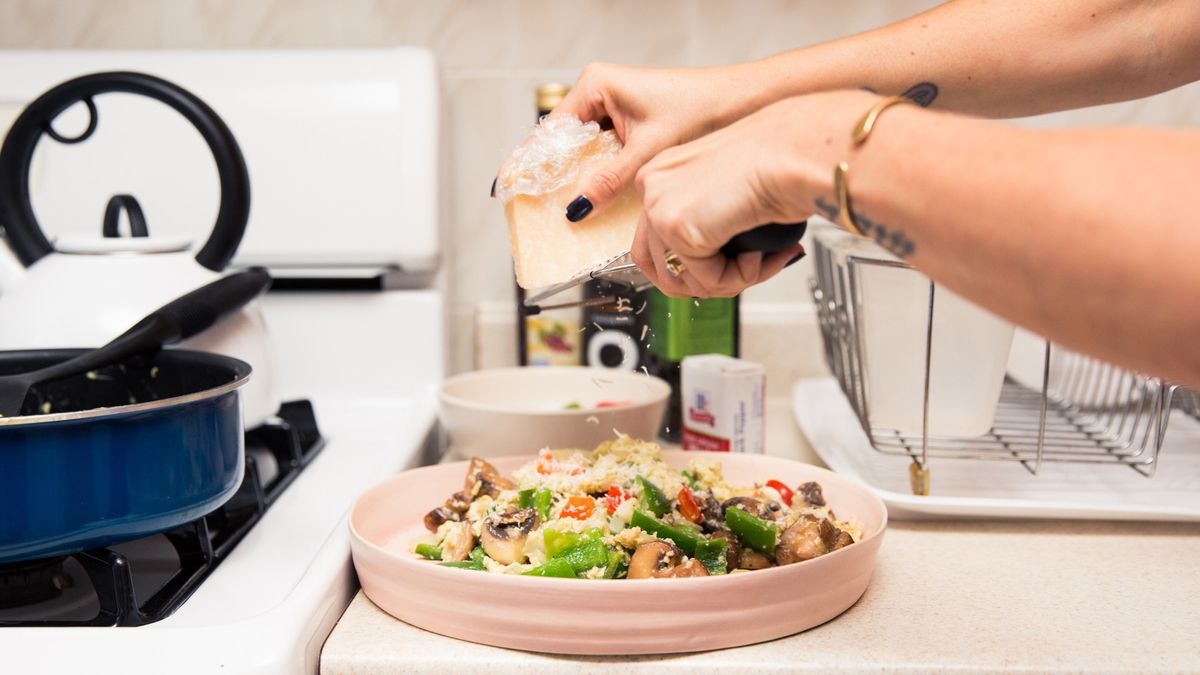 Food
The Best Digital Cooking Classes to Try Out Now
Talk about a fun way to spend a quarantine night.
It's never been easier to brush up on your cooking and baking skills, thanks to the many virtual classes available online and via Instagram these days.

Cooking programs across the country have rolled out virtual classes for cooks of all skill levels, from teaching us how to make sourdough starter to schooling us on proper knife skills. "We have had such an overwhelmingly positive response to the virtual cooking classes since we launched them," says Alison Cayne, founder of New York cooking school and café Haven's Kitchen. "We wanted to continue to be a place where people go for basic instruction, non-intimidating techniques, and cheerleading as they try to cook—they may not be perfect, but perfection isn't the goal. The virtual classes allow students to make mistakes, trust their intuition, and enjoy the process of cooking at home."

If you're looking for something less hands-on, Instagram is abundant with instructional clips and how-tos from our favorite chefs, recipe developers, and restaurants.

No matter what platform you choose, these classes and instructional videos are a great way to spend quarantine nights. FaceTime your friends or family members, take a class, and then dine "together." Until we can all be united in real life again, this is the next best thing.
 

Learn to cook with the pros while giving back—what's not to love about that? Classes (available via Zoom) are free to attend with a suggested donation per person. One hundred percent of the proceeds go to the cause of the host's choice. So far Kitchen Rodeo has raised more than $35,000 for important causes like the ROAR, One Fair Wage, and Frontline Foods. Recent classes have included a lesson in leek tarts and chicken Provençal with Clare DeBoer and Jess Shadbolt of King, another on how to make salt-baked whole fish with Jay Wolman of Lalou, and a sourdough starter class. 
Haven's Kitchen has brought its typically robust cooking class programming online. Book your class on the website ahead of time, and then they'll send you the rundown, an ingredients list so you can prepare ahead of time (they've also made things extra easy with their partnership with online farmers
'
market Farm to People, and if you live in the NYC delivery zones, you can order everything directly through them), and a Zoom link for the class. They have a host of fun classes on the schedule, including Fried Chicken and Biscuits (yum!), Mother's Day Brunch (perfect gift and activity to do with Mom!), Cooking with Kids: Fresh Pasta, and Steak Frites. Adult classes are $40 and 90 minutes long; kid-friendly and cocktail classes are $25 and an hour long. If you're looking to do a private session, they also offer private classes—perfect for bridal showers, birthdays, and virtual team-bonding events. 
If you want to learn cooking techniques from the best of the best,
CIAFoodies.com
should be your first stop. The Culinary Institute of America, the world's top culinary school, normally offers hands-on classes for the general public year-round at its various campuses. While those are on hold, they have a membership program on their website called DISH (about $6 per month; first week is free), where you have access to their extensive library of technique videos and recipes, as well as their archives with cooking demos by Julia Child, Thomas Keller, Eric Ripert, and more. 
Whether you're looking to boost your knife skills, master handmade pasta, or become a dumpling wiz, Brooklyn Kitchen has plenty of options for you. During the class you'll learn cooking methods, how to make the dish, and have some time for a Q&A session with the instructor. Grab your spot in class (taught via Zoom) ahead of time
on their website
, review the ingredients list, and do any suggested prep work beforehand. They use a "pay what you can" sliding-scale approach, so classes are approachable and available to everyone. 
Instagram
If you're looking for a less formal-style cooking lesson, Instagram is overflowing with options of every variety. From top chefs to celebrities to
designers
, everyone's getting into it. Three-Michelin-starred chef Massimo Bottura has created a nightly Kitchen Quarantine series on his Insta account
@massimobottura
. Even if you have no plans to cook anything at all, it's fun to watch him in the kitchen doing Q&As and making chocolate mousse and bechamel with his family because his enthusiasm and delight is infectious. The famed Alice Waters and her daughter Fanny Singer have also been cooking up a storm over on Singer's Insta account (
@fannysinger
), where you can learn to make some of the most iconic dishes in their household, like Coming Home Pasta and the egg spoon. If baking is your jam, then Christina Tosi's Instagram (
@christinatosi
) is a treasure trove of sweets classes, thanks to her digital Baking Club. From DIY graham crackers to strawberry cereal squares to French toast muffins, she's got plenty of free classes to keep you busy well past quarantine. For highly cookable, pantry-friendly ideas, chef and recipe developer Lidey Heuck,
@lideylikes
, is one of our go-to favorites. Her delicious recipes regularly appear in the cooking section of
The New York Times
(and on Ina Garten's IG—she began her career working with Ina). You can learn how to make her approachable dishes, from basics like chia pudding to Dirty Blondies, via her Instagram. Stay tuned for her upcoming cooking sessions via IG live, and head to her website,
Lidey Likes
, for more recipes. 
Want more stories like this?
In the Kitchen with Kate Bock
How to Grow Herbs in Your Kitchen
The Best Cookbooks to Shop Right Now