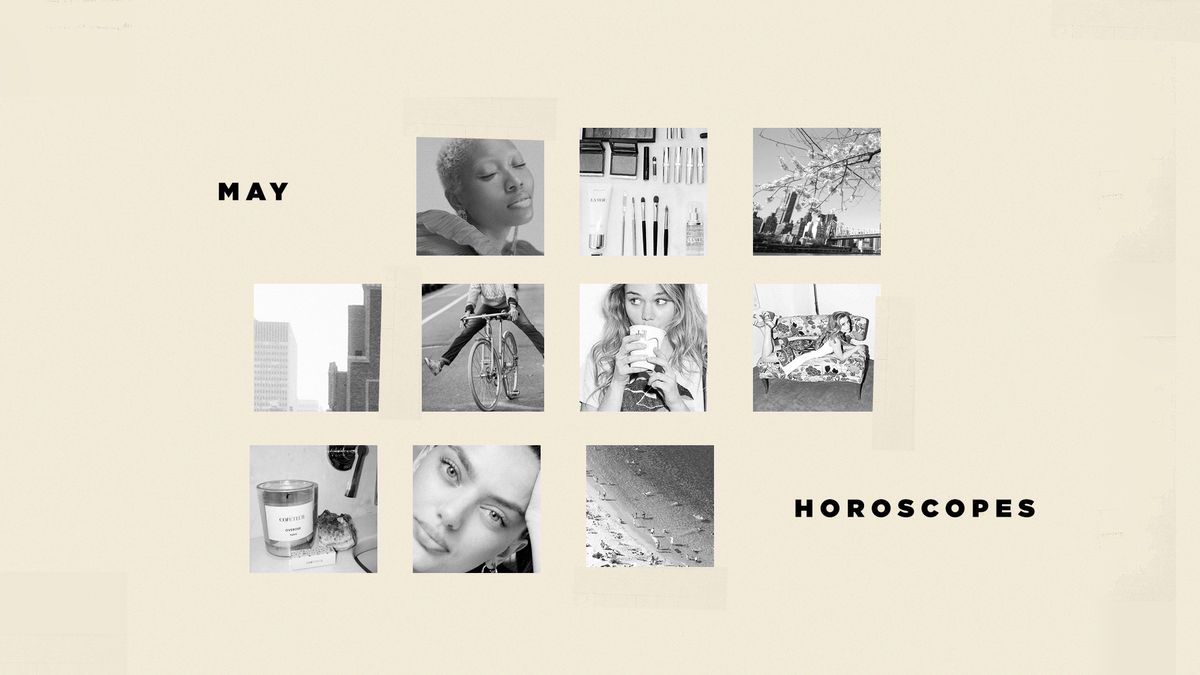 Horoscopes
Your May 2020 Horoscopes Are Here!
Stay involved, stay curious, stay focused.
We are in the thick of this singular spring, with the planets as changeable as the weather. The stormy climate can discourage us, or the winds of change can take us somewhere totally new. Amidst all the uncertainty, commit to being compassionate, especially around the full moon on May 7th. With Saturn, Venus, and Jupiter turning retrograde mid-month, grey areas and questions that don't have clear answers may arise. Find the facts; give yourself, and others, room to deliberate and possibly change opinions—we all contain multitudes. While it's important to stay in tune with our physical bodies, May's astrology is ideal for exercising our imaginations; be inquisitive, and delve into what interests you. The Gemini new moon on the 22nd wants us to be critical about what we let into our mental realm moving forward—mindset matters. Dream up new ways to connect with those you care about, regardless of distance.
 

May is the perfect opportunity for a mental reset. Quiet the distractions, and clear space in your mind, so that worthwhile ideas have room to grow. The light of the full moon is especially helpful for letting go of clutter; curate your physical environment to better suit your new normal. The second half of May urges you to embrace individuality while still supporting your community. 
Your moment is here, Taurus. What is the motivation behind your drive? Invest your energy in what you're hungry for. A dreamy full moon on May 7th encourages you to get to the drawing board. It's a useful time to consider your desired direction; is your five-year plan realistic? Let yourself be flexible as this uncertain landscape continues to mutate—only you know what's right for you. 
GEMINI
This month, find moments of calm in the commotion. As we approach your season, verify that your mind, body, and spirit are all aligned and balanced. Have you been mindfully caring for every facet of yourself? The Gemini new moon is excellent for celebrating the progress you've made this past year while setting your sights on the next round of adventures. 
CANCER
Moods aren't forever, and they aren't facts. The full moon emboldens you to distinguish which sentiments deserve your consideration and follow-through. Be gentle with yourself while identifying defeating patterns you want to release during Gemini season. No need to rush the process; honor your cocoon phase—your day in the sun will be here soon. 
LEO
There are so many possibilities within your reach—what's your vision? Let the potential of this month excite you rather than overwhelm you. The new moon in Gemini invites you to roll up your sleeves and contribute to a cause larger than yourself. Stay connected to your networks; friendship is a priceless resource. 
VIRGO
What is your role in this current reality? It's a good month to inspect how you present yourself online and IRL; perhaps refreshing your website or resume. The Gemini new moon encourages you to take important first steps towards a larger goal, especially regarding career ambitions. Keep your eyes on the prize while staying positive and adaptable. 
LIBRA
Distant does not mean discouraged. Use this season to get a bird's-eye view of the path you're on. Is it still incorporating your values? May's planets are challenging you to define what you cannot live without—everything else is dead weight on your journey. The new moon encourages an expansion of consciousness, whether it be through a book, online course, or meditation. 
SCORPIO
Shed your old skin, and let yourself be new again. The full moon helps put things in perspective; one chapter may be ending so that another adventure can begin. Accept that life can be ugly and beautiful all at once; it's possible to feel happy and sad at the same time. Stay passionate—stoke the flames of inspiration wherever you find them. You've made it this far, don't stop now. 
SAGITTARIUS
Sometimes the most expansive moments of joy are found in the smallest of occurrences. This month emboldens you to dig into the details of your life and prune away anything inhibiting you. With Venus—the planet of connection—turning retrograde, consider which relationships are really worth nurturing. Remember authenticity is always in high demand. 
CAPRICORN
A little sweat never hurt anybody. Taurus season invites you to work hard and play hard. What makes you fulfilled, and how can you add more of that? This month you have manifestation mojo, as long as you're willing to put in some targeted effort. Incorporate thoughtful routines that will keep you on track while stimulating your creative side. 
AQUARIUS
A strange time, isn't it? But if anyone can ride the waves with grace, it's you. Go inward, and focus on your passions if you're called to do so. What is something that only you can ideate? Creativity is a muscle, so give yourself the chance to build it up through practice. The Gemini new moon invites you to take the seed of an idea and bring it to life over the next few months. 
PISCES
Wake up and
carpe diem
. This month lends you some "get up and go" energy for tackling projects and learning new skills. Remember: The grass is greener where you water it, so be selective about where you spend your energy. The second half of May is optimal for revisiting past topics with a fresh perspective. Utilize the Gemini new moon to rejuvenate your personal space. 
Want more stories like this?
Who You Should Date According to Your Zodiac Sign
Everything You Need to Know about Mercury Retrograde
Find Your Chill: 6 Wellness Kits to Calm the Mind & Body