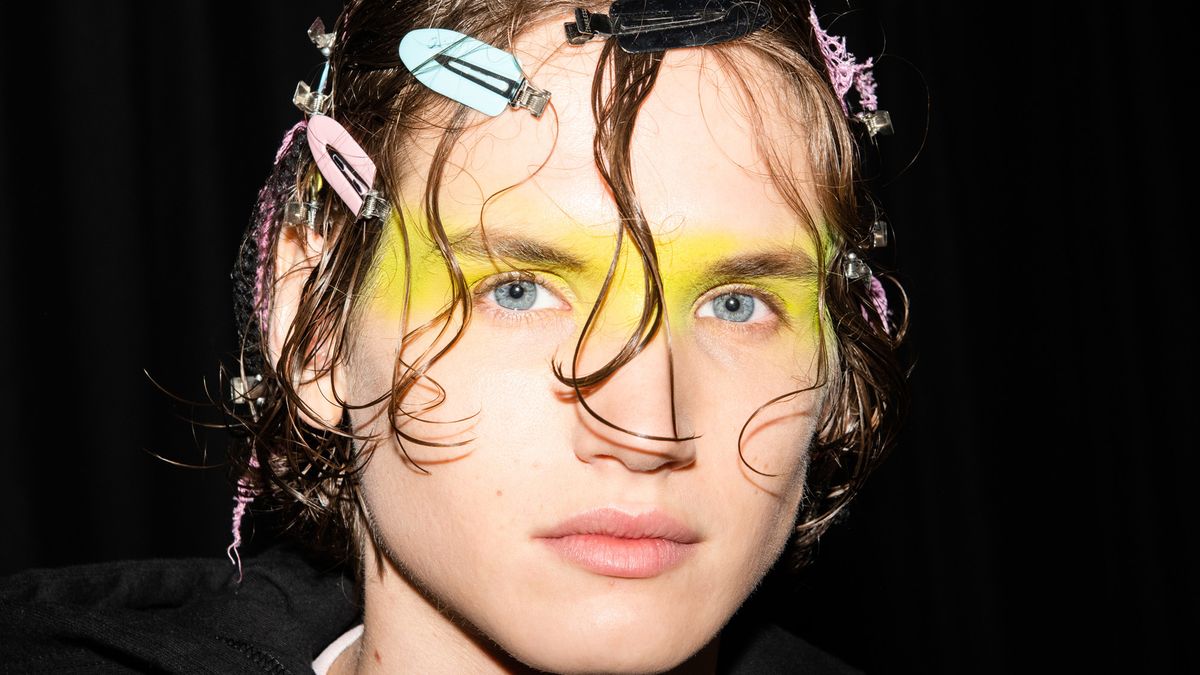 Fashion Week
Peter Philips breaks down his Blade Runner–inspired beauty look.
When we talk about legends of the industry, there are always the usual suspects, like Karl Lagerfeld, Anna Wintour, Peter Lindbergh—the list could go on and on. There is, however, one name that is revered in all fashion and creative circles but is perhaps a bit lesser known to the public: Peter Philips. The Belgian-born makeup artist got his start backstage at the Paris shows, rising quickly through the ranks to become the creative director for CHANEL Beauty in the early 2000s. Fast-forward, and Philips is now the Dior Makeup creative and image director.

Not only is he responsible for the iconic makeup looks that grace all of Dior's runways (both male and female), but he also works on all product development and just happens to be one of the loveliest and calmest people during the whirlwind that is backstage. We had the chance to talk with Philips in Miami before the Dior Men's fall 2020 show and get the inside scoop on his inspiration for the collection.


---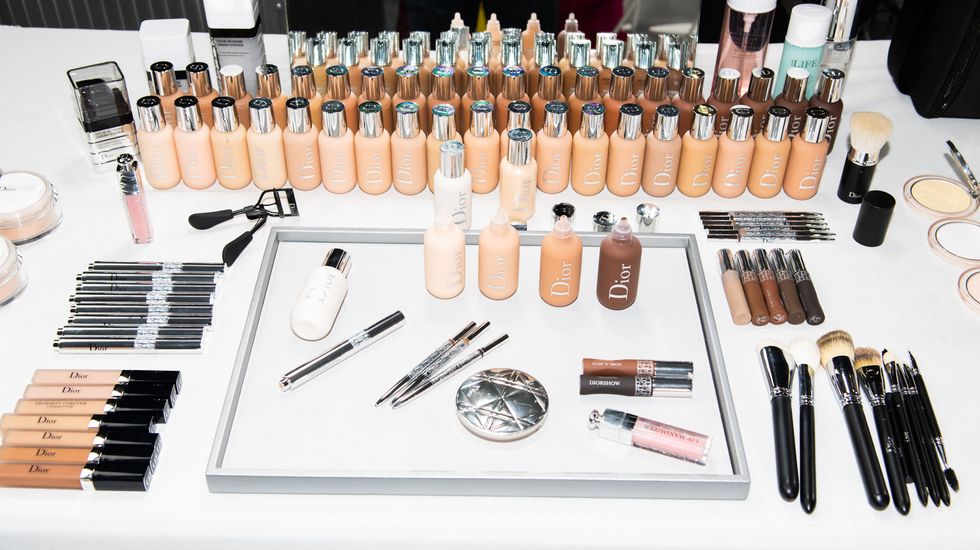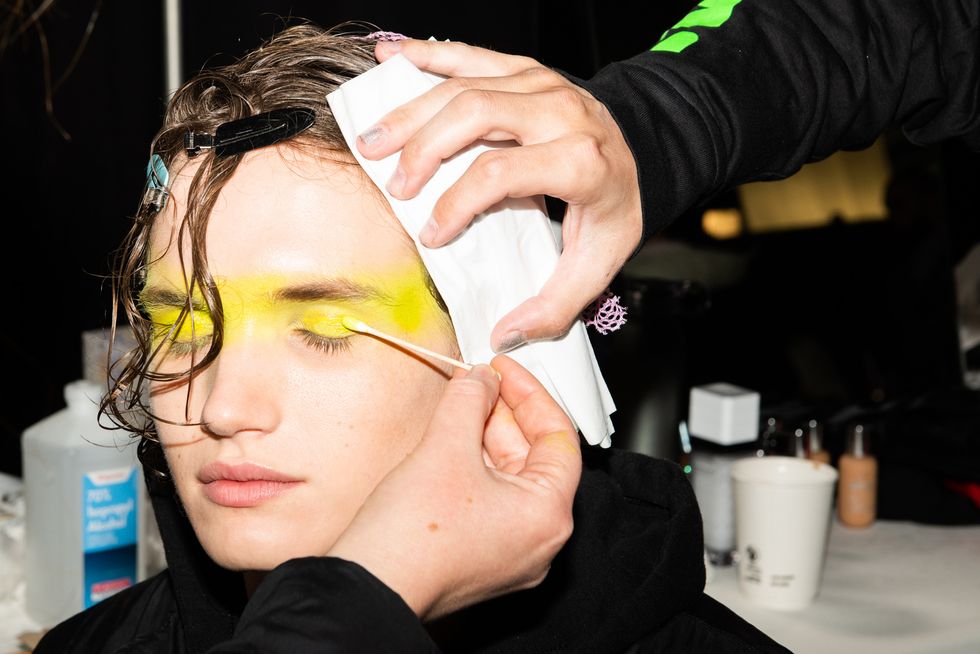 Skin prep, base, & airbrush:
Beauty minimalists, this one's for you—Philips cleansed the models' skin with water only and then applied the Dior Homme Dermo System moisturizer. The makeup artist also swears by the importance of primer, since shooting began at ten-thirty and the products need to last until the show, followed by the Dior Backstage Face & Body Foundation. "A very lightweight foundation is perfect for men's skin because it looks so natural." Then he added a touch of concealer where needed, brushed up the brows, and gave the boys a lip scrub to get rid of any dead skin. "[Then I use]
Dior Lip Maximizer
, which I like them to dab down at the end." Last was the neon airbrush stripe across 13 of the models' brows and temples.
On his inspiration:
"The airbrush stripe is a little bit graffiti-inspired," says the artist. "When Kim [Jones] showed me his collection about a month ago for first fittings, there were a lot of bucket hats in bright colors and printed shirts. I said, 'Maybe in that shadow line, do that
Blade Runner
airbrush stripe in pastels.'" He eventually landed on a more fluorescent lime green to stand out amongst the shadows. "Being in Miami also had its influence. It's that kind of graffiti, surf, playful [vibe] with a little bit of a dark side to it, sort of like cyberspace."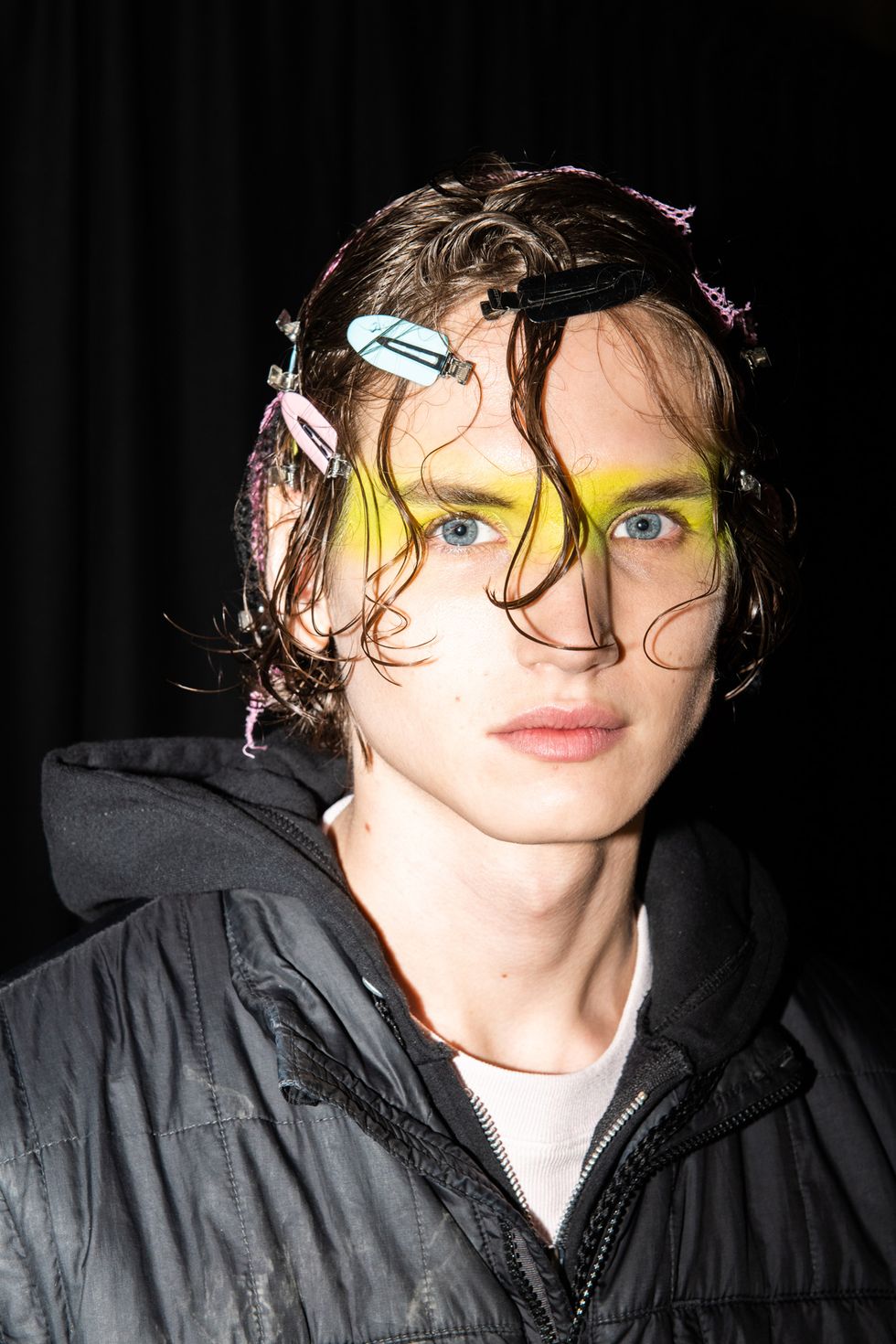 On social media & beauty:
Says Philips, "It's amazing what's happening in the beauty industry, mainly through social media. People have more access to information about beauty—there are tutorials, sharing experiences on platforms, and talking about products openly. What used to be seen as only for special occasions or a few lucky ones is now more mainstream."
On collaborating with Guido:
The hair for the show, courtesy of
Guido Palau
, was a wet look (a
popular trend from the S/S

'

20 RTW shows
as well), which worried Philips at first in case it affected the airbrushed colors. "I'm very lucky because we're trying to work with each other's vision," he explained. "So I found a system to do the airbrush. I put a primer, sealed it, and it's like you could dive in the ocean and it will stay. Guido had this mousse, it looks wet but completely dries and does not touch the makeup at all. I was very grateful for that."
The future of makeup as skin-care:
"More and more makeup products have skin-care elements in them," says Philips. "At Dior, all of our foundation has something in it that helps take care of your skin. It's key to have something to nourish and feed your skin [since] it's something you have on your face all day." He explains that after four or five weeks wearing the foundation, you'll see noticeable improvements in the quality of your skin. With the hope that more makeup formulas follow suit by adding skin-care ingredients in 2020, we can only imagine the improvements to be made throughout the next decade. We'll be waiting anxiously to find out.
Want more stories like this?
New York Fashion Week Fall 2019 Beauty Trends
French Manicures Are Making a Comeback in 2019
Backstage Beauty Looks at Dior's Fall 2017 Paris Show