From Runway to Everyday: How to Style the Wet Hair Trend
Hair artist Holli Smith tells us how it can be done.
Hair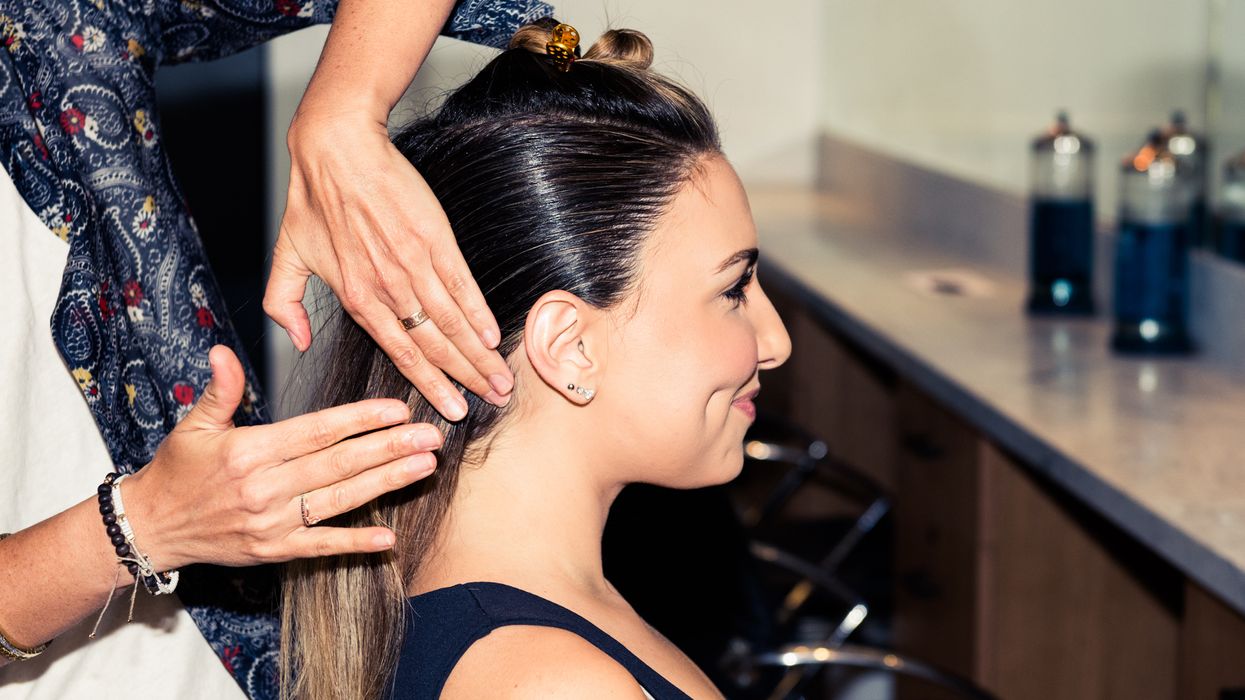 Fashion month
is officially over, yet there are still plenty of opportunities to capture the essence of SS20. Specifically, by re-creating some of the
drop-dead gorgeous beauty looks
for ourselves. A big trend we spotted on the regular during
New York Fashion Week
was the wet hair look; everyone from Eckhaus Latta to Proenza Schouler debuted their own version of it. It's a style that is particularly ideal if you're in the midst of
growing out your hair
(from pixie to bob, or bob to lob) and can't quite figure out what to do with your bizarre length. Never fear—a mountain of gel and a good brush are here to save you.
To get the details on how to make this editorial look work for every day, we spoke with hair artist
Holli Smith
, who was the mastermind behind Eckhaus Latta's runway hair. All of her best tips, tricks, and product recommendations are below.
---
What products did you use for the runway this season?
Gel doesn't have to be a thick glob of a mess—a spray version will allow you to apply liberally but still keep the application even. "My favorite product to use is
Maximista Thickening Spray by Oribe
for this look. It's a great, strong spray gel that dries quickly and creates volume."
Help set the shape (swept back, away from the face without a part) with a brush or comb. The larger the teeth or bristles, the more of a raked look you'll achieve. "For Eckhaus Latta, I took my brush in strokes, so in some places you got volume, and other areas were small with no volume. On the runway, you see all these peaks of shape on the head, but the overall look is still cool because it's not that large of a hairstyle."
How can someone re-create this look without a professional's skill set?
"The easiest way to use spray gel, or gel, or to create a wet look in general, is coming out of the shower with wet hair and towel-dry by blotting slowly. Then spray [the] product into the hair using your fingers like a rake or using a brush to keep a natural out-of-shower look."
If your hair is longer and you still want to play with this style (but also don't want a blanket of gelled hair on your back all day), Smith recommends tying it back into a ponytail or bun, leaving the top and front gelled and raked back.
Regardless of how you finish the style, the stylist emphasizes the importance of not touching the hair while it's drying. "[Otherwise] you break up the product and it won't hold or look wet anymore."
If you want to achieve the illusion of a heavily gelled wet look, but still want some movement, what do you recommend?
We get it—sometimes this look is more suited to the runway than day-to-day life, but Smith has a technique for making it work while still allowing your hair some natural movement. "My trick is using one of my most favorite products,
Carol's Daughter Healthy Hair Butter
. I use this in the ends [of] dry or wet hair. In this case, on freshly blotted wet hair, you can use the cream vigorously through midshaft to ends. This product ensures the rest of the length will give the illusion of gelled hair, but instead, it is a wet look [created] with cream. This allows the hair to move around freely as it does [when] it is down naturally."
With what type of hair texture or length does this look work best?
"My favorite is [with] a shaggy, short, and layered boyish cut, or as long as a shoulder one-length bob. Layered cuts or one-length cuts can be transformed into whatever shape you like with a wet look." That means if you're growing out a style, or are simply looking for an alternative way to style short hair without having to throw it into an updo, a wet look might be perfect for you.
How much product is too much product for this look?
More is more in this case—you are trying to make your hair look soaked all day long. Says Smith, "In your first attempt at this look, try to use an ample amount to experiment with [and see] how the product works. We are always so afraid of product, but for this look, you really need to have courage and go for it."
Once you've applied the product, don't forget to perfect the shape—whether you want lots of volume at the front, or more of a streamlined profile—but don't take too long. "Remember after you put [the product] in place by raking your fingers or combing it through, let the product set and don't touch it. Let the product do its thing and be the hairstyle."
Want more stories like this?
Dominatrix-Inspired Hair Is Trending
Gucci Westman Wants You to Wear Lipstick in Your Eyebrows
4 Nail Trends We Spotted Backstage at New York Fashion Week