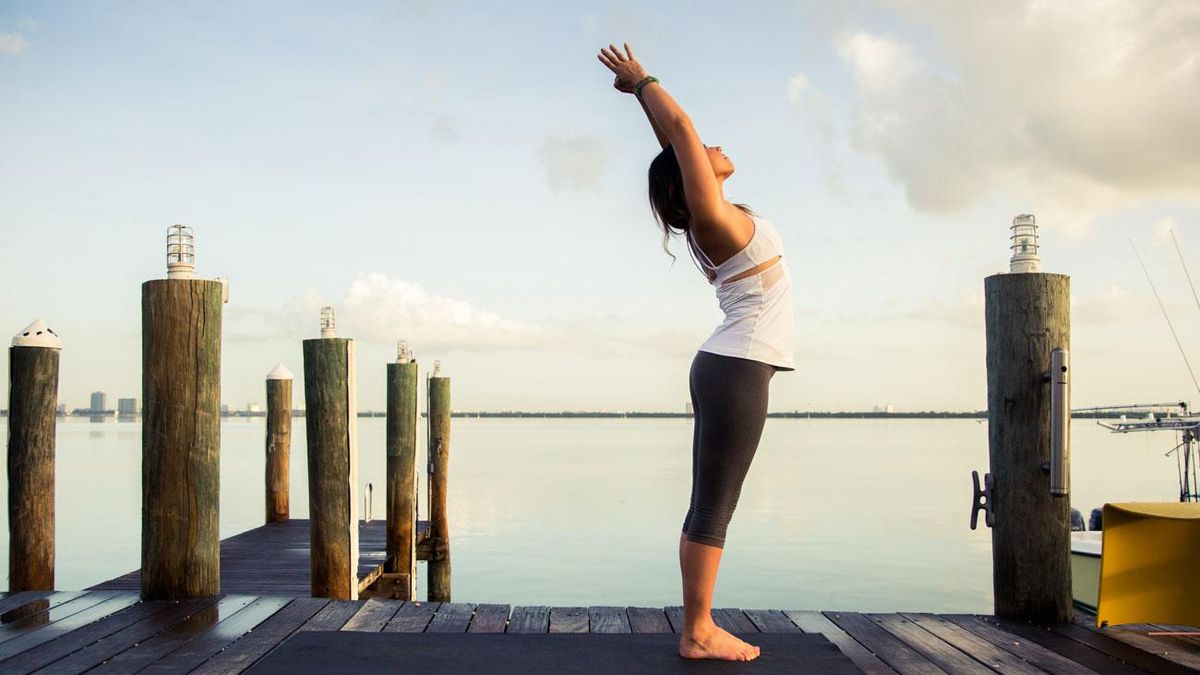 Wellness
Qigong Might Be the Wellness Secret You Never Knew You Needed
From improved mental health to better focus, the practice is full of benefits.
We're always down to try a new wellness modality, and we've been hearing about the benefits of Qigong for a while. So we decided to seek out a little more information: What is Qigong, how do you practice it, and what are the results?
To get to the bottom of this, we chatted with
Giselle Wasfie
, an acupuncturist and herbalist who is certified in Qigong. For starters, she tells us, Qigong "results in a state of feeling balanced, cleansed, and a calm meditative state of mind." Um, yes—sign us up.
What exactly is Qigong?
"Basically, it's a moving meditation that incorporates mindfulness, body movements, posture, and deep, rhythmic breathing that allows the flow of the body to move harmoniously through us," Wasfie says. Pronounced "chi-gong," the practice has roots in traditional Chinese medicine and is said to cultivate and balance qi, or "life force energy," she says.
"Qigong is a moving meditative art," she adds. "It's a system of coordinated body posture and movement, breathing, and meditation used for the purposes of health, spirituality, and martial-arts training."
Can Qigong help to control anxiety?
Anything that incorporates meditation and breath work can be beneficial for the mind. But Qigong has a special sauce that combines various elements of mindfulness to create a general sense of serenity. "Qigong involves meditation, controlled breathing, and gentle movements, all of which have all been shown to help lower stress and symptoms of anxiety, reducing heart rate and calming the mind," Wasfie says.
"Qigong connects the mind and body, and as you do Qigong, you can feel certain areas in your body that are tight or constricted begin to soften and unblock," she says. "The relaxing of muscle and tension in combination with breath work will have you feeling more relaxed and calm."
Are there other health benefits of Qigong?
In a word, yes. Wasfie says there are many health benefits to the practice, which can lead to an overall improved state of health. "The benefits of Qigong are similar to meditation, with the added benefit of working on a physical level to focus on particular issues you may be experiencing in the body," she says.
Don't just take her word for it: Clinical studies have measured the benefits. "Overall, studies have shown both the psychological and physiological benefits of Qigong," Wasfie says, "including improvement in anxiety, depression, stress, mood, and self-esteem, as well as improved balance, immune function, reduced chronic fatigue, and more."
A few specific notes on health benefits that Wasfie shared include:
Increased balance: "Qigong focuses on controlled, slow movements of the body to improve your proprioception, or your awareness of your body in space," Wasfie says. "That helps to increase balance, muscular strength, and flexibility, therefore enhancing the powerful mind-body connection."
Improved focus: "When the body feels clear, the mind follows," she says. "Through a simple five-minute Qigong routine, you can focus on clearing out the body on a whole, and the mind benefits from the connection and feels clearer."
Lower risk of chronic disease: "As a gentle form of exercise, Qigong emphasizes calm and meditative breathing," Wasfie says. "Together, this may reduce stress on the body, increase blood flow, and improve your overall fitness—all of which can lower your risk of chronic disease."
Natural detox: "Doing Qigong allows the mind and body to balance and work more optimally, enhancing a feeling of detoxification of stuck and stagnant Qi, and leaving you relaxed and revived," she says.
How long does it take for these benefits to kick in?
Right after your first session, you'll begin to feel the effects, Wasfie says. "Immediately after a Qigong session, you will begin to feel more light, the flow in your body, and a greater mind-body connection," she says.
"The more often you practice Qigong, the more you'll feel the deeper lasting benefits," she adds. "You don't have to practice every day, but a daily five-minute session could be very beneficial—much like meditation and yoga."
Why is Qigong still relatively little known?
"For lack of a better word, Qigong can be foreign to many audiences," Wasfie says. "Much like yoga in its early days, not many people are familiar with it and people don't know where and how to start."
But this probably won't be the case forever, she adds: "I think if a celebrity were to champion it, many more people would hear about it and try it out."
So—how do we get started?
Though we were tempted to get a step-by-step guide to kickstarting your own Qigong practice at home from Wasfie, she explained that it's better to take a class. But the good news is that you can do that virtually.
"It's important to have a guide or teacher when starting Qigong, whether in person or online classes," she says. "One great hack is to google Qigong master Mantak Chia—he has easy-to-follow training and videos that are great resources to get going with Qigong."
Once you've started training, you can also check out Chia's other resources. "An easy starting point is the Inner Smiles and Healing Sounds outline to help with the beginning sessions," Wasfie says. Or, of course, you can seek out a teacher who offers private or group sessions to get started.