TikTok's Emerging Tastemakers on How They Choose Self-Expression Over Trends
"I shop with the intention of keeping my pieces forever, which forces me to have conviction in whatever I buy."
Fashion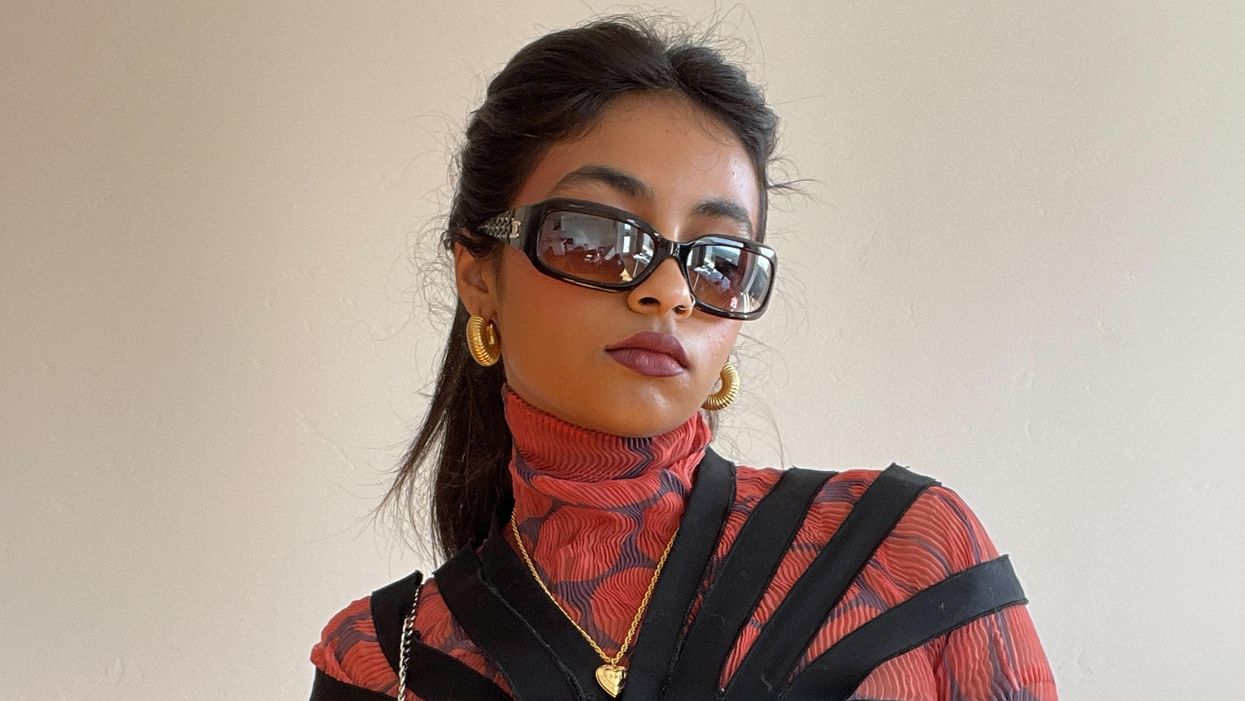 Sophomore year of college, I thrifted a leather jacket that remains one of my wardrobe staples today. It has outlasted five apartments, three boyfriends, four jobs, and survived seven New York winters. We all have trend cycle-transcending pieces like this: pieces you have rediscovered over the years, that have accumulated significance with each 4 AM memory made or life milestone achieved while wearing them. If I had my way, most of the clothes in my closet—besides maybe socks, underwear, and a few flimsy going-out tops—would be of this kind. Not a wardrobe of basics in neutral colors but a curated collection of expressive, quality, versatile garments that I love. This, at least, is what I tell myself when I get that midnight Urban Outfitters sale blast.
Over the past few years, the fast fashion conversation has turned towards Gen Z and how the generation known for their climate activism can't stop buying ASOS and Shein. Of course, it is useless to blame Gen Z for overproduction and trend cycles going turbo mode when the industry is most often run and marketed by Boomers and Millennials, but Zoomers are the target audience. A recent Guardian article attributed this dissonance between Gen Z values and spending, in part, to the proliferation of social media and influencers' promotion of fleeting trends and overconsumption (hello, 100-piece haul videos).
However, at least on my side of TikTok, many content creators have found ways of indulging their love for style without buying into the culture of disposability. "When self-expression is the end goal with every look you put together, you won't pay as much attention to trends," commented Clara Perlmutter AKA
@Tinyjewishgirl
, a TikTok star known for her brilliant, sometimes polarizing, garment pairings. "I'm all about collecting pieces that make some sort of statement, or that expresses a piece of me in some way." Below, a few of our favorite emerging tastemakers show us how they style their own spiritual equivalent of my trusty leather jacket and give their tips for tuning out Instagram trends in favor of your own sartorial voice.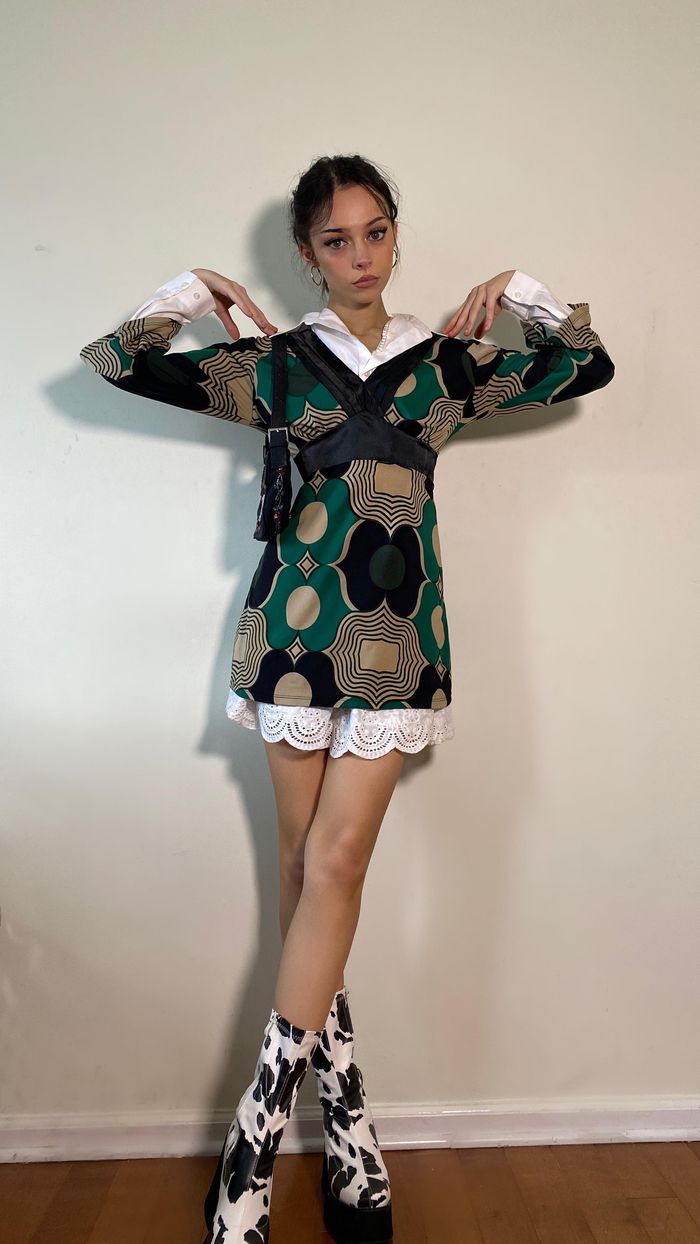 Photos: Courtesy of Arabella Bartelloni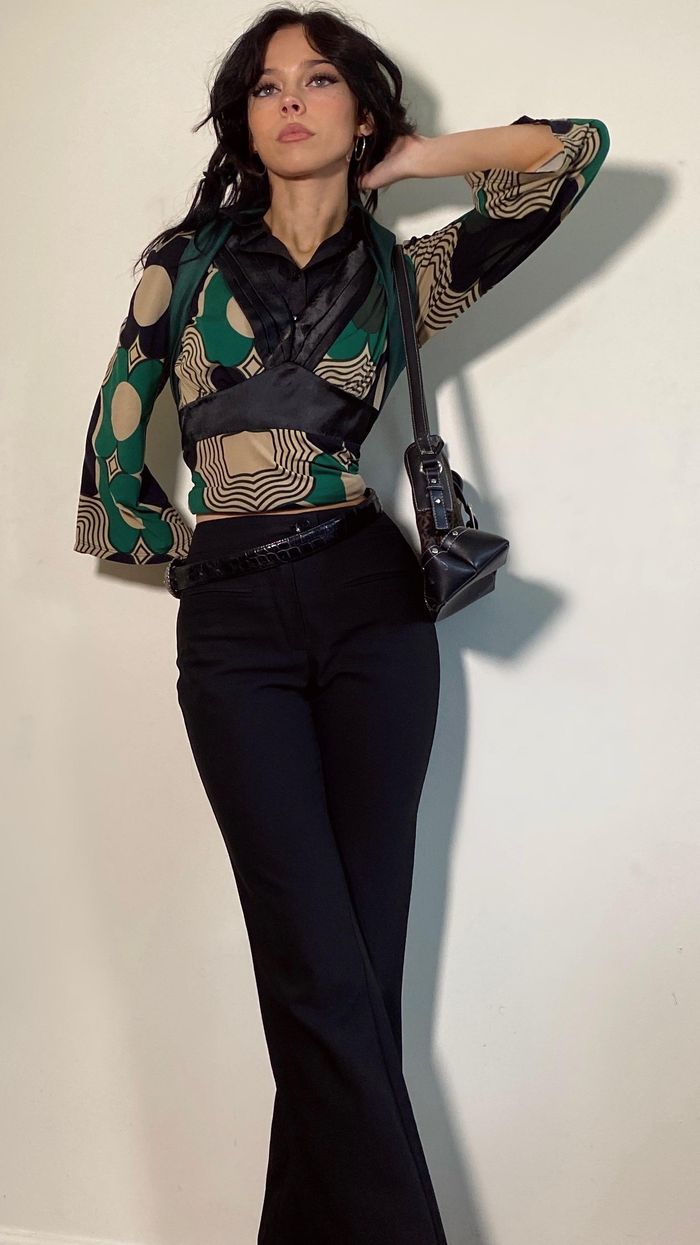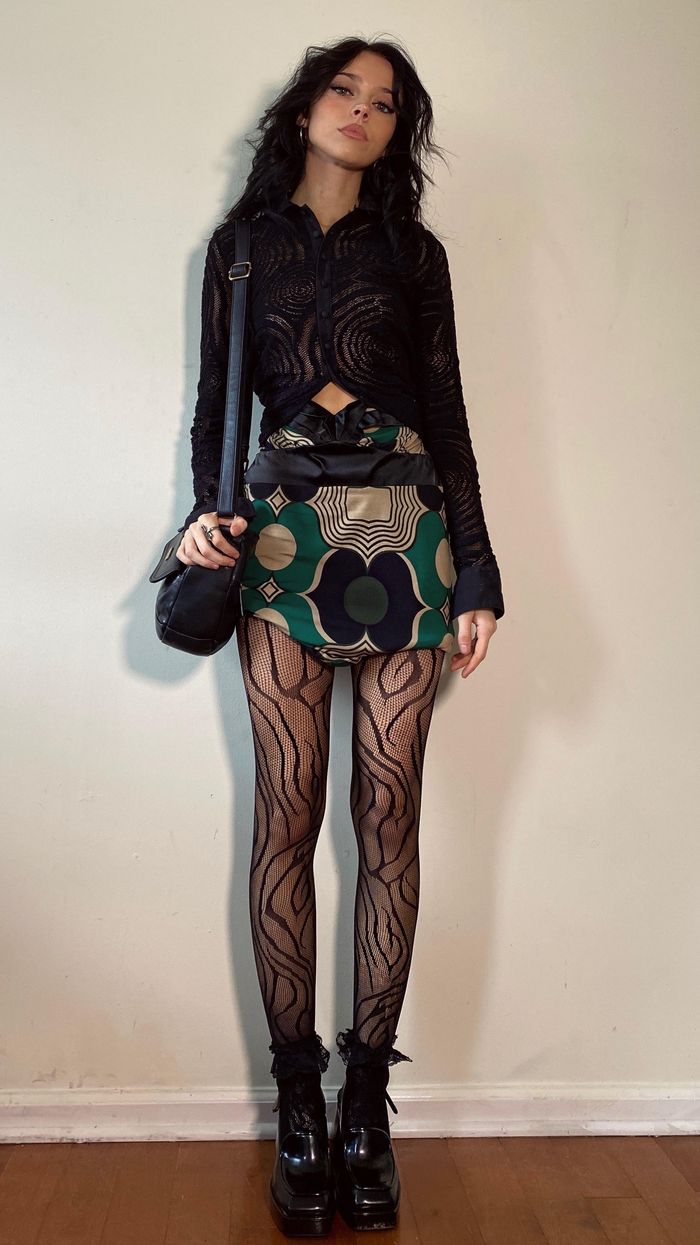 What is the story behind this piece and why is it meaningful to you?
"Earlier this year, I told one of my best friends my aspiration to become a stylist. We always had gone thrifting together, and she picked this "ugly" dress out for me and challenged me to style it. I continued doing this with different pieces I'd find with friends to challenge myself to see how much I enjoyed styling and how much wear I can get out of each individual piece. This piece was one of the few that helped change my perspective on what I buy and how I can continue to wear the same items without it feeling boring."
How do you style it for different seasons?
"For spring, I'd style the dress with lighter layers and softer colors. More breathable materials, such as cotton or linen, work well for layering clothing, and having removable layers is important in unpredictable weather. For the summer, I like to experiment with my wardrobe's color palette, so I'd style it with a brighter colored purse and shoes for contrast. Additionally, mixing patterns elevates summer outfits, as layering isn't really a practical option for 90-degree weather. For fall, I'd style the dress with a pair of warmer patterned tights, loafers, a collared shirt underneath, and a leather jacket to finish the look. For colder weather, a wool, faux leather, or faux fur always works well to stay warm, wearing my lightest materials first and my heaviest materials last."
How do you incorporate sustainability into your personal style?
"In the media, we're constantly taught to over consume clothing. When fast fashion websites have a new drop every week, it's difficult to determine how long a piece will actually last in your wardrobe before hitting the bottom of your closet floor. I think it's important to mention you can still overconsume clothing, even if it is in a sustainable way such as thrift shopping or buying off second-hand websites. Whenever I'm shopping for a new item, I try to look at each individual piece and come up with at least 5-10 different ways I can style it and incorporate it into everyday wear. For online shopping, I usually hold off a couple of weeks on buying an item until I'm completely sure that I still like it and didn't gravitate towards it just because it's something I saw on the internet."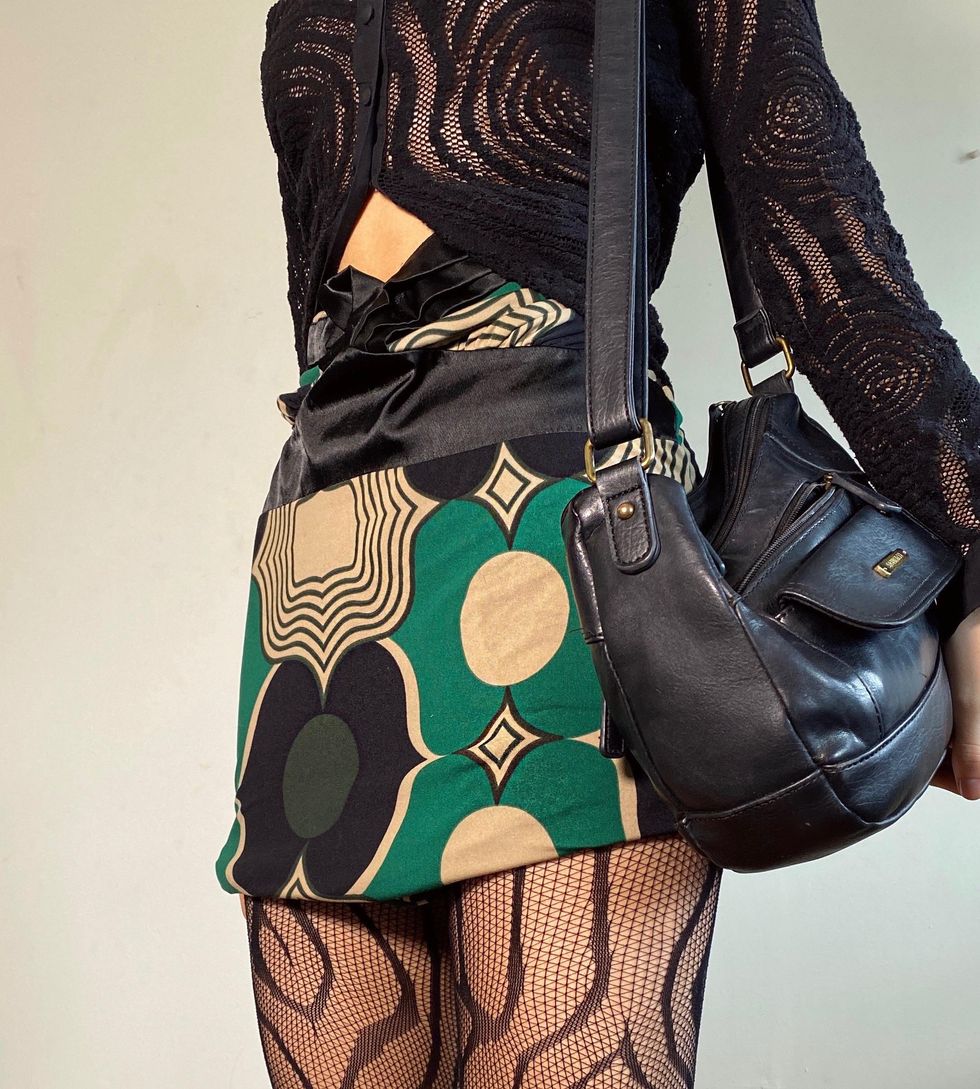 Photos: Courtesy of Arabella Bartelloni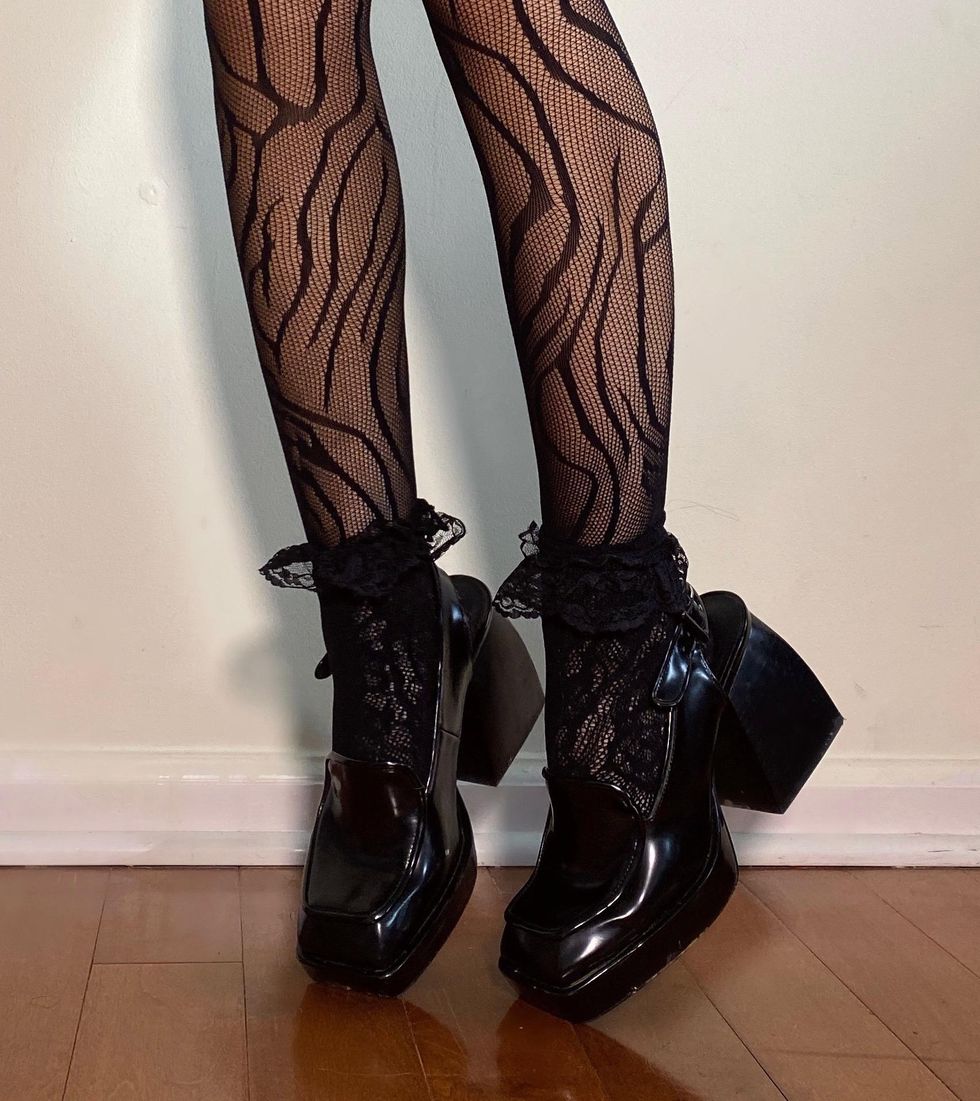 How do you combat the pressure to keep up with trend cycles?
"As a fashion influencer, it's quite tempting to cater to trend cycles on the internet for popularity. When I feel this urge, I try to dig deeper into what it is I like about the trend. While trends are harmful for sustainability, they undoubtedly hold importance for style experimentation. For example, if you liked the tiktok fashionHouse of Sunny green dress trend, you should take some time to consider what you liked about it. Figure out if you liked the colors of the dress, the shape, the fabric, the cut, and so on. Pinpointing exactly what you like about 'trendy' items can help you develop your own personal style. Also, at the rate that trends come in and out of style, what you probably already own will be trendy again in no time. I'd recommend holding onto some of your favorite items from last season, even if others disagree with what you're wearing now."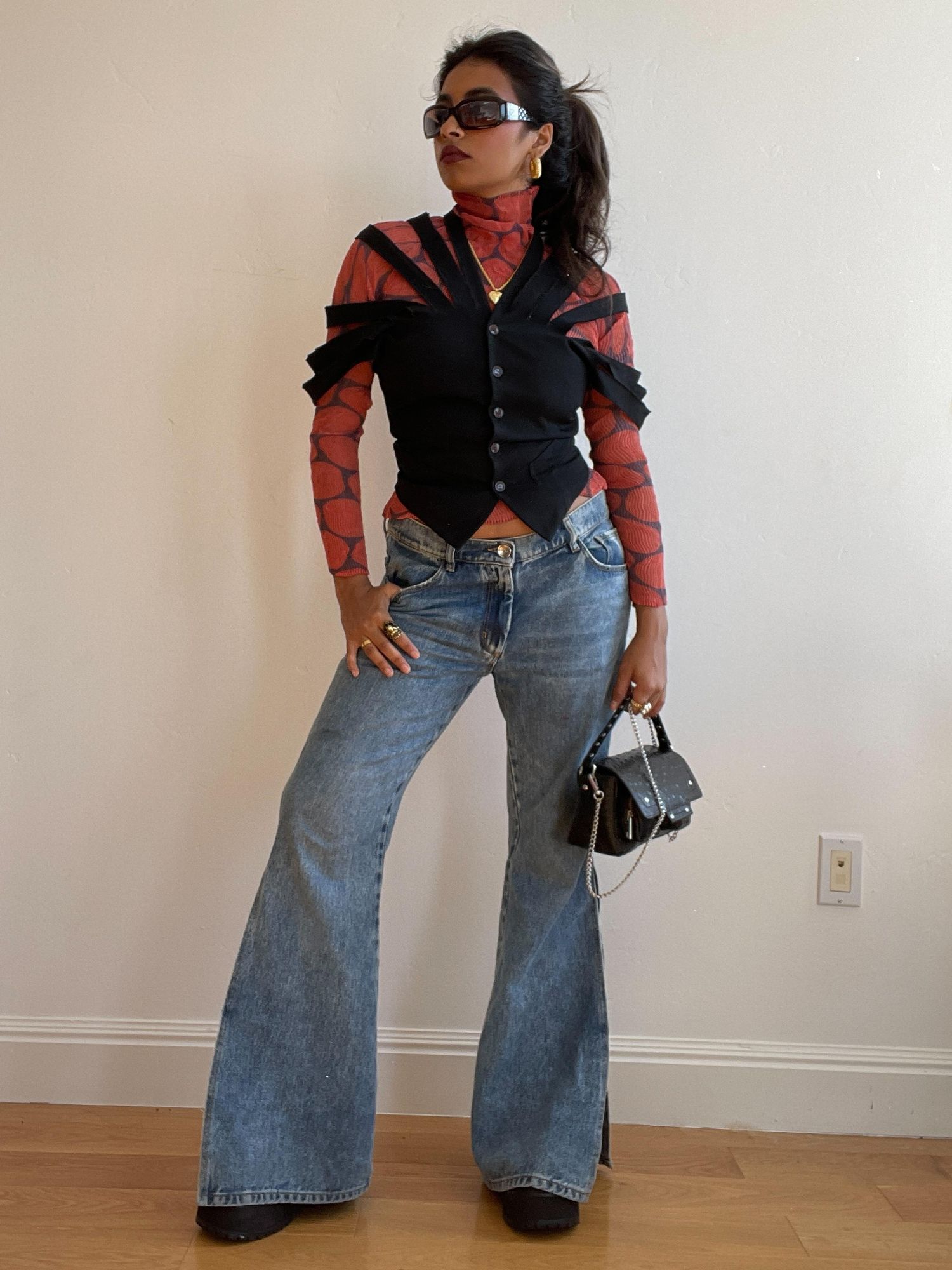 Photos: Courtesy of Tanya Ravichandran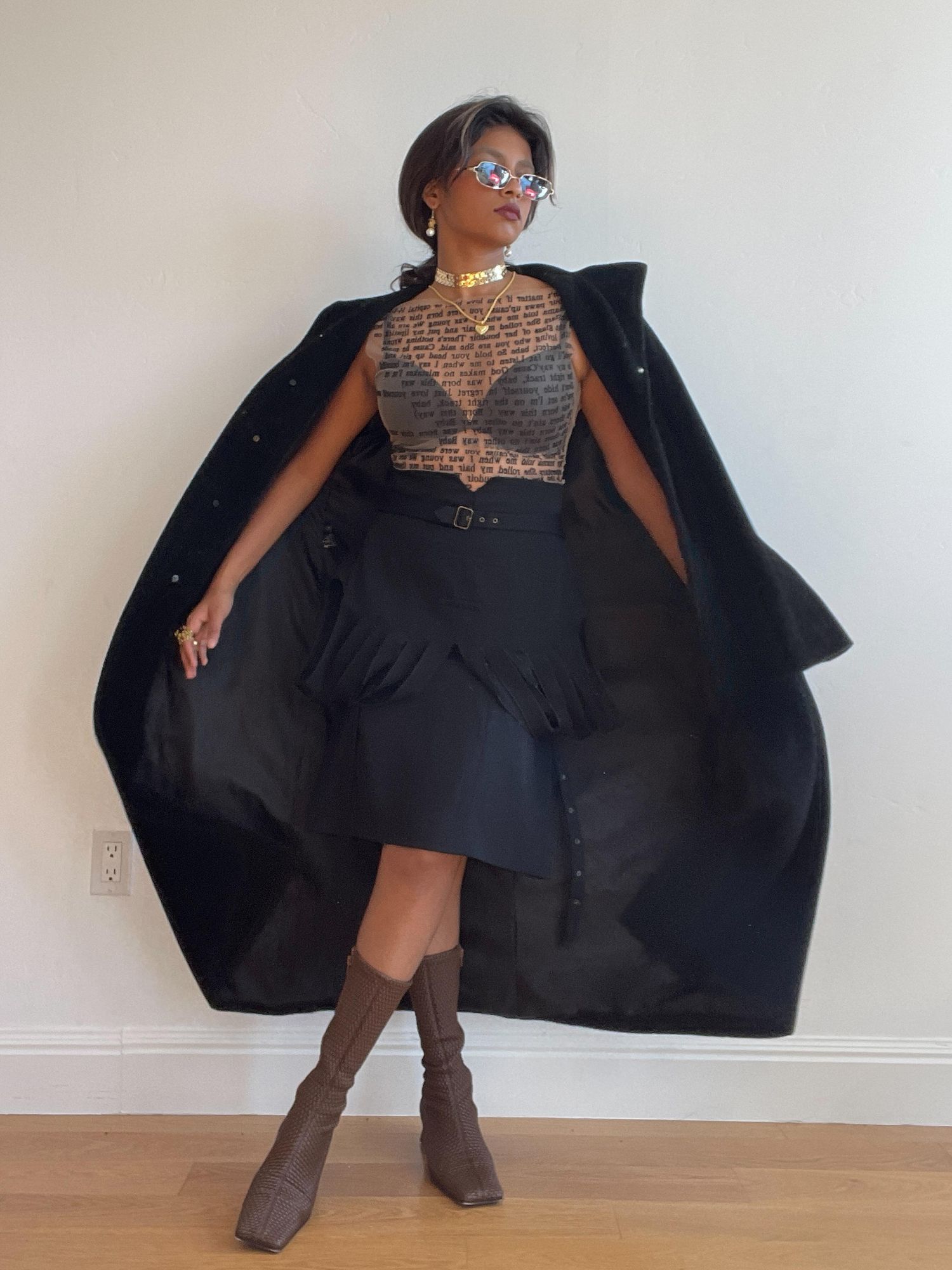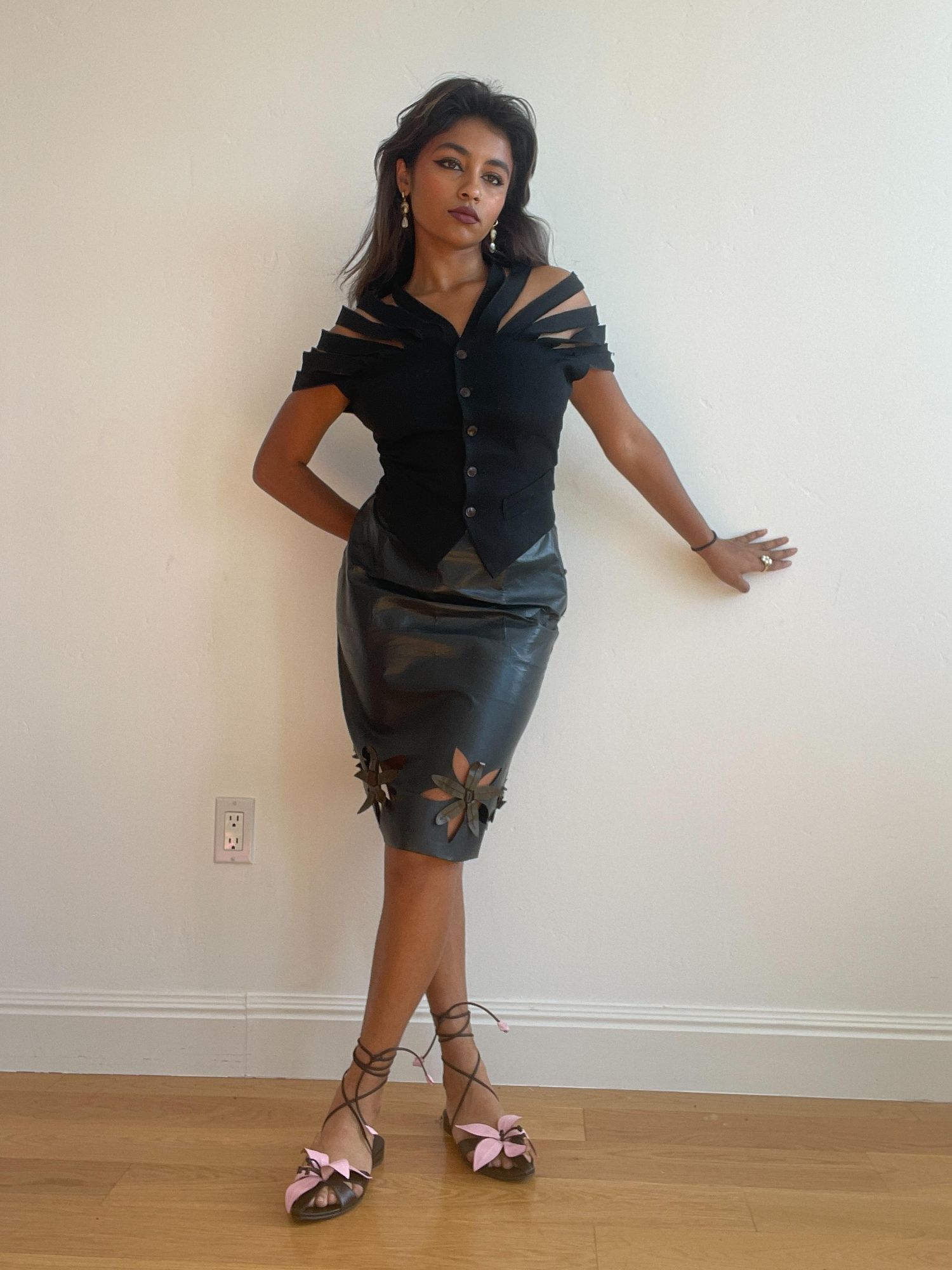 What is the story behind this piece and why is it meaningful to you?
"This is a late 1980s Jean Paul Gautier bondage vest that I purchased second-hand on Depop. For the past few years of being a fashion content creator on social media, I was endorsing fast fashion brands and did not have a personal style. After stumbling on videos on TikTok and reading articles regarding the fast fashion waste crisis and its impact on the environment, I knew that I needed to make a change.
"I started to try to figure out my true personal style by examining what clothes I consistently wore outside, and I noticed myself wearing vests and bustier vests. My motto has always been to live and dress BOLD! Even throughout primary and high school, I was always made fun of for dressing 'extra.' So, I wanted to invest in a vest that was bold and could be styled in multiple ways. I spent a few months on Depop as I wanted a piece that would last me a lifetime, and I finally stumbled on this rare JPG piece. When I saw it I knew that was going to be my staple vest, and after one month of it sitting in my cart, I finally purchased it. When it arrived I was able to figure out over 10 ways to style it since it aligns so well with my personal style. It is meaningful to me as I feel like it is a representation of who I am: something that seems so ordinary but is bold!"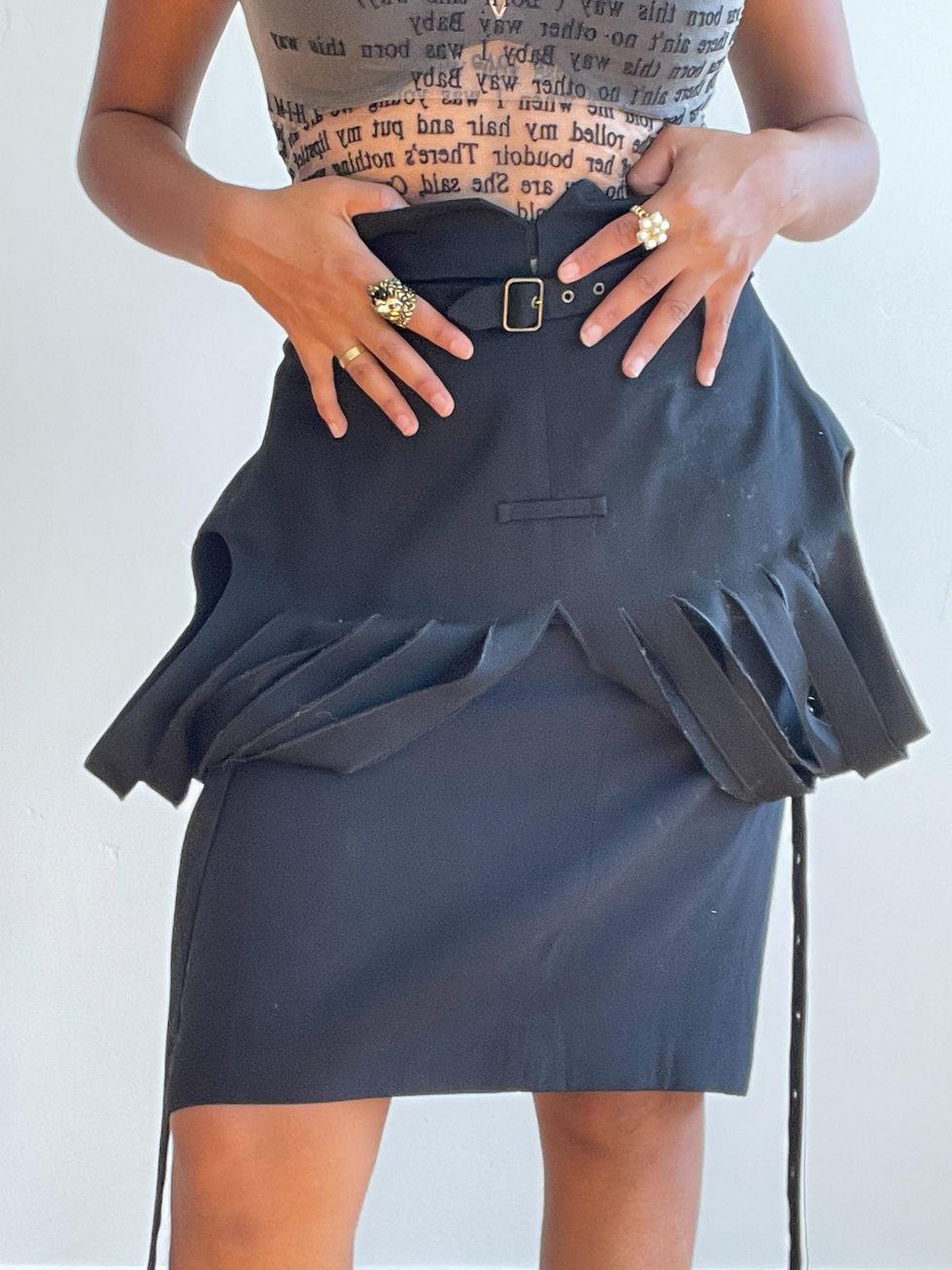 Photos: Courtesy of Tanya Ravichandran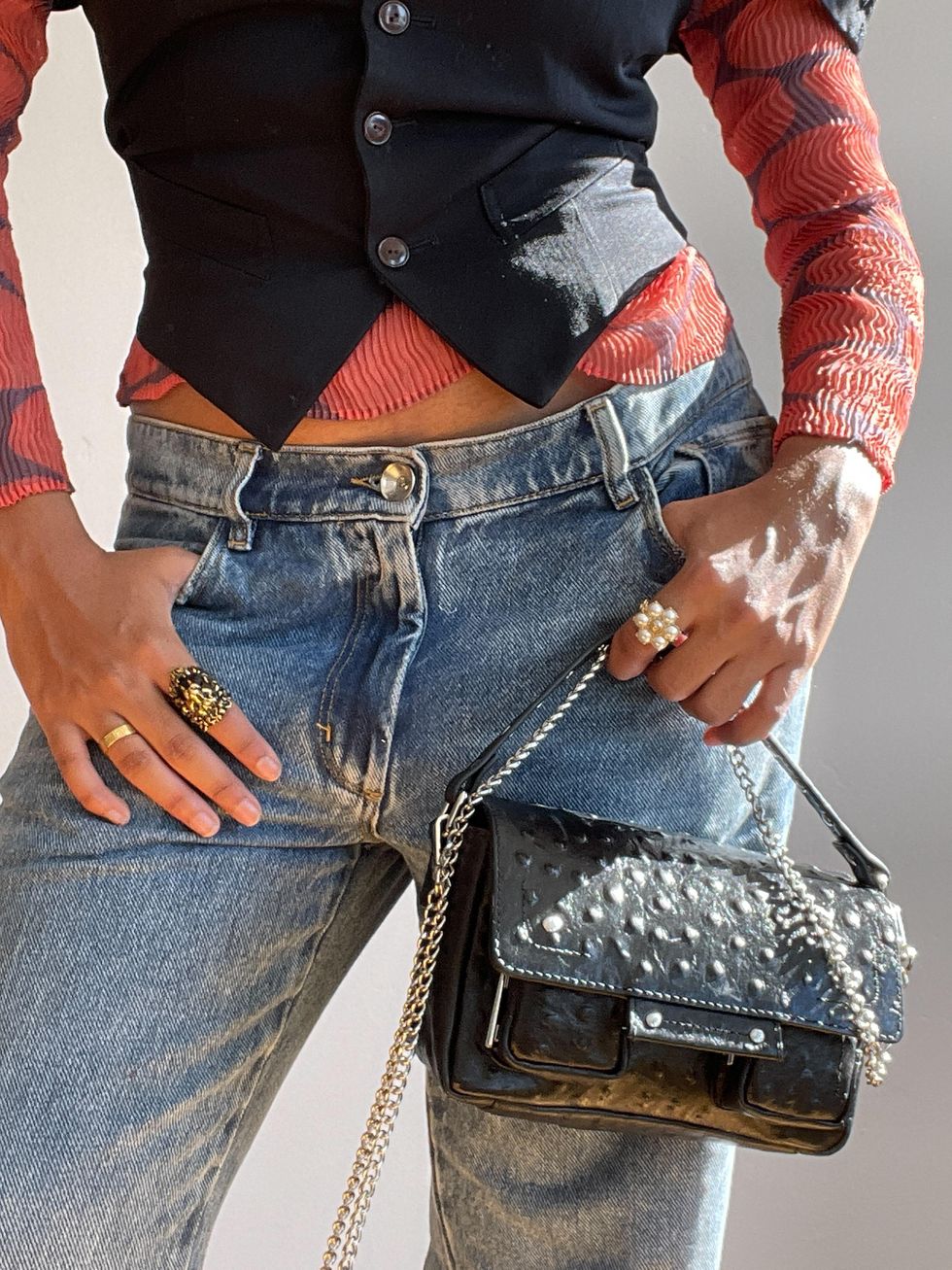 How do you style it for different seasons?
"This vest can be layered with turtlenecks and button-up shirts but also can be complemented by tons of types of outerwear. This is what I truly love about this vest: the versatility of layering options to be worn in any season with a touch of something unique about it. For summer, I could wear it plain with just a simple skirt, jeans, or over a sleeveless dress. Due to its unique silhouette, it could also be worn unconventionally as a skirt as depicted in one of my looks. For the winter or colder weather, it can be layered with funky turtlenecks, sweaters, long sleeve dresses, etc. Having this bold vest also eliminated my need to purchase another vest ever again."
How do you incorporate sustainability in your personal style?
"When I am shopping, I imagine at least 10 different looks I could make with the piece and clothes I already have. When I used to shop less sustainably, I would come up with unique looks I could pair with a potential purchase but the looks would include clothing that I did not own, but that I planned to purchase. I try to consciously ensure that every piece I purchase matches the overall scheme of my personal style and clothes I already own.
"Secondly, sustainability means supporting small shops and ethical small designers. I try to not accept PR from many companies and consciously choose which designers I want to work with. I always try to ensure that the company I agree to work with has ethical practices. Something I see on my feed a lot, and I used to be guilty of, was working with brands that do not align with my style but are trendy at the moment. When I used to work with brands like that, I found myself never wearing the clothes after I posted the photos. At that point, you are utilizing fashion for capital gain and not as an art form to express yourself. Due to this realization, I make sure that if I choose to work with a brand, their items must be pieces I know I would continually wear and enjoy. Being a fashion influencer means influencing people to make purchases based on your own authentic personal style and setting your own trends, not just buying and promoting what is currently trending."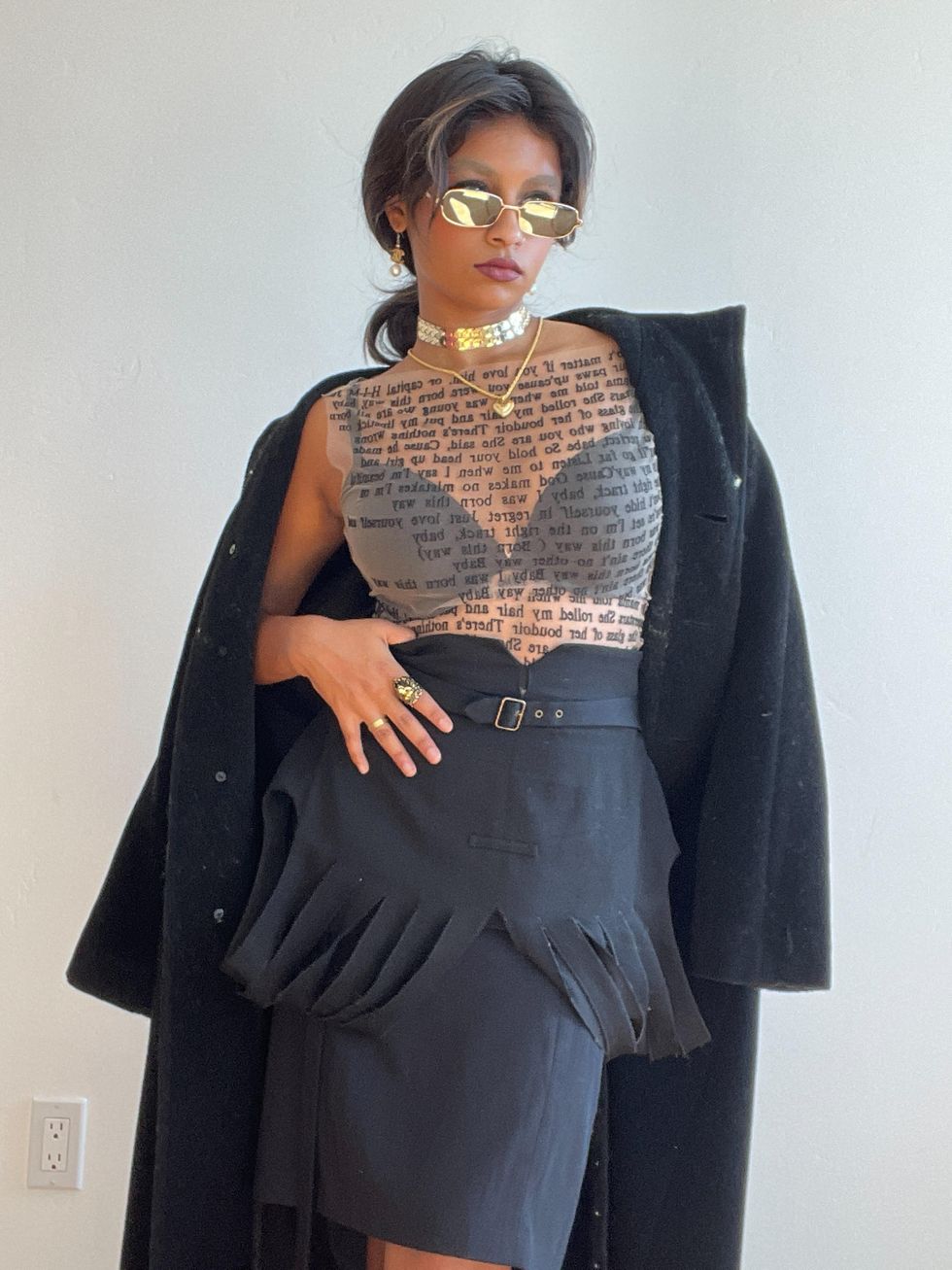 Photos: Courtesy of Tanya Ravichandran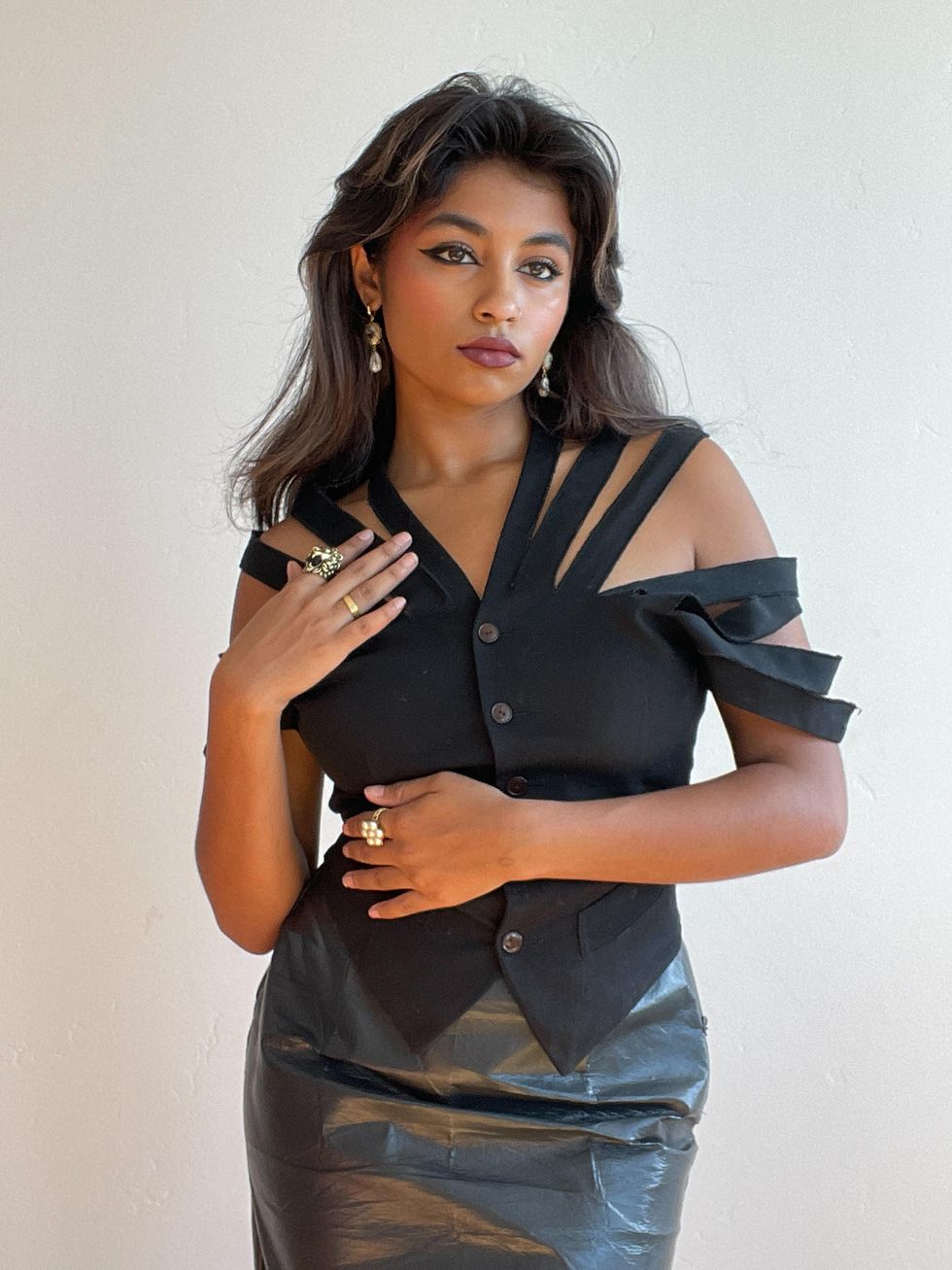 How do you combat the pressure to keep up with trend cycles?
"This is a tough question because we are in an age where we are shown more images and people than we have ever seen before. Social media is a powerful tool that has given people more ways to find and express themselves but also has accelerated the trend cycle and emergence of micro trends as we constantly see them on our timelines every day. I try to control my timeline as much as possible to prevent being influenced by what I do see by following influencers with a strong personal style, engaging with videos on my TikTok on sustainability and personal style, and avoiding outfit inspiration apps like Pinterest.
"Another way I have been able to try to combat the pressure of trend cycles is by purchasing items solely through small designer marketplaces like Ap0cene and APOC Store or from my favorite Depop sellers. Although trends can be reflected on Depop and these online marketplaces, I find myself being less influenced as most of these small designers have their own unique personal style. Another way I prevent myself from purchasing trendy pieces is by letting clothes sit in my cart for a month. That might sound a bit dumb, but if I keep it in my cart for a month and come back to it with the same excitement I had when I added it, I most likely will savor that piece for a lifetime!"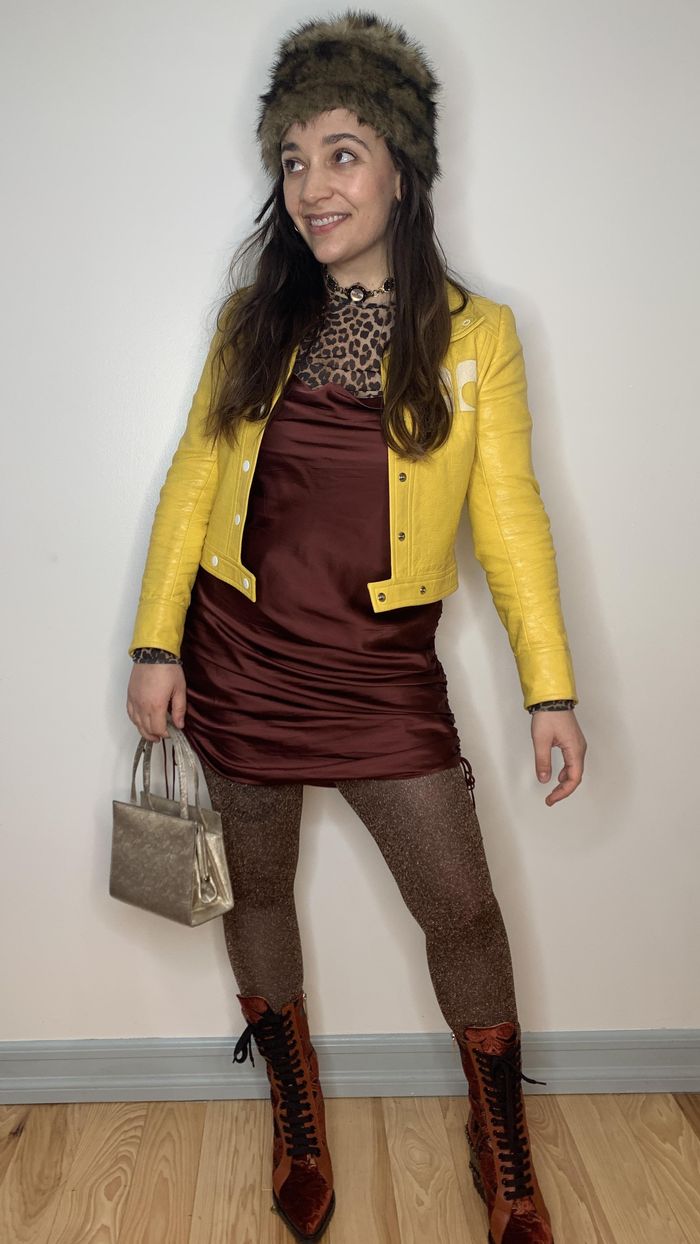 Photos: Courtesy of Mandy Lee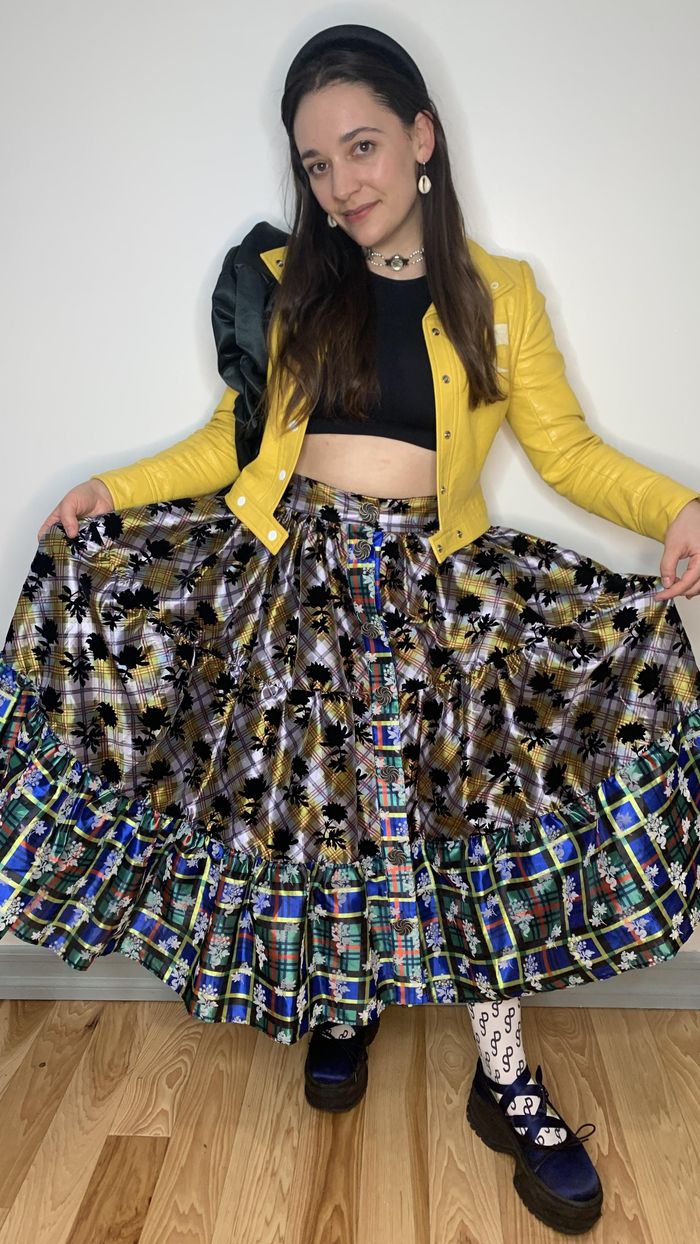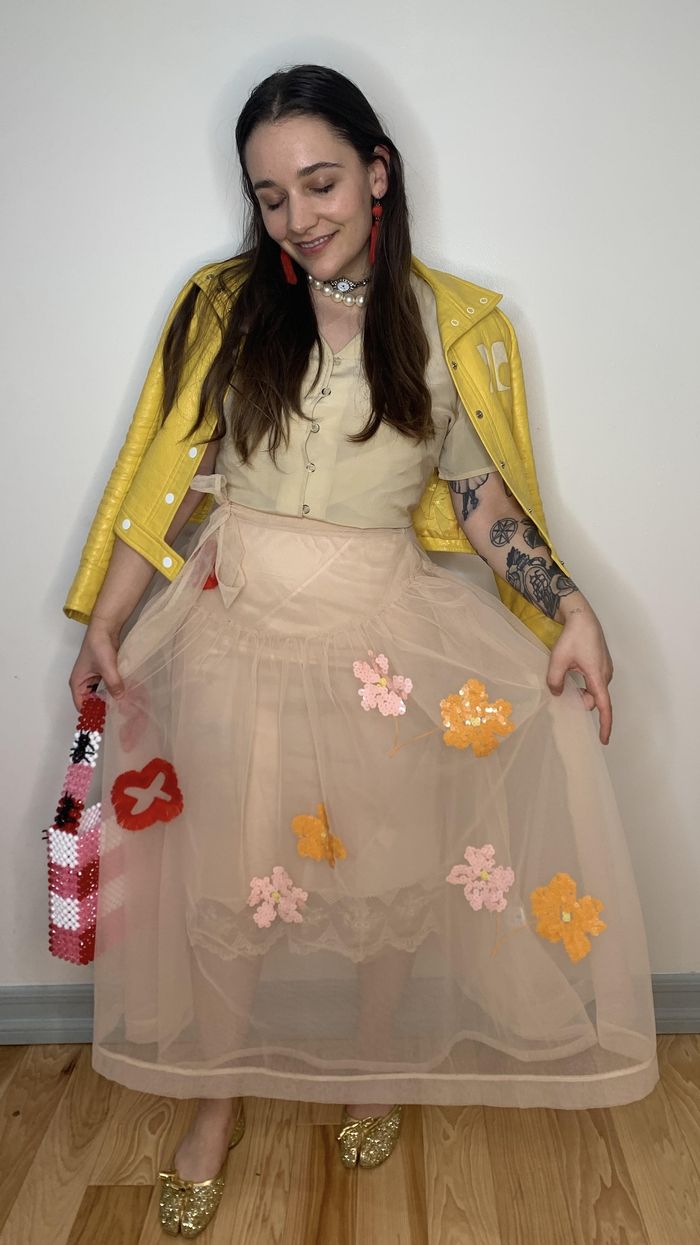 What is the story behind this piece and why is it meaningful to you?
"When I first started getting into vintage, the Mod aesthetic from the 1960s really spoke to me. While I wouldn't describe my personal style as Mod, the shapes and cuts certainly influence it. The vinyl leather Courrèges jacket from the early '70s was always a holy grail item. Due to the rarity and oftentimes steep price, I spent three years passively searching for one on the secondhand market. Having something I wanted for so long from Courrèges's legacy feels super special, and it's one of those pieces I can't wait to pass down to my kids someday."
How do you style it for different seasons?
"This piece has become a signature item in my wardrobe; if I were a cartoon character, it would definitely be an element of my default outfit. It can be worn year-round because it's the perfect lightweight jacket that can be styled as outerwear during warmer months or layered under a coat in the colder seasons. I don't wear much yellow and was pleasantly surprised that it can act like a neutral. Due to the slim fit and slight crop (I'm 5'1" so it sits right above my hips), it really helps balance tons of volume on the bottom which I'm really into at the moment."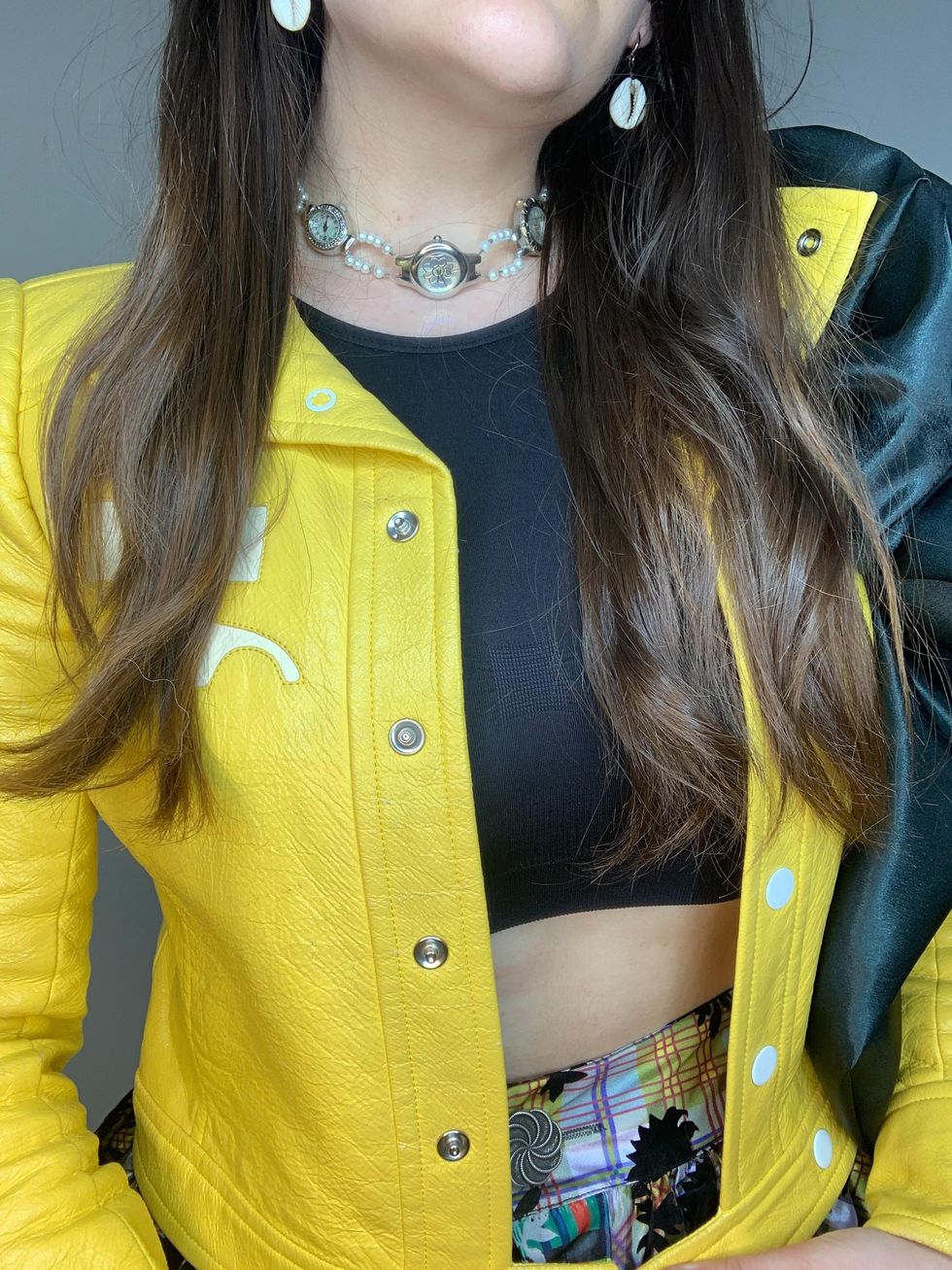 Photos: Courtesy of Mandy Lee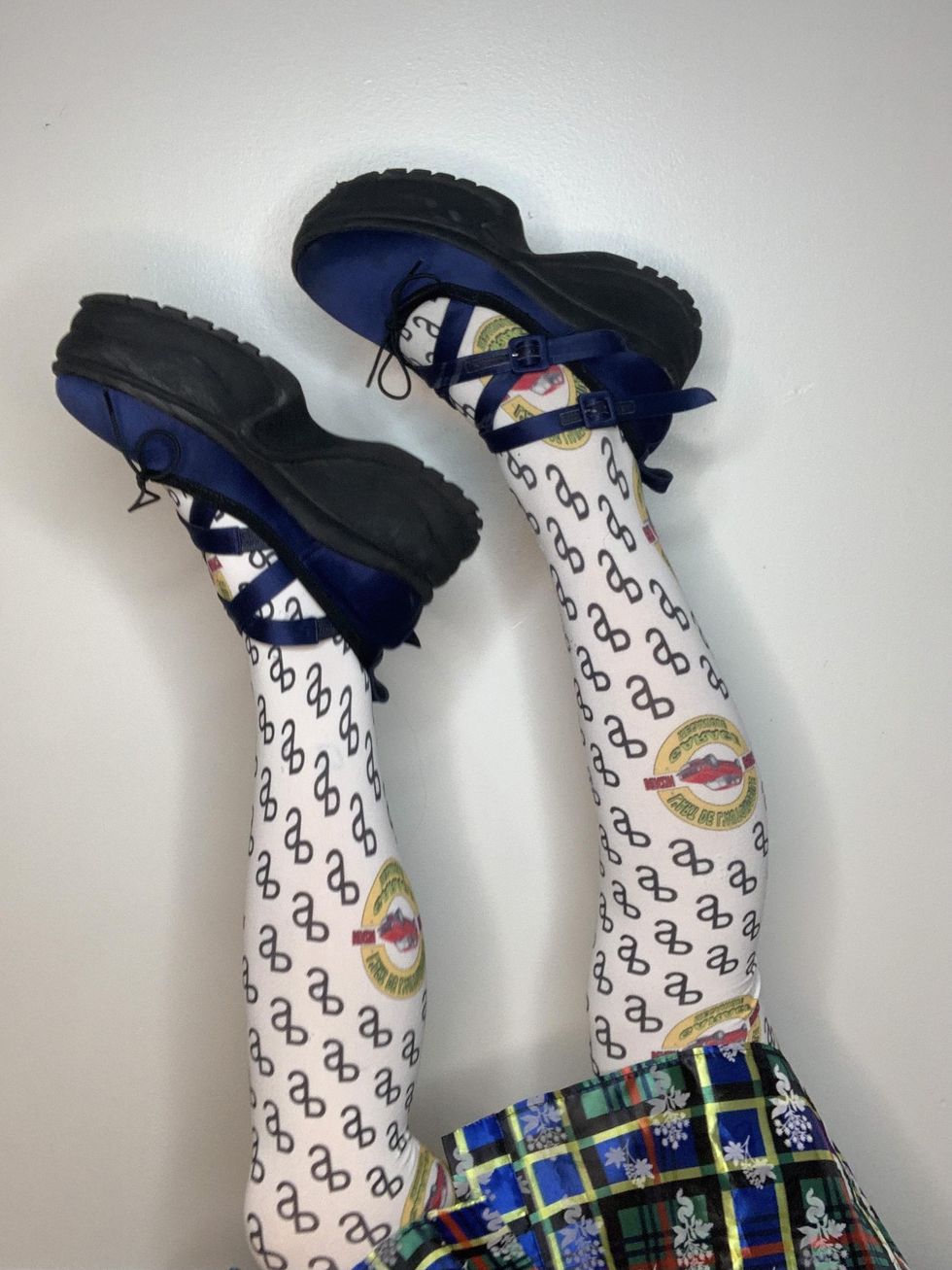 How do you incorporate sustainability in your personal style?
"Sustainability is essentially the cornerstone of my personal style identity; 90% of my pieces including vintage and designer were purchased on the secondhand market. I shop with the intention of keeping my pieces forever, which forces me to have conviction in whatever I buy. Sustainability is a lot more complicated than where your clothes come from, I think introducing pieces into your wardrobe slowly over time with the intention of building your dream closet is more important. Buying second-hand is great, but it's not accessible to everyone, buying mindfully is."
How do you combat the pressure to keep up with trend cycles?
"As a trend forecaster and analyst, I'm hyper-aware and exposed to what's trending—it's a huge part of my job. Ironically, it makes me numb to trends in regard to my own personal style. It's impossible to keep up with the accelerating trend cycle, plus who would want to? It sounds exhausting! I feel zero pressure to buy into trends unless they make sense with my personal style and are pieces I have enough conviction in to wear long after the trend dies. From my experience, the best part about trends is being exposed to things you may have overlooked, it's entirely possible to integrate trends into your personal style and wear them for years. I think it helps to let go of wanting to be perceived as a trendy person, seeking external validation tends to inhibit my self-expression which is why I'm the only person I dress for. This is a mindset I discuss on my TikTok constantly because as much as I love analyzing the trends, the only trend that matters and will last forever is your personal style."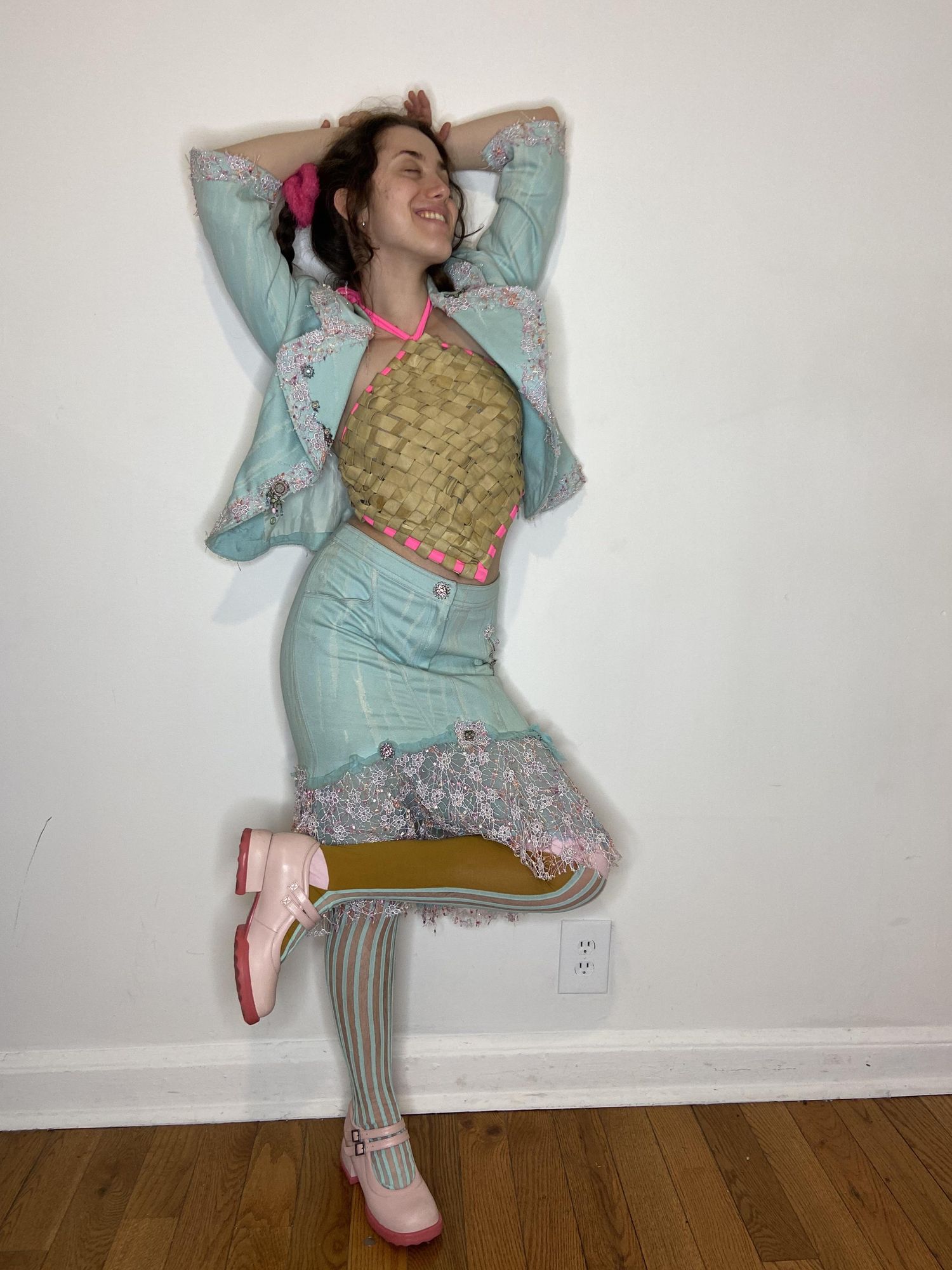 Photos: Courtesy of Clara Perlmutter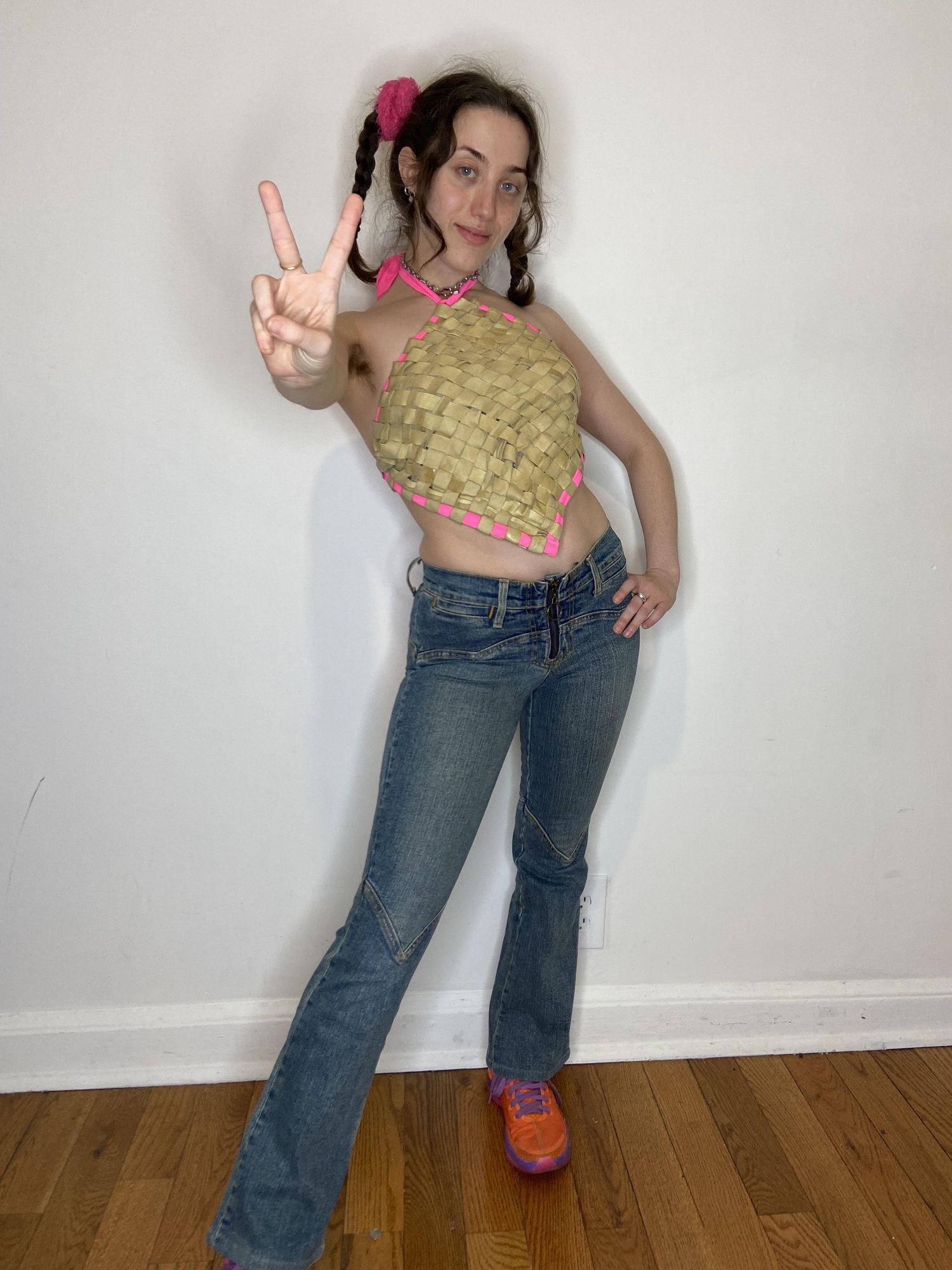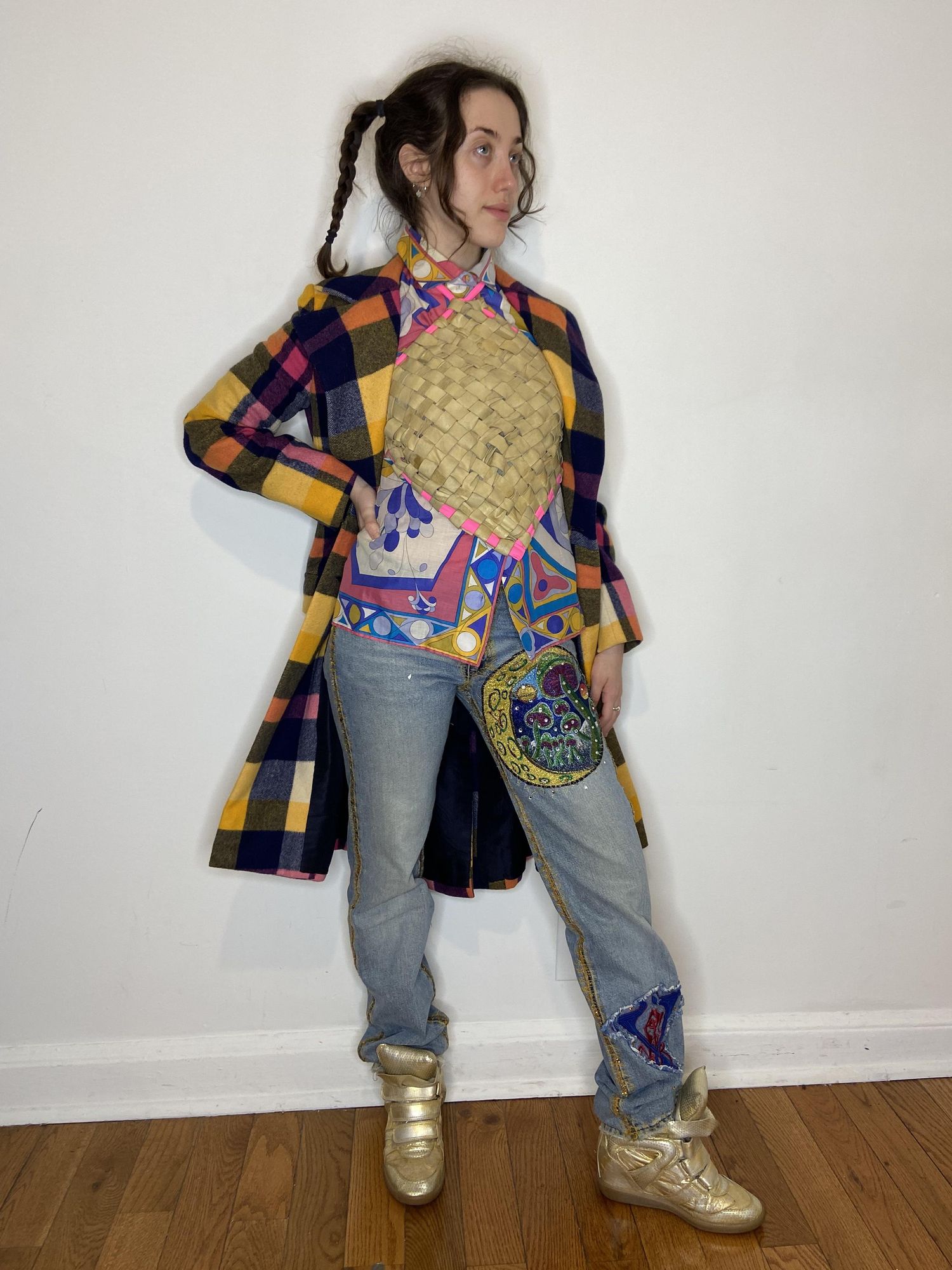 What is the story behind this piece and why is it meaningful to you?
"This halter top is one-of-a-kind and handmade, which is my favorite origin story for clothing. I got it in a vintage store in Berlin, and the old woman who owned the shop was so excited to have someone from New York in her store. Her English wasn't great, but she really wanted me to know that this top was custom made for a German pop star who had an American crossover hit, and apparently, this top was in the music video for that song. She couldn't remember the singer or the song, and I've done quite a bit of research because I want to know more and nothing has ever turned up! It is woven leather with bathing suit material ties, and when it isn't on me, it looks like a leather potholder, which is what I thought it was when it initially caught my eye in the thrift shop. That woman was so sweet to me, and this piece always makes me think of her, as well as my time studying abroad in Berlin."
How do you style it for different seasons?
"This is a great piece for all seasons—even though it is skimpy to the naked eye—because the leather makes it pretty warm. In the summer, I might wear it out with tiny booty shorts and sneakers if I'm willing to be hot, but in the fall, spring, or winter, if I was going to a club, rave, or concert, I would be going full early 2000s pop star with some tight, bootcut, low-rise pants. Britney Spears owned these same jeans in the early 2000s, and it took me months to track them down! The pop star aesthetic isn't complete without hair accessories and a choker. If it was cold, I'd just throw on a jacket that I wouldn't mind getting lost in a tragic coat check mishap.
"In the winter or fall, for a more daytime look and a little more insulation against the cold, I would wear the halter as almost a gigantic tie over a button-down shirt. I love it with this Emilio Pucci blouse because the tie hides the fact that it's missing a button! Some embroidered jeans and this vintage Bill Blass coat from my grandma really round out how eclectic and random this look is, basically consisting of as many color-coordinating statement pieces as possible. For the spring, specifically, I love pairing this halter with this Alberto Makali skirt suit, which takes a potentially church lady aesthetic set and turns it into something wild. I love a good chance for color coordination and over-accessorizing, so my Eckhaus Latta socks and more hair accessories are total musts."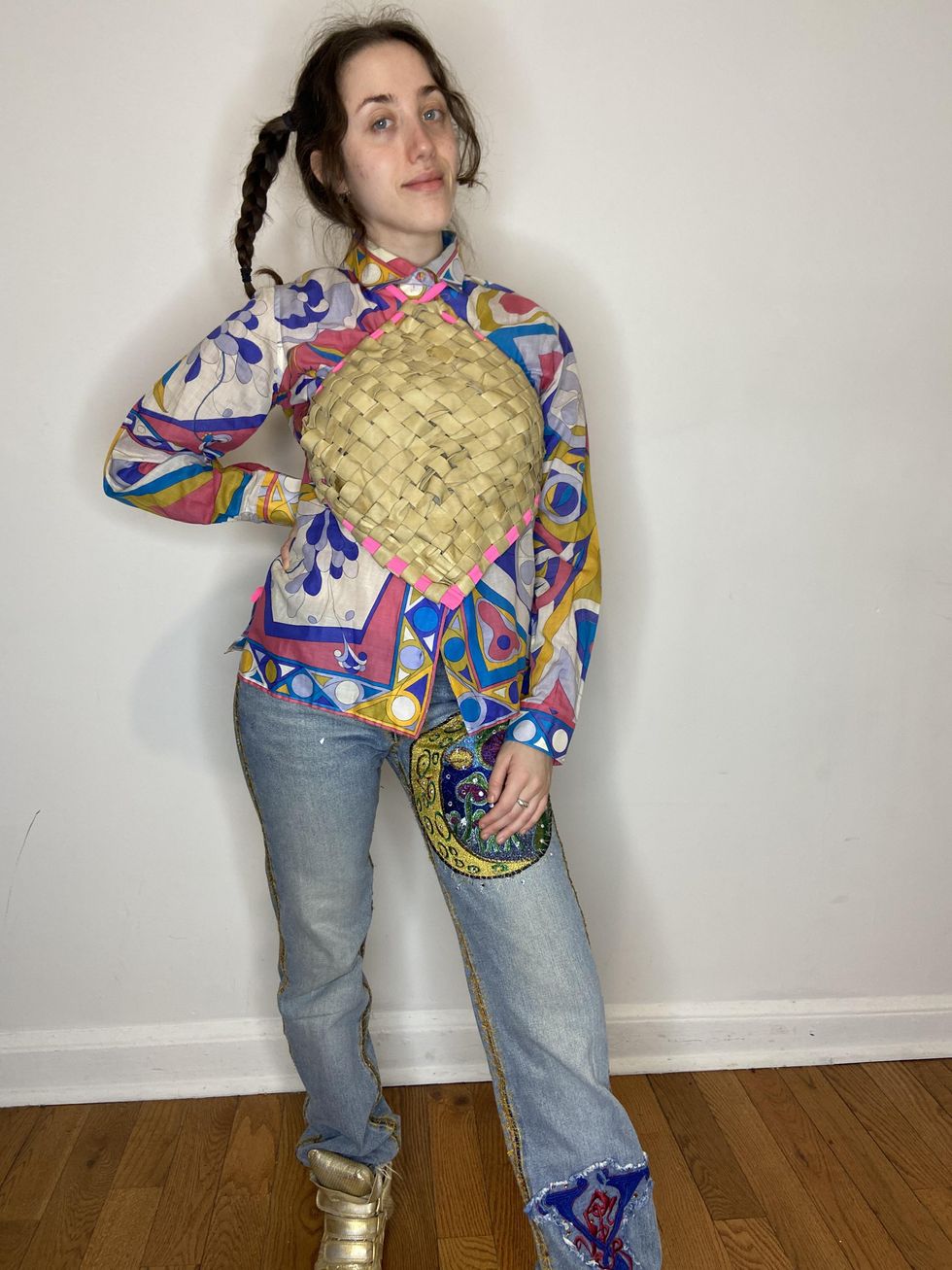 Photos: Courtesy of Clara Perlmutter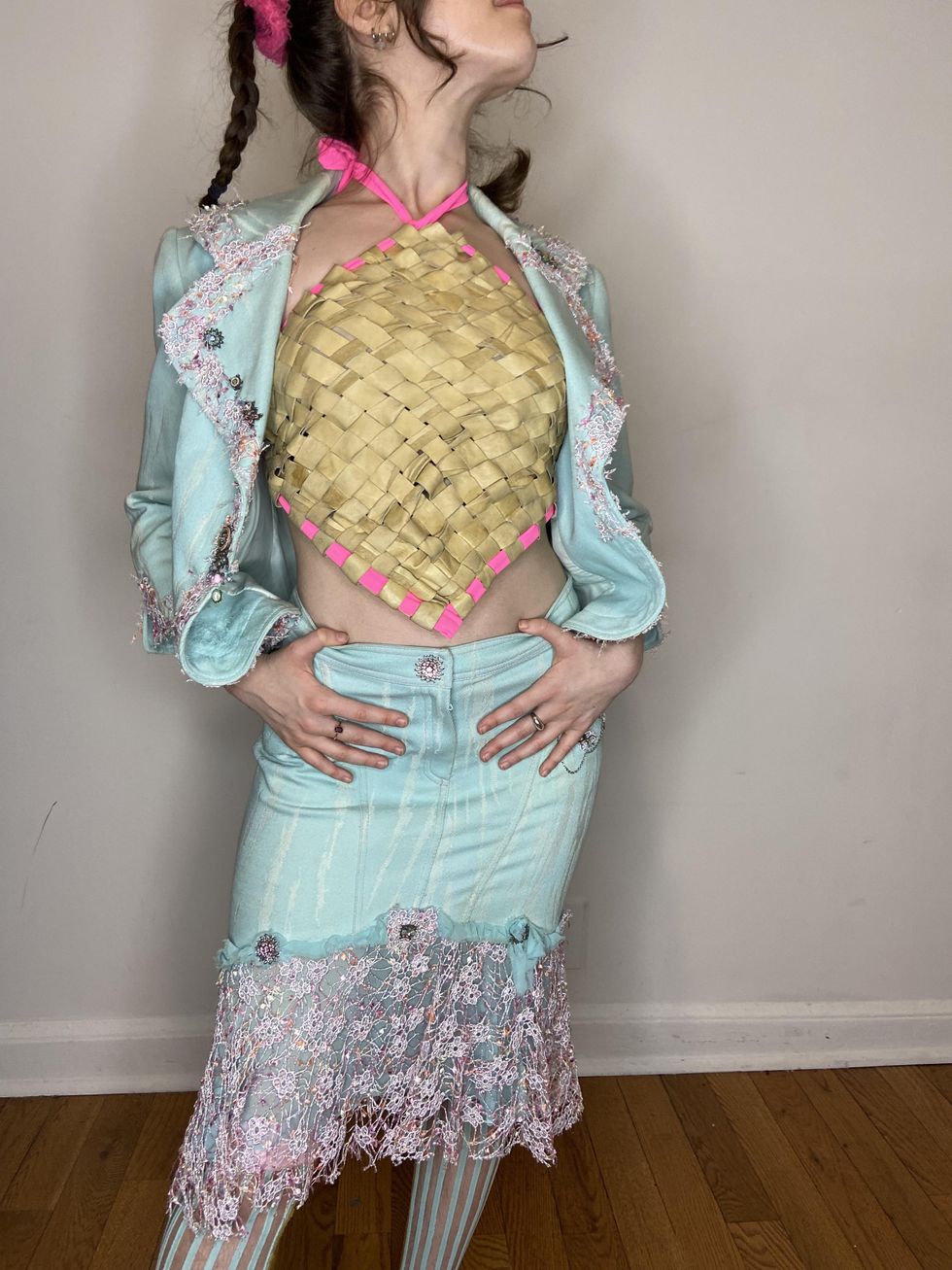 How do you incorporate sustainability in your personal style?
"Thrifting and hand-me-downs are how I acquire most of my clothing, and when I get rid of clothing, I always give it away or resell it. Nothing from this household is going to a landfill! I am sentimental with my clothing, and I really like that many of the pieces I own had lives before their incarnations in my closet. The nostalgic element of my clothing's origins certainly works its way into my personal style, like in my pop star going-out look."
How do you combat the pressure to keep up with trend cycles?
"I have been through enough therapy and am well enough medicated that I am, at this point, pretty immune to outside social pressures, and that factors into my complete security in not following trends. I have learned to really listen to my own mental needs and that includes the need for self-expression. Getting dressed is the best way I know how to let out what is going on inside and reconcile all of the disparate elements of myself, working them into a unified whole: my outfits. When self-expression is the end goal with every look you put together, you won't pay as much attention to trends. I am pretty out of touch with what is in, quite honestly, which helps me not feel the pressure to wear trendy items. I'm all about collecting pieces that make some sort of statement, or that expresses a piece of me in some way."