How Recho Omondi Uses a Podcast to Break Down the Barriers of Fashion
If you don't cover red carpet, runway, product, celebrities, or trends, what's left?
Class of 2021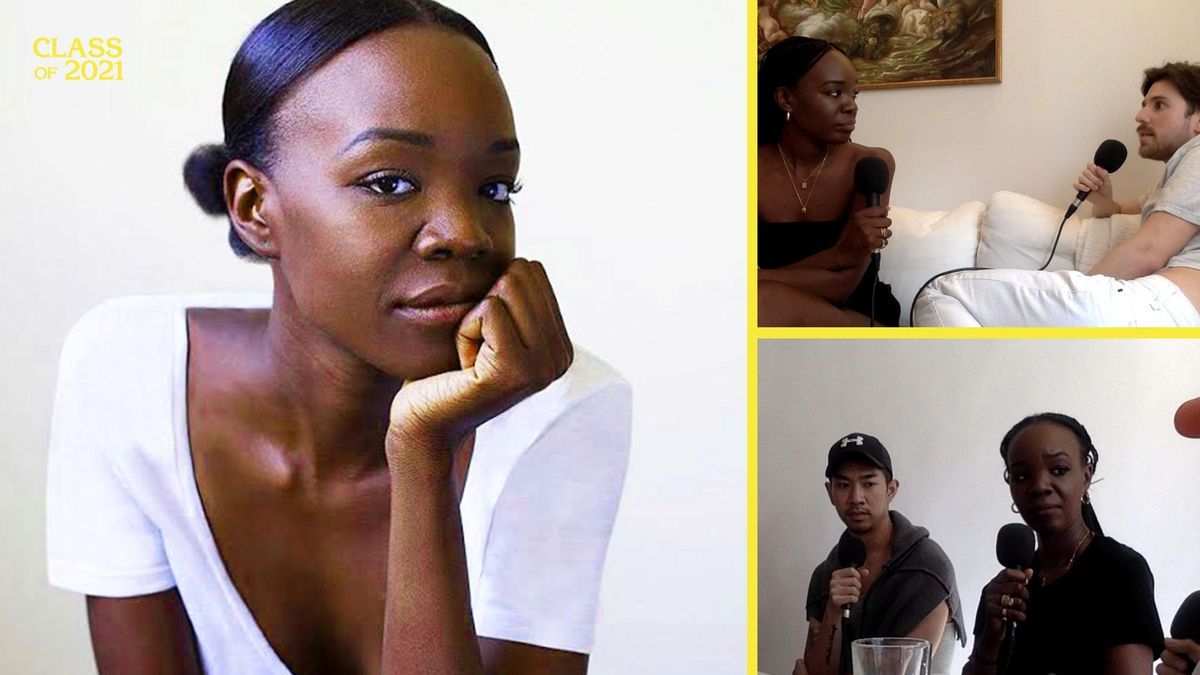 Graphics:
Ashley Combs
Silence, a phrase better heard (or left unheard) than read. Inflection, intonation, sarcasm, all of which add to the complexity of a statement or argument but are difficult to convey via print. So, when Recho Omondi records a podcast, she's not responsible for interpreting her fashion industry guests' interviews as a writer or reporter would. Instead it's up to the audience of The Cutting Room Floor, or what Omondi describes as fashion's only fashion show, to come to their own conclusions about the guest.
Though listeners often let this power go to their heads, criticizing the host for her mouth sounds in lieu of the content itself, it's obvious that they are able to both hear and decipher the minutiae of the vocals for themselves. "You can hear all of the subtle things like the way someone breathes or the way that they paused," explains Omondi. "You just get a sense of them. It's more intimate." It's this sense of intimacy that serves as the basis of her podcast and distinguishes her conversations not only from written word but most fashion publications in general.
Omondi, who began her sartorial career in design after attending SCAD, launched The Cutting Room Floor in 2018 as a way to access the information she thought was lacking from media coverage of the industry. "When I first got into the industry, it was far more intellectual," she explains. "The writing was better. The journalism was better." Amidst the pandemic, she folded her label in 2020 to devote all of her attention to the podcast.
"There's never been a plan," she explains. "If someone's in front of me and they seem interesting then I'm like, 'You're next.'" While this may be true, Omondi's strong sense of who's who in this industry allows her to capitalize on seemingly happenstance meetings. She met guest and trailblazing model Bethann Hardison at a party. When Ssense reached out to profile her, she asked for a story on them in return.
Despite this seemingly random selection, all guests must adhere to three qualifications. "One: intel; if they were actually informed about the work that they did. Two: storytelling; if they were a great storyteller and could also give information. And then three: charisma; if they had a sense of charisma or stage presence. If they could hit all three of those, then I knew that they would be a great guest." She also has to find someone that isn't barred by a publicist, referencing advice given to her by Hardison. "She said, 'You can't argue with the driver while you're still in the cab. Find people who have nothing to lose anymore, people who are no longer at the corporations because the ones that are just can't talk."On the show, you'll find guests like Brian Phillips who folded his PR firm Black Frame back in 2020.
Once the guest is secured, the onus is on Omondi to produce a great show. Her three-person team produces one interview every two weeks and the time in between is devoted to research. Omondi combs through anything she can access. She reads every interview that guest has ever given in order to construct a mental model of their societal orbit filled with cultural touch points ripe for probing. A pre-interview is conducted, then she's finally ready to record. "There's a lot that goes into making sure the audience feels like they're on a cruise ship where they don't have to do any work and they're just listening to the experience," she says. "It's very intentional. I have to make sure they feel that way."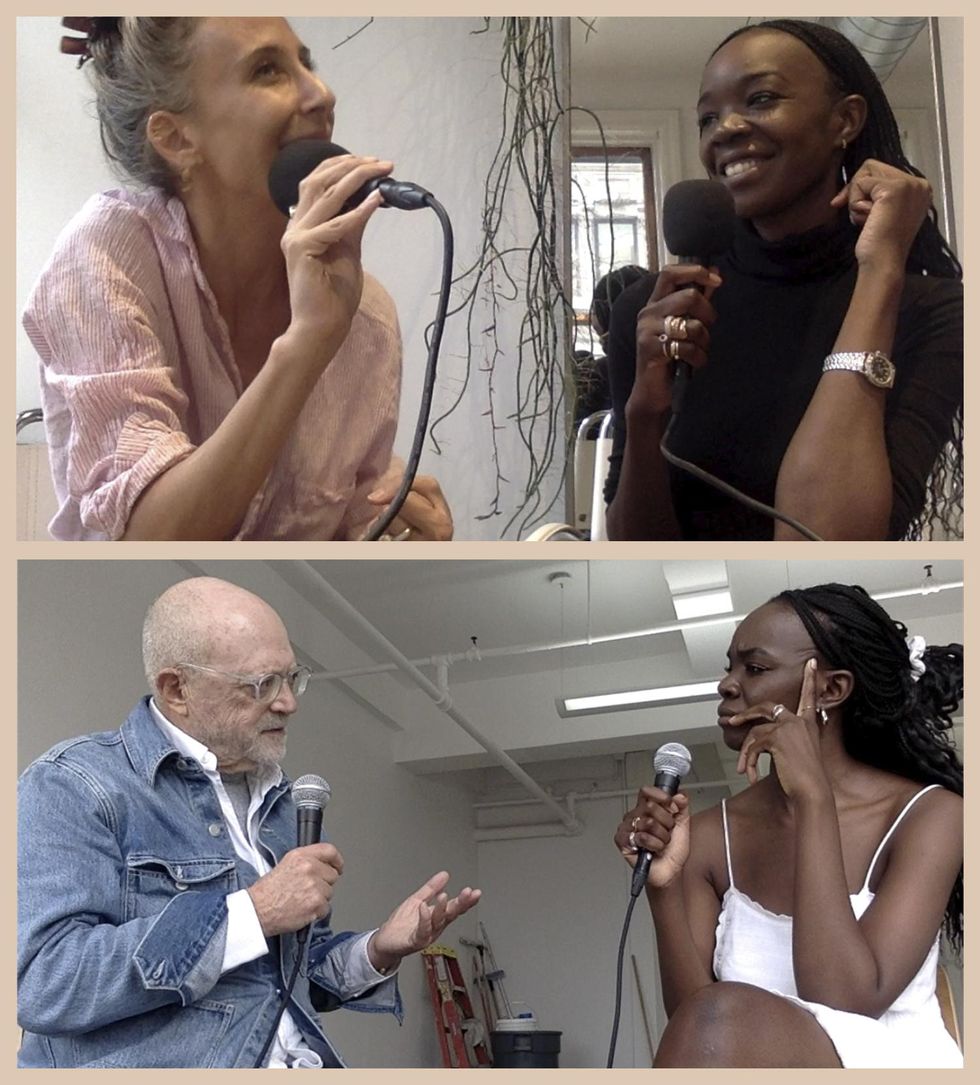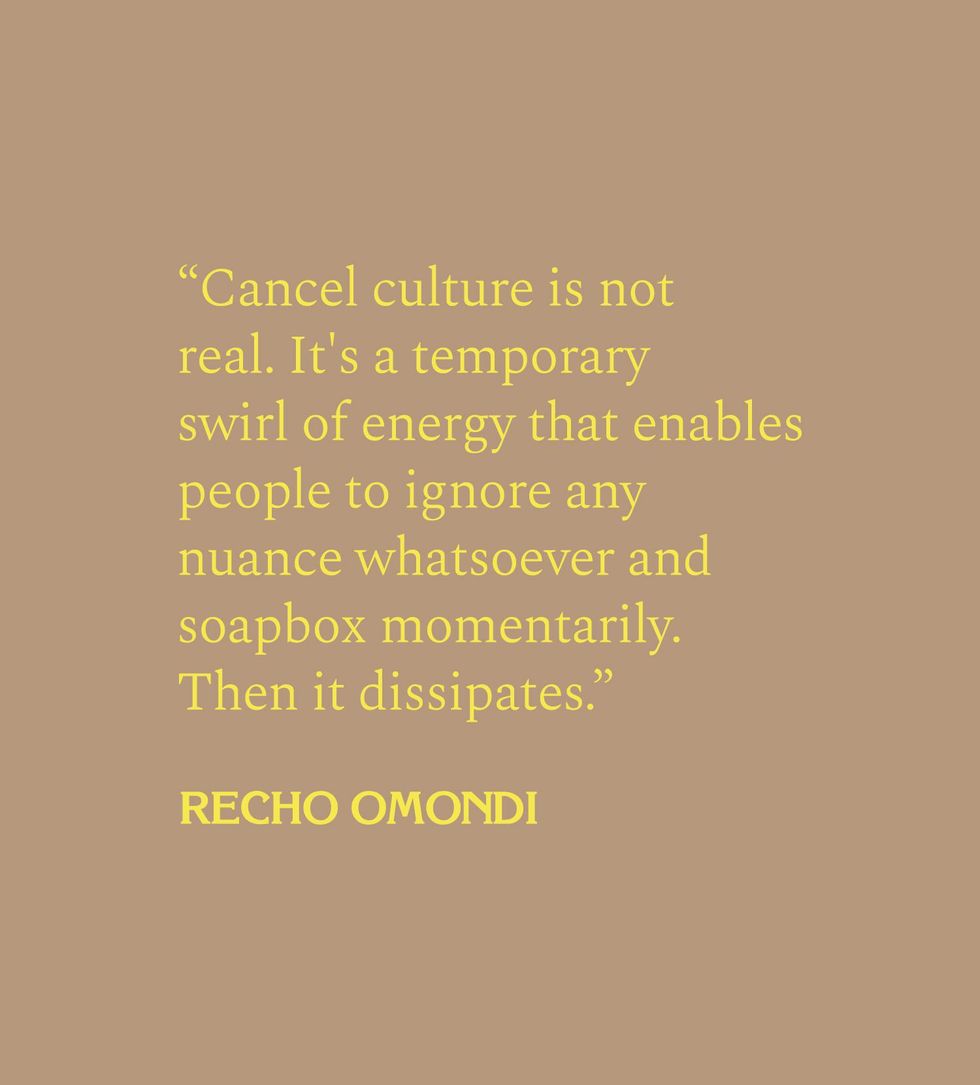 This entire podcast arose out of Omondi's desire to ask the questions she felt weren't being asked of her sartorial counterparts, to lift the veil on the tête-à-têtes insiders were having in conference rooms and over cocktails. This means letting Mara Hoffman walk her through every step of a sustainability-oriented rebranding process or arguing with Mickey Drexler over pandemic-induced burnout, stopping both often for further clarification and even asking Drexler to spell out names. "I think they like the name dropping aspect of it," she hypothesizes of her audience. "Not for the sake of clout, but for the sake of research."
The young podcaster will continue to pry until she knows everything about a story—the when, where, who, why, etc. or what Omondi calls, "the minute details that typically get glossed over." She holds her guests accountable. "I really try to service the audience and make sure they're extrapolating something from the episode, not just two friends who are talking about what they had for dinner where you kind of feel like you're an outsider."
Her steadfast personality is conducive to this sort of work; it's not easy to push someone in a superior position to yours off their train of thought. "I don't really try to be a hardass in the interviews, but I think I'm a super curious person, and so naturally, I'm always asking for more clarity." She denotes courage as a heavy component in the equation, which has a unique effect when coupled with a disregard for the invisible media guardrails put in place by the transactional nature of fashion publications.
In this respect, she compares herself to Joe Rogan in an admirable allusion. It was this approach that allowed her to take the criticism surrounding her episode "The Tanning of America" with Leandra Medine in stride, addressing the issues, apologizing, and carrying on. "Cancel culture is not real," she explains of a construct she ironically mentioned in the aforementioned episode. "It's a temporary swirl of energy that enables people to ignore any nuance whatsoever and soapbox momentarily. Then it dissipates."
"I'm a critical person by nature," she elaborates. "Am I a fashion critic? I don't think so, at least not in the traditional sense,' she says, citing their formulaic adherence to show reviews. "I'm more interested in hovering 30,000 feet above the industry and watching the movement and the waves and then picking a wave and surfing that particular one for an hour and a half."
Omondi calls herself an outsider in fashion (a default of the aforementioned cruising altitude). This statement of relativity is something writers, like Robin Givhan, often nod to as a key component of objective reporting, though many would describe both as insiders. Ironically, most of Omondi's guests are so inside, so niche, you likely wouldn't even know their names. The designer turned podcaster clarifies by adding, "I try to bring the outsiders in with the show,"—it's the ultimate backstage pass.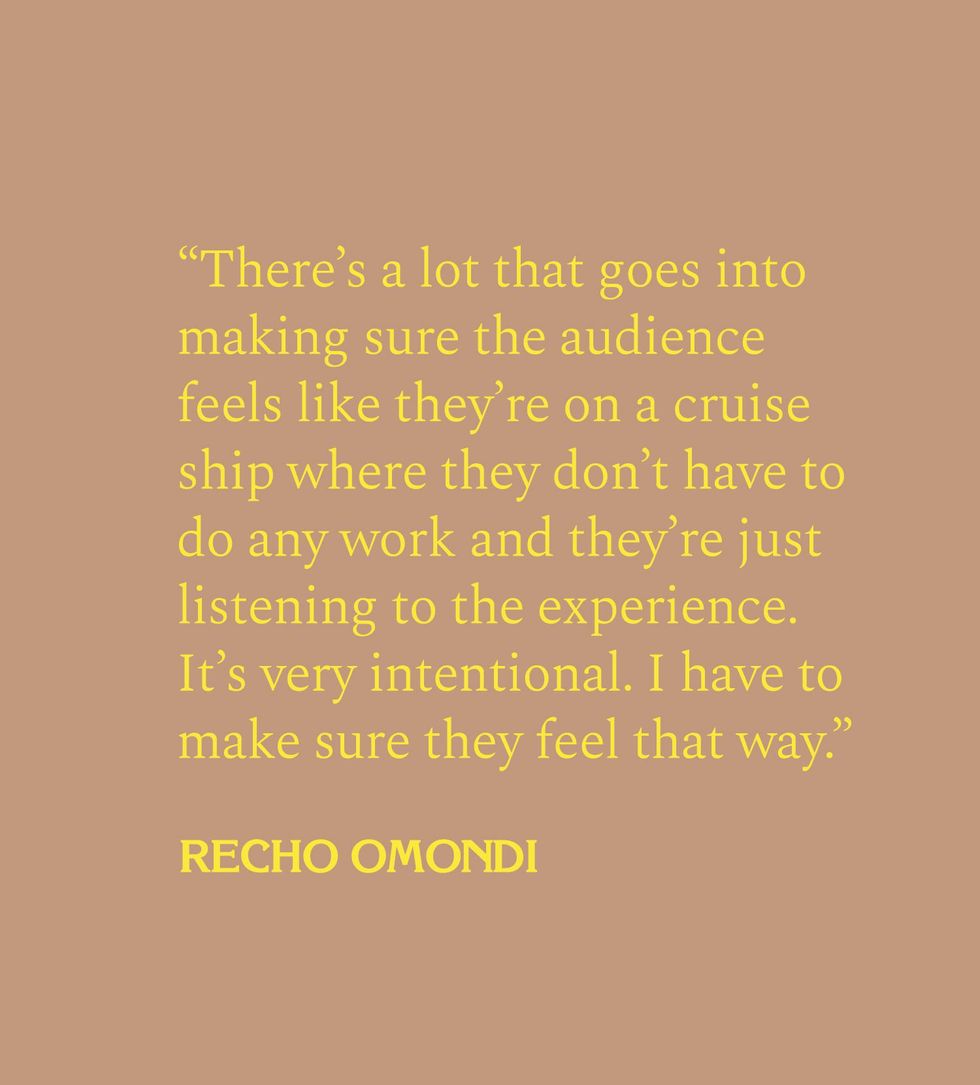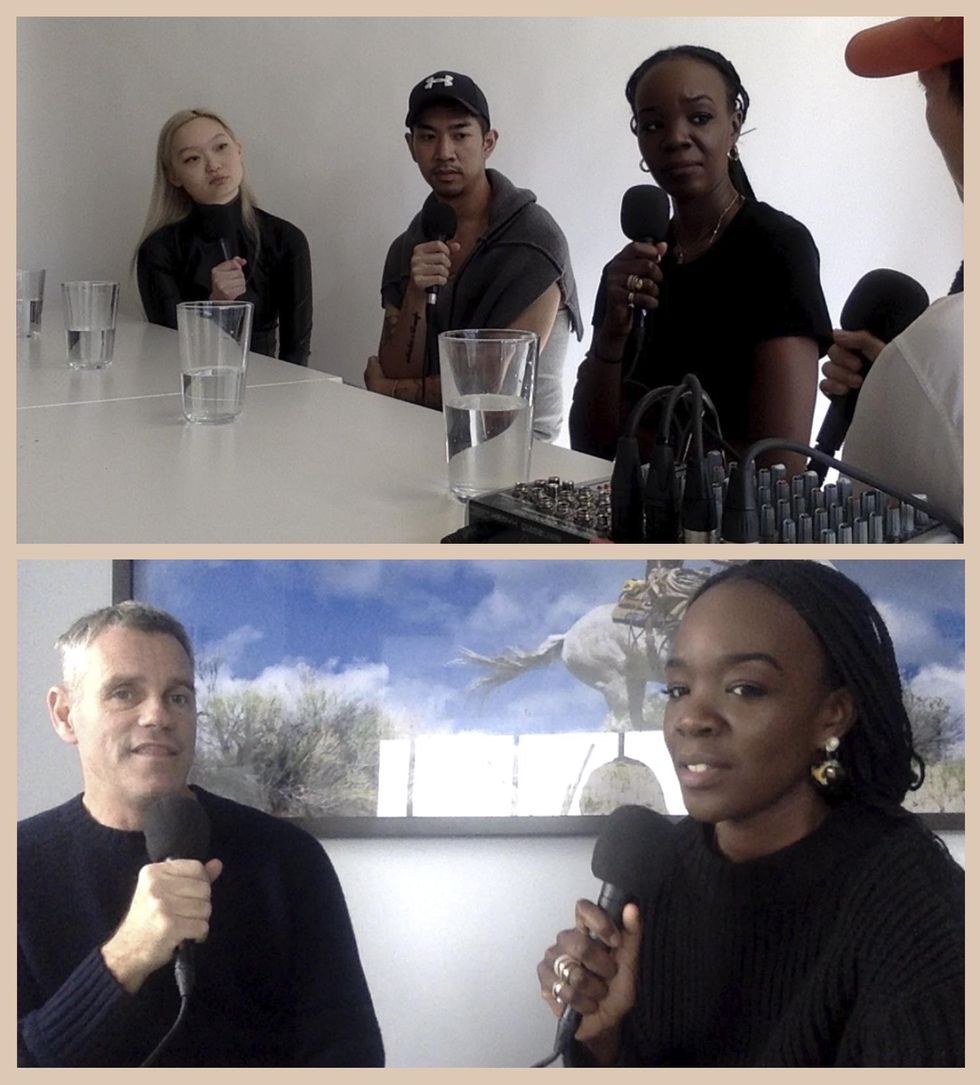 Probed further, Omondi wouldn't call herself a reporter either. The question of her role in the industry is one that she herself has strived to define. (These days the lines between editors, writers, reporters, critics, influencers, consultants are blurry at best). "I think I'm a journalist in the sense that I am broadcasting, so yes, but my ethics, I don't know, because I'm not unbiased." A product of doing it alone, there's no journalistic standards to uphold. There's also no advertisers to appease, no editors to placate.
When I ask which publications she thinks are doing a good job, she begins listing writers rather than platforms—aside from lauding Ssense as the best editorial source today. Her short list includes Eugene Rabkin, Guy Trebay of theNYT, Amy O'Dell, GQ's Rachel Tashjian, Christopher Morency of HighSnobiety, and, of course, Robin Givhan and Cathy Horyn. Noting a recent Vanity Fair article about the new gated internet, she posits, "I do think I more so now follow writers than publications."
Outside Omondi's orbit, this trend has been exhibited in sites, like the now defunct Man Repeller, that evolve into a media platform centered around individual editors or writers versus the entity itself. The same notion is the onus behind the Patreon/Substack-induced newsletter craze. This is exactly what Omondi has built for herself. You tune in for her interviews, her selection of guests, her candor. Instead of using big names to draw clicks, she uses her name to drive attention towards unknown bodies in the industry.
This new wave of editorial self-starters set their own standards and blur the boundaries of journalism. Though many newsletters are driven by product—i.e. Opulent Tips—Omondi goes out of her way to ensure that is not the case with The Cutting Room Floor. She defines her show by describing what it is not. They won't cover "red carpet, runway, product, celebrities, or trends." The selection of the podcast as a medium is conducive to this sort of longer form content. It appeals to our hyperactive minds as it allows for multitasking; Omondi herself notes she finds herself easily distracted when reading long articles. One can do the dishes, cook dinner, or go on a walk with airpods in. Her interviews often run from an hour to an hour and a half in length—Mt. Everest in print, but easily consumable via audio.
The irony lies between Omondi's determination to circumvent product placement and her medium's absence of visuals—both of which oppose the aesthetic foundation of the fashion industry. The same paradox applies to all podcasts that analyze this or any aesthetically-oriented industry. It raises the question: Is this source of coverage viable with no visual component?
In Omondi's rebuttal, she notes that this is something she thinks about a lot. "I guess I feel we are so inundated with images that they mean almost nothing to me anymore," she posits. "Plus, storytelling the fashion industry via audio is a wonderful call to action for the listeners. It engages their imagination and encourages them to research something. We've been spoonfed so many images; I don't mind that it gives them something to do."
Shop Recho's Favorite Things:
Éliou
Moleskine
The Culture of Narcissism: American Life in an Age of Diminishing Expectation
Mad et Len
Nike