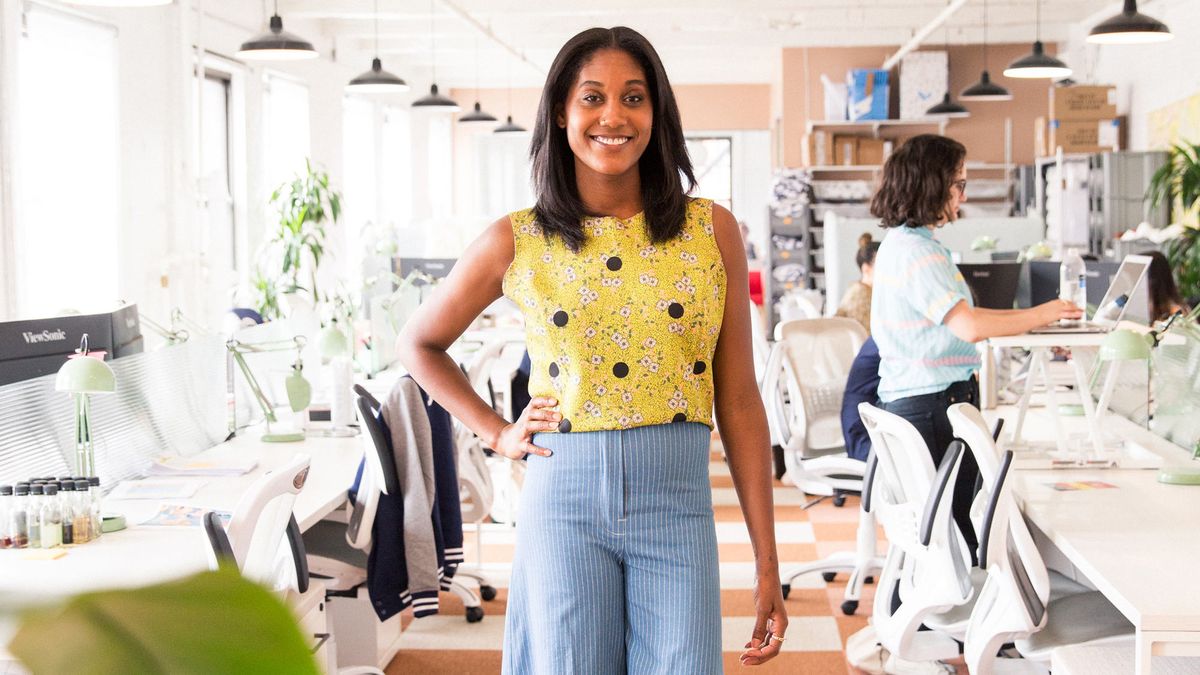 Career
Alex Covington shares her best advice if you're feeling stifled at your current job, and the clap-back she'd love to give feminism haters.
Alec Kugler
If you're at all interested in either toppling the patriarchy or taking a
really
good Instagram photo, then you've probably been aware of women-only social club
The Wing
since its inception in 2016. Even if you haven't had a chance to visit in NYC or D.C. just yet, there are three new locations opening up later this year (*cue a happy dance at your desk*). We're lucky enough to work just around the corner from the SoHo outpost, which is how we became aware of one of the company's most influential founding members: Brand Director
Alex Covington
.
For the past two years, she has been quietly curating everything we love about
The Wing
and its
signature brand
, although it's difficult even for her to define what the community's feminist voice entails. "When people try to describe voices, they sort of pin it to a person to give you an idea of flavor," she explains when we stop by The Wing's Manhattan HQ for our shoot (and a preview of some upcoming fall merch!). "I like to think that [it's] an amalgamation of Audrey. She has a little rock n' roll to her, but she's very brainy and sort of unusual in the most beautiful way. She's unexpected. That was the first piece of the voice I wanted to make sure was intrinsically there."
Check out more details on how Covington first became involved with The Wing after leaving the PR world, her advice for fellow female creative professionals, and what her go-to power outfit is when she's facing a big meeting at work, since, if you couldn't already tell, the woman has style for days.
---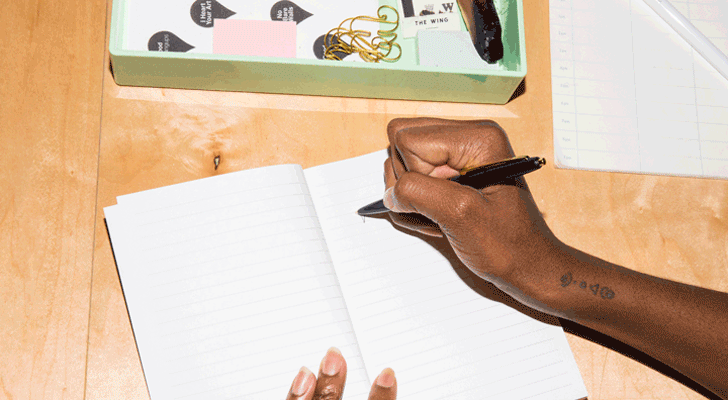 How did you first become involved with The Wing?

"Audrey and I got connected in the January before we opened. It was just a concept, she briefed me in, and I was really intrigued by it. I took the idea and ran with it and gave her sample tag-lines, and some branding opportunities for them in a little dek. Just building flavor and structure around the brand voice. That was basically my role prior to us launching—giving life to the voice and really helping set up that initial gateway for members when they came in. I became a founding member as well, because I just believed in it, and this was a passion project of mine. I think that was the first time I worked on a project where I felt like I got to create and contribute and then watch it come to life."

The Wing's branding is so identifiable. What else did you draw from when you were bringing it to life for the first time?

"I thought of my heroes—the women who came before us. The Gloria Steinems of the world. The people who are carrying the torch forward today, like Solange. Creators. I took different pieces of women that I've encountered, that I've admired, and infused that into what I felt like the brand should be. I wanted it to feel accessible; for people to feel inspired by it, but also aspire to it. But I also wanted it to feel relatable, comfortable, and inviting. A place where you can feel like you're at home, whether you're in the space or whether you're part of our community online. There're words that come to mind that I really like to lead into. I like to think we're a little bit wicked, a little edgy, a little cheeky. But I think most importantly we're incredibly engaged. I say 'we' because I think of our brand as a community first. I really like to feel like I've collaborated with the community and the audience throughout this process."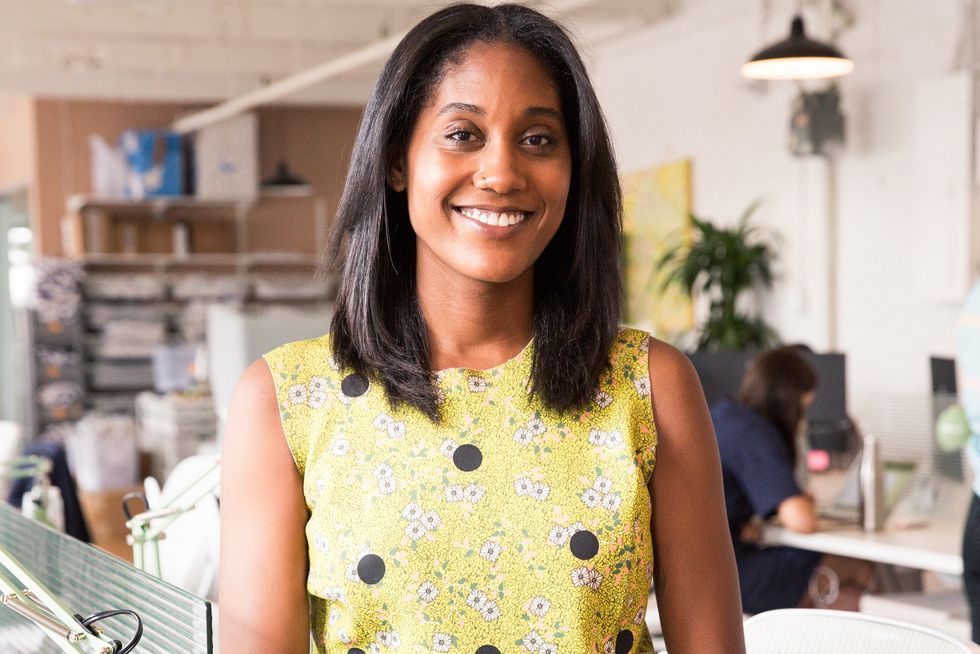 What does an average day look like for you now?

"Nothing is average here. I lean into the volatility of the job. You never know where your hands are needed. I work really closely with [our] social team and digital communications in terms of what is the story that we're looking to tell on all the different channels we have. I have a lot of meetings typically. We're in a really big period of expansion right now, so a lot of the departments are in planning mode. One of the big puzzle pieces that I'm working on right now is how do we do event coverage? How do we set up a system so that it is digestible, snackable, entertaining and impactful in a way that everybody comes away with something valuable from the table."

How many new locations are coming this year?

"L.A., San Fran. London is next year. It's a whole new market, so it's really exciting, and there's a lot of work to be done in terms of getting a feel for like, 'Who is that woman on the West Coast? What do they want to hear? What do they want to talk about?' I think that was one of my favorite pieces of us expanding to D.C. We had this dinner with some powerful ladies in D.C.—the movers and shakers—and it was really interesting just getting an ear on what's important for them, what they're sort of looking to get out of the space. Unsurprisingly, everybody was very plugged in politically, but what was surprising was that they're kind of exhausted about talking about it. They were also like, 'Let's do sound meditation. More of that please. We want to do screenings.'"


What is the first thing you do when you wake up in the morning?

"I make my bed. This is a new thing I've been doing for the last year and a half. I feel like if I have a chaotic morning and I leave my house a mess, my whole brain is sort of in shambles. That's sort of the first check. I do a little bit of a social scroll. I check out what's going on in the feeds, both for The Wing and for myself. I typically turn on the news—important to stay plugged in at all times. We're living in crazy times so it's like, 'Oh, what surprising, chaotic shit are we going to learn today?' Then I start getting ready. I really like the fashions, if you will. For me it's always been a place where I can express myself. I learned from my mom to treat my clothes as art, and I just play around with it and have fun. And it also helps give me a bit of energy in the morning and makes me feel like I'm already creating."

What's your go-to power outfit when you have an important day?

"I love a good jumpsuit. I have three worker's jumpsuits that I attach myself to. One's denim; one's this bright blue that I've been leaning into heavily this season. The zipper goes all the way down to the crotch and comes up. I got it online. Especially if I'm running a little bit late, the easiest thing I can do is just throw on the jumpsuit, get ready for work, throw on a pair of my favorite shoes. These are my favorite shoes for sure, [from] Vero Cuoio. I like to balance the masculine and the feminine. So if I'm going real boxy with worker's trousers I like to balance it with a cute, funky heel."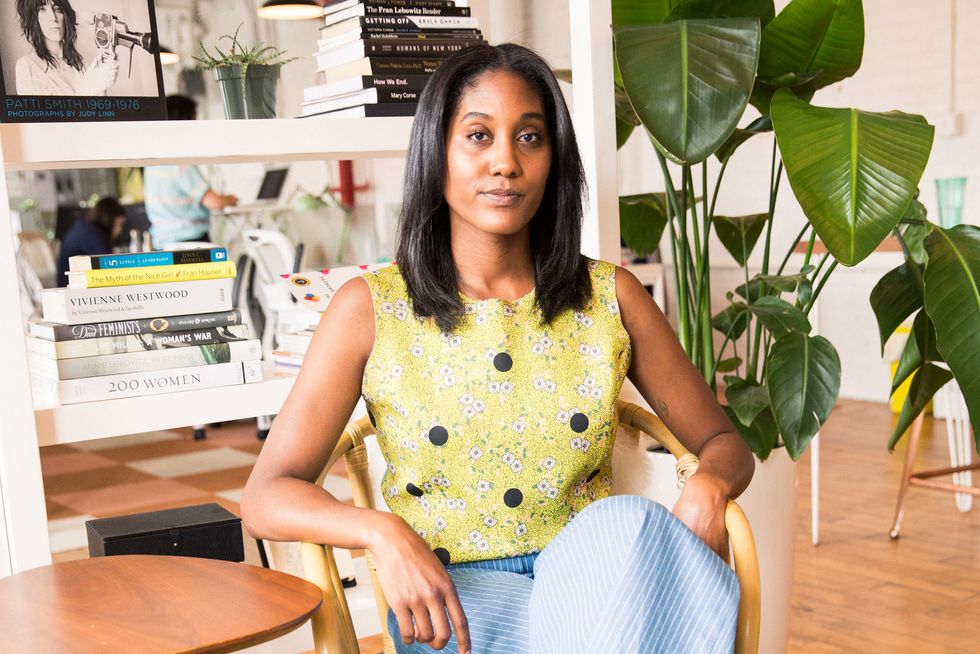 What has been your biggest challenge in your career so far?

"I think prior to The Wing, my biggest challenge was finding my voice. I've bounced from agency to agency in predominantly male-dominated spaces. I was shy about sharing my ideas. I was quiet when it mattered, unfortunately. And I wasn't good at taking risks. I really struggled with that, because I didn't feel as free to sort of be confident. Free to take ownership of things. Free to push back; free to bring my ideas to the table. That was hard, because I have a creative mind, so I want to share that with people. It wasn't until the side-hustle sort of emerged with The Wing where I felt myself really engaged and energized about my work for the first time. It really felt like, 'Oh my god, this is what it feels like when there's nobody sitting on your shoulders or pressing down and stifling your energy.' It's really opened that door so I can really step out and explore and just see what's out there to do, for me to create, for me to react to. That was definitely what I used to struggle with and now what's great is that I've seen the light."

Do you have a personal mantra that you say to yourself anytime you're having a tough time?

"What I always try to tell myself is to troll my own fears. I used to let things kind of get in my way, whether it be nerves, anxieties, or insecurities about my abilities. At some point in the last couple of years I started pausing and asking myself why I was feeling that way and trying to unpack the fear. I enabled myself to take control of the fear and acknowledge the fact that everyone has these insecurities, and you're not alone in going through these. Acknowledging the discomfort but then just being excited about what's to come."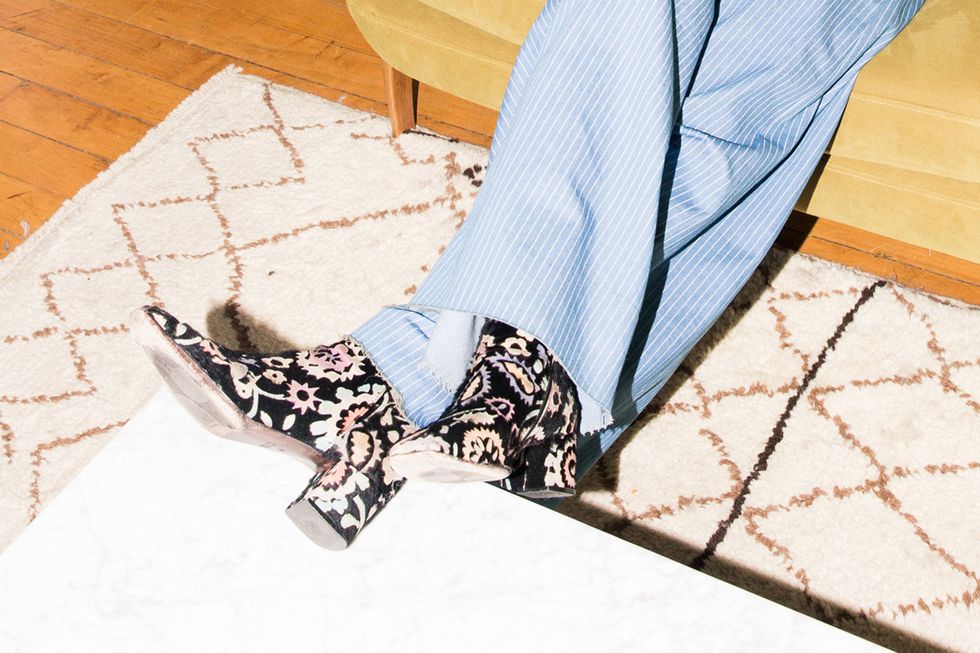 What advice would you give other young women who are feeling like you felt when you were at your previous jobs—not engaged?
"I think it's really important to stay busy. I think finding something to occupy your brain, even if it's not what you know you're truly passionate about, it's important to at least have something like that in your life, and then carving out space for things for you to do that truly make you feel passionate. Do something that truly moves you and makes you feel excited to participate in. I think so many of us get trapped into thinking that your 9 to 5 is who you are, and we're so much more than that. Yes, we need to pay bills and we have responsibilities, but just being open to the fact that there's so much more outside of that space for you to discover about yourself."
Who is your dream speaker for The Wing?
"Obviously Beyoncé is on the top of our list. Maxine Waters. She's the auntie I didn't know that I needed, so I really love her willingness to share her story with us and really inspire people to have that same courage that she brings to the job every single day. Those are my top two. I wish Zaha Hadid. I know that she's not with us, but that's somebody I fantasize about bringing in. Just like a badass female architect who created monumental structures that completely changed the game. I wish we could've had a little fireside chat with her."
If you could give the ultimate clap-back to people who still hate on both feminism and feminists, what would it be?
"There're so many words for that. I feel like if you're not on board, get the fuck out. If you truly don't believe in equality, there's just no room for you at the table anymore. The world has changed, and you and your old ways can go sit elsewhere. But certainly not at a table with us at the table of the future. That's where the inclusivity stops—for people who are just intolerant of progress, intolerant of inclusion, equality, diversity. Because that's what a brighter future looks like, when all of those elements are at the table to help truly guide a better path forward. Women are awesome, [so] what are you doing?"
Want more stories like this?
Exactly What Goes into Designing a New Feminist Symbol
Julee Wilson Isn't Afraid to Call Out the Beauty and Fashion Industry
The Founder of a Sex Toy Company Taught Us This Crucial Piece of Career Advice