Career
Alexandra Fine wants to build you a better vibrator.
Alec Kugler
When
Alexandra Fine
, co-founder of
Dame Products
, explains how the
Eva II
works—that's a hands-free vibrator, for the record—she uses her entire body to mimic the toy's silicon wings. "It pushes the labia apart like a vulva ninja," she cries happily, lifting her platform-sandal-clad feet in the air one by one until satisfied that we can imagine the placement for ourselves. By the time she's finished showing us around the Dame Products Brooklyn headquarters and referencing anatomically correct vagina pillows (among other sex-positive knickknacks), photographing a
handful of vibrators
feels more like documenting a pile of spoons or other household item. No shame, no embarrassment, which, if Fine and her co-founder, Janet Lieberman, continue their company's mission, is how everyone will eventually view sex toys—a useful tool for women and couples to enhance intimacy and empower women to prioritize their own sexual pleasure.
This drive to demystify sexuality started early for Fine, who recounts a SoHo drag party she attended with her aunt when she was six years old. "I think when you're a child, you really get the opportunity to ask authentic questions, like 'Are you a boy or are you a girl?'" she says after gamely tossing handfuls of vibrators into the air for a shot. "As you get older, it gets harder to ask—you're expected to know. They explained everything from transgender, transexuals,
drag queens
, cross-dressing... They showed me how to catwalk. [It was] maybe the best night of my life." The next day, after she shared this information with fellow classmates, her concerned teachers contacted her parents. "It was definitely my first real experience with nonsensical shame," she says thoughtfully. "Growing up, I experienced slut-shaming and a double standard of exploring our sexuality. That kind of led me to pursuing sexuality as a career."
---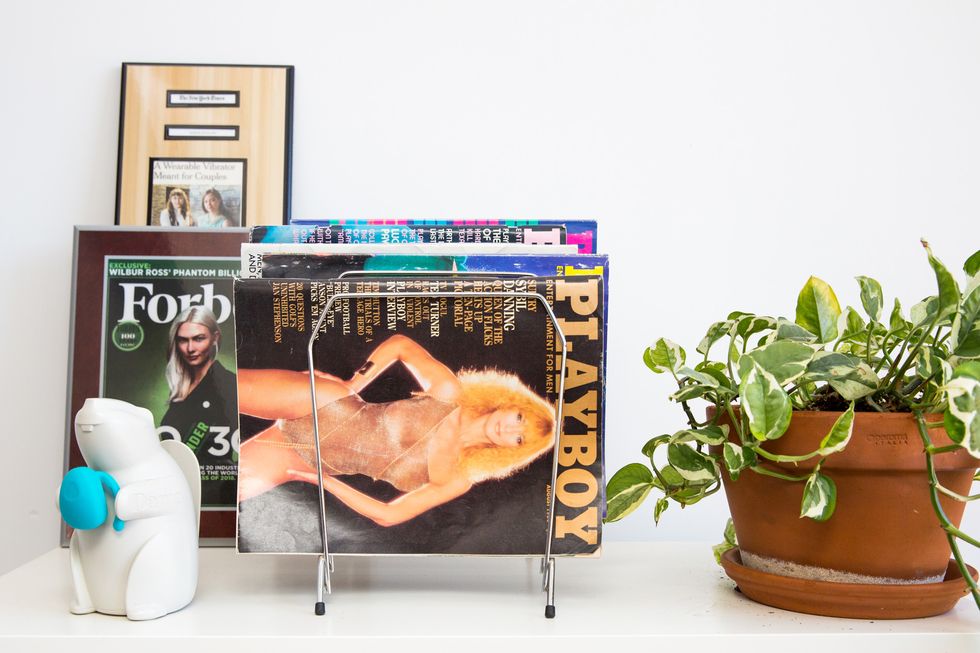 As we continue to explore Dame's airy studio space—complete with a prototype workshop and 3-D printer—Fine elaborates how she grew from a sexually curious teenager to a burgeoning sexual pioneer. After studying clinical psychology at Columbia for her master
'
s degree, she honed her business chops at a small goods company, with the idea for a revolutionary
new sex toy
brewing in the back of her mind. "I went to an art supply store and took apart some vibrators and started making my own," she says of the company's inception four years ago. "There wasn't a brand that resonated with a more straightforward, frank approach to talking about sex that [wasn't] over-sexualized."
Eventually, she met her co-founder, Janet—an MIT-trained engineer—in New York, and after several months of brainstorming and redesigns, the two launched Dame Products with Eva, a rechargeable, wearable vibrator. "It was really important to us to launch with a toy that was unique in concept," Fine says of the original Eva. "There was nothing on the market like it—the hands-free partnered aspect of it. People were really looking for a specific solution and a way to get clitoral stimulation where they weren't asking their partners to 'take one for the team.'" She explains that in contrast to the typical cock rings and toys that are inserted
inside the vagina
during sex, the goal was always to create an external vibrator that provided both clitoral stimulation and stimulation for both partners. A flood of enthusiastic customers soon followed.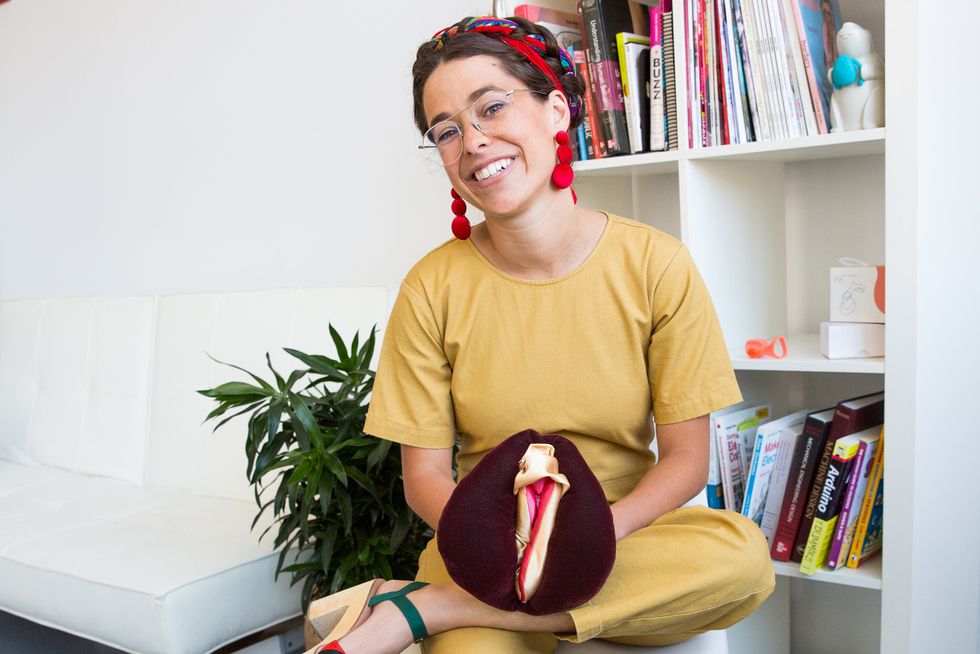 Now, with a second vibrator style funded through Kickstarter—
the Fin
, a smaller, handheld toy with a removable hand tether—as well as a redesign of the first Eva, resulting in the slimmer, waterproof Eva II, Dame has solidified its place as a leader in the growing sex toy marketplace. "The number one thing is that everybody has a right to sexual pleasure, and that there is nothing shameful or sinful about sexual pleasure," Fine emphasizes of her company and its goals. "It's about demanding quality and valuing these products. Once you get rid of the shame, you can view these products like they're anything else."
Before we leave, arms laden with our own Eva IIs and Fins to try out, she emphasizes her desire for fellow female entrepreneurs to pursue their own small business dreams, no matter how young they are (she made last year's list of
Forbes
30 under 30, FYI). "You don't need to get an MBA; you don't need to do a lot of the things that I thought people needed to do." We ask what she hopes to inspire in her growing base of female customers. "I hope women are inspired to
own their sexuality
and feel comfortable in it, and to be the architects of their lives when it comes to work." And with that tidbit of feminist wisdom, we're out the door and back on the Brooklyn sidewalk, proudly swinging our bags full of vibrators.
Want more stories like this?
The Best Sex Toys for Your Zodiac Sign
A Man Told Her Her "Vagina Could Be Better"—Her Response Broke the Internet
What It's Really Like to Be a Professional Dominatrix