Deskside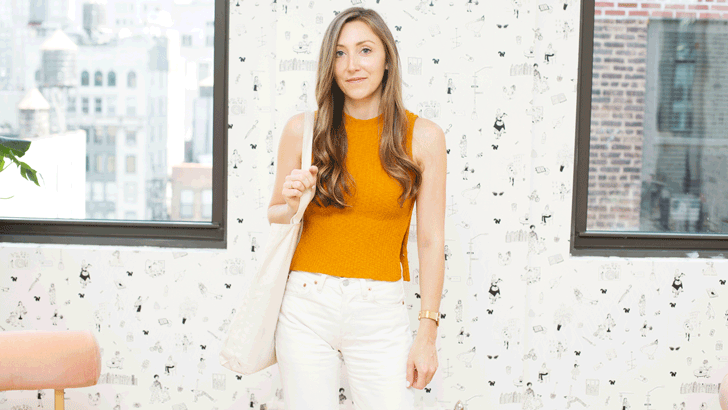 Exactly What Goes Into Designing a New Feminist Symbol
A little help from Rihanna didn't hurt.
Settling into one of the plush couches in The Wing's Flatiron outpost on a busy Monday morning looks something like this: Dozens of sharply dressed women type away at laptops and scribble in aesthetically pleasing notebooks. Everything is calm and orderly, efficient and stylish. The same can be said of Deva Pardue, the graphic designer behind For All Womankind, with whom we meet on said Monday morning. She expertly guides us through the social club space, pointing out subtle details like the custom "W" tiles in the bathroom. "I designed those," she drops casually as we step closer to inspect the gorgeous inlay. In fact, as an integral part of the all-female team from design firm Pentagram, she helped design every inch of The Wing's delicately feminine brand identity. "It wasn't a difficult project. We loved the idea from the beginning. I think your work is always better when you're passionate about it and feel like it's worth something."
Pardue's interests have evolved quite a lot since her upbringing in Ireland. As we sit across from each other on our respective pink couches, the soft-spoken designer informs us, "I wanted to interview serial killers – I'm really into true crime. But I was always into art. When I decided [not] to do psychology anymore, I transferred to [School of Visual Arts] in New York." An internship and then a job at top-tier firm Pentagram quickly followed. The Wing's branding was coincidentally her final project at the company before embarking on three months of travel across Eastern Europe and Africa. "Now I'm working for myself and doing For All Womankind."
Even if you're unfamiliar with the name, you've likely seen the signature For All Womankind poster—three fists in different shades raised up in defiance. "[Online magazine] Magenta asked me to contribute to this piece they were doing about what makes successful protest art. I [chose] the clenched fist motif because it's been used and appropriated in so many different movements throughout history." Each hand is notably painted with red nail polish. "While I was doing visual research, I couldn't find a female-looking version. Even the women's liberation movement that used it decades ago—the fist looked very masculine and aggressive. There's an unapologetic thing going on with being feminine and being strong at the same time, and I was like, 'If I'm not going to [design] it, somebody else is going to do it.'"
Sales from the first run of posters went to both the Center For Reproductive Rights and Emily's List, but the major breakthrough didn't come until the Women's March in January. "A week before the march, I put up free downloads for a poster. Thousands of people were downloading them, and within the three days my Instagram went from 700 followers to 12,000. Then Rihanna [put it on] Instagram, and it just sort of snowballed after that." Now her design initiative sells everything from pins to temporary tattoos, with over $12,000 of sales donated to the two organizations thus far.
Through her work with both The Wing and For All Womankind, Pardue has found other clients that support her female empowerment mission, including branding for Dame Products sex toys and Girls Build LA, an initiative to encourage more girls to pursue careers in STEM. "I'd rather do work for them than some kind of corporate, traditional, male-dominated thing. I think everyone should look at who they're doing work for and ask themselves if their values align."
It's not hard to recognize the underlying thread of feminism in her projects, but surprisingly, the designer didn't fully self-identify as a feminist until two years ago. "Part of it was privilege, but it wasn't until my mid-twenties and actually working that I started to notice things like pay gaps. So, the fact that the president has said the things that he's said—it was a wake-up call. It was like, 'Ok, fuck this.' The election has definitely turned things around where now people are super proud to be feminists." 
Hear, hear!
Certainly, the outpouring of emotion after the inauguration and subsequent months of Trump's presidency have only helped to fuel sales, but does the co-mingling of activism and profitability bother the founder? "Everyone is making amazing art and raising money and doing all these great things, and I'm so glad to be part of that, but there's also this other side of it that's commercialized and profited on. I'm trying to find my way and really pay attention to what's going on, and actually help in some way, rather than just be another voice in the sphere."