Step Back in Time at This Retro-Themed 'Dive' Motel
Might we suggest the Boogie Nights suite?
Interiors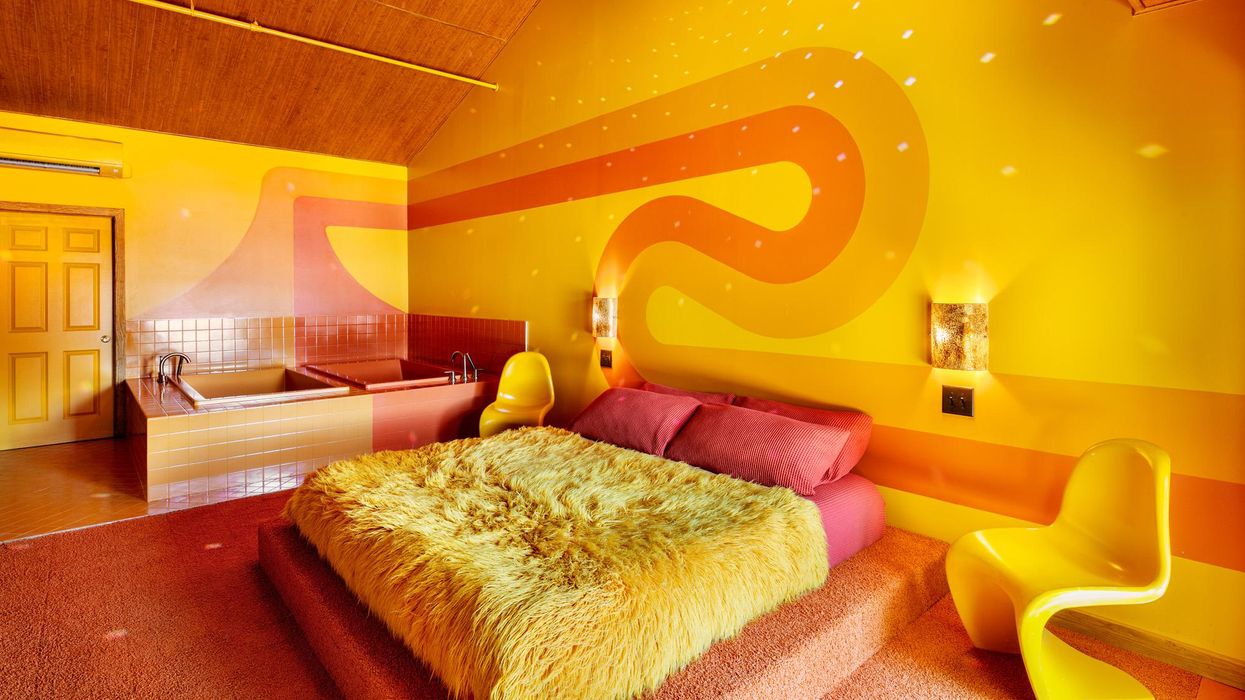 In its heyday, The Dive Motel played host to Johnny Cash, Dolly Parton, and travelers who stopped and stayed while road tripping across the United States. It was known back then as The Key Motel, a motor inn that was built in 1956 and situated on the Old Buffalo Trail in East Nashville. When Lyon Porter and partner Jersey Banks got to it, the property was in need of a facelift. "It was like a lot of motels in disrepair, but it had a storied career," Porter says. "We thought, 'she's got great bones, how do we bring her back to life?'" The mission was the kind every creative dreams of working on: take a 1956-era inn, restore and design it, and create an immersive experience for guests that weaves together the romantic nostalgia of decades past.
The property offers 23 one-of-a-kind rooms, a dive bar, and a 60-foot pool and hot tub. "What was so fun about The Dive was that my only design imperative was that every room had antique and found objects," Porter says. One of his sourcing trips included a drive down to the famed Round Top Antiques Fair in Texas. He loaded up a 30-40-foot truck and hauled back a collection of items he'd come to design the rooms around (amongst other collected treasures).
"Dive bars are my favorite spots so that was the idea—fun, divey motel rooms but with a very refined style and sophistication," he says. "We did like six or seven different types of wood paneling and found 23 different vintage wallpapers sourced from places like grandmothers' back closets," he shares. "There's vinyl wallpaper in some rooms, shag carpets, soaking tubs and all of these types of inspirations came from found objects and then designing around them."
A concept Porter leaned into from the get-go was the word motel. "It's not a hotel it's a motel, it's not meant to be precious," he says. And depending on which generation you come from, it takes on a different meaning. "If you're 70, it was a family-oriented activity and wasn't dirty and it was what you did when you were on a road trip or driving cross-country," he says. "If you ask people who grew up in the '70s, motels were seedy and shitty and had a rock n' roll element to them." As for the current generation, motels satiate the thirst for unique, cultural experiences in a way chain hotels simply cannot.
Among the 23 rooms, there are six categories (cabins, standard kings, king pool suites, double queens, penthouse suites, and the honeymoon suite) however, each is unique and has its own name. Though they're not listed on the website, Porter will post these names on the motel's Instagram from time to time. There's the Boogie Nights Suite, Grandma's Basement, The Captain's Suite, Red Elvis, Jungle Room, Mushroom Room, and a whimsical assortment of others. Though some guests will request a specific room, half the fun is not knowing which one you'll end up with.
"I love the Pool King Suites because some of the hand-painting I did in those but Grandma's Basement is also really fun and has a sunflower chair and couch and Boogie Nights has gold floors," Porter says. "The star of the show, always, is the Honeymoon Suite. It's got two double tubs, two disco balls, a private deck, and a swirled Pantone swipe that carries from the headboard over to the tubs."
Whichever room you do end up in, you can count on two things: a disco ball and a party switch. "The disco balls in every room were made by 'Yo Yo' Yolanda Baker, the oldest disco ball maker in the United States, really the last one, who makes old mirrored glass and aluminum core balls," he shares. "We also created a party switch in every room, which is connected to a main brain with four channels on Dive Radio. So you come in the room, flip the switch, the disco ball starts, and the music comes on one of four channels: sex, drugs, rock n' roll, and sleep."
Other design details sprinkled across the various rooms include vintage radios, clever signage, and even hidden bars. "There's a fake fireplace in one room that's really fun; you open it up and it's a hidden bar," Porter says. "I put a porthole in The Captain's Suite between the bathroom and bedroom so you can peak out while you're showering and there's a brass sign that says something like, 'All marriages performed at sea can only be done by the captain'—so just fun stuff like that. Cheeky and fun but the design is cohesive."
Rooms aside, the Dive Bar is a charming watering hole for guests and locals alike that offers an approachable menu of food and drinks. "The design of the Dive Bar is all-wood paneling and a lot of amber lights and a huge 24" gold disco ball," he says. All of the lighting fixtures are vintage and lend an authentic mood throughout the property. "You can't reproduce the amber glow, that red light from a weird medieval '70s sconce, there's no substitute for that. You can feel the difference and I think that's really what The Dive is—it's a feeling." Hung behind the bar is one of Porter's favorite pieces. "Mel Tillis's daughter Pam Tillis basically gifted us her father's mirror from his man cave and we later found out that it was in Hank William Jr.'s tour bus," he says. "So we have Hank William Jr.'s mirror as the centerpiece of our bar. It's a hand printed mirror from 1981 and features a naked lady on her side."
Outside, the property's swim club features a 60-foot pool and hot tub. "There wasn't really a place (and there still isn't on the east side) for pools," he says. "Nashville is ungodly hot in the summer so we have a pool and hot tub, plus a big sign in front that says 'No Diving' just so you know we're not taking ourselves too seriously." Every Sunday this summer, The Dive Motel is hosting 'Sparkle City' disco parties with a DJ. "As we roar into these 2020s as everyone gets vaccinated, we're hoping to have fun."