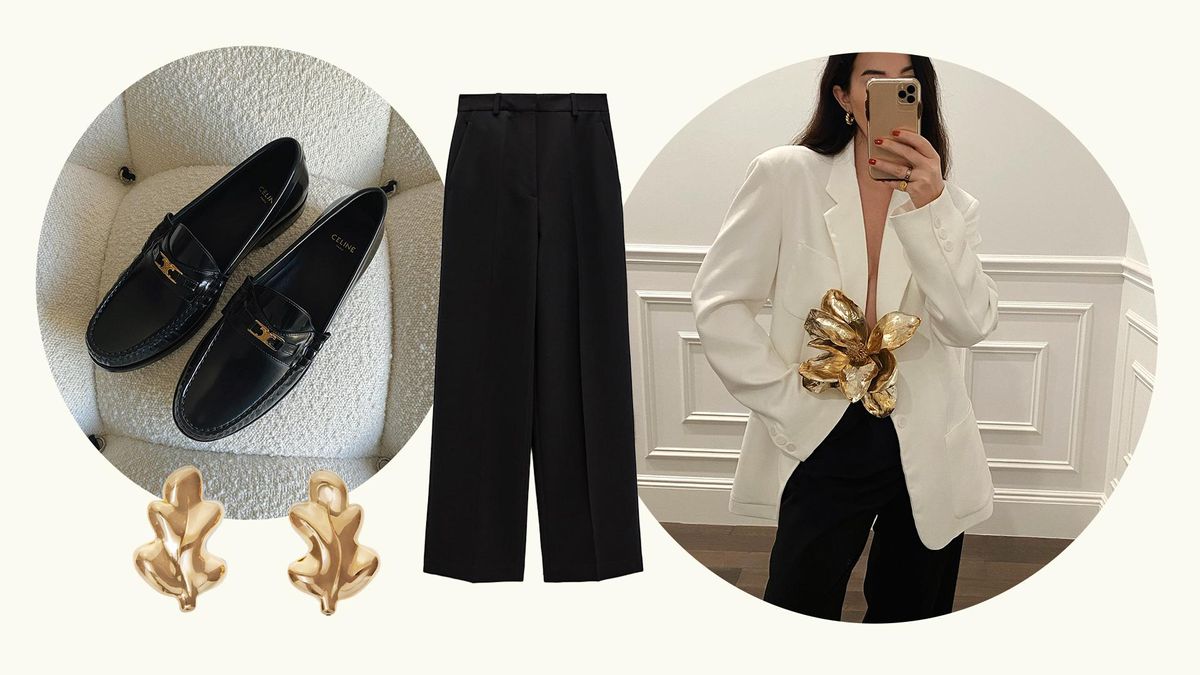 Literally The Best
According to Caitlin Burke, these Zara trousers and Jil Sander brooches are literally the best.
When discussing our own wardrobe and style essentials, Coveteur staffers found their feelings could often be summed up with the phrase, "it's literally the best … white t-shirt, pair of jeans, drugstore find, etc." So, in our new series, fittingly titled Literally the Best, we're asking industry insiders to reveal the style essentials they turn to over and over again and simply can't live without.
Though stylist Caitlin Burke spends her working hours in the realm of luxury, on the set of Rosie Assoulin shoots one day and prepping client Sarita Choudhury for a press outing the next, she's not afraid to dip into Zara from time to time. Embracing the well-known concept of high-low style, Burke mixes Mango with Totême, & Other Stories with Jil Sander, and Zara with Celine. This is where her sartorial know-how pays off. She experiments with sizing in outerwear and steers clear of knock-off hardware, so that her most inexpensive pieces are often mistaken for their luxury counterpart.
The inverse of fashion's common school of thought, Burke splurges on her statement pieces and saves on her basics. The addition of items like zebra-print Bottega Veneta pumps and Jil Sander brooches keep her fairly minimal wardrobe feeling fresh and new. Continue scrolling to discover how she invokes a bit of creativity in both the acquisition of these pieces and the way she wears them.
Paint us a picture of your personal style. What sort of outfits are you wearing on a day-to-day basis?
"It's minimalist but surrealist minimalist. I used to say art-teacher-meets-minimalist. If I tilt too far in one direction like I'm wearing something super feminine, I'll probably pair it with a loafer. So I would say it's a balance of masculine and feminine, but there's always an artistic element. Artistic minimalism, I guess. I love things that are sculptural or with draping. Especially in my jewelry, I love something that is almost like an art object. I love something that feels like Brâncuși, that kind of vibe in jewelry. There's always a bit of surrealism or something more sculptural but rooted in minimalism."
When purchasing a new item of clothing or an accessory, what are the boxes you're looking to check?
"The first thing [I look for] is an emotional connection. It's almost like dating. You have to have sparks. Sometimes the thing doesn't even make sense to me, but if I love it and can't stop thinking about it, I know it will give something to my soul. I feel like I'm a collector when it comes to fashion. Something might not necessarily be a logical choice, like a pair of elbow-length Jil Sander gloves, but it may speak to me and get me excited. Then that's something I need.
"Then, I'll also consider whether it is something I can style with other pieces in my closet. I typically stick to solids in a certain color palette—black, tan, beige, navy. Sometimes I have to check myself. Is it too trend-driven? Take The Row's chunky boots for example. Those are definitely trendy right now, but I still saw their timeless appeal. I recently got this Loewe top that has stars and moons and jewelry on it. It's weird, but it also could be timelessly weird. So I look for things that I feel like will work with the rest of my wardrobe and then do something to my soul."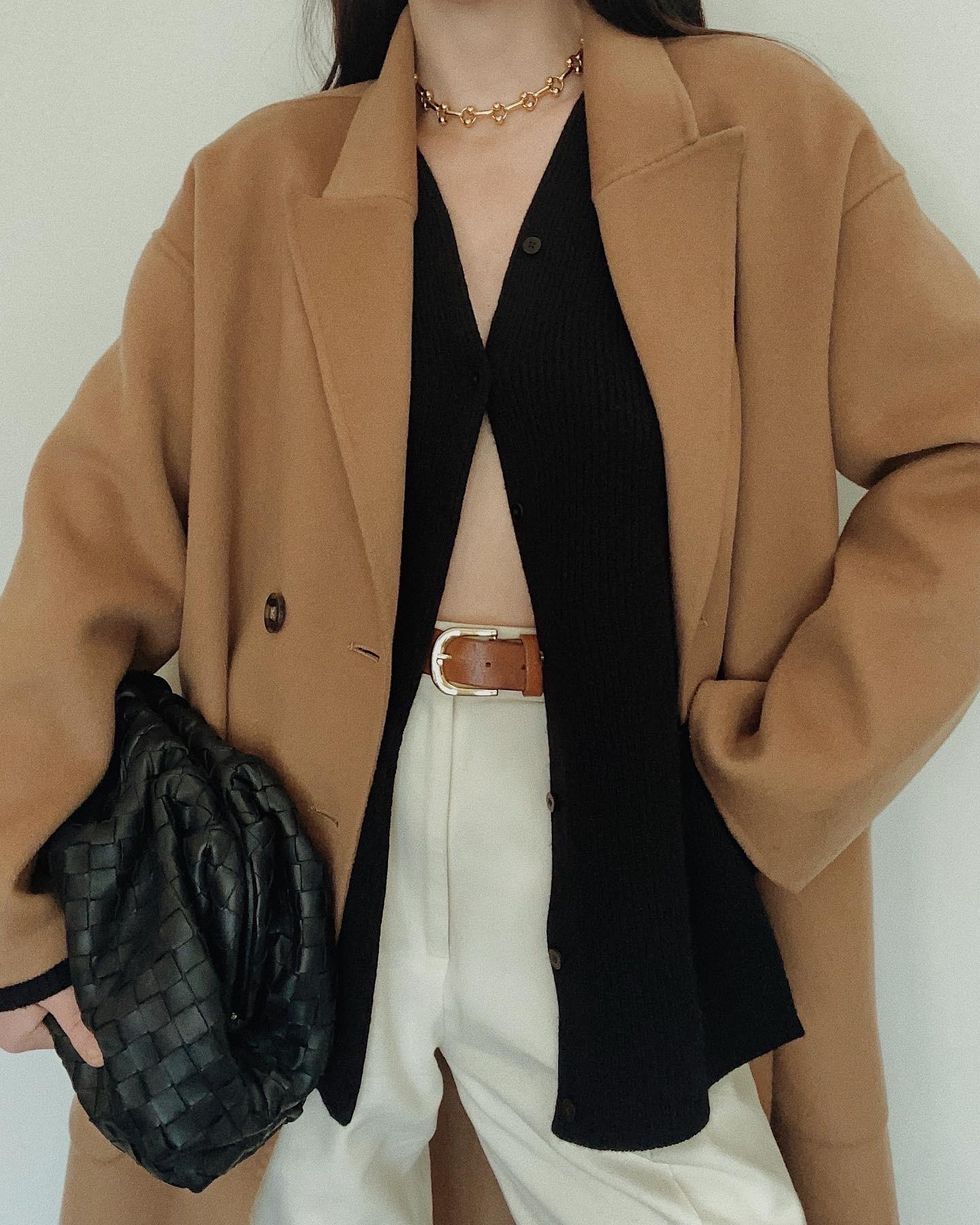 Shop Her Essentials:
"My first [essential] is always a wide-leg pant. I'm in a wide-leg pant almost every single day. I tailor them—ones to wear with flats, ones to wear with heels, ones to wear with boots. I just found a Zara pair I love, so when they went on sale for $30 I bought three pairs and tailored them to different shoe lengths. Aritzia has great ones, too. Always a wide-leg pant. I have them in black, tan, white, brown. I have different weights for different seasons.
Zara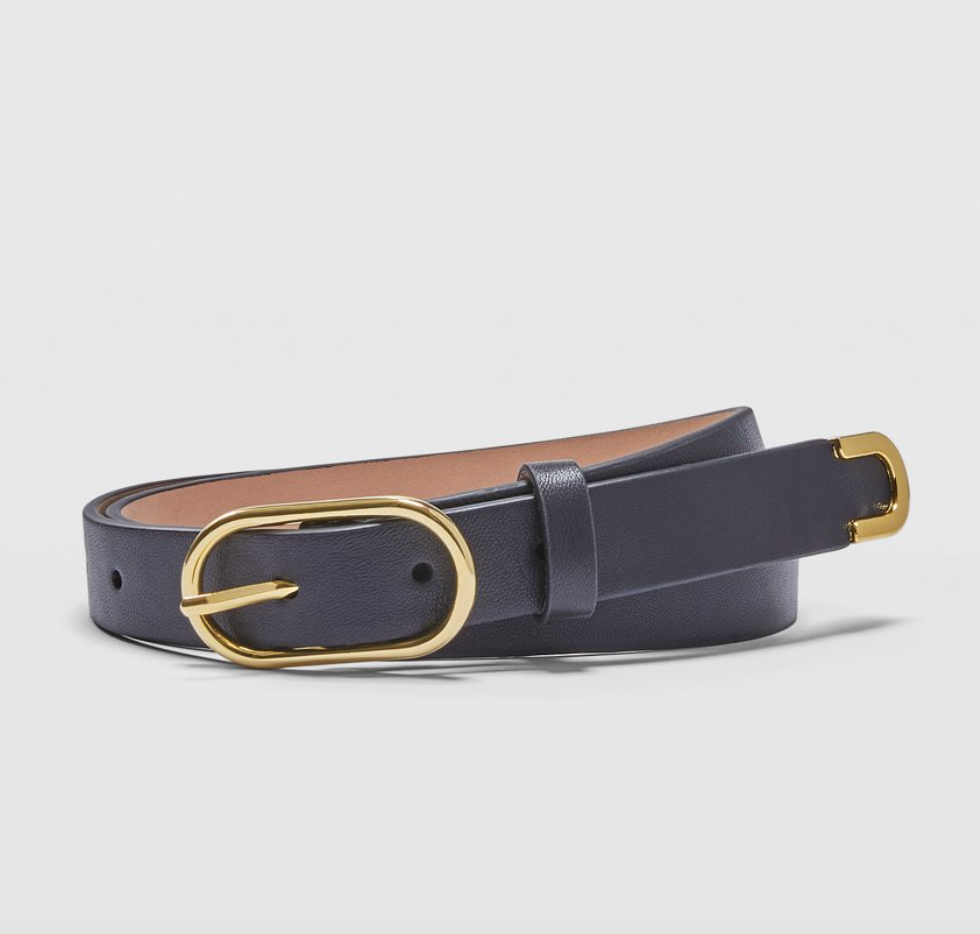 "I think a good belt is super important. People slack on belts because sometimes they can be four or five hundred dollars, but I don't think you'll ever regret a belt. I find with most of my clients, that's something I immediately find is lacking. It can take a simple outfit and make it look that much more put together. People just think a belt is something so small they don't see the value of investing in it, but I wear my black and gold belt with almost every single look. It makes a t-shirt and a wide-leg pant look chic. Khaite makes amazing belts. But for a good price point, I actually really like Banana Republic and Club Monaco for great standard belts. Then if you want something more artistic or directional, I love Celine's Triomphe belt right now and I'm really into the Hermès Kelly belt."
Club Monaco
"Oversize blazers and coats with, as I was saying, a wide-leg pant. I pair almost everything with an oversize blazer, and then on top of that, if it's winter, I love an oversize coat. One of my favorite coats is actually from & Other Stories, but I bought it in a size 12, so people always think it's Celine or the Row. I think people need to get over their association with what size they're wearing. For me, I always try to size up in outerwear. I think you can take a fast-fashion brand and make it look way more luxe. Then sometimes, I'll tailor the arm length because that's where it can sometimes look like you're wearing your dad's coat. The same goes with Zara; I buy most of their blazers in usually a size 8 or a large as opposed to my typical size, which would be like a 4 or a S/M. I also love Petar Petrov. He has a coat that I've been wearing nonstop. I love Isabel Marant for her oversize blazers."
& Other Stories
"I also have a classic loafer. I love my Celine ones right now, but I also have a really great pair that I got from Mango. I don't love getting fast-fashion loafers if they look like a copy of an already-existing trendy loafer, like the Celine ones. I don't like anything with hardware. I think if you're going to go fast fashion, go super minimal with zero hardware but on the higher end. I love the Celine loafers."
Celine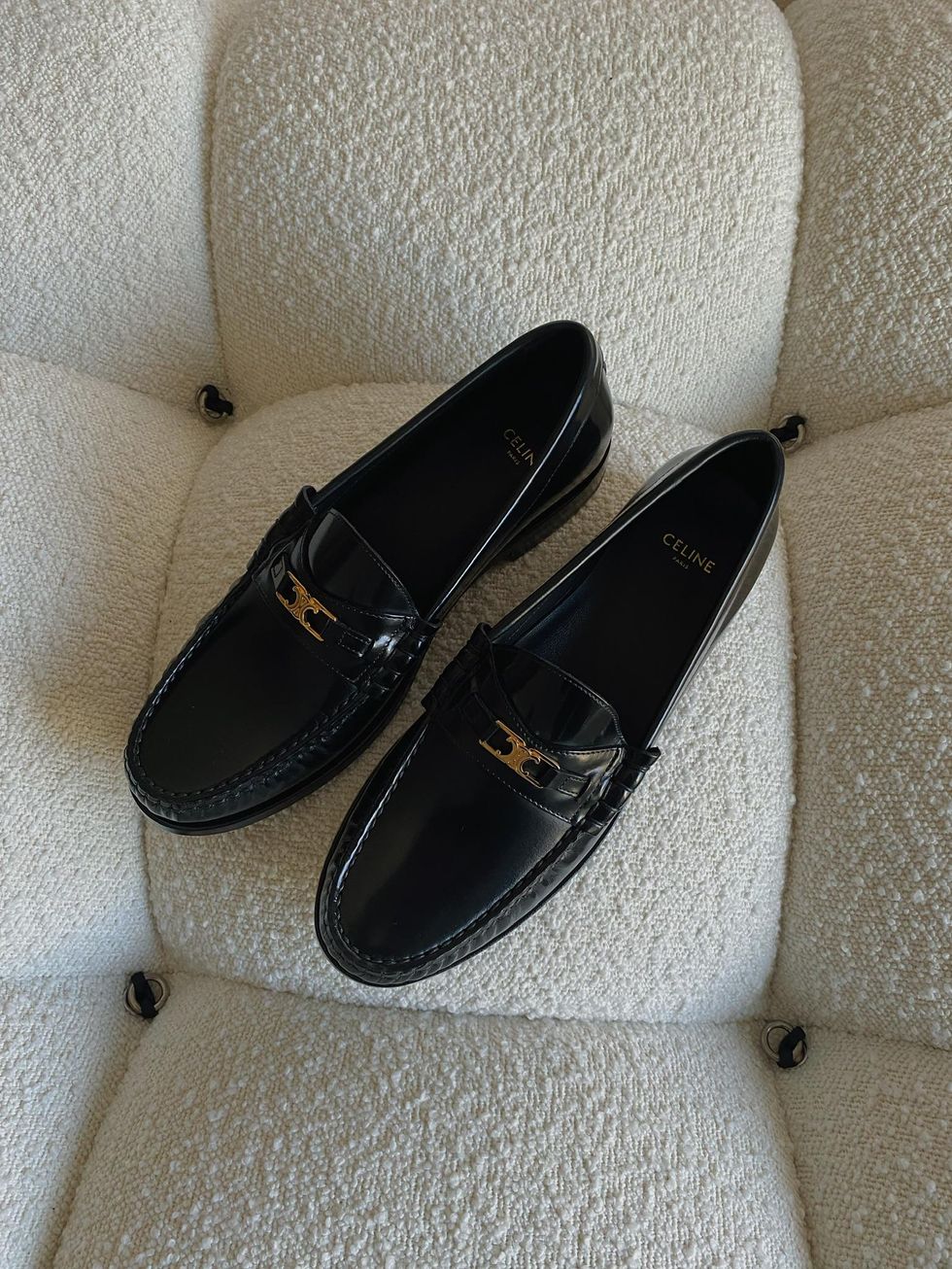 "I also would say a statement shoe. That's where I recommend an investment statement shoe. Even though I dress very minimally, for the past year, I've worn the zebra Bottega [Veneta] pumps. They're just the one trendy item—again trendy but timeless because zebra print can be a neutral. I think one statement shoe of the season can take your minimal outfits and elevate everything whether that's a boot or shoe. Right now, the Saint Laurent Vesper pump is the next one on my list. They're still kind of classic in my eyes, but they will just make all my current clothes feel like new."
Saint Laurent
"Then, I love a gold jewelry or a gold accessory pop—again going back to things to just elevate the look. I'm loving Jil Sander and all of their gold leaf brooches right now and earrings and necklaces. I'm just starting to get into [brooches]. The Jil Sander one is kind of what sold me. Their e-comm right now is so good, and they do these brooches with everything. On the lower end, I love Martha Calvo. I usually always wear some of her gold jewelry—anything that feels personal. I don't like my jewelry to look like new. One of my favorite pieces is my grandma's locket. I always mix that in with any new jewelry because I think jewelry should look really personal and like you've had it forever even if it's new."
Jil Sander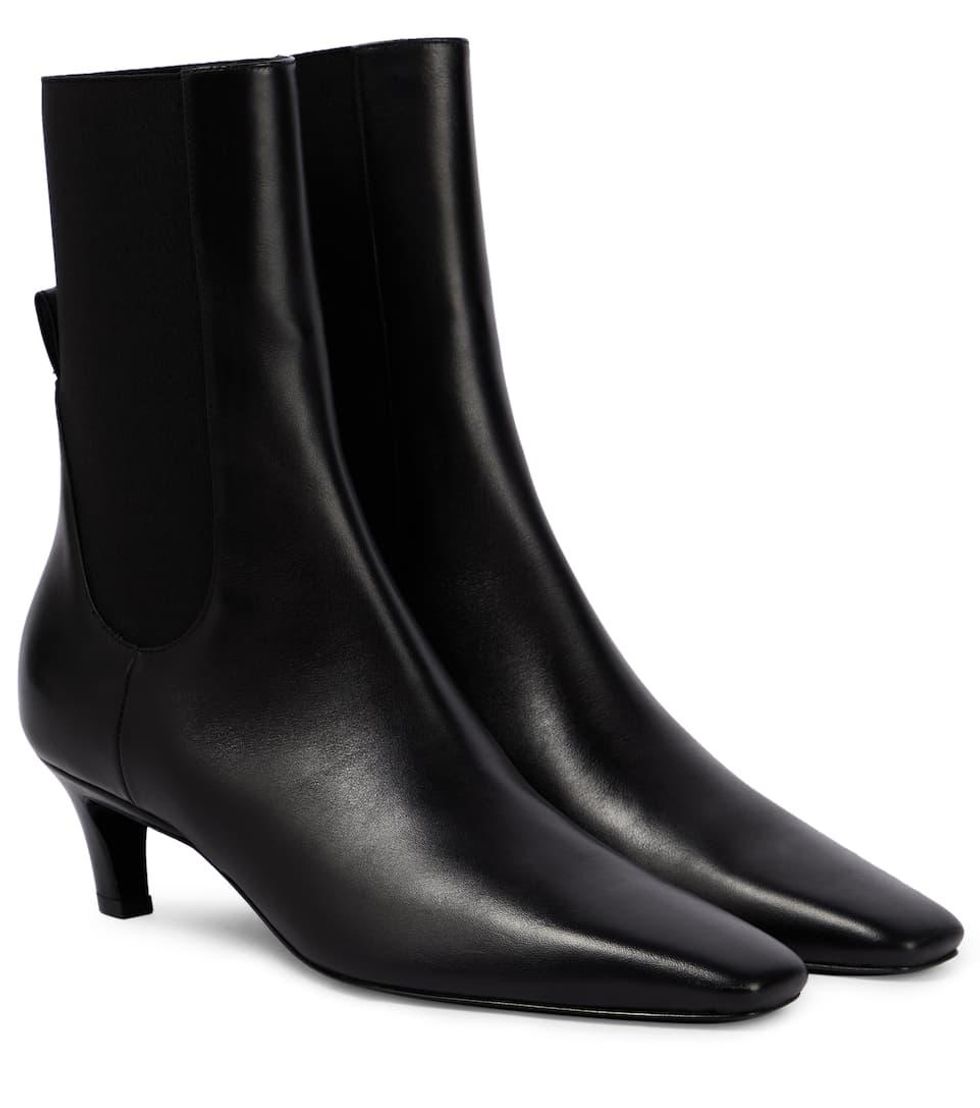 "I do think a square-toed heeled boot is good, either from Totême or the Row I think makes amazing ones. On a lower price point, I think Staud's are really good. Just like a square-toed low-heeled boot is good to have."
Totême
"Again, I love to do a wide-leg pant and a plain crewneck cashmere sweater if I have good jewelry, a good belt, and good shoes. I feel like that can be your whole look. I love crewneck sweaters from Nadaam, from Uniqlo, or from Quince. They all have really good cashmere crewneck sweater options, and I just stock up on those for layering pieces."
Naadam