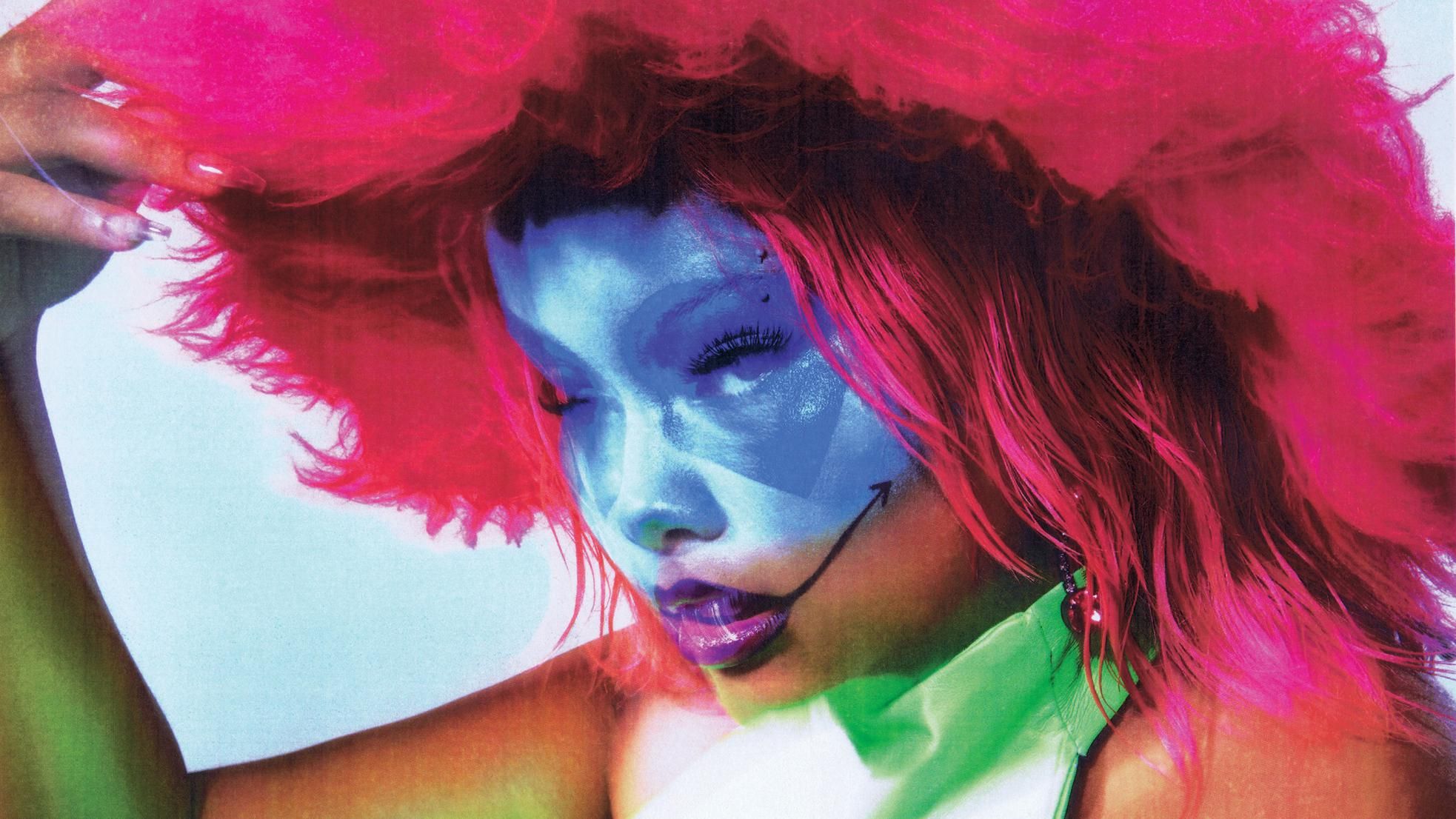 Ones To Watch
Meet the electroclash artist filling up the dance floors of the future.
Graphic:
Stacey Toth
It would be unwise to make assumptions about Shygirl based on her name alone. Firmly in the mix since her breakout feature on Sega Bodega's "Want More" in 2016, the artist making maximalist electro-rap for the clubs is lighting it up for a slow burn. This same approach is what turned the London-raised creative called Blane Muise into a music maven after working mostly behind the scenes. Before debuting with her 2018 EP, Cruel Practice, she first emerged as a DJ at fashion parties, holding down jobs at a digital agency, and was even a booker at a modeling agency for three years. Pursuing self-discovery all throughout, the multi-hyphenate creative has merged her worlds like electroclash. Unleashing lyricism that oscillates between being coolly carnal and downright menacing, the "Slime" singer delivers it all with cutting precision. Now the co-founder of her record label and creative collective, NUXXE, she's released her second EP, ALIAS, and been featured on Grammy-nominated projects like Arca's, KiCk i. Reflecting on a young career that's seen her collaborating with genre-defying producers like the late SOPHIE, the artist is making room for more sides of her to emerge.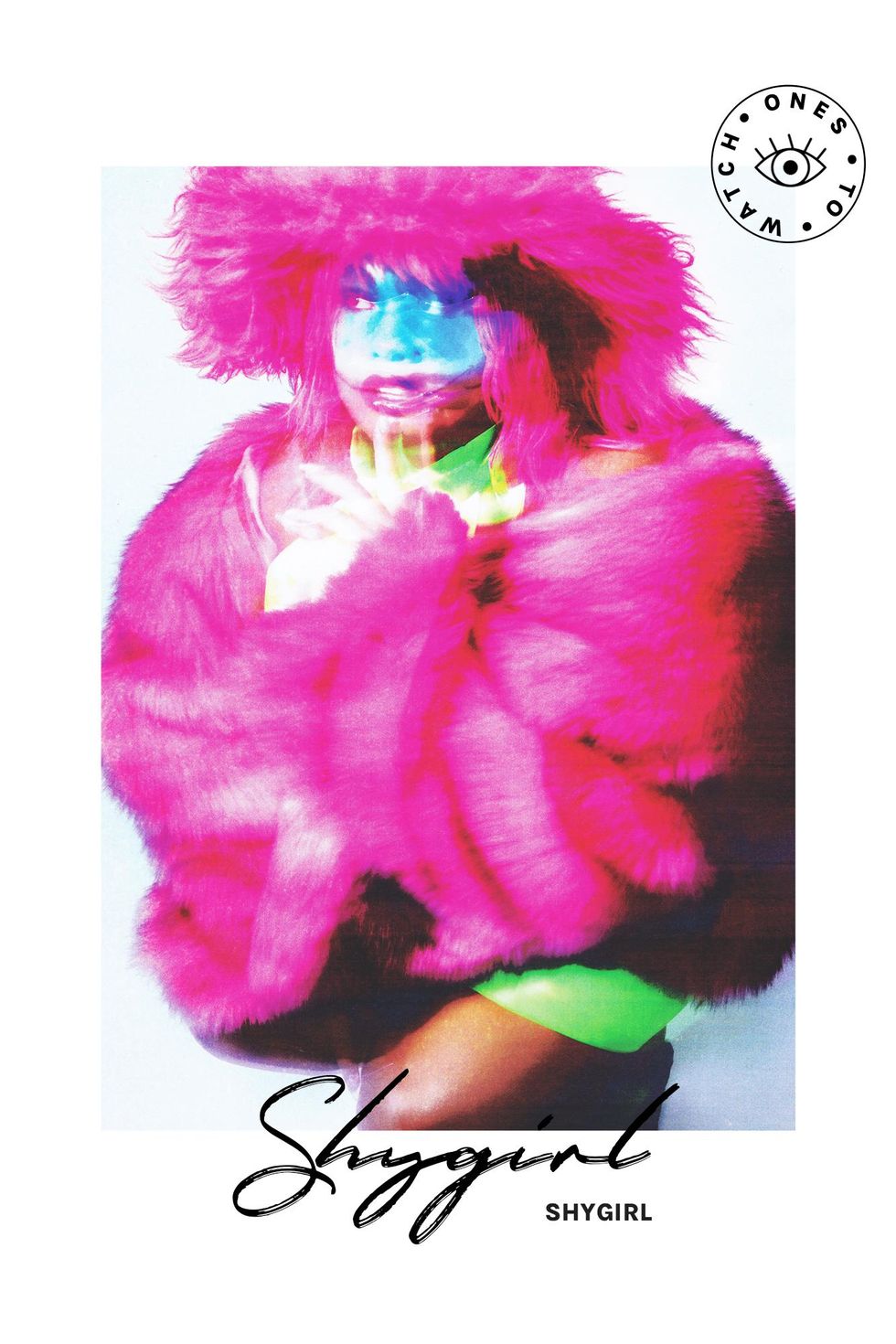 Photo: Courtesy of Shygirl
Music wasn't her first path
"I've always kept myself busy, and I've always done something creative. Even when I left uni, I went straight into working at a design agency and I was there like, three years. I knew I wanted to do something creative even if I didn't know what it was or what I had an aptitude for, but I hadn't really found that thing that gets you up every morning—so if anything, it was the searching for that which was getting me out of bed. It wasn't really until I was assisting and working in casting—because I had studied photography and retouching at uni so I knew I would have something practical enough to get me through. I'm not from a background where I can ask my parents for money or anything, so I needed something that would actually earn me money while I was soul searching. So I was working at a modeling agency for another three years, and that helped me see the aptitude that I have for bringing people together and building a picture with every piece of it."
The fashion industry showed her the way
"I kind of credit fashion if anything because there are so many strong personalities, and I think it really taught me where my morals were because I love the industry and see where it can be better, and I understand what I can do to help that. I think it was really important to give the girls that I worked with a sense of confidence that they can speak up for themselves and not being in environments where they are uncomfortable. That's something I've always tried to use even in music and how I work behind the scenes with the creative. I think everyone's ideas can be put into place. It was really working at the agency that I also clocked people were DJ-ing and getting money and didn't really have to do that much, so I thought, I'm just going to try it, why not? I've got nothing to lose. So I started DJ-ing at fashion parties, and then one day Sega Bodega asked me to record a poem and that's how I started making music. I had a crossover while I was doing a different job because it was whilst I was at work that Sega asked me to do it, so I always had the cushion of being at a job."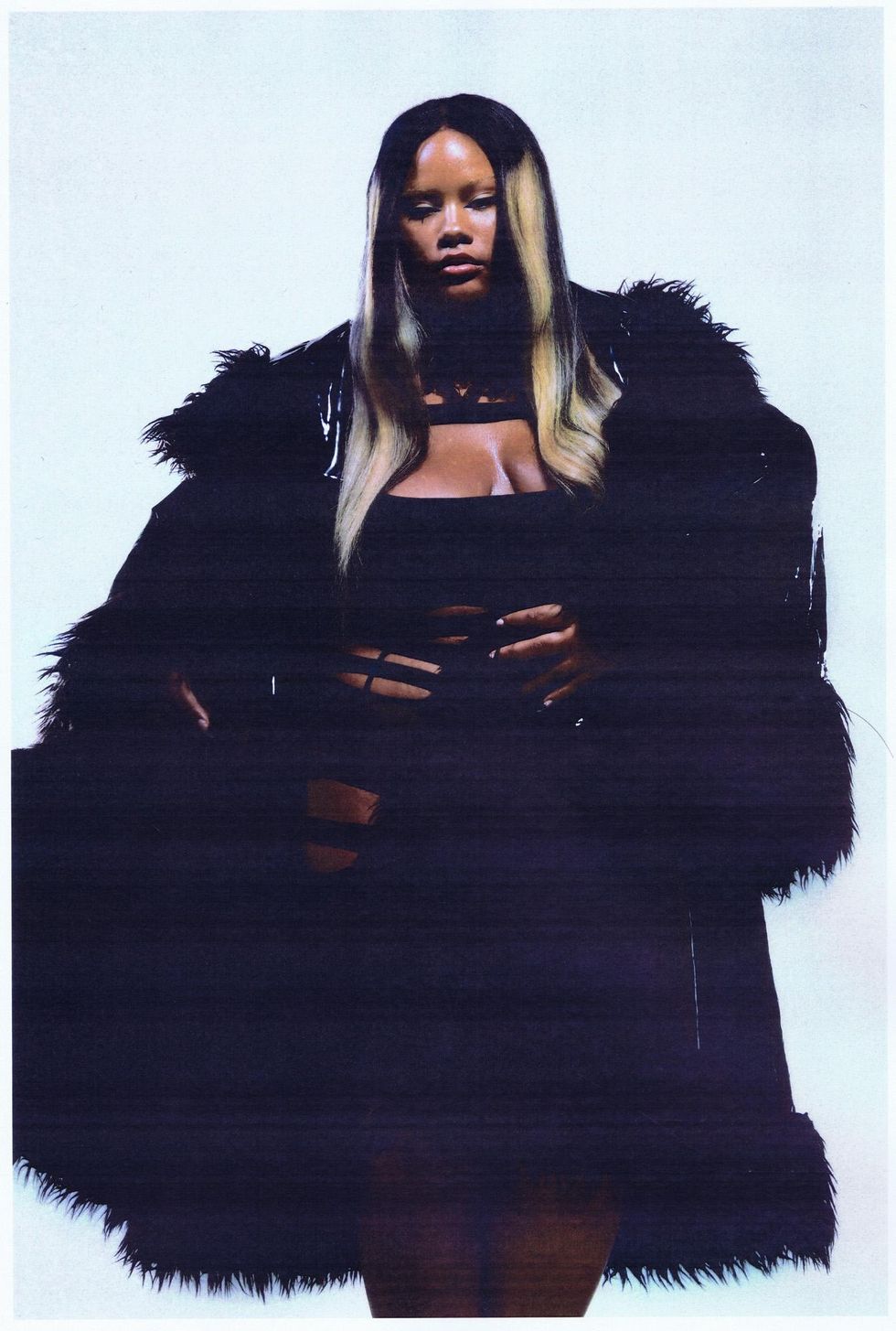 Photo: Courtesy of Shygirl
She finds new perspective through music
"I've been a listener and I've been in the audience a lot longer than I've been making music, so I know how I respond to music and the things I need from it. I don't think I'm unique for that, we're all going after our basic instincts and it's a primal thing to respond to music. As for the things I'm most drawn to in life, it's always the things that remind me of being a child and it's the way in which we encounter things when we're young. There's an awesomeness about when you're seeing something new and you're a child and thinking, 'Wow, I've never experienced that before.' That's what I wanna feel when I'm making music in all of it. I want to be provoked. I don't want to make a perfect piece, I'd rather somebody take it and make something else, and if there's a missing part in it, someone can add something there—so it's all about the response from the audience."
Collaboration is a means for growth
"When you're collaborating with someone, there's a pressure in the room that you don't necessarily feel when you're alone at home making something for yourself and being the judge and jury. That's a specific perspective, but when you're with another person, there are parts of you that are discovered from working with someone else, so there are pros and cons. Being in the room with Sega, there are things that come out that don't come out when I'm by myself. So it's interesting to me to see what comes out when I'm sat with someone else."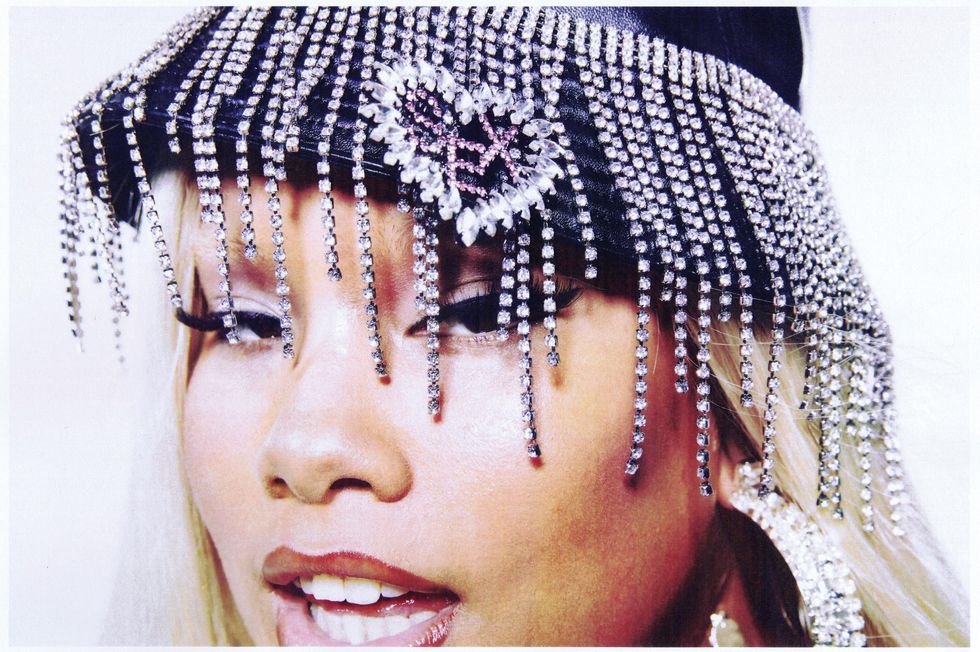 Photo: Courtesy of Shygirl
The late SOPHIE pushed her to new levels
"We had been friends for a while and so not much changed when we started making music together. Someone as enigmatic as her and getting genuine time with her, she was such an opening and welcome presence and almost too nice for someone I was so in awe of. She and I, we'd get into the studio and she'd have an expectation of me, and my whole life, coming from my background and just as a woman, I've been in situations where people just didn't expect that much from me. Working with someone who kind of expected something great from me was also a really enjoyable experience and challenging, so I'm really happy with what we did. For me, it was so much about the experience."
Her creative process continues to evolve
"It's interesting because these times are not normal times, but it's the kind of only normal life I've known in this period of my musical life, and it's great to see what will continue and what won't. But with this time in between where the shows aren't happening, I've been focusing more on the music and more on the creative. It's been a really introspective period because I'm often around loads of people to bounce off of, but sometimes not having those instances has made this whole project about having four aliases (Baddie, Bae, Bonk, and Bovine), so it's why I feel I'm not really done with that very introspective period. I'm finding it quite fruitful and looking at myself, asking what am I hindering from myself and relating it to others and what they're going through, coming together, so that's when the true narrative comes out. I'm more interested in not using lyrics as too much of a diary, so it's more of a collective consciousness that I'm interested in getting across."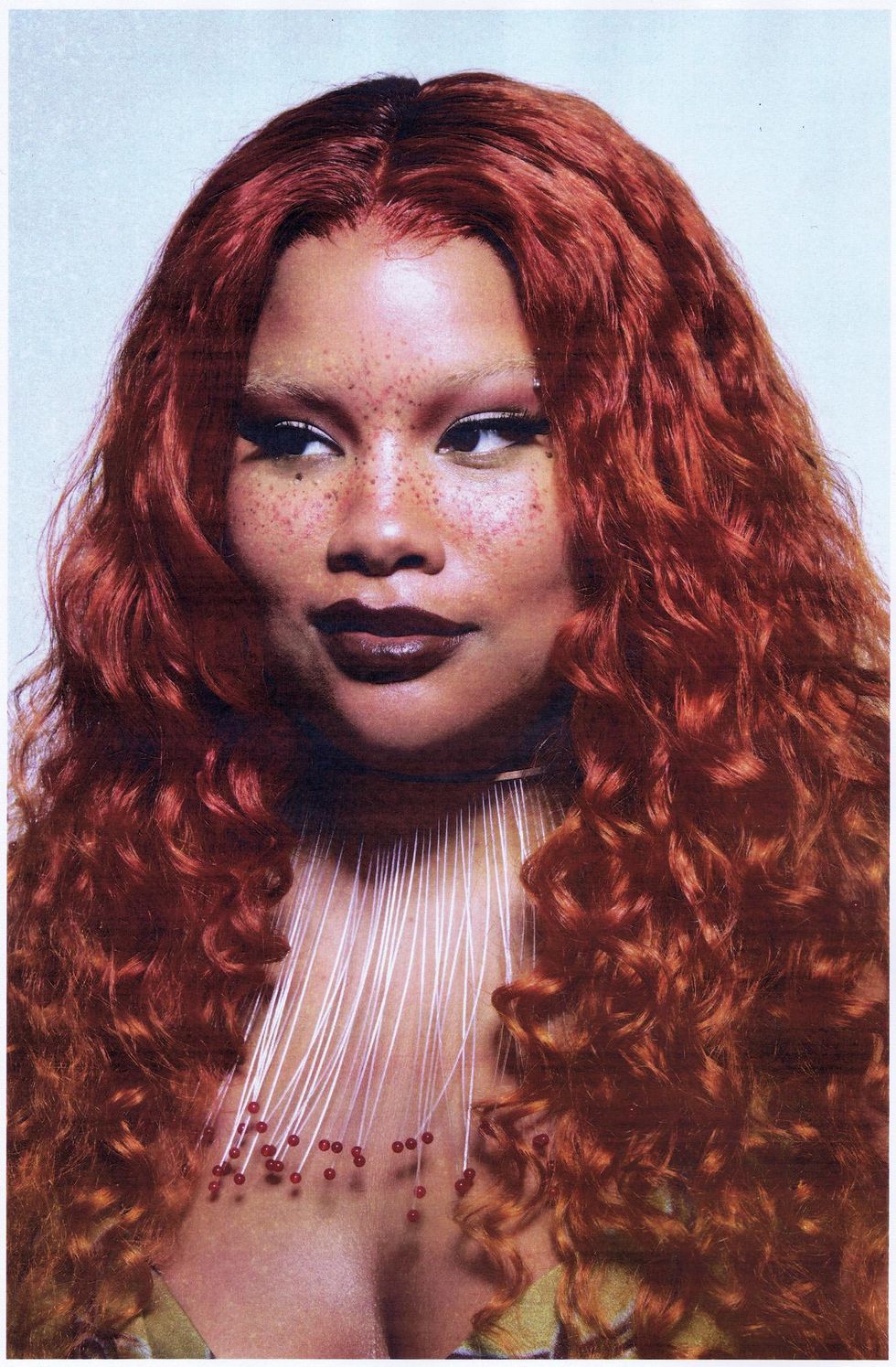 Photo: Courtesy of Shygirl
An alias is just a starting point
"I like to question people's expectations of things visually and also their expectations of people and how they're going to deal with things being so consumable in bite-size portions, so I decided to split my personality up into four aliases. I wanted to bring that together and make it easier to understand that I'm a complex being and you shouldn't be able to understand me in my entirety, so that's why we used that kind of flat, skin-like texture and taking things away like my nose and stuff. I was just trying to think of the me that you think should be available to you. We engage with that idea every day, like when I go on set, do they see me or do they see a projection of me? Especially as a Black, mixed-race female. That's how I've been my whole life, and I think everyone does and what they see of you isn't always what you see of yourself. I think that all came through in the creativity in ALIAS, but at the same time it's about building a world that I think people want to see with the visuals, and the videos are a bit fun and idealistic."
Names can be deceiving
"I didn't even think about it too much—I just loved the whole idea of what a woman should be, like demure and quiet and everything, so I liked that image and I used my intuition to choose that name. I'm figuring out where my subconscious directs me and what is really going on because the idea of feeding into the narrative of being that shy, reserved girl was mostly to show how ridiculous it is."
Photos: Courtesy of Shygirl
Want more stories like this?
The Neo-Punk Songwriter Bringing Softness to the Hard Edge
Catching Up with Japanese Internet Sensation Kemio
Your Personal Guide to Spring Entertainment