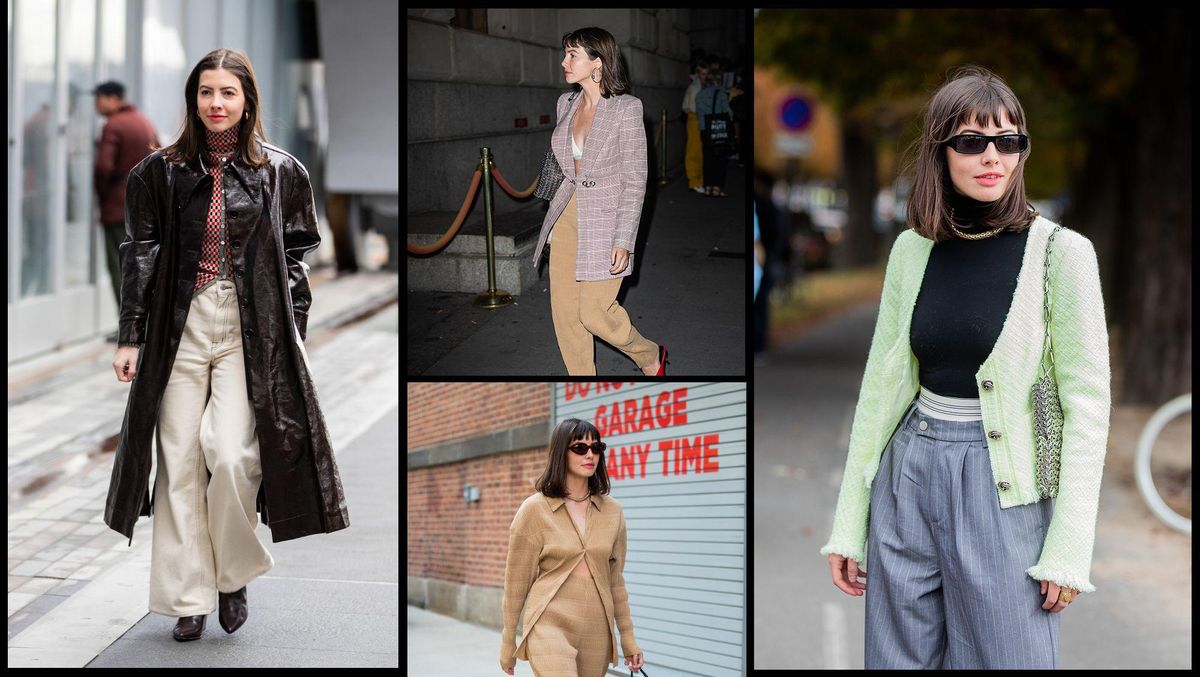 How To Shop Like
Kat Collings Shares Her Tips for Vintage Shopping & the Mark of a Great Outfit
The editor-in-chief's love of blazers is noteworthy, to say the least.
Graphic:
Stacey Toth
Welcome to our How to Shop Like series, where we spotlight personalities within the fashion industry and take a deeper look at their personal relationships with fashion and how they shop—think all the best insider tips and tricks. This week we're chatting with Who What Wear's editor-in-chief, Kat Collings.
As an editor, your job requires you to keep your finger on the pulse of all the latest trends and emerging brands and to then translate them for your audience. Sounds great, right? You've heard the spiel before: What looks like (or used to look like) a glamorous life of jet setting and fashion parties is offset with hours of grit and hard work. Consider the rapid pace at which today's fashion industry cycles through trends—to simply keep up is a near impossible task. That said, who better to press for the latest and greatest than someone who spends their nine-to-five (and a great deal more, we're guessing) combing through all the industry has to offer?

Kat Collings worked her way from intern to editor-in-chief of Who What Wear, a go-to source for all your trend-driven shopping needs, but her backstory is one many city transplants can relate to. Collings grew up in a small mountain town called Mt. Shasta, so early on she developed an online shopping habit—one she has since near perfected—out of necessity. These days, she's transcended the likes of Urban Outfitters and American Apparel and has since cultivated a jealousy-inducing collection of vintage finds and eclectic pieces from the coolest new designers. Below, she shares her little-known shopping secrets along with her failsafe wardrobe staples.
Shop Kat's Current Picks: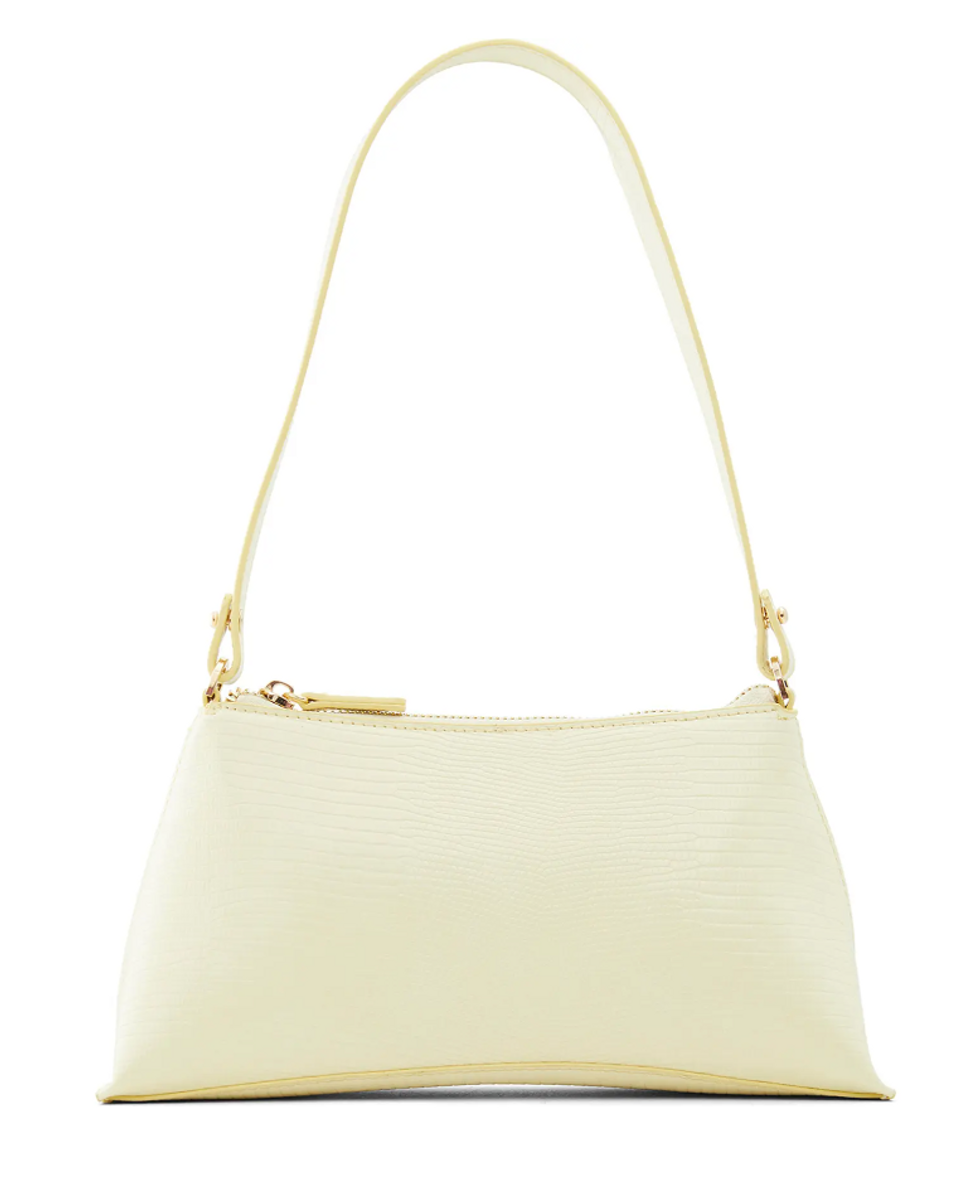 Who What Wear
Hommegirls
Emily Dawn Long
Leigh Miller
Rejina Pyo
Beatrice Valenzuela
When did you first fall in love with fashion?
"According to my very patient mother, I've had a strong opinion about what I wore since I could speak. Throughout middle and high school, my love was more about how clothing could help form my identity and bolster my teenage self-esteem. In college, as I took on internships at Who What Wear and Vogue, I learned to love fashion as an industry populated with these larger-than-life characters (designers, editors, models) who fascinated me."
What does personal style mean to you, and how would you describe your own?
"I would describe my personal style as tailored and vintage-inspired, always with some sort of twist or playful element. I try to balance elements that are cool and polished."
Do you have a uniform? A go-to outfit formula?
"When it's not a pandemic, I am almost always either in a pair of trousers or a blazer, pairing those menswear basics with pieces that pack a bit more personality."
How does your work as an editor influence your relationship with fashion?
"My work definitely fuels my personal interest in fashion. It's such a joy that my personal and professional lives feed each other. It also helps keep me on my toes with staying up to date with emerging brands. I have a giant folder of saved brands that I'm constantly adding to.
"Since it's my job to closely track trends, I have to admit sometimes I get trend fatigue because the life cycle can be quite abbreviated. With social media, some trends burn too brightly; suddenly everyone is wearing one look and then it feels 'tired' way too quickly and hits a saturation point where it doesn't feel special anymore, even when, in theory, you still quite enjoy the look. It's that frantic pace of the fashion industry that many designers are grappling with and makes fashion feels quite disposable. It's one of the reasons why I love vintage."
Favorite thing to splurge on?
"Jewelry! You can't beat the cost per wear. I bought myself this extra-chunky Sophie Buhai necklace that is great for above-the-keyboard dressing, as they call it. I gently lied to myself, 'I can always return it' as I checked out, and have never looked back."
Where do you like to look for style inspiration?
"So many places. I admire people whose style feels completely signature, like Chioma Nnadi and Jenny Walton. I also love following accounts with vintage fashion imagery like @sculpting__in__time."
Favorite thing you've ever worn?
"I imagine eventually it will be my wedding dress, which has been patiently waiting in my closet, but in the meantime, this nougat-colored Totême dress is such a standout."
Which stores do you frequent?
"Growing up in a remote town has made me an online shopper from the start. Some of my current favorites are LCD, Maimoun, Maryam Nassir Zadeh, and Sincerely Tommy."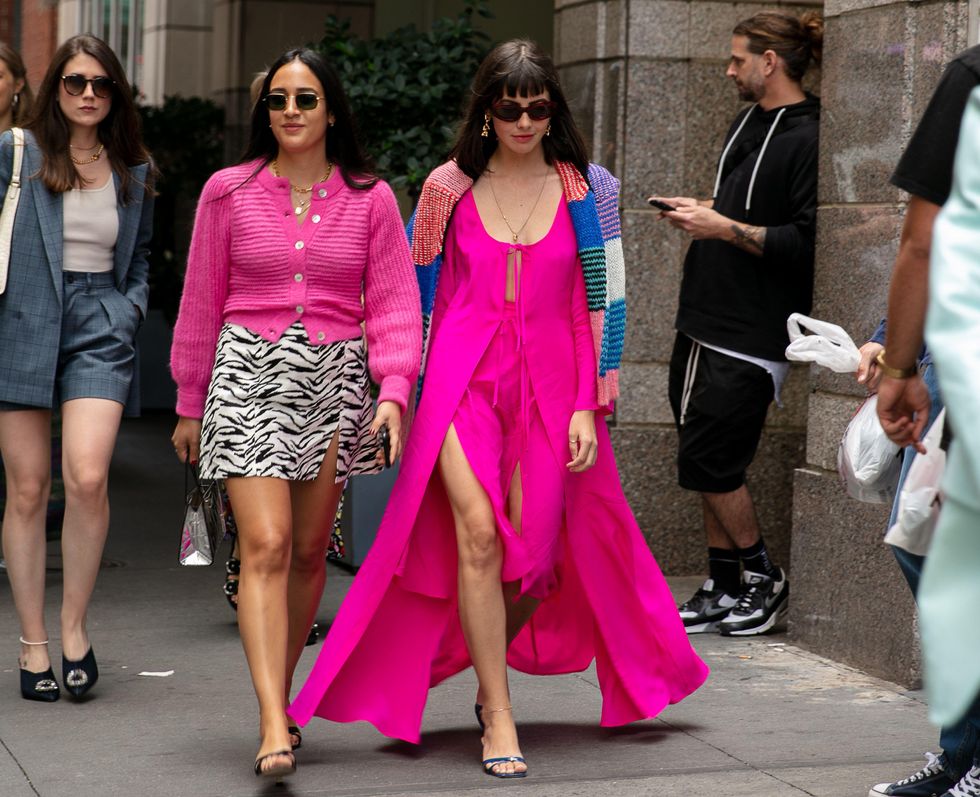 Photo: Sabrina of StreetScout
The mark of a great outfit?
"An outfit that is balanced (if there's a classic blazer, you've got a quirky shoe), has a bit of personality, not too trendy, and makes me feel like the most interesting version of myself."
Fashion has the power to…(fill in the blank):
"Delight, transform, communicate."
Tips for scoring vintage?
"I am a digital creature when it comes to shopping, so I love to purchase through Instagram story sales. Some favorites include @o.laroche, which is Rome-based and has an eye for picks with ~flair~ (this Issey Miyake top is from there), @gomvintage for excellent blazers, @aralda.vintage for local affordable finds (recently got a Comme des Garçons top for around $100 from them), and @eliavintage (she makes everything look amazing). One of our editors, Judith Jones, also runs @hyacinth.vintage, which has some great finds. IRL, in Los Angeles, Pickwick vintage fair is fun to go to, and I adore the boutique Scout on Melrose. I was also really impressed with the vintage offering in Copenhagen. The store Jerome is a dream."
Advice for striking a balance between function and fashion?
"I believe you can have both, and sometimes the most functional items can feel more effortless, like sneakers as opposed to sky-high heels. That said, you've got your whole life ahead of you to dress functionally, so when the occasion calls for it, why not go full fashion?"
Has working from home changed your style at all? Are you still getting dressed every day?
"Comfort had never been much of a priority, and effective March 2020, that completely changed. Currently, I'll throw on a roomy, soft dress if I'm feeling sparkly, but most days I'm in soft bottoms. With so much sitting at my dining room table, there are a lot of soft bottoms around my apartment, in more ways than one!"
Who are your favorite fashion brands of the moment?

"Some of my favorites include Paris Georgia, Bode, Evewear, Wales Bonner, Rabot, Varon, and Christopher Esber."
If you could live in one era purely for the fashion, which would it be?
"This may be a typical response, but certainly the '90s, especially the later years. When I look at runway imagery from that era, my heart jumps."
What are the top five most worn items in your wardrobe?
"A pair of Acne pinstripe navy trousers with orange piping on the side, a pair of Rosetta Getty square-toe flats, this Toteme set, my old The Row bag I got secondhand, and, of course, my engagement rings, a vintage one from France and one from the brand Ceremony."