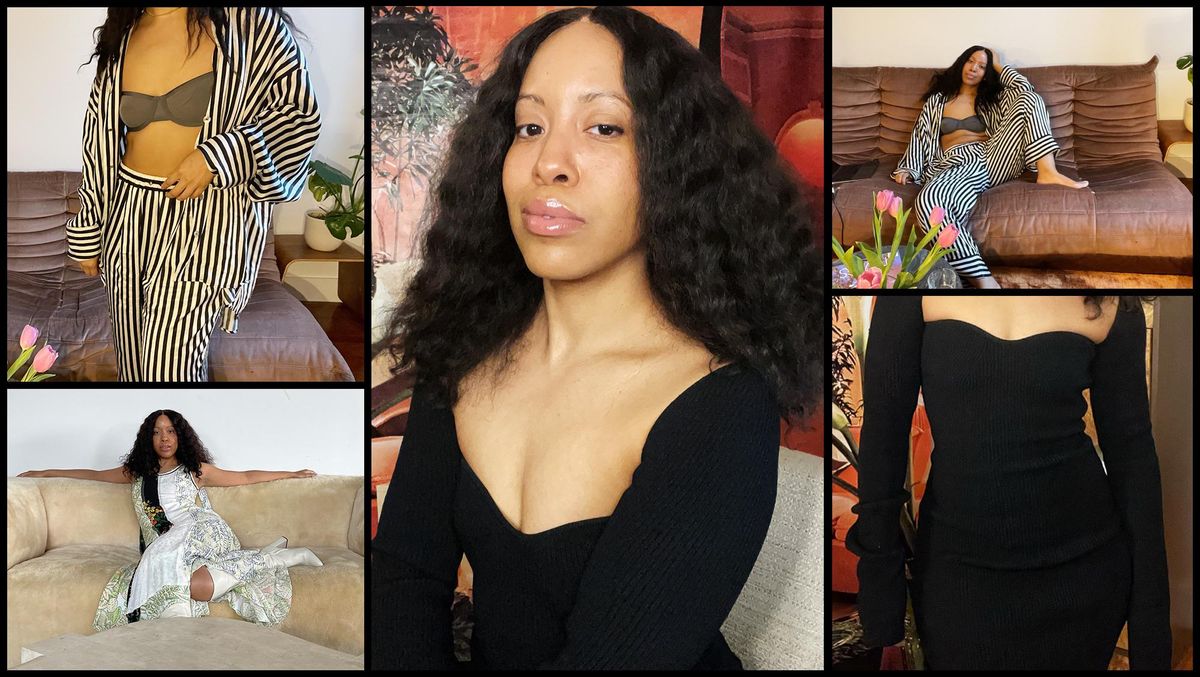 Style Diaries
Marjon Carlos' Savvy Take on Elevated House Dresses & Fancy Pajamas
A behind-the-scenes look at what she's actually wearing right now.
Graphic:
Stacey Toth
Welcome to Style Diaries, a new series where we research the physical manifestations of our closet tours IRL. We're asking friends and tastemakers to show us what they're *actually* wearing during the week and provide a little insight into their thoughts on the current state of fashion. This week we are speaking with journalist and editorial director at CUUP Marjon Carlos, who also recently launched weekly show Your Favorite Auntie Show on IGTV, where she hosts guests and discusses topics including interracial dating during BLM, wellness, body issues, voting rights, pop culture, toxic masculinity, and more.
What does your style *actually* look like right now?
"I won't lie—I spend a lot of time in sweat suits, comfy but elevated pj's, and colorful house dresses. But that doesn't mean that my love for capital-F fashion has slowed. Shopping and refining my style while in isolation has been fun and enlightening. I cleaned out my closet during a recent move and began exploring new designers I love and purchasing pieces with intention. I almost low-key consider it 'collecting' for when we're out of this moment. I know one day my Molly Goddard pieces, Wales Bonner knits, and Dries moments are going to see more than the inside of a grocery store when I'm running errands. I'll be making memories in them soon enough. In fact, I love to wear really special pieces on air while taping my Your Favorite Auntie IGTV show. It's an advice show I started in quarantine, and I try to turn lewks each week. It helps break up the monotony and really makes me feel like 'Bish, I'm your auntie.'"


Day 1: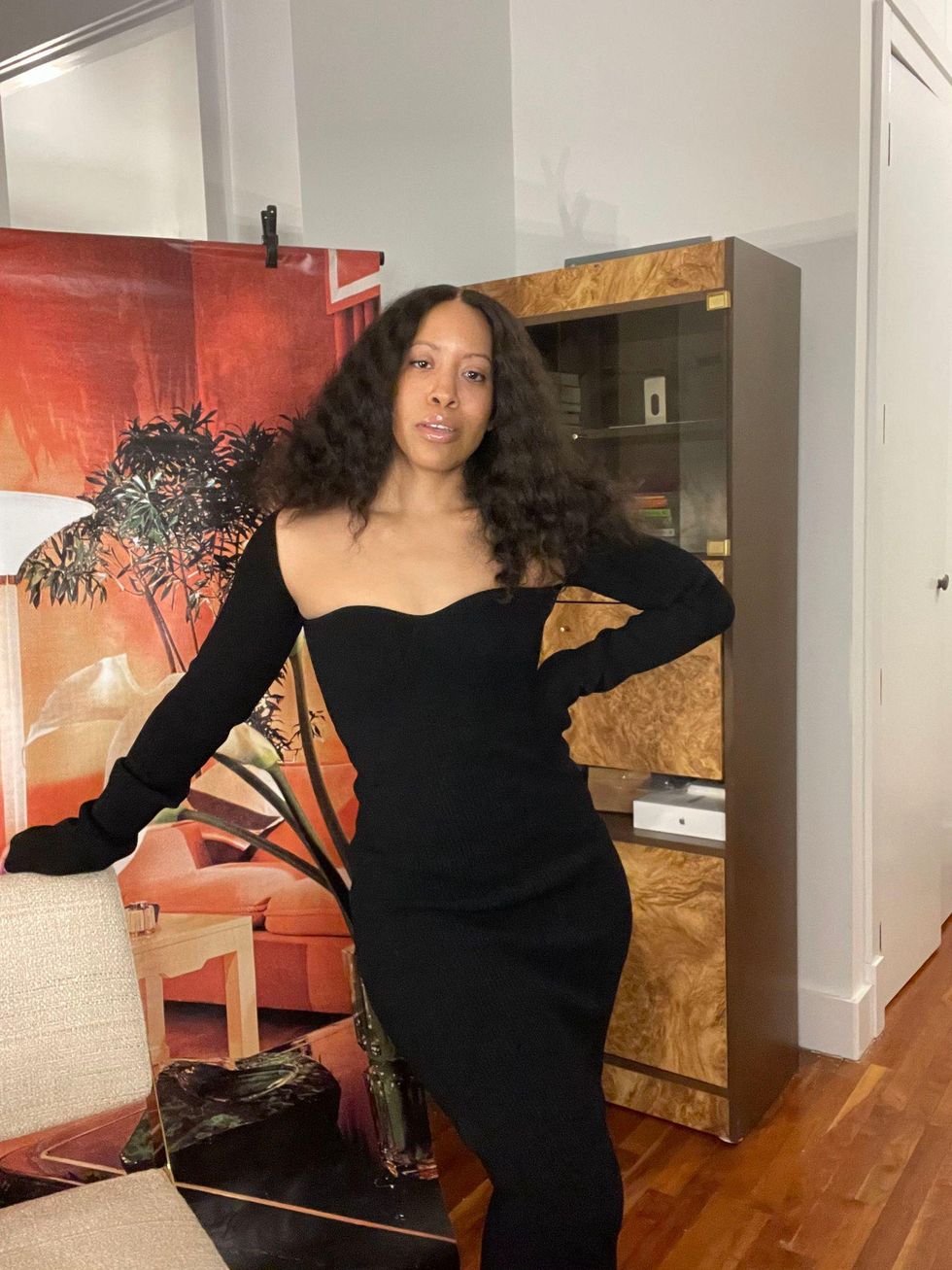 Photo: Courtesy of Marjon Carlos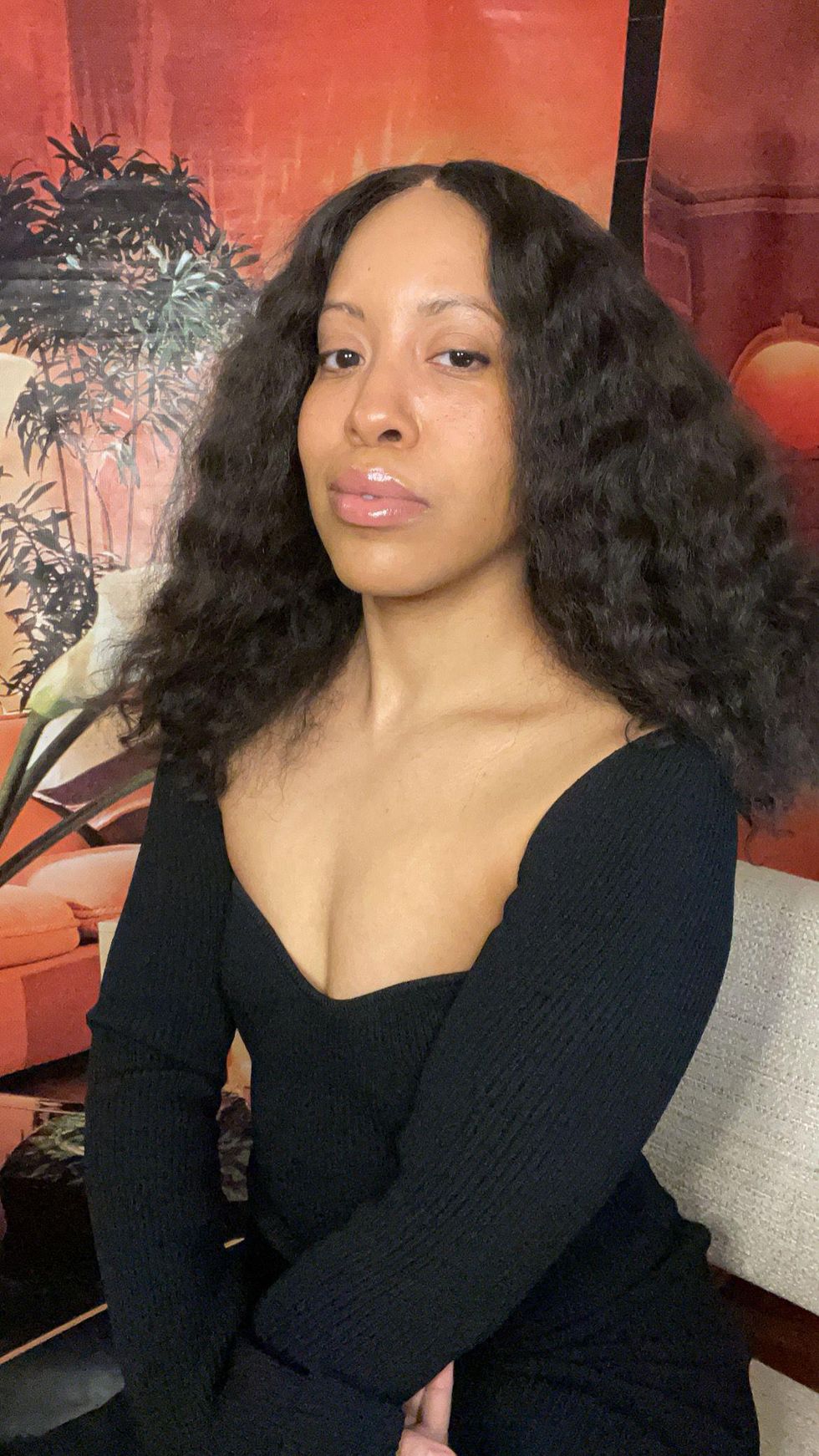 Photo: Courtesy of Marjon Carlos
"Every Thursday I go live and record my IGTV show, Your Favorite Auntie Show. It was born out of quarantine and has been such a cathartic, creative outlet for me through this year. I'm a literal auntie, but also feel like I'm one to the kids coming up in the game. Y'know, that one auntie who is fun, independent, stylish, ballsy, but super encouraging/supportive. That's what I aim to be to my community. So I offer advice on-air that folks actually listen to each week. And as much as it's about ideas, I've really loved honing a visual world, too. I record in front of a backdrop of a super well-appointed living room, work with my super-talented design intern each week on social, and come through in a very considered outfit. I thought this Khaite dress was super grown and sexy—like your favorite auntie rolling into the family function fashionably late with presents, wine, and really good stories."
Shop the Look:
Khaite
Do you have an outfit formula or preferred style?
"When I'm working, it's whatever is most uniform and comfy. I'm a journalist and editorial director at CUUP, so I don't ever feel really comfortable writing in a full-on ensemble or hard jeans. I move, I toil, I pace, so I try to be in something that allows me to sink into the work."


Day 2: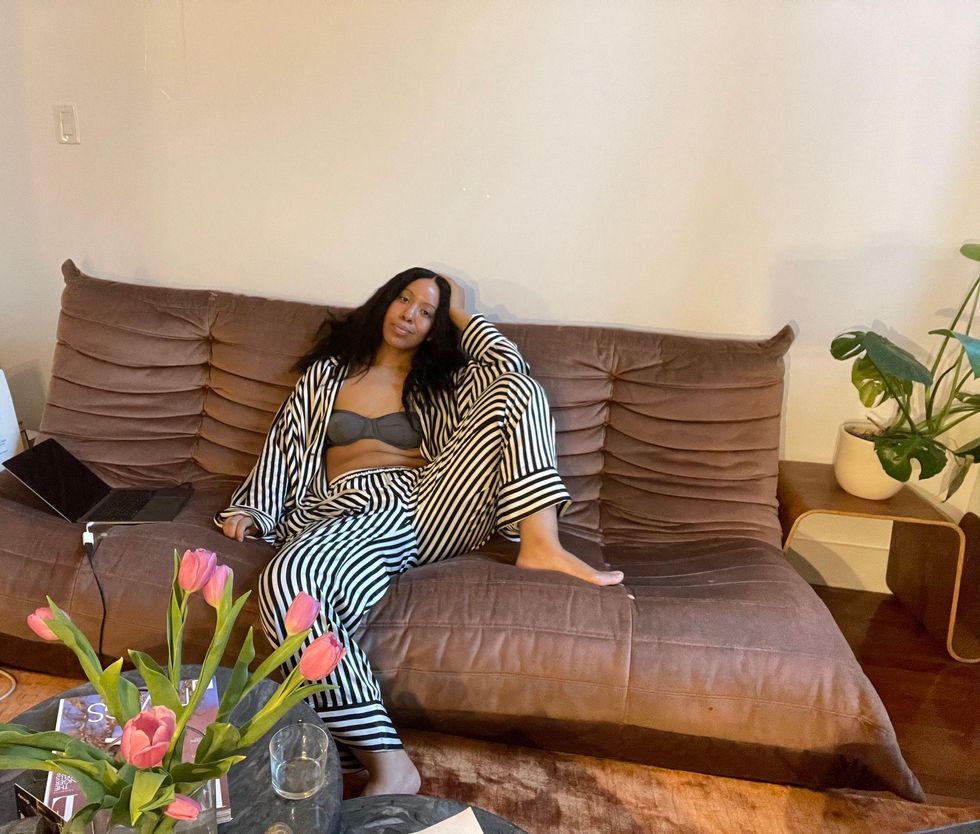 Photo: Courtesy of Marjon Carlos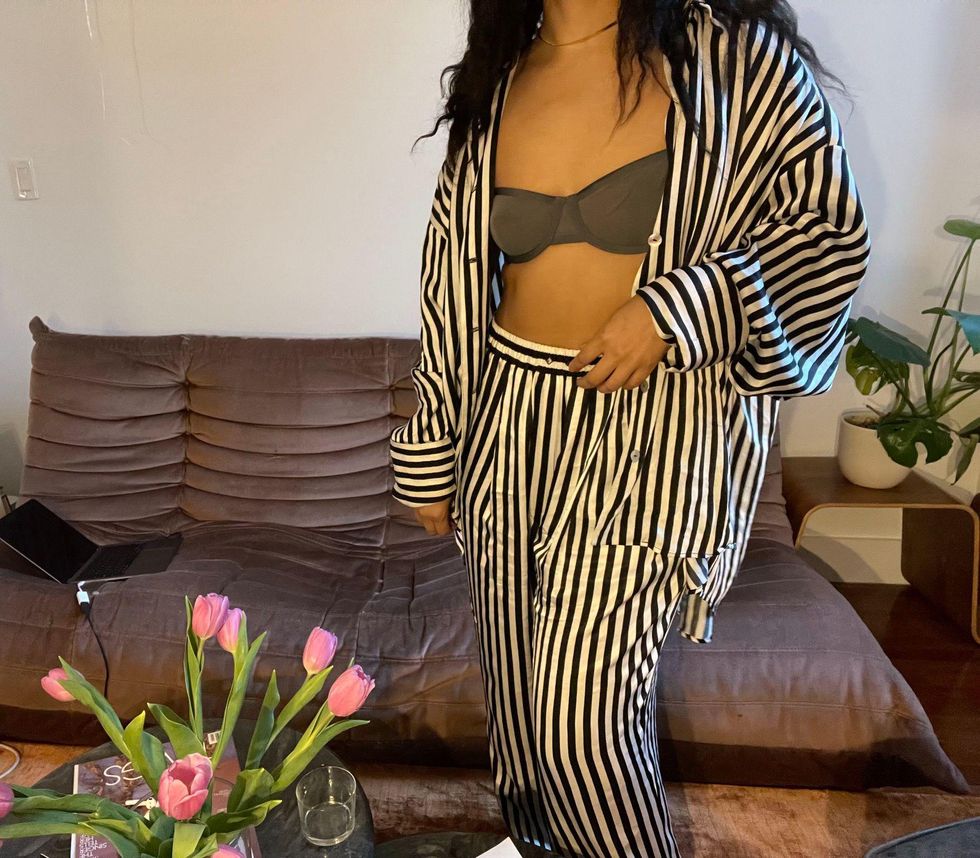 Photo: Courtesy of Marjon Carlos
"I don't know if it was the new moon or the one-year anniversary of being quarantined, but last week was A LOT, and by the time Saturday rolled around, I just wanted to lie around all day and luxuriate (even though I should be finishing decorating my new apartment). I slipped on my Sleepers pj's, which are both effortless and elevated. Their oversize cut and tailored lines make you feel much more pulled together, even when you're being a total couch potato. I would even wear this with heels—if I had somewhere to go, that is... I paired them with my CUUP balconette bra in Slate. I work for the lingerie company as the editorial director, and I just love their bras. Chic and supportive, I throw one on, add sweats, and walk around in a half-dressed state pretty often."
Shop the Look:
Sleeper
Cuup
Predictions for what fashion will look like post-pandemic? Or at least how you will dress?
"Oh, we will be serving. Yes, I do think there are some quarantine style principles we'll still apply to our looks, like comfort, shopping/consuming with intention, but I think we're going to be acting up in the streets. Every day is going to be a runway, an excuse to wear our best duds and ridiculous ensembles. I'm ready for it."


Day 3: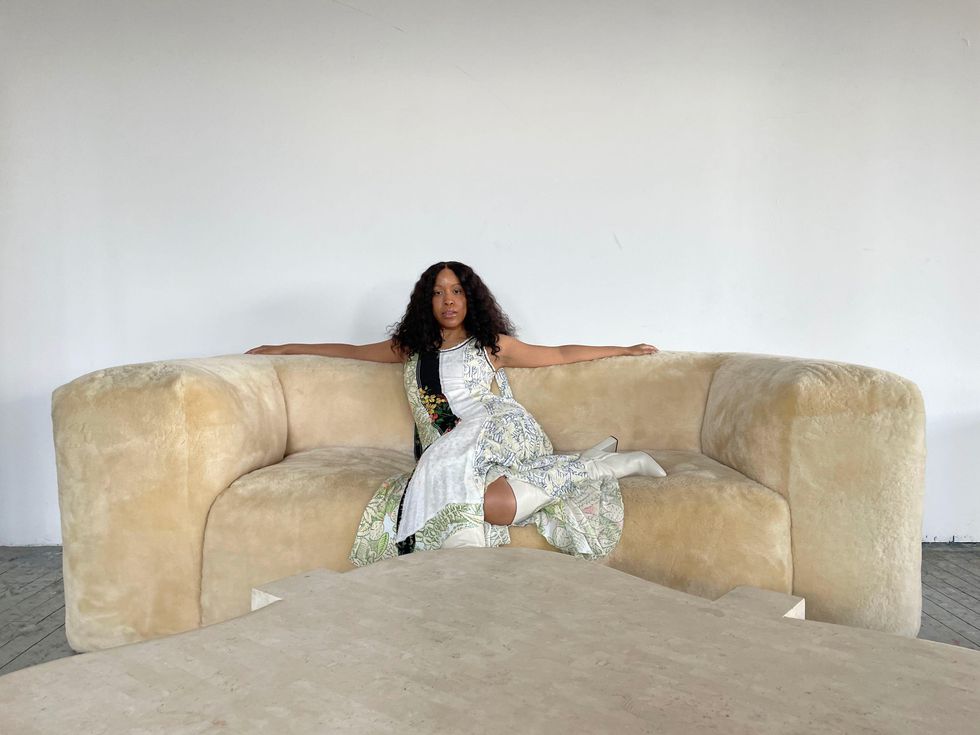 Photo: Courtesy of Marjon Carlos
"I've been having a love affair with JW Anderson recently, and when I saw this dress, I had to have it. I love its high-femme renaissance-fair vibes, and it's such a special piece I know I'll have for years to come. I was working on a project with my collaborator and friend, Christopher Tomás Smith, at the Friends of Form studio in Brooklyn, and this couch was calling my name. Jordy and Nora, who run the studio, have the best taste and pick the most special pieces. It's honestly the most luxurious thing I have ever sat on. If I'm not buying clothes, then I'm buying furniture."
Shop the Look:
JW Anderson
H&M